State Leaders Respond to Joint Hearing on School Security
By Brandon Moseley
Alabama Political Reporter
Following the horrific slayings of twenty first graders and six adults at the Sandy Hook Elementary School in New Town, Connecticut by an evil madman, the state of Alabama held a Joint Committee meeting on what Alabama can do to improve school security.  The meeting was called by the Speaker of the Alabama House of Representatives Mike Hubbard (R) from Auburn and Senate President Pro Tempore Del Marsh (R) from Anniston.  Following the Wednesday, January 9th hearing several legislators and state policy analysts took to Facebook to express their opinions.
State Rep. Kurt Wallace (R) from Maplesville said, "I attended the joint House/Senate education committee's meeting today in Montgomery to discuss school safety. I thought the committee did a great job of bringing everyone to the table. We heard from representatives from our Sheriff's, District Attourney's, Dr. Tommy Bice (the Superintendent of Education, Spencer Collier with Homeland Security, someone from the mental health department, a teacher, and several others. There was a lot of discussion about how to "protect" our children."
State Rep. Allen Farley (R) from McCalla said, "Today I sat in the House Chamber in Montgomery and listened to individuals go before a joint education committee to discuss school safety. We heard from Senators, House members, DA's, a school teacher, the Alabama State Superintendant of Education, and the Alabama Director of Homeland Security. The comments and suggestions varied, but everyone was on the same team. I was encouraged."
State School Board Member, Mary Scott Hunter (R) said in her newsletter, "I expect the Board and Legislature will take up the question of gun violence in schools. I plan to bring my Military lawyer background as an Air Force Judge Advocate to bear in this discussion. My training and experience tells me that in this we cannot but have the very best conceived plan. We should not be rash or hasty in our decisions, and we should consider all options that tend to deter would-be shooters and increase safety for students and staff.  Arming staff, perhaps only the ones who have previous military or law enforcement experience in order that they could act as first line defenders, is an option. Other considerations also abound to include: deadbolts on every school room door; egress plans; door security; etc. In the meantime, all should view the great video released by the Alabama Department of Homeland Security on the basics of Run / Hide / Fight."
Conservative policy analyst and political analyst Michael Ciamarra said, "Busy day in Montgomery today! School Safety Hearing was held at the Statehouse chaired by our good friends Rep. Mary Sue McClurkin and Sen. Dick Brewbaker. Was a fascinating hearing that included lawmakers, Dr. Bice, Dept. of Homeland Security Director Collier, Sheriff, Constable and other law enforcement groups, School Resource Officer Presidents (National and AL Chapter), District Attorney representatives, and concerned citizens. School security will be an issue with much focus and attention by lawmakers this coming session."
Alabama Senator Bryan Taylor (R) from Prattville said on Twitter that he went to the joint hearing on school security and gathered good information for his upcoming security roundtable with the local school superintendents of his district next week.
Rep. Wallace said, "As you would expect opinions varied greatly. Some too aggressive (in my opinion), and some to passive (also my opinion). Fortunately, we took what I believe is the correct approach and decided to stop all the knee-jerk reactions and step back to evaluate the facts and then put together a plan that we can afford and will do the best for our children. We don't need to drag our feet…nor do we need to turn our schools into military type fortresses either. I believe we will have a well thought out plan ready for the House and Senate to start debating as soon as, or very shortly after, we get into session on Feb. 5th. I will keep you all posted as we get further into this matter."
Rep. Farley said, "Those of you who know me well know my position on school safety. I believe that teachers should be given every opportunity to teach in a safe environment. And, I believe our trained law enforcement community should be given every opportunity to provide a safe environment for teachers, students, and parents. I do not believe placing a firearm in a teacher's hand at school is our best option. I do not think we have the luxury to continue to expend tight budgets to allow trained law enforcement officers to teach classes. Teachers need to teach. Safety professionals need to keep people safe."
Print this piece
Jones criticized for voting to limit Trump's war powers authority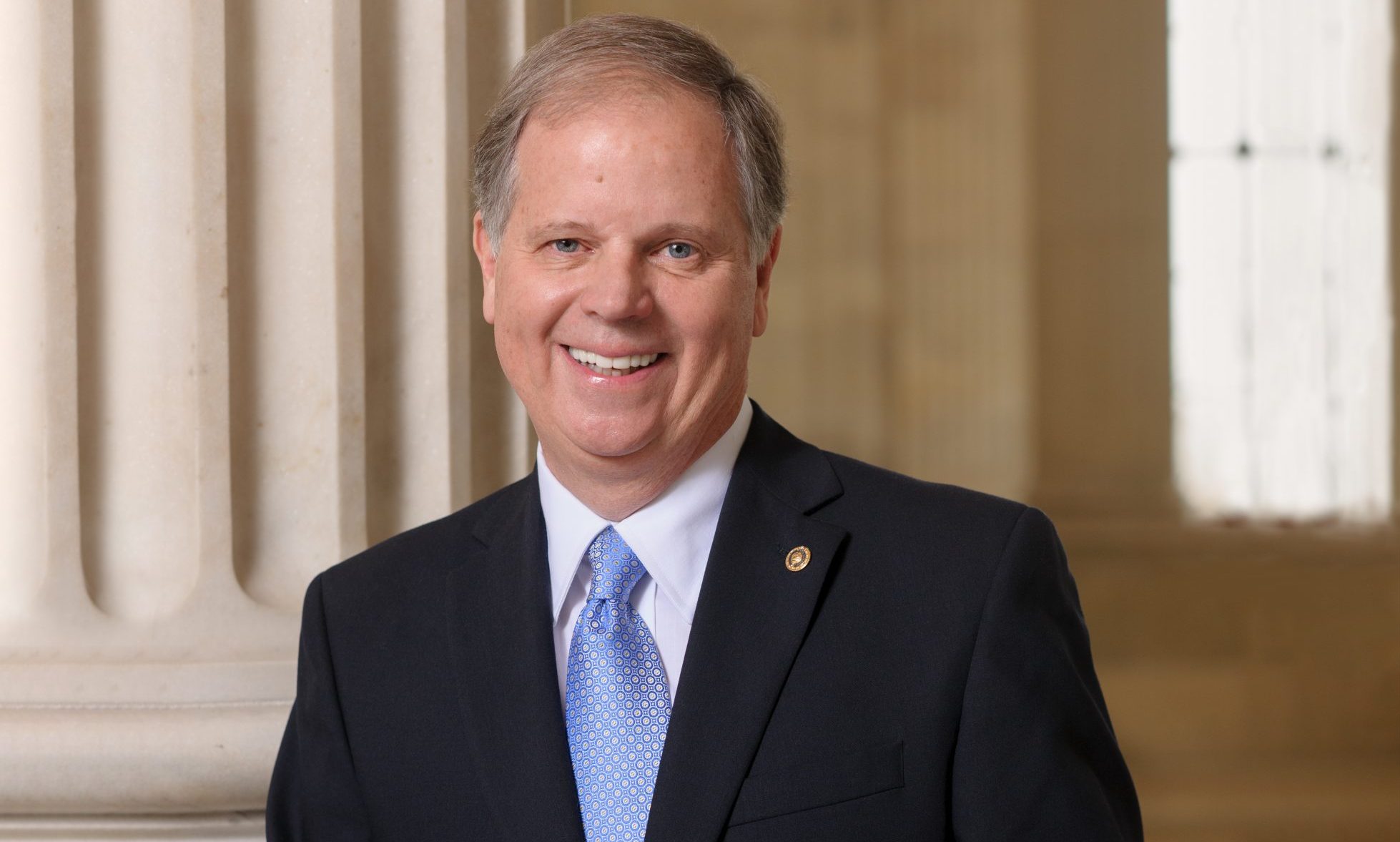 Thursday, U.S. Senator Doug Jones (D-Alabama) voted in favor of S.J.Res.68, a resolution which directs the removal of United States military from hostilities against the Islamic Republic of Iran that have not been authorized by Congress. Jones has been criticized by Republicans for voting to limit President Donald J. Trump's war powers on Iran.
"Before a President can lead us into war, he or she must first earn the support of the American people and also fulfill their solemn constitutional obligation to seek approval from Congress," Sen. Jones said in a statement. "While the President has the power to protect Americans in the case of an imminent attack, that authority does not extend to committing our service members to long-term hostilities unilaterally. This resolution sends a strong message that we will follow the Constitution and we will not send our troops into harm's way without the serious consideration and consent of the Congress."
Trump Victory National Finance Committee member Perry O. Hooper Jr. released a statement in response.
"Senator Jones once again turned his back on Alabama and voted as the leftwing Democrats commanded. He has no regard for the values, opinions or views of Alabamians," Hooper said. "He sees us as deplorables just like the elites of the Democratic party who have funded 80 percent of his doomed campaign for re-election.:
Hooper stated, "I whole heartily support the President who stated 'We are doing very well with Iran and this is not the time to show weakness… If my hands were tied, Iran would have a field day. Sends a very bad signal. The Democrats are only doing this as an attempt to embarrass the Republican Party.'"
"The Commander-in-chief must be free to work with his staff and his military leaders to conduct covert operations like the one that eliminated Iran's terrorist-in-chief General Soleimani," Hooper added. "You can't micromanage the war on terrorism. The Democrats in Congress are so filled with Trump Derangement Syndrome that no matter how much it would benefit our country and the world; they would never give Trump a "victory". If it came down to it, they would leak everything to the media no matter what the consequences."
Senator Jones is a cosponsor of the legislation and a member of the Senate Armed Services Committee. Eight moderate Republicans voted with the Democrats on the resolution.
Senator Jones has also been criticized by Republicans for his comments that he was "appalled" by Pres. Trump's actions following his acquittal on both Articles of Impeachment.
"Newsflash for Senator Doug Jones: Most Alabamians have been appalled by his actions his entire time in office," former Attorney General Jeff Sessions said. "It's about time we send Doug home, and replace him with someone who understands our values. Alabamians deserve a Senator they can be proud of again."
Sessions is a candidate for the Republican nomination for Jones' Senate seat.
The Republican primary will be on March 3.
Print this piece