Governor Creates Task Force to Improve Alabama Education
By Brandon Moseley
Alabama Political Reporter
On Tuesday, Alabama Governor Robert Bentley (R) announced the creation of a task force with the goal of helping students be better prepared for successful careers.
The Governor's College & Career Ready Task Force will bring together educators and the business community in a united effort to improve Alabama students preparation for joining the workforce.
Business leaders will meet with educators to routinely discuss the types of skills that are actually needed in the twenty first century workplace.  The Educators can then use that information to develop new programs to train students in the skills that are actually being sought by employers.
Governor Bentley said, "The result is that more students will be college and career ready, and more people will be able to find a good, well-paying job.  As we continue to strengthen our workforce, that will also help us attract more new companies and more new jobs for the people of Alabama."
State Superintendent of Education Dr. Tommy Bice said, "Governor Bentley and I are convinced that the path to a brighter and more productive Alabama rests in the ability to educate and train our existing and future workforce.  The formation of the College and Career Ready Task Force is another step in the direction of making sure Alabama students have the knowledge and skills necessary to move seamlessly from high school to college and/or the workforce.  This team of educators and business professionals has been assembled to make sure we are clearly articulating exactly what is expected from teachers, administrators, parents, students and the business community to make sure Alabama students not only graduate from high school, but do so with the ability to successfully transition into college or the workforce without mandatory remediation – a foundational component of the State Board of Education's PLAN 2020."
The Governor's College & Career Ready Task Force will be co-chaired by Lieutenant Governor Kay Ivey, Alabama Senate President Pro Tem Del Marsh, Alabama House Speaker Mike Hubbard, and Alabama Secretary of Commerce Greg Canfield.
Lieutenant Governor Ivey said, "I'm proud to serve as a co-chair for this worthy career preparedness initiative. To remain competitive in this global economy, we need to train our students to be ready on day one of the job. We must work to create an education model which produces a trained workforce to meet the demands of business and industry interested in growing and developing in Alabama."
Commerce Secretary Greg Canfield said that the task force will compliment Accelerate Alabama – the state's long-term, strategic economic development plan.  One of the goals of the Accelerate Alabama partnership is to close the gap between the skills employees have and what employers need.  This task force will tighten our focus on this goal and make it reality.  Canfield said,  "Our economic development team, K-12, postsecondary and industry working together will forge a partnership that ensures that every child in Alabama has the opportunity to learn the skills needed in today's work environment."
Alabama Community College System Chancellor Dr. Mark Heinrich said, "The Governor's College and Career Ready Task Force is another tool that the State of Alabama will have under its belt to ensure that we are preparing our students and citizens for the jobs of today and the jobs of tomorrow.  In our roles as educators and business and industry leaders, tasked with preparing the people of this state to go out and be successful in the workforce, it is crucial that the right people are at the table having the right conversation."
Shelby County Superintendent Randy Fuller said, "The key to economic strength in Alabama is a well-educated, well-trained and prepared workforce, and our school district is working very hard to meet this vital goal.  Many of the goals and objectives for the Governor's new task force are being successfully modeled here in Shelby County, including a strong focus on workforce development and partnerships with business and industry.  We also have a collaborative effort between the school district, Jefferson State Community College and the University of Montevallo through our very successful Vertical Teaming Initiative."
The task force will include representatives from: K-12 schools, two-year colleges, four-year colleges and the business community with the goal of helping the state offer a more coordinated approach to workforce development.  Businesses will also be encouraged to invest in career training initiatives.
Governor Bentley said, "By coordinating our workforce development efforts, we can give more students a seamless transition from the classroom to the workplace.  The work of the task force can also help more students understand the variety of good careers that are available.  A lot of good career training is already taking place at various schools.  The goal of this task force is to make sure our efforts are reaching more students across Alabama."
Trump Truck and boat parades this weekend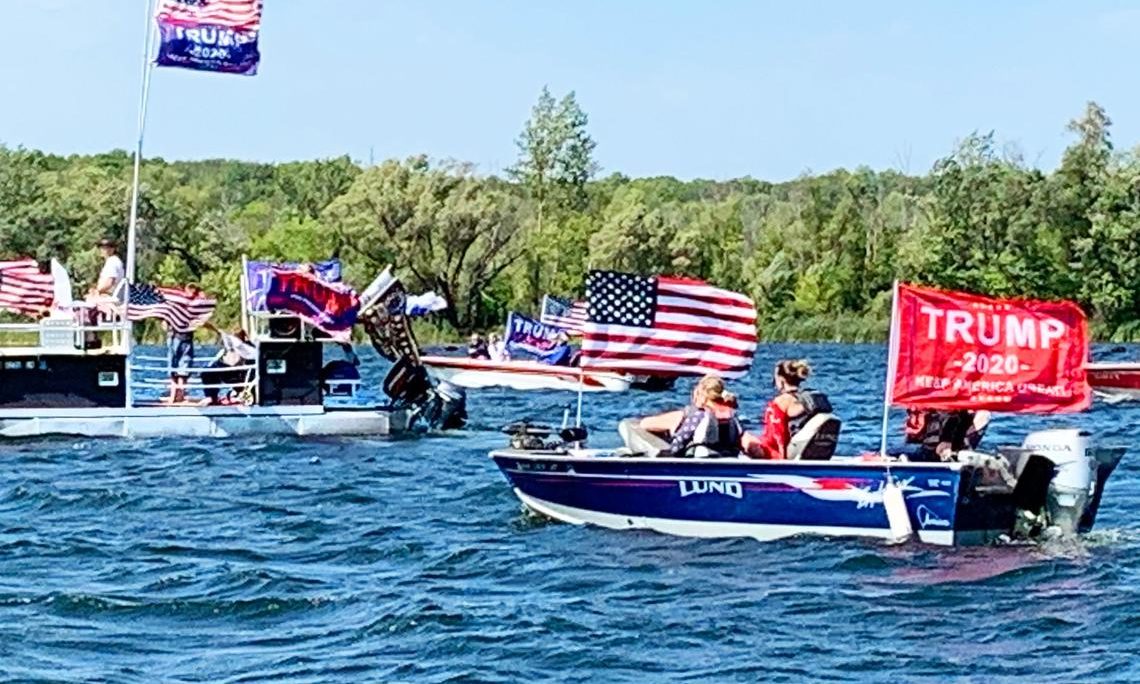 As Election Day draws near, Alabama Republicans are excited about promoting the re-election of Donald J. Trump as President and the election of Tommy Tuberville for U.S. Senate. This weekend two pro-President Trump events are happening in the state. There will be a truck parade from Ashland to Phenix City on Saturday sponsored by the Clay County Republican Party, while there will also be a boat parade on Wilson Lake in the Shoals sponsored by the Colbert County Republican Party on Sunday.
The pickup trucks will assemble at the Ashland Industrial Park in Clay County, 8240 Hwy 9, Ashland. There is a pre-departure rally at 10:00 a.m. central standard time. The trucks will depart at 11:00 a.m. and then proceed on a parade route that will take them into the bitterly contested swing state of Georgia. The Trump Pickup Parade will wind through east Alabama and West Georgia traveling through LaGrange and Columbus before concluding near the Alabama/Georgia line in Phenix City, 332 Woodland Drive, Phenix City at approximately 2:00 p.m. central time. Speakers will begin at 3:00. Trump flags will be on sale at the event.
The Phenix Motorsports Park will be hosting what sponsor hope could possibly the world's largest Pickup Tuck parade in U.S. history that is routing over 50 mile through Georgia in effort to "pickup" President Trump's numbers in GA.
A number dignitaries have been invited to address the Phenix City rally, including Coach Tuberville. Former State Sen. Shadrack McGill, Trump Victory Finance Committee member former State Rep. Perry O. Hooper Jr., and Paul Wellborn, the President and CEO of the largest Family owned Kitchen Cabinet manufacture in the USA are among the featured speakers who have committed to speak at the event.
Entertainment will be provided by: Charity Bowden, an up and coming country music singer who was the runner up on "The Voice". Charity will sing 'I am Proud to be an American' as well as songs from her Voice performances. The McGill Girls will also perform. The three beautiful and talented sisters will be singing patriotic songs in three part harmony. Geoff Carlisle, a professional DJ will be keeping the crowd pumped with music and entertainment.
Following the speakers and the entertainment there will Trump truck-vs- Joe Bidden truck races down the drag strip for the finale.
The Northwest Alabama boat parade will be on Sunday. The boats will gather at 2:00 p.m. near Turtle Point and then the flotilla will parade around the open waters of Wilson Lake til 3_00 p.m.. There will be a contest for best decorated Trump boats.
Trump supporters have held a number of large boat parades across the state to show their support for the re-election of Pres. Trump.
Boat parade sponsors say that this parade will be: pro-American, pro-law enforcement, pro-military.