Sen. Ron Johnson Will be Keynote Speaker at the Republican Party "Chairman's Dinner"
By Brandon Moseley
Alabama Political Reporter
U.S. Senator, and rising Republican star, Ron Johnson (R) from Wisconsin will deliver the keynote address at "The Chairman's Dinner" in Birmingham on February 1 in Birmingham. Also in attendance will be Republican National Committee Chairman Reince Priebus.
Ron Johnson ran for the United States Senate in 2010 after a successful career building a business from the ground up because he believes that the federal government is bankrupting America. Sen. Johnson believes that huge deficits, slow economic activity, high unemployment and woefully inadequate job creation are severe symptoms of the ever expanding size, scope and cost of government is.  Johnson defeated liberal champion Russ Feingold during the historic 2010 election.
Senator Johnson wrote, "Obama's effort is bankrupting America. But worse, as government grows, our freedom recedes. The citizen's relationship to government becomes the most important relationship in his or her life. The more important government is and the more that it tries giving us, the less room there is for others. We become more like the France that de Tocqueville knew — where the people did not work together voluntarily the way Americans did because they instead relied on the state, not each other.  There's a better vision. It's one where we work together, under the discipline of Adam Smith's invisible hand, for mutual benefit without Washington directing every move. It's one where government has a place — but the extraordinary spirit of the entrepreneur is primary."
Also at the Alabama Republican Party will be Special Guest Reince Priebus, Chairman of the Republican National Committee.
Alabama Republican Party Chairman Bill Armistead said, "Reince was first elected Chairman of the RNC at their Winter Meeting in 2010 just a few weeks before I became Chairman of the Alabama Republican Party. It was also my honor and privilege to pledge my support along with Alabama's National Committeewoman and National Committeeman to Reince in his re-election bid later this month.  Reince has already visited Alabama since becoming RNC Chairman. He was my guest at an event at the Governor's Mansion in 2011 recognizing the members of the Foundation for our Future, our major donor program that allowed us to be so successful in the 2012 election cycle here in Alabama."
Chairman Priebus wrote recently, "Republicans remain committed to our principles of fiscal responsibility and limited government. We hope Senate Democrats, who have not passed a budget in over three and a half years, and President Obama, who failed to keep his promise of cutting the deficit in half in his first term, will finally join us in doing what is right for our children, our families, and our economy. Federal government policies must encourage economic opportunity and upward mobility. That requires a pro-growth tax code and a government that lives within its means."
This year's Winter Meeting will be held on February 1 at the Sheraton Hotel in Downtown Birmingham adjacent to the Birmingham Jefferson Civic Center and the cost will be $150 per ticket.  There will be a reception at 6:00 pm followed by a dinner at 7:00 pm.  As of press time tickets were still available.
Go to the Republican Party website for more information: www.algop.org
Trump Truck and boat parades this weekend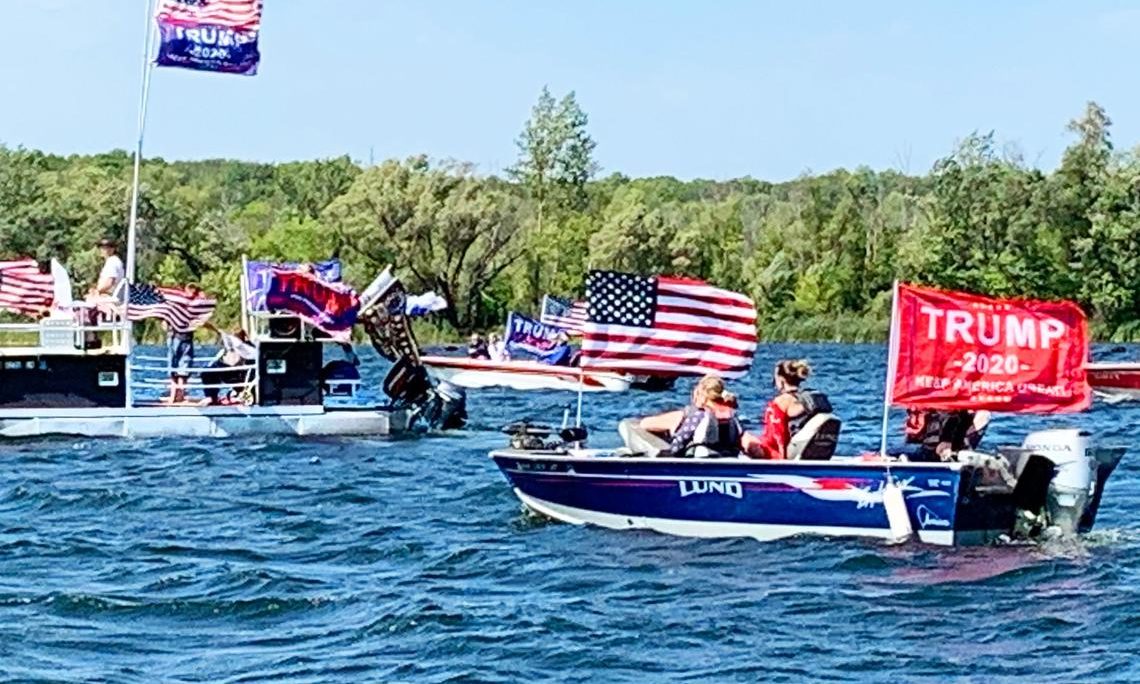 As Election Day draws near, Alabama Republicans are excited about promoting the re-election of Donald J. Trump as President and the election of Tommy Tuberville for U.S. Senate. This weekend two pro-President Trump events are happening in the state. There will be a truck parade from Ashland to Phenix City on Saturday sponsored by the Clay County Republican Party, while there will also be a boat parade on Wilson Lake in the Shoals sponsored by the Colbert County Republican Party on Sunday.
The pickup trucks will assemble at the Ashland Industrial Park in Clay County, 8240 Hwy 9, Ashland. There is a pre-departure rally at 10:00 a.m. central standard time. The trucks will depart at 11:00 a.m. and then proceed on a parade route that will take them into the bitterly contested swing state of Georgia. The Trump Pickup Parade will wind through east Alabama and West Georgia traveling through LaGrange and Columbus before concluding near the Alabama/Georgia line in Phenix City, 332 Woodland Drive, Phenix City at approximately 2:00 p.m. central time. Speakers will begin at 3:00. Trump flags will be on sale at the event.
The Phenix Motorsports Park will be hosting what sponsor hope could possibly the world's largest Pickup Tuck parade in U.S. history that is routing over 50 mile through Georgia in effort to "pickup" President Trump's numbers in GA.
A number dignitaries have been invited to address the Phenix City rally, including Coach Tuberville. Former State Sen. Shadrack McGill, Trump Victory Finance Committee member former State Rep. Perry O. Hooper Jr., and Paul Wellborn, the President and CEO of the largest Family owned Kitchen Cabinet manufacture in the USA are among the featured speakers who have committed to speak at the event.
Entertainment will be provided by: Charity Bowden, an up and coming country music singer who was the runner up on "The Voice". Charity will sing 'I am Proud to be an American' as well as songs from her Voice performances. The McGill Girls will also perform. The three beautiful and talented sisters will be singing patriotic songs in three part harmony. Geoff Carlisle, a professional DJ will be keeping the crowd pumped with music and entertainment.
Following the speakers and the entertainment there will Trump truck-vs- Joe Bidden truck races down the drag strip for the finale.
The Northwest Alabama boat parade will be on Sunday. The boats will gather at 2:00 p.m. near Turtle Point and then the flotilla will parade around the open waters of Wilson Lake til 3_00 p.m.. There will be a contest for best decorated Trump boats.
Trump supporters have held a number of large boat parades across the state to show their support for the re-election of Pres. Trump.
Boat parade sponsors say that this parade will be: pro-American, pro-law enforcement, pro-military.