500,000 Pro-Life Supporters March on Capital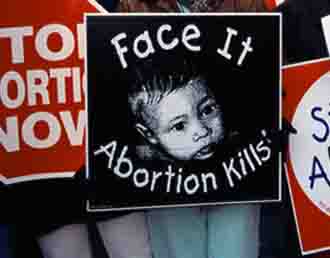 By Brandon Moseley
Alabama Political Reporter
On Friday, over 500,000 Pro-Life activists gathered in Washington D.C. to protest the 55 million legal abortions that have occurred in this country since the controversial Roe vs. Wade U.S. Supreme Court Decision on January 22, 1973.
On Tuesday, U.S. Representative Robert Aderholt (R) from Haleyville said on Facebook, "Sadly, today is the 40th anniversary of Roe v. Wade. I am proud to stand up for life and today I reaffirm my commitment to protecting the lives of the unborn."
U.S. Representative Mike Rogers (R) from Saks said, "As Roe v. Wade turns 40 today, I remain committed to passing laws that save the lives of the unborn and protect women."
Rep. Aderholt said, "Since I first ran for Congress, I have been committed to defending our traditional, conservative Alabama values in Washington.  That means protecting families, respecting the sanctity of all life, and recognizing the role that religion has played throughout our nation's history."
Rep. Aderholt is a member of the Pro-Life Caucus in the House as well as the House Values Action Team, the Congressional Caucus on Fatherhood and the Congressional Coalition for Adoption.  Rep. Aderholt said, "Through my membership in these groups I'm able to work with like-minded Members to push conservative, values driven legislation in Congress.  I continue to work towards passage of the Constitution Restoration Act which I first introduced in March 2005.  This bill would help ensure that both state and local governments across the country are able to recognize God in the public arena, something that I believe was of utmost importance to our Founding Fathers.  I also wholeheartedly believe that we should look for ways to curb and stop abortions in the United States.  The rights of the unborn continue to be of the utmost concern to me.  All life is precious.  When people discuss abortion there is a tendency to couch the argument in terms of it being simply a choice or decision.  That's not what it's about. It's about protecting the innocent lives of the most vulnerable among us."
The Alabama House Republican Caucus are proposing the Women's Health and Safety Act to address long standing dangerous and unsanitary conditions in the Alabama abortion industry.  The Caucus wrote, "Questionable Supreme Court rulings have eliminated the state's ability to prohibit abortions altogether.  However, states may enact meaningful abortion-related reforms, and the Women's Health and Safety Act is such a measure.  With this bill, House Republicans make clear that should a woman choose to have an abortion, it should be performed in the safest pre-and-post operative environment available.  Specifically, this legislation would require direct physician involvement and set mandatory standards for nursing care and post-operative follow-up visits at abortion clinics as well as establishing severe penalties for non-compliance."
Rep. Chris Smith (R) from New Jersey is the co-chairman of the Congressional Pro-Life Caucus.  At the 2013 March for Life Rep. Smith said, "Forty years ago this past Tuesday marks the U.S. Supreme Court's infamous, reckless and inhumane abandonment of women and babies to abortionists.  Forty years of victims — dead babies, wounded women, shattered families.  Forty years of government sanctioned violence against women and children.  Since 1973, more than 55 million children have been killed by abortion — a staggering loss of children's precious lives — a death toll that equates to the entire population of England.  The passage of time hasn't changed the fact that abortion is a serious, lethal violation of fundamental human rights. And that women and children deserve better. And that the demands of justice, generosity and compassion require that the right to life be guaranteed to everyone."
Congressman Smith continued, "Rather than dull our consciences to the unmitigated violence of abortion, the passage of time has only enabled us to see and better understand the innate cruelty of abortion and its horrific legacy — victims — while making us more determined than ever to protect the weakest and most vulnerable.  In his inaugural speech on Monday, President Obama said, "Together, we resolve that a great nation must care for the vulnerable … that all are created equal … and our journey is not complete until all of our children … are cared for and cherished and always safe from harm."  We indeed, Mr. President, must care for the vulnerable — but that also includes unborn children and their mothers. No one gets left out or left behind. All people are created equal. And our journey is not complete until all our children — including the child in the womb — are cared for and cherished and always safe from harm."
Rep. Smith concluded, "Yet, President Obama systematically and aggressively promotes abortion at home and overseas.  Despite the fact that taxpayer-subsidized Planned Parenthood claims direct responsibility for killing over 6 million unborn babies, Planned Parenthood remains President Obama's favorite organization.  Someday, future generations will look back on America and wonder how and why such a seemingly enlightened society could have failed to protect the innocent and inconvenient. They will wonder how and why a Nobel Peace Prize-winning president who spoke eloquently about caring, cherishing and safeguarding all our children could also simultaneously have been the "Abortion President."  Know this Mr. President, we will never quit. In adversity, our faith and trust in God is tested, but it also deepens and overcomes and forges an indomitable yet humble spirit.  Know this: The pro-life movement is comprised of noble, caring, smart and selfless people. It is an extraordinarily powerful, non-violent, faith-filled human-rights struggle that is growing in public support, intensity, commitment and hope.  And know this Mr. President: The pro-life movement is not only on the side of compassion, justice and inclusion; we are on the right side of responsible science and of history."
According to the March For Life's website the group favors the adoption of a Mandatory Human Life Amendment to the Constitution of the United States. "Such an amendment would be simple and require that individuals and society provide protection for the right to life of each human in existence at fertilization. It would require that State laws conform to the Constitution and provide the same protection."

Alabama reports 1,750 new COVID-19 cases ahead of July 4th
The seven-day average of cases per day surpassed 1,000 for the first time Friday.
Heading into the Fourth of July holiday weekend, Alabama is reporting more cases of COVID-19 than ever before as hospitalizations continue a worrisome surge and the state's death toll rises.
Since the first coronavirus case was identified in Alabama on March 30, 41,362 Alabamians have tested positive for COVID-19, according to the Alabama Department of Public Health.
The state reported at least 1,758 positive cases on Friday alone, the most since the pandemic began. In the past seven days, 7,645 cases have been reported, the most of any seven-day period since the pandemic began.
The seven-day rolling average of new cases — used to smooth out daily variability and inconsistencies in case reporting — surpassed 1,000 for the first time Friday.
Ahead of the holiday, the Alabama Department of Public Health is urging Alabamians to celebrate at home due to the coronavirus crisis.
On Friday, the Alabama Department of Public Health announced that another 22 Alabamians have died from COVID-19 just in the last 24 hours. That takes the state's COVID-19 death toll to 983. Of those, 96 died in the last week alone (June 27-July 3).
A few simple steps can greatly reduce your chances of being exposed and exposing others to COVID-19. Everyone should practice good hygiene, cover coughs and sneezes, avoid touching your face and wash hands often. Avoid close contact with people who are sick, even inside your home, and maintain a distance of at least 6 feet from others not in your household.
The use of cloth face coverings or masks when in public can greatly reduce the risk of transmission, particularly if the infected individual wears a mask. Many people are contagious before they begin to show symptoms — or may never develop symptoms but are still able to infect others.
Alabama reported an additional 22 deaths Friday, bringing the state's COVID-19 death toll to 983, according to the Alabama Department of Public Health.
Of those, 96 died in the past seven days alone, or roughly 10 percent of the state's total death toll. In the past 14 days, 171 people have died, or roughly 17 percent of the state's death toll.
Even as the number of tests also increases — at least 430,000 have been tested — a larger percentage of tests are coming back positive compared to any other time period, according to the Department of Public Health and APR's tracking.
Roughly 15 percent of tests in the past week have been positive.
The large increases come as Alabama Gov. Kay Ivey on Tuesday extended the current "safer-at-home" public health order, which was set to expire Friday, to July 31.
The number of individuals hospitalized with COVID-19 is also at a new high, with at least 843 people hospitalized with the virus on July 2, the most since the pandemic began.
On Monday, in Jefferson County, where cases are increasing rapidly, residents were ordered to wear masks or cloth face coverings in an attempt to slow the spread of the virus. On Tuesday, the city of Mobile also began mandating masks or face coverings. The cities of Tuscaloosa, Montgomery and Selma have also implemented face covering orders.
Of the 7,645 cases confirmed in the last week, 1,321 — or roughly 17 percent — were reported in Jefferson County alone. Nearly 28 percent of Jefferson County's 4,802 total cases have been reported in the last seven days. Since March, 152 people have died in Jefferson County.
A campaign rally for President Donald Trump that was planned for Mobile on July 11 has been canceled because of the rapidly worsening coronavirus situation there. Mobile County has had 633 newly diagnosed cases in the last week, or roughly 8 percent of the state's cases this week. Mobile County has had a total of 3,904 cases and 134 deaths over the course of the pandemic.
Montgomery County reported 426 newly diagnosed cases in the last week. Overall Montgomery has had 3,947 total cases and 104 deaths thus far.
Tuscaloosa County has 393 new cases this week. The surging number of cases in Tuscaloosa and Lee Counties — where 276 tested positive this week — could potentially put the 2020 college football season in jeopardy. Tuscaloosa has had a total of 2,188 cases and 42 deaths, while Lee County has a total of 1,302 cases and 37 deaths.
Despite making it through several months with relatively moderate increases, Madison County is also experiencing a surge of new cases in recent weeks — with 407 cases in the last week alone. Madison has had 1,271 cases and seven deaths.
Many people are flocking to the beach for the Fourth of July holiday, where the coronavirus is also surging in Baldwin County with 328 new cases in the last seven days. Baldwin had been largely spared to this point with 828 cases in total and nine deaths. This week's increase accounts for 40 percent of the county's total case count.
Alabama is not alone in seeing surging case numbers. Forty of the 50 states reported rising coronavirus cases in the last week. On Thursday, 57,236 new cases were diagnosed and 687 Americans died. The U.S. death toll from the global pandemic has risen to 131,823.
Globally, there have been 11,092,229 cases diagnosed, though the real number is likely much higher. At least 526,450 people have died from COVID-19, and, with 208,860 new cases diagnosed on Thursday alone, there is no sign that this global pandemic will be over any time soon.