Alabama Exports Hit New Record at $19.5 Billion
From the Office of Governor Robert Bentley
MONTGOMERY – Governor Robert Bentley on Monday announced that Alabama exports closed out calendar year 2012 at a record-breaking total of $19.5 billion in the value of goods exported, an increase of 9.36 percent from the 2011 total.
The State moved to 22nd in the nation for total dollar exports during 2012 while ranking 25th in 2011.
"This shows that Alabama's economy is continuing to improve, and we are making gains in exporting to countries all over the world," Governor Bentley said.  "The products made in Alabama are second to none.  We have a world-class workforce.  And the rest of the world is taking notice."
"Exports help us create and sustain more jobs," Governor Bentley added.  "That's why exporting is a critical component of Accelerate Alabama, our long-term economic development plan."
Alabama companies shipped to 188 countries last year with the top five destination markets of Canada ($3.9 billion), Germany ($2.5 billion), China ($2.4 billion), Mexico ($2 billion) and Japan ($795 million).  Canada and Mexico, our North American Free Trade Agreement (NAFTA) partners, accounted for some $5.96 billion or 31 percent of Alabama's total exports.  Goods shipped to Germany increased over 30 percent, from $1.9 billion to more than $2.5 billion between 2011 and 2012.  Exports to China showed a growth of 3.5 percent, growing from $2.3 billion to $2.4 billion.
The state's largest merchandise export category is transportation equipment, which experienced a 27 percent growth from 2011 to 2012 – rising from $6 billion to $7.65 billion.  Thirty percent of transportation equipment exports were vehicles being shipped to more than 80 countries totaling over $5.8 billion in foreign sales.
Also in the top five of exports in 2012 were chemicals ($2.6 billion), minerals/ores ($1.8 billion), primary metals ($1.4 billion) and machinery ($1 billion).
Alabama Secretary of Commerce Greg Canfield said total receipts for Alabama's top ten export sectors reached $17.5 billion, or 90 percent of total exports.
"Seeing Alabama exports increase 59% from 2009 to 2012 is one of the most encouraging and impressive numbers we have witnessed in exports," Canfield said.  "Demand for Alabama-made goods throughout the world is surging, and we will continue to support our companies in these endeavors."
Print this piece
Jones criticized for voting to limit Trump's war powers authority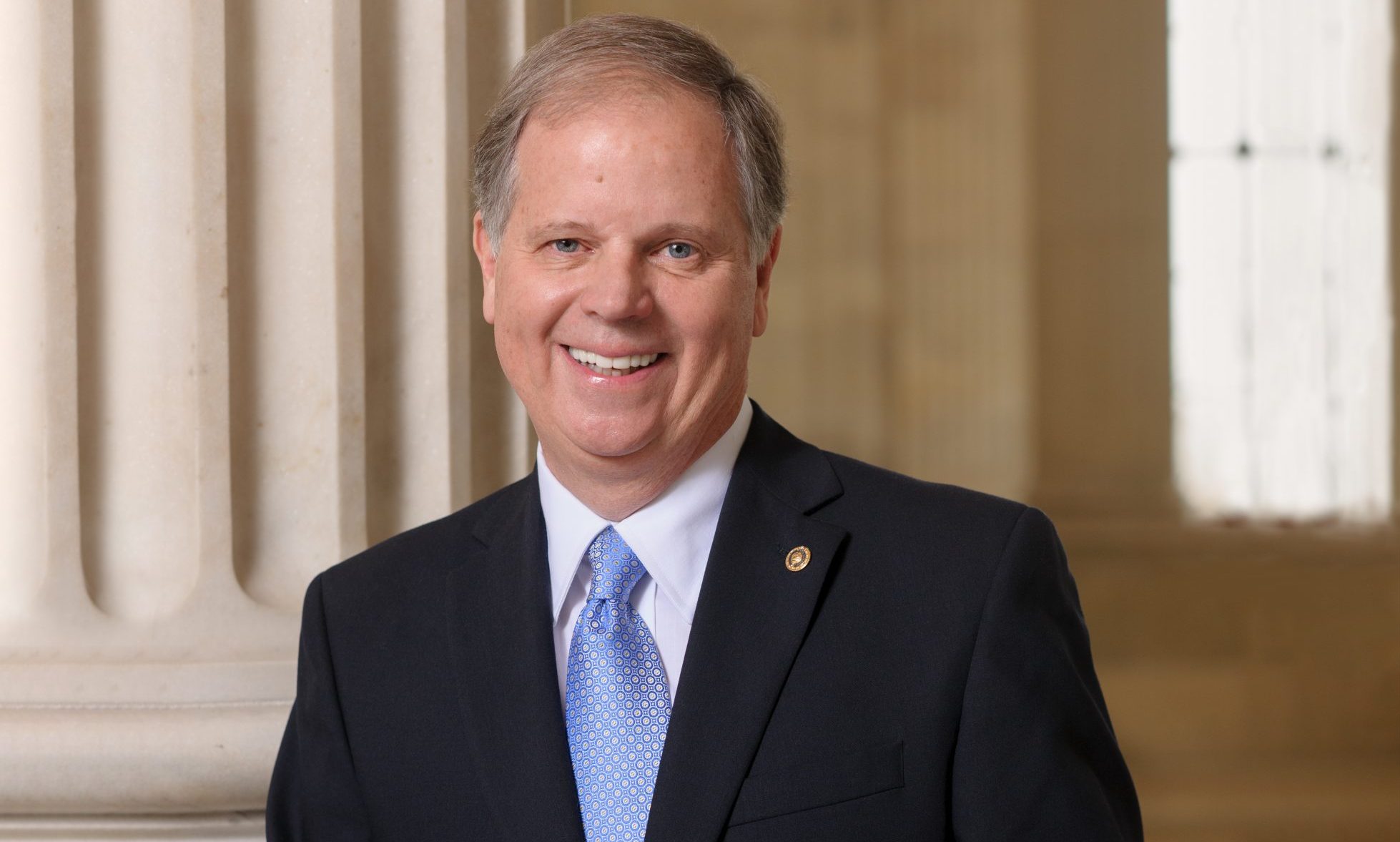 Thursday, U.S. Senator Doug Jones (D-Alabama) voted in favor of S.J.Res.68, a resolution which directs the removal of United States military from hostilities against the Islamic Republic of Iran that have not been authorized by Congress. Jones has been criticized by Republicans for voting to limit President Donald J. Trump's war powers on Iran.
"Before a President can lead us into war, he or she must first earn the support of the American people and also fulfill their solemn constitutional obligation to seek approval from Congress," Sen. Jones said in a statement. "While the President has the power to protect Americans in the case of an imminent attack, that authority does not extend to committing our service members to long-term hostilities unilaterally. This resolution sends a strong message that we will follow the Constitution and we will not send our troops into harm's way without the serious consideration and consent of the Congress."
Trump Victory National Finance Committee member Perry O. Hooper Jr. released a statement in response.
"Senator Jones once again turned his back on Alabama and voted as the leftwing Democrats commanded. He has no regard for the values, opinions or views of Alabamians," Hooper said. "He sees us as deplorables just like the elites of the Democratic party who have funded 80 percent of his doomed campaign for re-election.:
Hooper stated, "I whole heartily support the President who stated 'We are doing very well with Iran and this is not the time to show weakness… If my hands were tied, Iran would have a field day. Sends a very bad signal. The Democrats are only doing this as an attempt to embarrass the Republican Party.'"
"The Commander-in-chief must be free to work with his staff and his military leaders to conduct covert operations like the one that eliminated Iran's terrorist-in-chief General Soleimani," Hooper added. "You can't micromanage the war on terrorism. The Democrats in Congress are so filled with Trump Derangement Syndrome that no matter how much it would benefit our country and the world; they would never give Trump a "victory". If it came down to it, they would leak everything to the media no matter what the consequences."
Senator Jones is a cosponsor of the legislation and a member of the Senate Armed Services Committee. Eight moderate Republicans voted with the Democrats on the resolution.
Senator Jones has also been criticized by Republicans for his comments that he was "appalled" by Pres. Trump's actions following his acquittal on both Articles of Impeachment.
"Newsflash for Senator Doug Jones: Most Alabamians have been appalled by his actions his entire time in office," former Attorney General Jeff Sessions said. "It's about time we send Doug home, and replace him with someone who understands our values. Alabamians deserve a Senator they can be proud of again."
Sessions is a candidate for the Republican nomination for Jones' Senate seat.
The Republican primary will be on March 3.
Print this piece