Brooks Addresses Second Amendment Supporters
By Brandon Moseley
Alabama Political Reporter
U.S. Representative Mo Brooks addressed over 1,500 supporters of America's traditional second amendment rights in Huntsville Saturday. The event was part of the day of resistance organized by the National Rifle Association (NRA) and other gun rights groups across the country. The Huntsville event was held by the conservative South Huntsville Civic Association. The national day of resistance was held on the date of 2-23 to show support for the .223 caliber ammunition used by the AR-15, which has been the gun that has been most demonized by gun grabbing politicians and their compliant allies in the mainstream media.
Congressman Mo Brooks said, "Over the last six decades America has been the greatest nation in the world. My whole life I have been proud of my country. We enjoy a standard of living that is the envy of the rest of the world. We have a military and a defense capability that is the envy of the world."
Representative Brooks said, "We should be proud but we need to understand the principles that make us who we are. We are a republic nobody tells us what to do unless we give that consent. The bill of rights protects us from abusive central governmental authority. Three we are a moral nation. We need to have that moral foundation." Brooks said the fourth principle is a free market economy. If people will work hard and take advantage of the opportunity they can succeed in this country.
Brooks said, "The source is the wisdom of America's founding fathers. Too often I read or watch on TV radical leftists demeaning the founding fathers." Brooks said that he is angry that those men's brilliance is being demeaned by people who do not have their understanding, Brooks said one would think we would adhere to the principles upon which the nation is built; but the founding fathers are denigrated every day in the news media. Brooks said that great nations rarely fall from without but are undermined from within.
Brooks said, "America is being undermined by radical leftists in the White House, in Congress, in state legislatures, in governors offines, and in city and county governments." "We need to remember what our founding fathers believed in."
Brooks said that Thomas Jefferson, Patrick Henry, Thomas Paine, Richard Henry Lee, and the other Founding Fathers all supported gun rights because an armed public was the best defense against a tyrannical government.
Brooks said, "The second amendment is not about hunting though that is a benefit. The second amendment is not about protecting us from criminals though that is a benefit. The second amendment is about protection from dictatorial and tyrannical government. It is the right that protects all the other Constitutional rights." Brooks said that President Obama with the help of a mainstream media is plotting to undermine that American right. "It is our duty to stand up and stop President Obama."
Brooks said that it is the responsibility of all of us to actively participate in all elections and to have an impact on public policy and that demands eternal vigilance. "Our foes work nonstop to undermine our rights and therefore to undermine our country. All of our freedoms are at risk to the extent that our second amendment rights are at risk. We can win this fight, but our challenge is big."
Brooks asked, "Will you stand to protect our second amendment rights to bear arms, our constitution and America?"
Congressman Mo Brooks represents Alabama's Fifth Congressional District.
Trump Truck and boat parades this weekend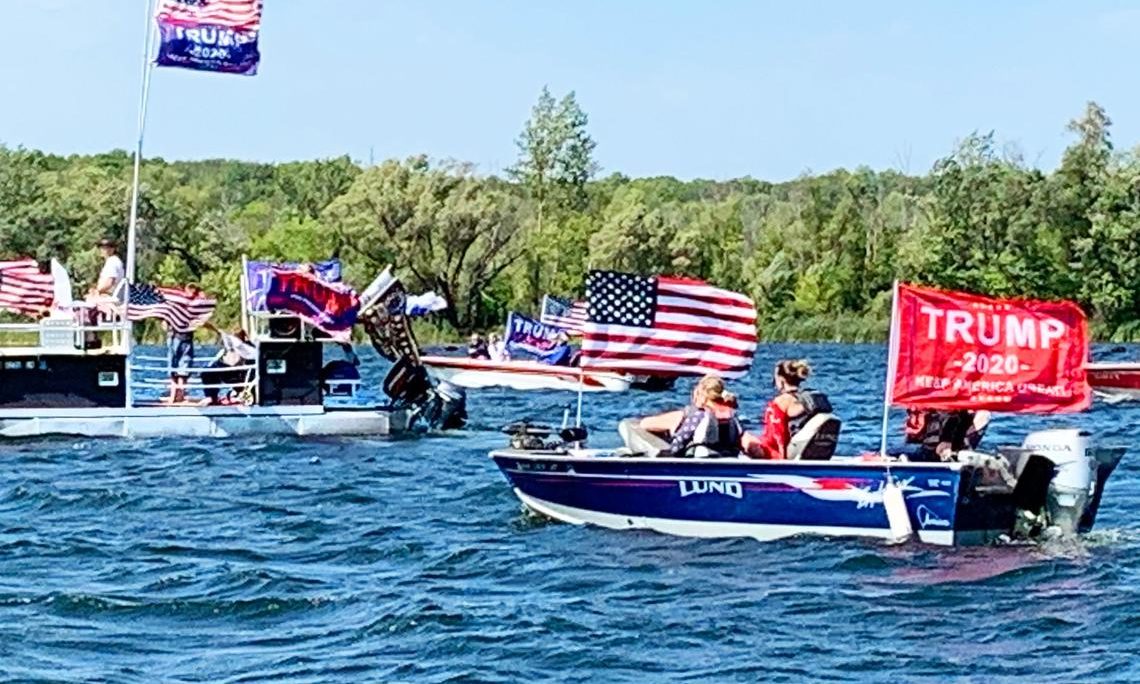 As Election Day draws near, Alabama Republicans are excited about promoting the re-election of Donald J. Trump as President and the election of Tommy Tuberville for U.S. Senate. This weekend two pro-President Trump events are happening in the state. There will be a truck parade from Ashland to Phenix City on Saturday sponsored by the Clay County Republican Party, while there will also be a boat parade on Wilson Lake in the Shoals sponsored by the Colbert County Republican Party on Sunday.
The pickup trucks will assemble at the Ashland Industrial Park in Clay County, 8240 Hwy 9, Ashland. There is a pre-departure rally at 10:00 a.m. central standard time. The trucks will depart at 11:00 a.m. and then proceed on a parade route that will take them into the bitterly contested swing state of Georgia. The Trump Pickup Parade will wind through east Alabama and West Georgia traveling through LaGrange and Columbus before concluding near the Alabama/Georgia line in Phenix City, 332 Woodland Drive, Phenix City at approximately 2:00 p.m. central time. Speakers will begin at 3:00. Trump flags will be on sale at the event.
The Phenix Motorsports Park will be hosting what sponsor hope could possibly the world's largest Pickup Tuck parade in U.S. history that is routing over 50 mile through Georgia in effort to "pickup" President Trump's numbers in GA.
A number dignitaries have been invited to address the Phenix City rally, including Coach Tuberville. Former State Sen. Shadrack McGill, Trump Victory Finance Committee member former State Rep. Perry O. Hooper Jr., and Paul Wellborn, the President and CEO of the largest Family owned Kitchen Cabinet manufacture in the USA are among the featured speakers who have committed to speak at the event.
Entertainment will be provided by: Charity Bowden, an up and coming country music singer who was the runner up on "The Voice". Charity will sing 'I am Proud to be an American' as well as songs from her Voice performances. The McGill Girls will also perform. The three beautiful and talented sisters will be singing patriotic songs in three part harmony. Geoff Carlisle, a professional DJ will be keeping the crowd pumped with music and entertainment.
Following the speakers and the entertainment there will Trump truck-vs- Joe Bidden truck races down the drag strip for the finale.
The Northwest Alabama boat parade will be on Sunday. The boats will gather at 2:00 p.m. near Turtle Point and then the flotilla will parade around the open waters of Wilson Lake til 3_00 p.m.. There will be a contest for best decorated Trump boats.
Trump supporters have held a number of large boat parades across the state to show their support for the re-election of Pres. Trump.
Boat parade sponsors say that this parade will be: pro-American, pro-law enforcement, pro-military.