Bentley Announces That He Will Sign Education Reform Legislation
By Brandon Moseley
Alabama Political Reporter
On Thursday, the Republican controlled legislature passed unprecedented legislation intended to reform Alabama's historically mediocre public school system. On Thursday night, Governor Robert Bentley (R) on Thursday announced he will sign the Alabama Accountability Act of 2013.
Governor Bentley said, "This is historic education reform that will benefit students and families across the state. Local school systems will have the flexibility to make more decisions on behalf of their students. Families will have new options if their children are stuck in failing schools. All children, regardless of their family's income or where they live, will have the opportunity to receive a quality education."
Gov. Bentley said, "As promised, this bill gives school districts flexibility without infringing on the rights and responsibilities of our classroom teachers. This bill shows that we have confidence in our local educators to know what's best for their students."
The bill began as HB 84 the School Flexibility Act. The Alabama House and the Senate both passed differing versions of that bill. A Conference Committee was assigned the task of resolving the differences between the two versions. Instead a substitute bill was offered. The substitute gave children from failing schools the option of transferring to a better school.
House Minority Leader Craig Ford (D) from Gadsden was not pleased. "This is a bait and switch. The bill that came out of the conference committee was more than three times longer than the bill we passed. There is no way that happened in the thirty minutes that the conference committee met today. This bill has been sitting in someone's desk drawer for months. It was their strategy all along to pass one version of the bill, and then come back and push this version through conference committee. The Republican leadership operated unethically, and in bad faith. But it is our children who are going to suffer because of this, and my heart breaks for them today."
Senator Bryan Taylor (R) from Prattville said on Facebook, "I voted for tonight to finally break the failed status quo in public education in Alabama. This new law will finally give all parents the freedom and options to secure a quality education and brighter future for their children."
According to the Governor's written statement, The Alabama Accountability Act gives school systems flexibility to submit plans for review and approval by local and state education leaders. The legislation requires that public hearings be held and that the public be allowed to have input before any school flexibility plans are approved. School districts given flexibility will have to show improved student achievement. The bill also creates tax credits for families with children in really bad schools. Those credits will give children new options to attend a non-failing public school or even a non-public school. Education reformers have long called for vouchers in Alabama and this legislation would do that for the first time. Businesses that donate to nonprofits that provide scholarships for students to attend non-failing public schools or non-public schools would receive tax credits.
Gov. Bentley said, "I appreciate the hard work of the legislative leadership, the bill's sponsors and everyone who worked together to give our schools and families greater flexibility. Students will benefit as a direct result of the legislation approved tonight."
Trump Truck and boat parades this weekend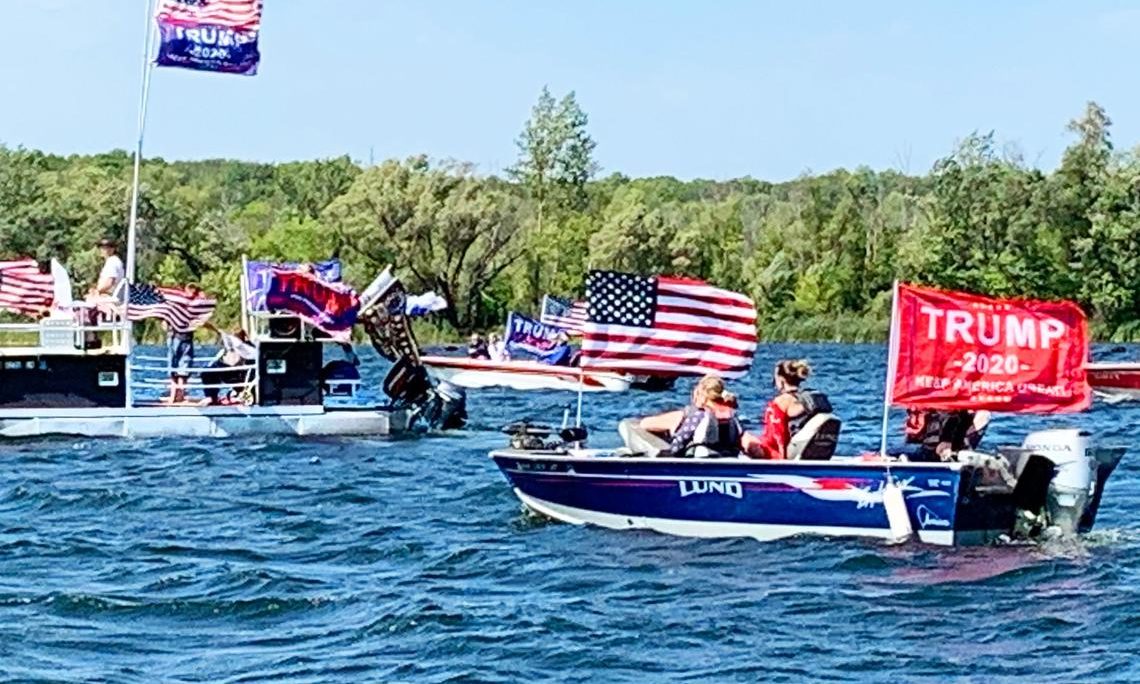 As Election Day draws near, Alabama Republicans are excited about promoting the re-election of Donald J. Trump as President and the election of Tommy Tuberville for U.S. Senate. This weekend two pro-President Trump events are happening in the state. There will be a truck parade from Ashland to Phenix City on Saturday sponsored by the Clay County Republican Party, while there will also be a boat parade on Wilson Lake in the Shoals sponsored by the Colbert County Republican Party on Sunday.
The pickup trucks will assemble at the Ashland Industrial Park in Clay County, 8240 Hwy 9, Ashland. There is a pre-departure rally at 10:00 a.m. central standard time. The trucks will depart at 11:00 a.m. and then proceed on a parade route that will take them into the bitterly contested swing state of Georgia. The Trump Pickup Parade will wind through east Alabama and West Georgia traveling through LaGrange and Columbus before concluding near the Alabama/Georgia line in Phenix City, 332 Woodland Drive, Phenix City at approximately 2:00 p.m. central time. Speakers will begin at 3:00. Trump flags will be on sale at the event.
The Phenix Motorsports Park will be hosting what sponsor hope could possibly the world's largest Pickup Tuck parade in U.S. history that is routing over 50 mile through Georgia in effort to "pickup" President Trump's numbers in GA.
A number dignitaries have been invited to address the Phenix City rally, including Coach Tuberville. Former State Sen. Shadrack McGill, Trump Victory Finance Committee member former State Rep. Perry O. Hooper Jr., and Paul Wellborn, the President and CEO of the largest Family owned Kitchen Cabinet manufacture in the USA are among the featured speakers who have committed to speak at the event.
Entertainment will be provided by: Charity Bowden, an up and coming country music singer who was the runner up on "The Voice". Charity will sing 'I am Proud to be an American' as well as songs from her Voice performances. The McGill Girls will also perform. The three beautiful and talented sisters will be singing patriotic songs in three part harmony. Geoff Carlisle, a professional DJ will be keeping the crowd pumped with music and entertainment.
Following the speakers and the entertainment there will Trump truck-vs- Joe Bidden truck races down the drag strip for the finale.
The Northwest Alabama boat parade will be on Sunday. The boats will gather at 2:00 p.m. near Turtle Point and then the flotilla will parade around the open waters of Wilson Lake til 3_00 p.m.. There will be a contest for best decorated Trump boats.
Trump supporters have held a number of large boat parades across the state to show their support for the re-election of Pres. Trump.
Boat parade sponsors say that this parade will be: pro-American, pro-law enforcement, pro-military.