Alabama Citizens for Life Focus on Women's Health and Safety Act
By Brandon Moseley
Alabama Political Reporter
The Alabama Citizens for Life is asking their members to contact members of the Senate Rules Committee urging them to vote "Yes" on the Women's Health and Safety Act, HB 57, and place the bill on the Special Order Calendar for the full Senate. The Alabama Legislative Watchdogs have also repeated that message to their supporters on Facebook.
In a email to their members and supporters, the group thanked Senator Jabo Waggoner (R) from Vestavia for giving the bill a favorable report, out of the Sen. Health Committee . They also thanked Senate Health Committee Chairman Sen. Greg Reed (R) for taking swift action on the bill, Sen. Cam Ward (R) from Alabaster for moving attempts to amend be "laid on the table", and Sen. Scott Beason (R) from Gardendale for carrying the bill in the Alabama Senate.
The Pro-Life group wrote, "Senator Jabo Waggoner, Senate Rules Committee chairman has always been a leader for LIFE in Alabama and graciously met with us today to discuss the priority of this legislation. Senator Scott Beason is championing this bill in the Senate Chamber and we are grateful for his assistance as well. We are continuing to ask ALL of the Senators to Vote Yes on HB57 WITH NO AMENDMENTS."
Planned Parenthood Southeast Legislative Director Nikema Williams said in a written statement, "It is unconscionable for legislators to attack women's health when Alabama women are in the midst of a health care crisis," Williams said referring to facts that show that the state too often ranks at the bottom of health care statistics. Half-million women in Alabama are in need of contraceptive services and supplies, and 55 percent of all pregnancies are unintended. Infant mortality rates are almost double the national average. More than 23 AIDS cases are newly diagnosed per every 100,000 African American women in the state, as compared to just over two per every 100,000 white women. The legislators should get their priorities straight and focus on improving women's access to birth control and preventive health care."
Alabama Governor Robert Bentley (R) said on Tuesday that he supported and would sign the Women's Health and Safety Act if the legislature would send him the bill and urged the Pro-Life activists to contact their State Senators and tell them to pass the legislation. The Health and Safety Act would hold Alabama abortion clinics to the same regulatory standards as other out patient surgery centers.
Gov. Bentley said, "We need to always remember it is our duty to protect those innocents lives and that is something that just hasn't been done." Bentley lamented the over 50 million American lives lost since abortion was made legal by the controversial Roe versus Wade decision in 1973 that stripped the states of their rights to prohibit abortions.
HB 57 is sponsored by Representative Mary Sue McClurkin (R) from Indian Springs. Rep. McClurkin said in a written statement, "Though I am a committed opponent of legalized abortion, the U.S. Supreme Court has sadly allowed it to remain the law of the land, so we must do everything possible to ensure the procedure is performed in a safe and healthy environment that is also prepared for emergencies that may arise."
The Alabama House Republican Caucus made the Women's Health and Safety Act part of its ambitious 2013 legislative session, "We Dare Defend Our Rights" agenda. Speaker of the House Mike Hubbard (R) from Auburn said on Faceboook after addressing Pro-Life movement supporters on Tuesday, "Proud to speak at today's Pro-Life Rally at the Capitol. I am even more proud of the Alabama House Republican Caucus's success in passing pro-life legislation as a part of our 2013 legislative agenda. We dare defend our right to life."
The Alabama Legislagtive Watchdogs are a Rainy Day Patriots Group.
Trump Truck and boat parades this weekend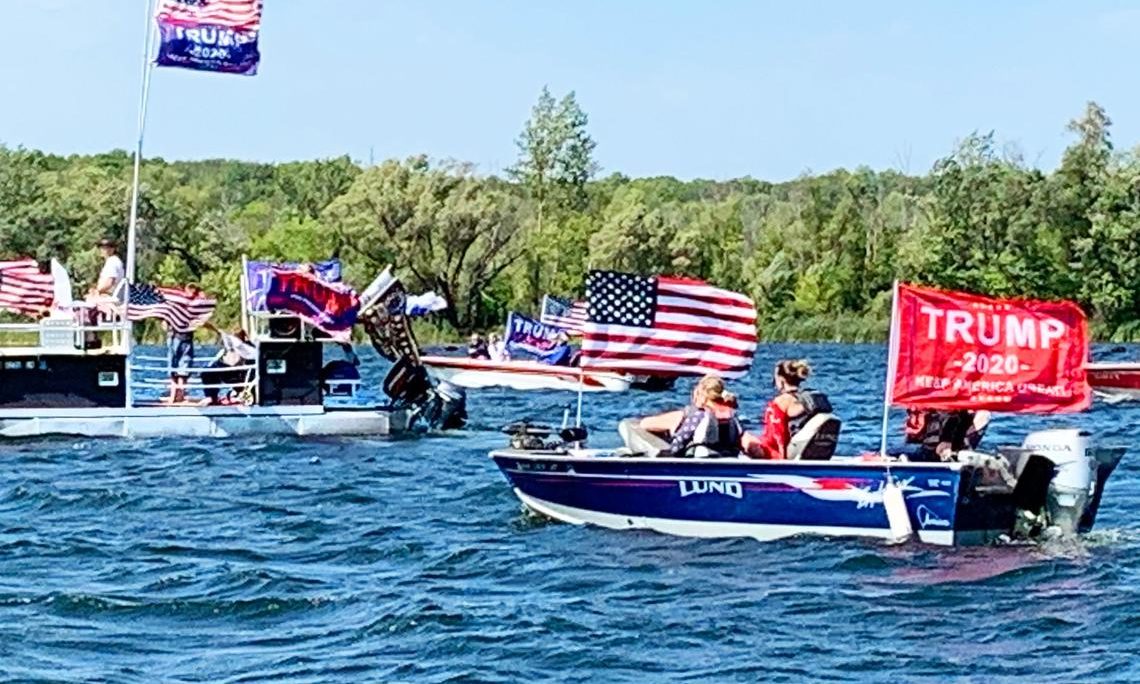 As Election Day draws near, Alabama Republicans are excited about promoting the re-election of Donald J. Trump as President and the election of Tommy Tuberville for U.S. Senate. This weekend two pro-President Trump events are happening in the state. There will be a truck parade from Ashland to Phenix City on Saturday sponsored by the Clay County Republican Party, while there will also be a boat parade on Wilson Lake in the Shoals sponsored by the Colbert County Republican Party on Sunday.
The pickup trucks will assemble at the Ashland Industrial Park in Clay County, 8240 Hwy 9, Ashland. There is a pre-departure rally at 10:00 a.m. central standard time. The trucks will depart at 11:00 a.m. and then proceed on a parade route that will take them into the bitterly contested swing state of Georgia. The Trump Pickup Parade will wind through east Alabama and West Georgia traveling through LaGrange and Columbus before concluding near the Alabama/Georgia line in Phenix City, 332 Woodland Drive, Phenix City at approximately 2:00 p.m. central time. Speakers will begin at 3:00. Trump flags will be on sale at the event.
The Phenix Motorsports Park will be hosting what sponsor hope could possibly the world's largest Pickup Tuck parade in U.S. history that is routing over 50 mile through Georgia in effort to "pickup" President Trump's numbers in GA.
A number dignitaries have been invited to address the Phenix City rally, including Coach Tuberville. Former State Sen. Shadrack McGill, Trump Victory Finance Committee member former State Rep. Perry O. Hooper Jr., and Paul Wellborn, the President and CEO of the largest Family owned Kitchen Cabinet manufacture in the USA are among the featured speakers who have committed to speak at the event.
Entertainment will be provided by: Charity Bowden, an up and coming country music singer who was the runner up on "The Voice". Charity will sing 'I am Proud to be an American' as well as songs from her Voice performances. The McGill Girls will also perform. The three beautiful and talented sisters will be singing patriotic songs in three part harmony. Geoff Carlisle, a professional DJ will be keeping the crowd pumped with music and entertainment.
Following the speakers and the entertainment there will Trump truck-vs- Joe Bidden truck races down the drag strip for the finale.
The Northwest Alabama boat parade will be on Sunday. The boats will gather at 2:00 p.m. near Turtle Point and then the flotilla will parade around the open waters of Wilson Lake til 3_00 p.m.. There will be a contest for best decorated Trump boats.
Trump supporters have held a number of large boat parades across the state to show their support for the re-election of Pres. Trump.
Boat parade sponsors say that this parade will be: pro-American, pro-law enforcement, pro-military.