Hightower Elected To State Senate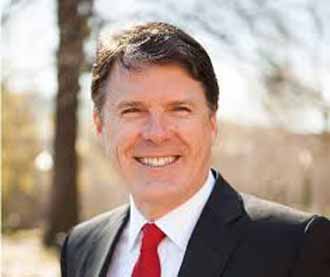 By Brandon Moseley
Alabama Political Reporter
Alabama Senate District 35 voters elected business consultant Bill Hightower to represent them in the Alabama Senate on Tuesday.  Hightower defeated State Representative Jim Barton in Tuesday's special Republican Runoff.
Rep. Barton conceded at 7:45 pm after Barton campaign poll workers reported polling place results show that his efforts had been unsuccessful.
Hightower won 64.19% of the vote versus Barton's 35.87%.  There were only 6,587 total votes cast in the hotly contested special election.
Al.com reported that Hightower told a reporter, "I'm elated I'm also humbled because it's my friends and supporters. If you run for office, you know it's your friends and supporters who do the heavy lifting."
Alabama Republican Party Chairman Bill Armistead said in a written statement, "Bill Hightower is a great example of a citizen legislator who has spent his entire life in the private sector and is now ready to give back to the people of Alabama."
The vacancy was created in Senate District 35 after Senator Ben Brooks (R) resigned his seat after winning a position on the Mobile County Circuit Court last November.
Bill Hightower, a Mobile area businessman led the Special Primary but did not break the 50% threshold to prevent a run-off.  Representative Jim Barton will now continue his service to the State of Alabama in the House of Representatives.
On Twitter Senate Pro Tempore Del Marsh (R) from Anniston congratulated Hightower and said, "Welcome to the Senate. Look forward to working with you."
Also on Twitter, Senator Phil Williams (R) from Rainbow City, "Congrats to Bill Hightower for a huge win in the race for Senate District 35! Welcome aboard Bill!"
Senator Tom Whatley (R) from Lee County said on Twitter, "Congratulations to Bill Hightower, the newest member of the Alabama Senate. Look forward to working w you Bill."
In the primary Hightower took 46.5% of the Republican primary vote and Rep. Jim Barton (R) came in second with just 30% of the vote.  Former Marine Corps pilot, Nick Matranga came in third with 23% of the vote.  Matranga since endorsed Barton.  Before the runoff, Hightower charged that Barton was organizing Democrats to vote in the Republican runoff.
The winner of the March 12 runoff will be the State Senator as the Alabama Democratic Party was unable to recruit a candidate for the seat previously held by Ben Brooks.  Sen. Brooks vacated his seat after being elected a Mobile Circuit Court Judge.
Chairman Armistead said, "The fact that no Democrat qualified to run for Senate District 35 demonstrates that Democrats have fallen out of favor with the voters in Alabama because their liberal policies do not align with the vast majority of Alabama voters."
Armistead continued, "By not qualifying a Democrat, today's winner will become the next State Senator for Mobile County. Voters had a tough choice between two great Republican candidates, and I offer my congratulations to Bill Hightower. I am excited to see what Senator Hightower is going to do for the people of Mobile County and the State of Alabama."
Only 7.5% of the electorate voted in the Special Republican Primary and this was the only race on the ballot.
According to his website bio, Bill Hightower is married to Susan Binegar Hightower, from Grand Bay. He and Susan have three children; Will (26), Haven (22), and Ben (18).
Bill Hightower moved to Mobile in 1968, when his father, Billy M. Hightower M.D., established an Open Heart Surgery Center at Mobile General Hospital (Now University of South Alabama Medical Center).
Hightower graduated from Murphy High School, attended the University of South Alabama and graduated with his B.S. in Commercial Banking/Finance, with studies in economics from the London School of Economics & Political Science, London, England. He also has a 1990 M.B.A. from Vanderbilt University.  After working for several different corporations that took him all over the world Hightower moved back to Mobile and "is owner of a private practice which focuses on corporate strategic consulting. He works with clients in the U.S., Europe, and China in defining their growth strategy and implementing it through acquisitions and alliances."
Hightower's wife Susan from Grand Bay owns Wee-Exchange one of the largest children's consignment businesses in Mobile and operates a clothing store in Bel-Air Mall called, Little Monkey Toes.  She also is a realtor with Roberts Brothers Realty.
On his website Hightower says he believes: that strong families and faith are the fundamental foundations of America; in small government, low taxes and free enterprise; the sanctity of human life; school choice and competition in education; that public education decisions are best made at the local level; securing our borders against illegal immigration; that community colleges should play a key role in job training and economic development; Alabama should opt out of the national healthcare plan being forced on us from Washington; that small businesses create jobs, not the government, and we need to repeal excessive regulations on our job creators; that gambling is bad for Alabama because it increases crime, divorce, & drives out productive business; our coast and natural environment is a God given gift to us and should be cared for responsibly; and that policies should be enacted that encourage personal responsibility, not government dependence.
Senator elector Hightower will represent Mobile in the Alabama Senate for the remainder of this term and will give the Republican supermajority yet another vote in the Senate.
Jones says Senate race a choice between "substance and leadership, and nothing"
"One of the great disappointments in this campaign is that Alabama is not really getting choices between substance and substance," Jones said.
Speaking outside the Calhoun County Democratic Party headquarters in Anniston on Friday, Sen. Doug Jones, D-Alabama, told a group of supporters that Alabamians haven't gotten a look at what his Republican opponent might do if he wins the Nov. 3 election. 
"One of the great disappointments in this campaign is that Alabama is not really getting choices between substance and substance," Jones said. "They're getting a choice between substance and leadership, and nothing — nothing. We have not heard anything from Tommy Tuberville about what he really wants to do." 
While Jones has held numerous interviews with the media, and regular web briefings over the summer and in recent weeks, Tuberville's campaign seems to prefer the safety of keeping Tuberville from making possible gaffs or damaging statements in interviews. 
Tuberville hasn't agreed to interviews with traditional media outlets, or to debate Jones, and instead has focused on conservative talk radio spots, speaking to smaller Republican groups and at private parties.
Tuberville's campaign has ignored or denied our numerous attempts to interview Tuberville, including another request on Friday. He also declined to attend a student forum held at Auburn University on Wednesday, which Jones attended. The forum was sponsored by the Auburn College Republicans and College Democrats.
"If you ever hear something Tommy Tuberville says, it is just simply this: 'Build a wall. No amnesty. Drain the swamp.' That ain't him. That's Donald Trump," Jones said. "He cannot think for himself. He doesn't think for himself." 
Jones spoke of his record of working to help veterans through legislation. And he referred to Tuberville's nonprofit for veterans and reporting that indicates, through tax records, that less than a third of the money raised for Tuberville's charity went to help veterans. 
"I don't just create charities and send only pennies on the dollar. I do things for the veterans of this state and this country," Jones said. 
Jones also made a case for Alabamians to remember the contributions past Democrats made in the state. Jones said it was Democratic Sen. John Sparkman who helped build Alabama's Redstone Arsenal. 
"It was a Democrat, Lester Hill, who built the rural hospitals around here that Donald Trump and Mitch McConnell and Tommy Tuberville are trying to destroy," Jones said. "It was Howell Heflin who built up agriculture in this state. Those are the Democrats. It was Franklin Rosevelt that put electricity in this state. We're going to do the same thing for broadband. People forget those things. They forget those things because we've let other people define us with lies."
Jones plans to visit Jefferson County on Saturday, then on to the Black Belt and Mobile on Sunday with another stop in Birmingham on Monday afternoon. 
"The goal is to get everybody out. That's the thing if we want to continue to ensure Alabama moves forward — moves forward and not backwards, to continue to have somebody, if I do say so myself, somebody that's just not going to damn embarrass us," Jones said.
"We've had too much of that in Alabama," Jones said, "and I bet you it won't be a year that Tommy Tuberville would be an embarrassment to this state because he doesn't know the issues. He doesn't know what to do, and he's dang sure not going to know what to do when Donald Trump is not president of the United States." 
Jones encouraged supporters to be skeptical of recent polling. One such recent poll, by Auburn University at Montgomery, puts Tuberville ahead of Jones by 12 percentage points, 54 to 42.1. An internal poll by Tuberville's campaign puts Tuberville ahead by 15 percentage points, while an internal poll from the Jones camp put Jones ahead by one percentage point. 
"Don't listen to these polling folks that come in, and they don't know Alabama, and they don't know what they're doing. We're tracking this race, and I can tell you, everything has been moving in our direction the last two months," Jones said. 
People standing along roadsides holding his signs and showing support, Jones said, is "the energy we've got out there. That's what you can't poll."
Ellen Bass of Anniston, standing outside the Calhoun County Democratic Party headquarters just after Jones spoke, told APR that she has numerous Republican friends who are voting for Jones.
"My hat's off to them because they're coming out," Bass said. "They recognize that he is a better candidate."
Ciara Smith, 21, newly elected to the Anniston City Council, told APR outside the headquarters building that Jones is the better candidate.
"I think that he's educated. I think that he speaks with passion and heart," Smith said. "And he knows what he's talking about, which is important, and which is more than we can say about the other candidate."
Speaking to APR after his speech to supporters, Jones said that he feels very good about the state of his campaign.
"Everything we're seeing is moving in our direction," Jones said. "And the more he stays hidden, the better it is for us."