Alabama's Disabled Make Assemble at Statehouse
By Sable Harris
Alabama Political Reporter
Montgomery- Tuesday, Alabama Disability Advocacy Network (AL DAN) members assembled outside Alabama Statehouse.  According to their website "AL DAN the Alabama Disability Advocacy Network, is a non-partisan, grassroots, cross-disability, consumer, driven network advocating for systems change in Alabama for people with disabilities and their families it's purpose is to serve as the umbrella advocacy organization for disability issues connecting individuals, families, friends and others across Alabama, and their members made that known yesterday."
AL DAN, members gathered to show their concerns to their representatives, Jackie Franklin, vice president of AL DAN states the concerns that the members and supporters have with Alabama's approach to the disabled. Franklin says "the different things that we will be advocating for would be expansion of the healthcare for the people with disabilities. We've done surveys all over the state and we find the main concerns of the people are Alabama's healthcare, education, transportation and housing for those with disabilities and we are here to find the people that can help the disabled out more than anything."
Executive Director of the Governor's office on disability and former AL Dan President Graham Sisson explained the legislation that AL Dan is working on to help its members, these interest include accessible parking, and a property tax exception for those with permanent disabilities.
"We're trying to stop the abuse of accessible parking there are several things that we want to do with that, those plaque that people have to park in accessible parking, we would like to see a photo I.D. on the plaque, because it connects the person with the disability. Also we would like to allow towing of vehicles illegally parked in accessible parking and also illegally parked at bus stops," says Sisson.
Sisson goes on to explain other policies that they would like to implement, AL DAN is interested in bringing in volunteers who are trained to write tickets to give out parking tickets to those individuals who illegally park in accessible handicap parking.   AL DAN is also concerned with the mobility of the disabled, they are working on legislation that will improve transportation infrastructure funds and place a lemon law on assisting devices. Session wants assisting devices to be fixed.
"If you buy an expensive electric wheelchair of an expensive hearing aid or any kind of assisting technology and it's broken in the first year, you can get it replaced or fixed by the manufacture," says Session.
AL DAN made these concerns all so visible to their legislatures and assures that they will continue.
"We're constantly trying to bring greater awareness to the people with disabilities and we know that we have a lot of people disabilities at stake and we want to see their needs met," says Sission.
"AL DAN is a great group of people who join together to represent people with disabilities, and people with disabilities representing themselves," says Franklin adding that AL DAN will continue to make sure that these goals will remain priority to those legislators.
Trump Truck and boat parades this weekend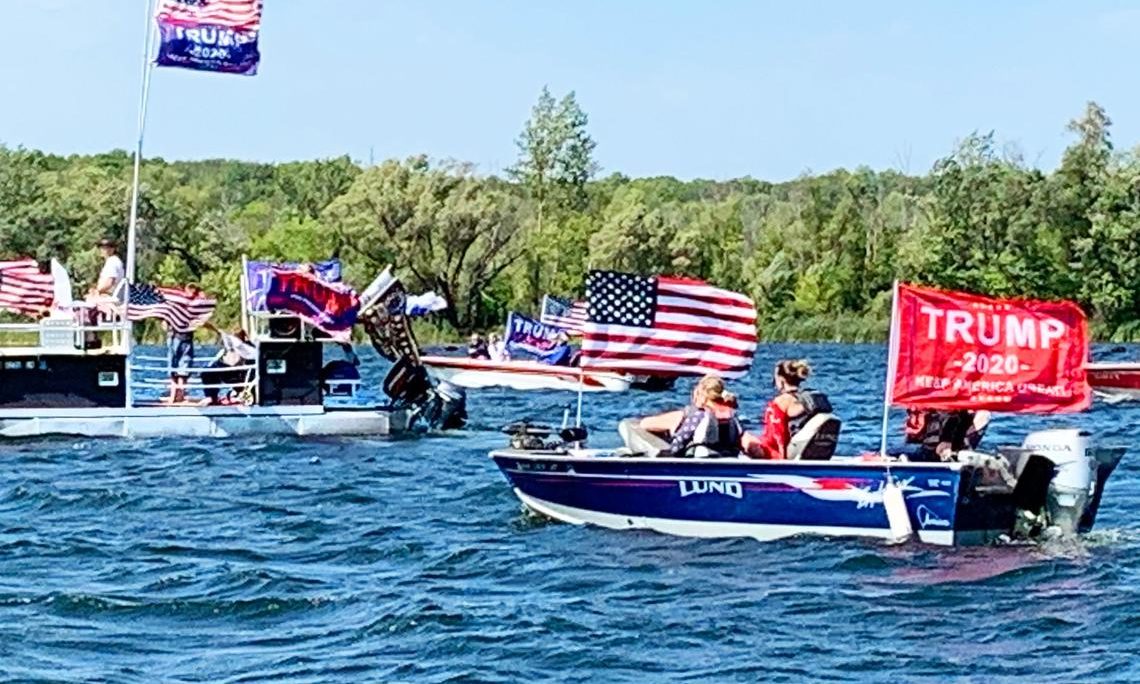 As Election Day draws near, Alabama Republicans are excited about promoting the re-election of Donald J. Trump as President and the election of Tommy Tuberville for U.S. Senate. This weekend two pro-President Trump events are happening in the state. There will be a truck parade from Ashland to Phenix City on Saturday sponsored by the Clay County Republican Party, while there will also be a boat parade on Wilson Lake in the Shoals sponsored by the Colbert County Republican Party on Sunday.
The pickup trucks will assemble at the Ashland Industrial Park in Clay County, 8240 Hwy 9, Ashland. There is a pre-departure rally at 10:00 a.m. central standard time. The trucks will depart at 11:00 a.m. and then proceed on a parade route that will take them into the bitterly contested swing state of Georgia. The Trump Pickup Parade will wind through east Alabama and West Georgia traveling through LaGrange and Columbus before concluding near the Alabama/Georgia line in Phenix City, 332 Woodland Drive, Phenix City at approximately 2:00 p.m. central time. Speakers will begin at 3:00. Trump flags will be on sale at the event.
The Phenix Motorsports Park will be hosting what sponsor hope could possibly the world's largest Pickup Tuck parade in U.S. history that is routing over 50 mile through Georgia in effort to "pickup" President Trump's numbers in GA.
A number dignitaries have been invited to address the Phenix City rally, including Coach Tuberville. Former State Sen. Shadrack McGill, Trump Victory Finance Committee member former State Rep. Perry O. Hooper Jr., and Paul Wellborn, the President and CEO of the largest Family owned Kitchen Cabinet manufacture in the USA are among the featured speakers who have committed to speak at the event.
Entertainment will be provided by: Charity Bowden, an up and coming country music singer who was the runner up on "The Voice". Charity will sing 'I am Proud to be an American' as well as songs from her Voice performances. The McGill Girls will also perform. The three beautiful and talented sisters will be singing patriotic songs in three part harmony. Geoff Carlisle, a professional DJ will be keeping the crowd pumped with music and entertainment.
Following the speakers and the entertainment there will Trump truck-vs- Joe Bidden truck races down the drag strip for the finale.
The Northwest Alabama boat parade will be on Sunday. The boats will gather at 2:00 p.m. near Turtle Point and then the flotilla will parade around the open waters of Wilson Lake til 3_00 p.m.. There will be a contest for best decorated Trump boats.
Trump supporters have held a number of large boat parades across the state to show their support for the re-election of Pres. Trump.
Boat parade sponsors say that this parade will be: pro-American, pro-law enforcement, pro-military.