Marsh Blames Republicans for Quorum Debacle
By Susan Britt
Alabama Political Reporter
MONTGOMERY–Tuesday, the Alabama Senate had a problem making a quorum. In the Senate, 19 senators are required to be present in order to meet the requirement of a quorum in order to have the roll called. A quorum is required by Senate rules to be present in order to move forward with the legislative day on the floor. (A quorum is also required in committee meetings, as well.)
On Tuesday, the initial quorum roll call only consisted of 17 votes (including a yes vote beside the vacant District 35 seat previously held by Senator Brooks whose replacement can not take his seat until after Spring Break). A second vote a few minutes later garnered 19 votes.
The Senate General Rules of Order and Procedure address quorum in Rule 1(c ) and Rule 3.
RULE 1.
(a) The Presiding Officer shall call for a prayer to be delivered by the Chaplain of the Day.
(b) The Presiding Officer shall then call for recitation of the Pledge of Allegiance to the Flag of the United States of America.
(c) The President shall take his/her chair precisely at the hour to which the Senate has been previously adjourned. However, in the absence of the President, the President Pro Tempore shall assume this duty. When the President returns, he/she shall assume the chair. In the absence of both President and President Pro Tempore, the Senate Majority Leader shall assume the chair. In the absence of the President, President Pro Tempore, and the Senate Majority Leader, the Chairperson of the committee as named in order in Senate Rule 48 shall perform this duty until the President or the President Pro Tempore returns. The Presiding Officer shall call the Senate to order and cause the roll to be called. If there is a quorum present, the Senate shall proceed with the transaction of its business. If there be no quorum present, a lesser number may adjourn from day to day and compel the attendance of absent members, as provided in Rule 37.
RULE 2. Unless it is otherwise specifically provided for, the Senate shall meet at ten o'clock a.m., except on Mondays, when the Senate shall convene at twelve o'clock noon. The Senate shall meet at twelve o'clock noon on the first day of any organizational, special, or regular session unless otherwise provided for.
RULE 3. When the question of a quorum has been requested, after the expiration of ten minutes, the roll shall be called immediately and, if the absence of a quorum shall be determined, then the Senate shall stand in adjournment until the following calendar day unless otherwise provided for by resolution or motion. No more than one quorum call will be recognized per each two-hour period."
Senate Minority Leader Vivian Figures (D-Mobile) took issue with the procedure. She said addressing the Senators on the floor, "As I was driving in I was thinking, "they have all obviously, obviously lost their minds.'" She said it was a "lie and a shame in the state of Alabama.
Figures said that this was not democracy, was illegal and unconstitutional.
Figures said she based these statements upon the rules of the Senate saying that if a quorum was not present during the first roll call that the Senate must adjourn until the next legislative day.
After Lt. Governor Kay Ivey ruled that a quorum had been reached, the legislature resumed deliberations over sunset laws.
Immediately after recess for lunch, President Pro Tem Del Marsh (R-Anniston) moved that the Alabama Senate adjourn until Wednesday at 10:00 a.m.
In response to the events that occurred in the Senate, Ivey said, "All members that asked to be state senators were elected. They have a duty. I trust them. Trust is a two-way street so everybody that asked to be a senator needs to tend to business and be here so their constituents can get served. It's their duty."
Just last week, the Senate had trouble gathering a quorum although Democrat Senators were seen in the halls while it was said on the floor that other senators were having trouble reaching the Statehouse due to a traffic accident.
Ivey said that when she picked up the gavel and began roll call there were "18 people in this body."
Marsh said, "I take my hat off to the Lt. Governor there is no doubt in my mind that there were 18 people in that body when the prayer was taken and when the pledge was given. Members who strictly said that they would be there for the roll call. There were probably 25 people in the building. As you know, there was a deal going on the fifth floor. The people were in the building and the Lt. Governor, to her credit, was trying to let the work be done of the people. She saw 18 on the floor. She asked me and I acknowledged a quorum. Why those people chose to leave during the roll call, I can't answer that."
Marsh said that he put the entire blame on the Republicans, "We have 22 members in this body there is no excuse for us not having a quorum in there at any time."
Moving forward, he said, the roll call will be made at the time previously established and that if Senators were not present that they could "fend for yourself."
He said, "We have work to do. I think we have had a good session. We have got a lot of work yet to do. And I have put it at ten tomorrow."
"Hopefully tomorrow folks will show up at 10:00 because if not we will be here the next morning at 10:00 again," said Marsh.
Senate committee meetings scheduled for Wednesday will be postponed tomorrow. The only meeting to be held will be Rules. Marsh said, "We have so much legislation out of committee now. We have enough legislation to deal with for many days to come so that is not an issue."
He said that the objective for the rest of the legislative session in the Senate will be each day to pass two sunset bills an then take up the special order calendar. "We will get plenty of work done for the people. We will get what has to be done, done. Will have by the end of this session the most successful session that I have ever been part of. We have already had a huge session but we are committed to having that throughout. That is process you are going to see, day in and day out, two sunset bills, set it aside and then special order calendar."
He finished by saying, "At the end of the day it will be the Republican Party who is in charge, who will get the blame if we don't have a quorum. And that is where the blame should lie. That is the way it is going to be."
Since there was no legislation passed by the Senate on Tuesday there is not any anticipated ramifications. According to Marsh, it will be as though they are starting Tuesday over again.
Three mental health crisis centers coming to Mobile, Montgomery and Huntsville
"Today marks a culture change in Alabama for treatment of individuals with mental illness and substance use disorders," Mental Health Commissioner Lynn Beshear said.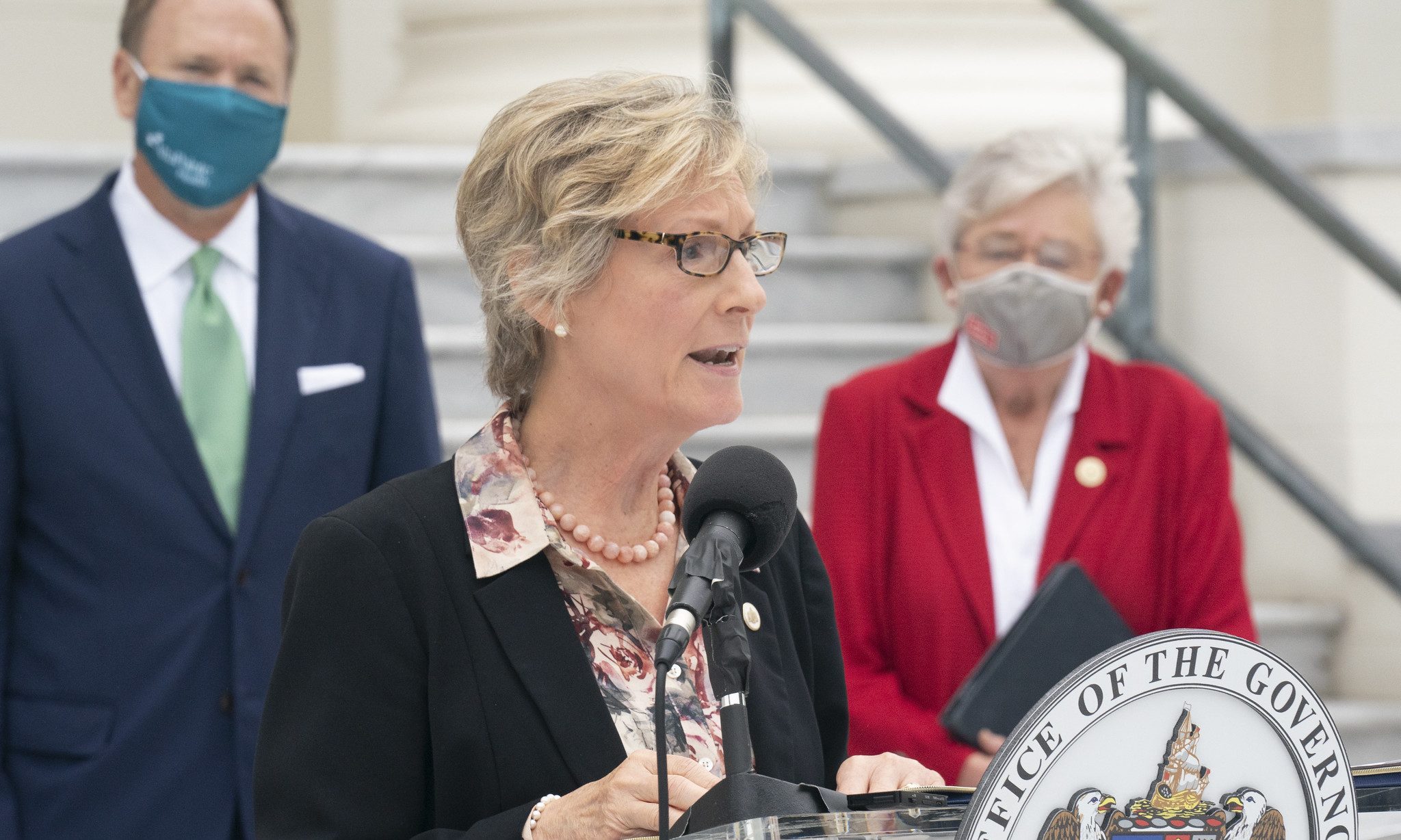 Gov. Kay Ivey on Wednesday announced an $18 million project to create three new mental health crisis centers to be located in Mobile, Montgomery and Huntsville. 
These centers, once in operation, will reduce the number of people suffering from mental health crises who are hospitalized or jailed, Ivey said during a press briefing in front of the Capitol Building in Montgomery. 
"When these facilities are open and fully staffed, these centers will become a safe haven for people facing mental health challenges," Ivey said. 
Lynn Beshear, commissioner of the Alabama Department of Mental Health, said during the briefing that the centers will provide "recovery based" care with "short term stays of a few hours, or up to a few days, to provide treatment, support, and connection to care in the community." 
"Today marks a culture change in Alabama for treatment of individuals with mental illness and substance use disorders," Beshear said. 
Beshear said AltaPointe Health in Mobile will operate one of the three facilities, and once built it is to serve Mobile, Baldwin, Clarke, Conecuh, Escambia, Monroe and Washington counties with 21 new beds, including 15 temporary observation beds. Altapointe will begin with a temporary space while constructing the new facilities, she said. 
Beshear said the Montgomery Area Mental Health Authority is partnering with the East Alabama Mental Health Authority and the Central Alabama Mental Health Authority to serve the 11 counties in Region 3 with 21 new beds, including 10 temporary observation and respite beds. 
"The regional crisis center will be located in Montgomery, and will be open to walk-ins and for drop off by law enforcement, first responders and referrals from emergency rooms," Beshear said. 
Wellstone Behavioral Health in Huntsville was selected to open the third center, and will do so at a temporary site while a new facility is being built, with the help of an additional $2.1 million from local governments, Beshear said. That facility will eventually have 39 beds, including 15 for temporary observation and 24 for extended observation.
"There's not a day that goes by that after-hours care is not an issue in our state," said Jeremy Blair, CEO of Wellstone Behavioral Health, speaking at the press conference. "And so I applaud the Department of Mental Health and the leaders for their efforts in recognizing that and taking it a step further and funding our efforts here." 
Asked by a reporter why a center wasn't located in Jefferson County, one of the most populous counties with a great need for such a center, Ivey said those residents will be served in one of the other regions. 
"Plans are underway to continue this effort. Today's beginning, with these three crisis centers, is just the beginning," Ivey said. 
Ivey added that request for proposals were sent out for these three centers and "it was a strong competition for the location of these three crisis centers." 
Alabama House Majority Leader Nathaniel Ledbetter, R-Rainsville, said during the briefing that more than a year ago, Ivey asked him what the state should be looking at, and that he replied "we're failing miserably in mental health."
Ledbetter said Ivey asked him to take on the challenge of correcting the state's response to mental health, and a team was created to do just that. 
"Working together, today's announcement will not only change Alabamians lives, but will help to save lives," Ledbetter said.