Editorial: Could Racist Emails Doom State Democrats
By Brandon Moseley
Alabama Political Reporter
In a lot of ways this legislative session has produced a lot of talking points that could potentially be of benefit politically for Alabama Democrats.  The passage of the Alabama Accountability Act has the potential to fire up and motivate public school employees as well as people who are emotionally invested in their local public schools to come out and vote against Republican incumbents.
Republicans catering to their pro-Life base could potentially motivate social moderates (particularly women) to vote for Alabama Democrats.  Governor Bentley and Marsh's law enforcement consolidation and state government reforms plans likely will cause some dissatisfaction amongst the people affected by those reforms.  Gov. Bentley's refusal to expand Medicaid potentially is an issue for both people in the Alabama Healthcare industry and low income voters who potentially could benefit from the free healthcare promised to them by Obamacare.  Alabama Attorney General Luther Strange's closing of Victoryland could motivate pro-gambling voters to come to the polls for the Democrats in 2014.  There are a lot of questions about the ethics of the financial dealings surrounding the Speaker of the House and former Republican Party Chairman Mike Hubbard (R) from Auburn.  Whether or not he and the political operatives around him are ever indicted for anything, Democratic Party operatives will attempt to spin those stories in a way that will suppress conservative turnout and appeal to swing White voters.  That may be wishful thinking on the part of Alabama Democrats, but that is the tale that they are spinning to their supporters and donors.
All those fantasies of a Alabama Democratic Party resurgence suffered an unexpected setback today when Alabama State Representative Joseph Mitchell (D) from Mobile unleashed an email tirade attacking the White people of Alabama.
Representative Mitchell actually wrote in an email to a Second Amendment supporter, "Your folk never used all this sheit (sic) to protect my folk from your slave-holding, murdering, adulterous, baby-raping, incestuous, snaggle-toothed, backward-a**ed, inbreed, imported criminal-minded kin folk. You can keep sending me stuff like you have however because it helps me explain to my constituents why they should protect that 2nd amendment thing AFTER we finish stocking up on spare parts, munitions and the like."
An elected leader of the state actually talking openly about a race war is bizarre enough, but when you add the racially charged over the top language to it this had to be the worst day for Alabama Democrats since they lost both houses of the legislature and every statewide race on the ballot in the 2010 election.
Rep. Mitchell was first elected in 1994 and the Black Democrat has rarely even been present in this session but the harsh rhetoric which he has refused to back down from or apologize for is potentially inflammatory and both sides know it.
The minority leader of the Alabama House, Representative Craig Ford (D) from Gadsden said, "I could not disagree more with what Rep. Mitchell said. I assure you that Joseph Mitchell does not speak for Democrats or anyone else other than himself."
Republican Party Chairman Bill Armistead said, "Rep. Mitchell's response was nothing short of the rant of a seemingly 'wild man' and is appalling to come from an elected official from the State of Alabama. There is no place in civil discourse for phrases such as the ones used by Rep. Mitchell."
Chairman Armistead said, "I call on Judge Kennedy for a swift and public apology for this tirade on the part of one of his Democrat members of the Alabama House of Representatives.  Judge Kennedy should immediately rebuke Rep. Mitchell for this malicious email.  If Judge Kennedy refuses to address this issue, it will send a message to voters that the Democrat Party here in Alabama is fine with that type of race baiting language."
Rep. Joseph Mitchell represents a safe Democratic majority minority district.  It would be difficult for a White liberal Democrat to unseat him next year and almost impossible for a White Republican to do so, so he can safely lob insults at White voters, the U.S. Constitution, the Founding Fathers, White legislators, and anybody else he dislikes; but for the Democratic Party to have any real power in this state it has to reach out to White socially liberal voters in the suburbs and rural White voters in the small towns of Alabama.  Hate speech directed at those people and their kin might play well in districts that are 80% Black and overwhelmingly Democratic. However it also sends a clear message all over the state that Whites are not only no longer wanted in the Alabama Democratic Party but are openly despised by some in their party.  If Mitchell's message resonates with White voters it would be devastating for any hope that Democrats may still have of being relevant in this state in this century.
Print this piece
Opinion | Marsh hurls accusations at Gov. Ivey. Is he barking mad?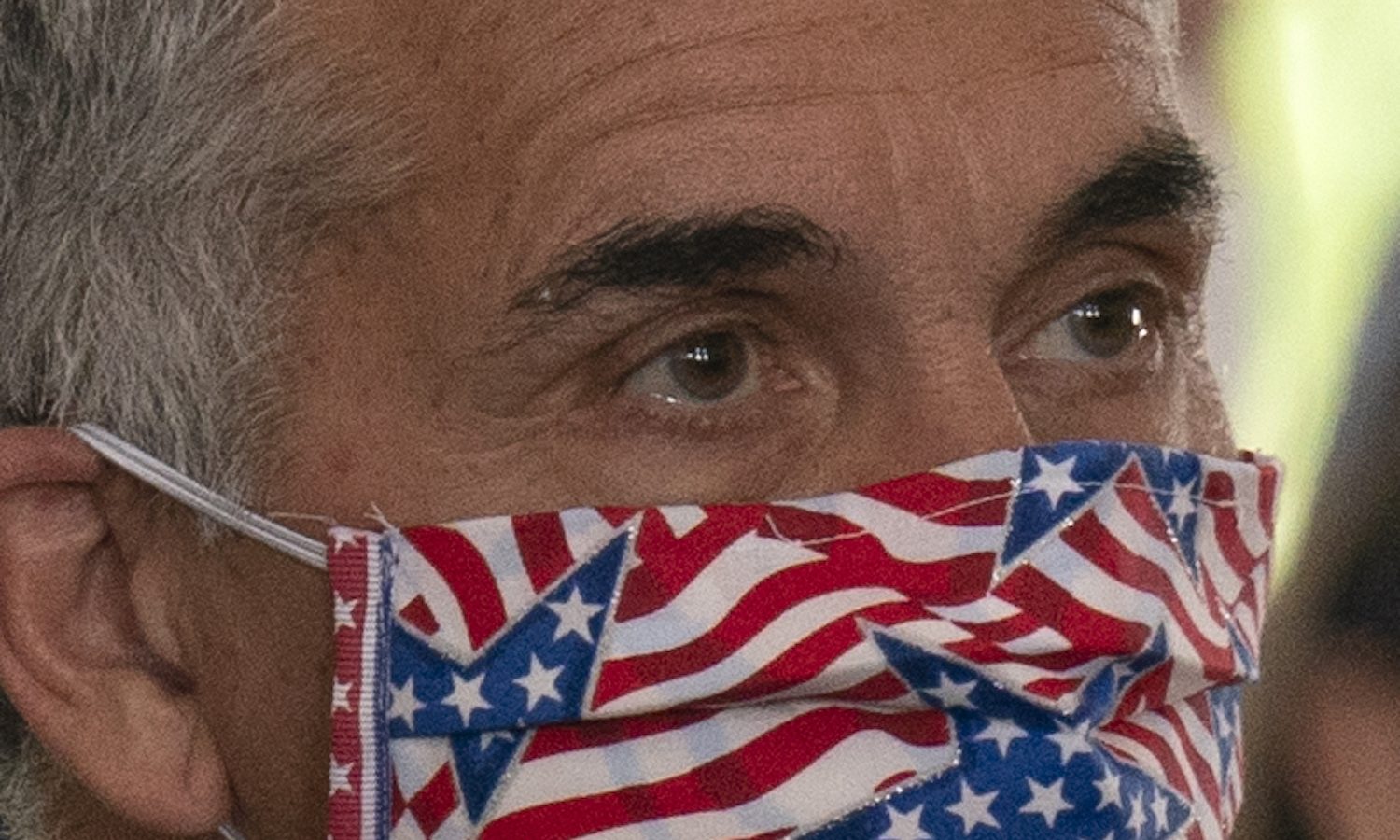 Appearing on the latest edition of Alabama Public Television's "Capitol Journal," Sen. President Pro Tem Del Marsh, R-Anniston, blamed Gov. Kay Ivey for the loss of some 450,000 jobs in Alabama.
It's an absurd accusation that any thinking Alabamian knows is a lie. But Marsh wants to hurt Ivey because she exposed him as little more than a petty, greedy-gut politico.
Still stinging from the public humiliation he suffered after Ivey revealed his "wish list" — which included taking $200 million in COVID-19 relief money to build a new State House — Marsh is leveling a cascade of recriminations against the popular governor.
However, what is astonishing is that he would spew brazen lies about Ivey during raging loss and uncertainty caused by a worldwide pandemic. This latest fiction about Ivey creating widespread economic calamity is the unseemly work of a hollow man without empathy, wisdom or decency.
This insane assertion that Ivey is somehow responsible for thousands suffering is as cravenly evil as it is politically stupid.
"The policies that have been put in place by the [Ivey] administration have 450,000 people out of work," Marsh told show host Don Daily.
Only a fool, a nutjob or a politician would blame Ivey for losing some 450,000 jobs, but there was Marsh, on public television, showing he is perhaps all three.
In the middle of his barking-mad comments, Marsh somehow forgot to mention that he was a member of Ivey's Executive Committee on the COVID-19 task force and helped make the very policies he now claims led to joblessness and financial ruin for many Alabamians.
Marsh is merely making it up as he goes because his fragile ego, pompous character and rank inhumanity suddenly became fully displayed for every Alabamian to see when he doubled down on building a new State House.
And so, like a guy caught with his pants down, Marsh is pointing his finger at Ivey to distract from his naked indifference toward the struggles of his fellow Alabamians.
Marsh's plan to spend the CARES Act funds on a State House and other pet projects ignored the sufferings of hundreds of thousands of the state's most vulnerable citizens and businesses.
Ivey wanted the nearly $1.9 billion in CARES funds to go to help those individuals, businesses and institutions affected by COVID-19. Marsh wanted it as a Senate piggybank, so, he lashes out at her rather than reflect on how he and the State Senate could do better in the future.
Anyone who blames others for their failings is a weakling, not a leader.
Marsh came to power under a scheme hatched around 2008, by then-Gov. Bob Riley. The plan was to make Mike Hubbard the speaker of the House, Marsh as pro tem and Bradley Byrne as governor. Riley would act as the shadow puppet master pulling the strings of power from behind a thin curtain of secrecy, allowing him to make untold riches without public accountability.
Byrne losing the governor's race to the hapless State Rep. Dr. Doctor Robert Bentley was the first glitch in the plan (yes, during the 2010 campaign for governor, Bentley changed his name to Doctor Robert Julian Bentley so the title Doctor would appear next to his name on the primary ballot).
The second problem for the venture was Hubbard's avarice, which landed him on the wrong side of the ethics laws he, Riley, Byrne and Marsh championed. Of course, the ethics laws were never meant to apply to them. They were designed to trap Democrats.
Marsh has floundered since Hubbard's grand departure and with Riley sinking further into the background, it is now apparent that Riley was the brains, Hubbard the muscle and Marsh the errand boy, picking up bags of cash to finance the operation.
Gofers rarely rise to power without the public noticing they're not quite up for the job, and so it is with Marsh that his office has shown the limits of his abilities.
Marsh wanted to control the COVID-19 relief money to spend on pork projects as he'd done in the past, but Ivey didn't allow it. To be outsmarted is one thing, but to be beaten by a woman is too much for a guy like Marsh.
Ivey burned Marsh like a girl scout roasting marshmallows over a campfire.
Senator Marshmallow, anyone?
Poor Marsh, with his political career in turmoil, picked the wrong target in Ivey.
Some look at Ivey and see a kind, grandmotherly figure. Ivey is as tough as a junkyard dog, and now Marsh knows what her bite feels like.
Ivey didn't cause massive job losses. COVID-19 did that. But Marsh got his feelings hurt, bless his heart, so he wants to take Ivey down.
Just like his scheme to commandeer the COVID-19 funds from the people didn't work, his attack on Ivey won't either.
People see Marsh for what he is, and it's neither strong nor competent; it's weak and ineffectual.
Marsh stood behind Ivey when she announced the state's health orders wearing an American flag style mask.
He voted for her executive amendment.
And now he lies.
In times of real crisis, true leaders emerge while others of lesser abilities whine. Marsh is complaining. Ivey is leading.
And so the public watches as The Masked Marshmallow takes on Iron-jawed Ivey. It's not tricky to see how this cage match turns out.
Marshmallow, down in three.
Print this piece