Governor Bentley Signs Job Creation Legislation

Staff Report
MONTGOMERY – Governor Robert Bentley on Thursday signed legislation aimed at attracting thousands of additional jobs to Alabama.
The Alabama Commercial Aviation Business Improvement Act will help the state recruit more aerospace industry suppliers.  Those suppliers are expected to locate in the region as Airbus builds its first U.S.-based production facility in Mobile.  Groundbreaking for the Airbus facility is scheduled for next week.
The legislation signed by Governor Bentley levels the playing field between Alabama and nearby states in the recruitment of supplier companies and the additional jobs they will bring.
"Putting Alabamians back to work is my number-one priority," Governor Bentley said.  "This bill will make sure Alabama remains competitive with neighboring states in attracting supplier jobs.  Already, Airbus will directly provide 1,000 jobs in Mobile, and more than 3,000 people will be employed in the construction phase of the Airbus facility.  As suppliers move in, we can attract thousands of additional jobs as well.  We want those jobs for the people of Alabama.  This legislation will help us accomplish our goal."
The Alabama Commercial Aviation Business Improvement Act (Senate Bill 238) applies to a small category of lawsuits which involve manufacturers of commercial aircraft with 100 seats or more.  Neighboring states already have similar laws in place.  The bill will protect the rights of Alabama citizens to bring suit against manufacturers, but will also protect manufacturers from out-of-state and foreign plaintiffs who may seek to file suit in Alabama simply because the manufacturer located its plant here.
"Without this bill, suppliers could very easily choose to build in Florida or Mississippi, which already have similar laws," Governor Bentley said.  "With this legislation, Alabama is now on a level playing field, and we can recruit more supplier jobs for people in our state."
The legislation was sponsored by Senator Cam Ward, Senator Vivian Figures and Representative Bill Poole.
"Governor Bentley and Commerce Secretary Canfield have made job creation their top priority, and I am glad to do my part to help in their vision," Senator Ward said.  "This will do so much to even the playing field with neighboring states to help attract Tier 1 and Tier 2 suppliers to Alabama.  It is common sense business legislation like this that I have focused on during my time in the Senate."
"We are now set and ready to go towards realizing the thousands of jobs that Airbus suppliers will bring to Alabama," Senator Figures said.  "I enjoyed working on this legislation with the bi-partisan team to make this a reality.  Coming together to work out all of the details with the leadership of Governor Bentley and others has been a joy, knowing that Alabama will benefit greatly economically."
"I am excited at the prospect of bringing Airbus and the aerospace industry to Alabama and am proud to have played a role in passing this important legislation," Representative Poole said.  "The recruitment of the aerospace industry to our state has the potential to be transformative in the same way that the automotive industry has changed our state.  The aerospace industry will bring thousands of quality jobs with good wages and benefits that will benefit our citizens for many years to come."
The Alabama Commercial Aviation Business Improvement Act provides that the manufacturer would be liable for causes of action occurring no more than 12 years after delivery of the aircraft to the first purchaser or 12 years from the replacement or addition of a component part that was the cause of an accident.  If the cause of action occurs within the 12-year deadline, the plaintiff still has two years to bring the action.
The aerospace industry is among 11 business sectors targeted for growth in Accelerate Alabama, the state's long-term plan for economic development.
"We want Alabama to be the center of the new aerospace corridor that will be created by the announcement that Airbus will build its U.S. plant in the state," said Greg Canfield, Secretary of the Alabama Department of Commerce.  "This legislation keeps us competitive and on track to locate the suppliers and new jobs that Airbus will bring to the area."
The Alabama Department of Commerce estimates that the Airbus plant will have a $409 million annual impact on the state's economy.  In addition to the 1,000 jobs provided by Airbus and the 3,000 construction-related jobs, the Department of Commerce also estimates another 3,700 Alabamians could be employed by Airbus suppliers locating in the state.
Print this piece
Opinion | The people have always been more important than the monuments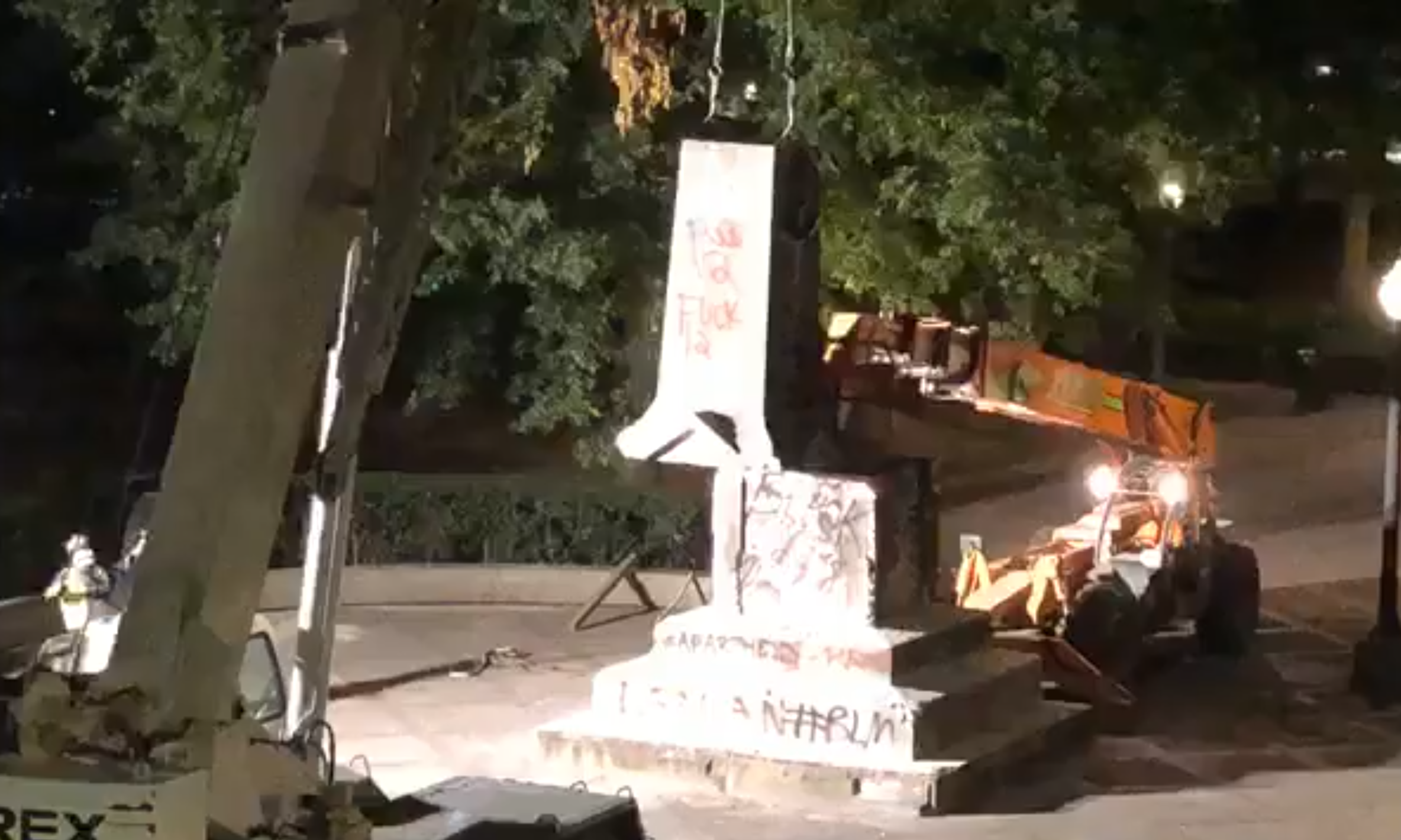 Two participation trophies fell in Alabama on Monday night. 
No tears were shed. 
On the same day that the state "celebrated" Confederate Memorial Day — which is somehow still a state holiday some 150 years after the traitorous South surrendered in its quest to make legal the ownership of other human beings — a large monument in Birmingham's Linn Park went away piece by piece and a metal statue of Robert E. Lee was toppled and hauled away from its spot outside of a Montgomery high school. 
This is progress, I guess. At least those eyesores are gone (for now, in the case of the Lee statue), even if the attitudes that kept them in place remain. 
It is no secret by now that I have never understood the fervor with which so many people in this state cling so tightly to reminders of defeated traitors who fought to enslave black people. 
I mean, I understand why racists cling to them. I don't understand how those who claim to "not have a racist bone in my body" also cling to them. I don't understand our state lawmakers creating laws to protect them. 
Monuments are meant to honor the people depicted in them. You don't see us creating monuments of the 9/11 hijackers at the former World Trade Center site, do you? 
You know why? Because while that day was historic and we'll want to remember those who died forever, we don't honor those who caused that devastation. 
But then, I don't actually think anyone is confused by this. The cries of "protecting history" or "not erasing history" are nothing more than phony excuses meant to mask the true intent of cowards too ashamed or too scared to say what they really mean. 
And what they really mean is that they still cling to this notion of white supremacy. They're just too scared of the societal backlash to put on a white hood and attend the meetings. 
These people see the removal of the Confederate monuments as a loss — a personal loss. Because that tie to the confederacy and the sad, pathetic belief that they were somehow superior because of the color of their skin has sustained them throughout their lives. 
That's why they cling so tightly to these relics of the past — because those relics represent their "heritage" and their worth. 
It doesn't matter at all that poor whites and poor blacks have so much more in common in 2020 than poor whites and rich whites. If the two groups ever bonded, ever formed a mutually beneficial coalition, they could — by the power of their numbers — change America overnight to a more just, more equitable country. 
But they won't, because poor white people would lose their ability to look down on someone. And really, what good is life if you can't make certain that someone out there has it worse than you? 
And so, here we are, more than 150 years after the end of the Civil War and more than 60 years since Dr. King crossed the bridge in Selma, still fighting battles over race and discrimination and hatred and intolerance. 
Maybe the protests of George Floyd's killing will finally be the straw to break this thing. Maybe the days of everything being on fire, along with those awful images of Floyd, will instill in the minds of enough people that there really are problems.
Maybe we can finally stop holding onto these relics of the past and concern ourselves more with holding onto each other. 
Print this piece