Sessions Says That Senate Immigration Plan Puts Amnesty Ahead of Enforcement
By Brandon Moseley
Alabama Political Reporter
U.S. Sen. Jeff Sessions (R) from Alabama issued a written statement after statements from Gang of Eight Senators on Sunday Morning talk shows about their immigration reform plan.
Sen. Sessions said on Sunday, "When the Gang of Eight was first formed a publicly stated principle was the enforcement would come first—before legalization. Today, on the Sunday shows, Gang of Eight members admitted that they abandoned this principle and that, in fact, legalization—or amnesty—would come first. This proposal offers immediate legalization with unfulfilled promises of enforcement in the future. This is contrary to the commitment they made to the American people and raises the same core problem as the 2007 proposal that was rejected by the American people. This should not surprise given that Gang of Eight has refused to meet with ICE officers while consulting with the special interests. The proposal will not stand up to scrutiny."
Sen. Sessions said, "Another area of great concern in this proposal is the impact it will have on low-income Americans and those individuals and communities suffering from chronic underemployment. The guest worker program in this proposal represents only a fraction of the increase in legal foreign workers that will be rapidly introduced. Including those illegal immigrants that are legalized, this bill, over ten years, will result in at least 30 million new foreign workers—more than the entire population of Texas. While this may mean lower wages for the business lobby, and more political power for AFL-CIO leadership, it will be bad for American workers—union and non-union. And it will expose taxpayers to enormous long-term costs, including trillions in unfunded liabilities for Medicare and Social Security from which low-wage foreign workers will draw more benefits than they pay in. These programs need strengthening, not further weakening."
On Friday Sen. Sessions said "While the Gang has not briefed lawmakers or the Judiciary committee about their plan, they have leaked selected details to the press which seem to confirm Senator Schumer's recent declaration that 'First, people will be legalized… Then, we will make sure the border is secure.'"
Sessions said that the Gang of Eight plan, "Instead of securing the border first, it merely requires DHS to submit a plan (within six months) to achieve modest enforcement goals at some point in the next 10 years in exchange for an immediate grant of amnesty. History tells us the enforcement part will never effectively happen."
Sessions said, "Even the border security's future targets are weak: the plan only requires DHS to state what resources DHS needs in order to apprehend 90 percent of those the Border Patrol sees—but not those who successfully evade Border Patrol altogether."  Sessions said that the plan would leave huge vulnerabilities to cartels and other illegal crossers and said, "There is no requirement to complete the 700 miles of double-layer border fence that Congress has previously mandated (less than 40 miles of which have been completed)."
Sessions also complained about the five-year delay in the implementation of E-Verify, that the plan calls for an "electronic" exit system to track visa overstays at air and sea ports is inadequate, and the plan's guest worker program would allow for one million foreign workers to enter the country each year and eventually apply for green cards and citizenship.
Sessions said that the plan would make ICE enforcement nearly impossible and could likely lead to millions more future illegal immigrants after the Congress gives legal status and eventual citizenship to the estimated eleven million who are already here.
President Barack H. Obama (D) has made immigration reform, gun control, and raising taxes the priority of this legislative year.  The bipartisan gang of eight Senators are working on the immigration reform plan.
Senator Jeff Sessions is a senior member of the Senate Judiciary Committee
Breaking down the six amendments on Alabama's November ballot
What do the six proposed amendments on Alabama's November ballot do? We answer your questions here.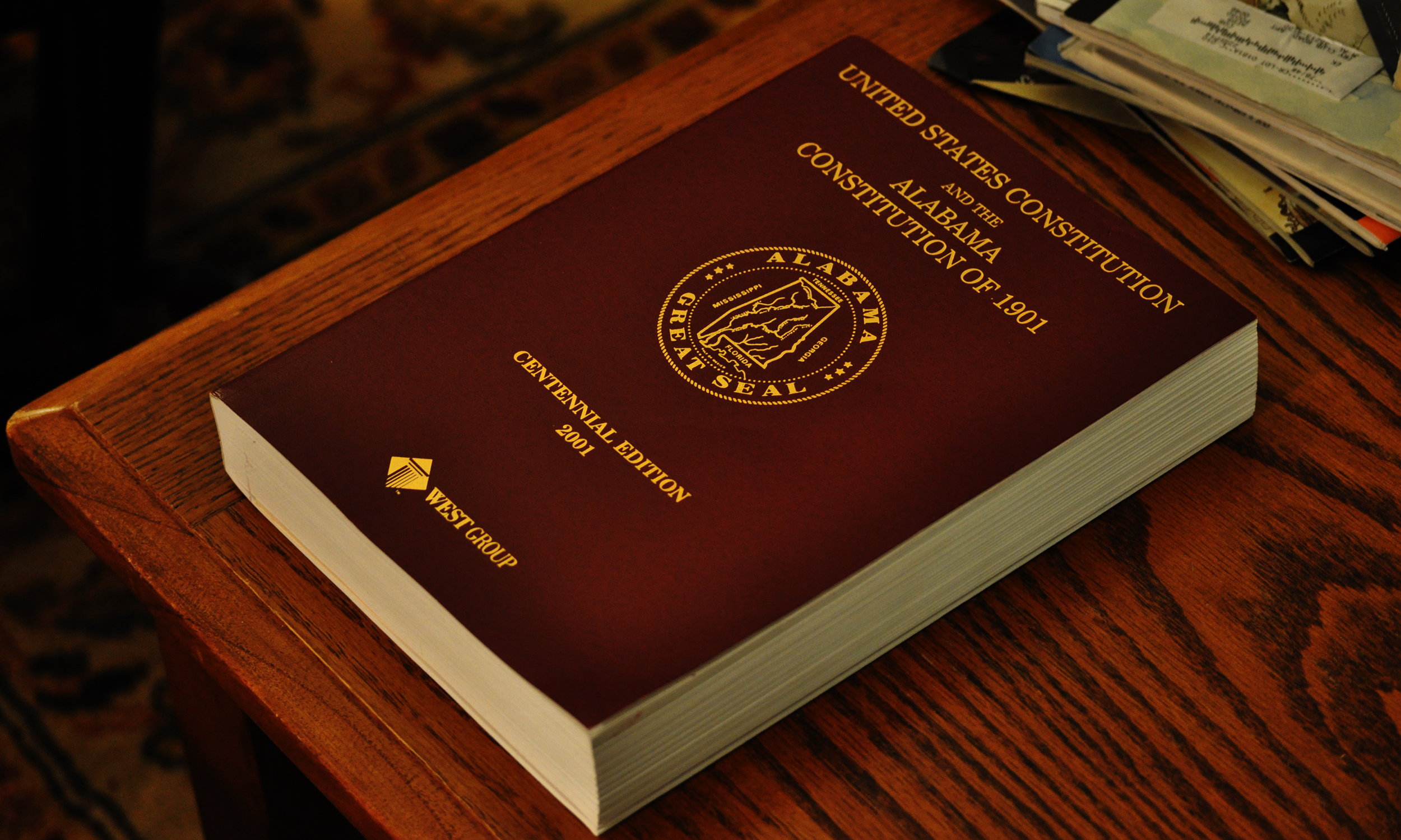 Alabama voters in the Nov. 3 election will have to decide on whether to add six constitutional amendments to what is already believed to be the longest constitution in the world. 
If approved, three of the amendments won't actually make substantive changes to state law, however.
To be added to the constitution, the amendments must receive support from a majority of voters.

Amendment 1
Amendment 1 — sponsored by State Sen. Del Marsh, R-Anniston — would "grant the right to vote to 'only' those U.S. citizens who meet the requirements." 
If approved, the change in the state's constitution would be to replace wording that the constitution grants the right to vote for "every" U.S. citizen who meets the requirements, to it grants the right to vote for "only" those U.S. citizens who meet the requirements. 
The amendment makes no changes to state voting requirements, and it's already a federal requirement to be a U.S. citizen to vote. Marsh told WBRC that the amendment "sends a message to Washington." Opponents to Amendment 1 say it could make it easier for the GOP-controlled Legislature to restrict voting rights.

Amendment 2
Amendment 2 processes numerous changes to the state's judicial system, including a change that would allow Alabama Supreme Court, rather than the Chief Justice, to appoint the Administrative Director of Courts. 
The amendment would also increase the Judicial Inquiry Commission from nine members to 11 and would  allow Governor, rather than the Lieutenant Governor, to appoint a member of the Court of the Judiciary. 
If approved, it would also prevent automatic disqualification from holding public offices for a judge solely because a complaint was filed with the Judiciary Inquiry Commission. Additionally, it would provide that a judge can be removed from office only by the Court of the Judiciary.
Amendment 3
Amendment 3 would extend the time appointed district and circuit court judges serve. State law now mandates appointed judges serve one year, or until the end of the term of the judge whom they were appointed to replace, whichever is longer.  
The amendment would allow the appointed judge to serve two years before running to keep their judgeship in an election. 
Amendment 4
Amendment 4 would allow "a rearranged version of the state constitution" to be drafted to "remove racist language," "remove language that is repeated or no longer applies,"  "combine language related to economic development"  and "combine language that relates to the same county."
 The rearranged version of the state constitution would have to be drafted by the state Legislature in 2022, according to the amendment, and the new draft wouldn't become law until approved by a majority of voters.
Amendments 5 and 6
Amendments 5 and 6 relate to Franklin and Lauderdale counties only, and if approved, would add to the state constitution that "a person is not liable for using deadly physical force in self-defense or in the defense of another person on the premises of a church under certain conditions" in both of those counties. 
Alabama already has a "stand your ground" that applies to the use of deadly force in churches, however. 
Alabama Attorney General Steve Marshall in a Jan. 2 statement, following the West Freeway Church of Christ shooting in White Settlement, Texas, wrote that Alabama law "does not impose a duty to retreat from an attacker in any place in which one is lawfully present."