Senate Works the Nightshift
By Brandon Moseley
Alabama Political Reporter
With just days left in the 2013 Alabama legislative session, Alabama Senators are sacrificing sleep to get work done.  Senators were up till midnight to pass a bill allowing the Governor to deal with developers to build a luxury beach resort at Gulf State Park.
Republicans in the Alabama Senate finally put down a filibuster after hours on Tuesday Night and passed the bill to allow the resort to be built at the state park.  Governor Robert Bentley (R) came down to the Senate floor to thank the Senators for passing the legislation which he says will lead to economic development.
Senator Tom Whatley (R) from Lee County said on Facebook, "Great day yesterday in the Senate with the passage of the State Parks bill that will create jobs and save our state parks. Here I am being congratulated by the Governor shortly after passage."
Previously the state park system ran a dated lodge on the site. That was destroyed by Hurricane Ivan.  Gov. Bob Riley (R) had wanted to build a new modern resort run by hospitality professionals.  That effort however was tied up by litigation opposed to the luxury hotel.  This legislation will allow the luxury beach resort to be built.
Following that the Senators defeated legislation which would have allowed current legislators who have state jobs to continue holding both positions past the "double dipping" deadline.
Senator Bryan Taylor (R) from Prattville said on Facebook, "Three years ago, I gave up my state job to run for office because it was the right thing to do. It's just not possible to give the taxpayers their money's worth in a state job while serving in the Legislature nearly 4 months out of the year. We passed a ban on double dipping by lawmakers (the practice of holding a second state job while serving in the Legislature) — the same ban in place in most states for decades. I'm glad tonight that the Senate refused to reverse that important reform."
Rather than going home, the Senate convened their Wednesday session at 12:01 am.
Senator Bryan Taylor (R) from Prattville said on Twitter, "Ala. Senate convened Wed. session at 12:01 a.m. Right now debating Tim Tebow bill (allows homeschool children to play public school sports)."
Senator Bill Holtzclaw (R) from Madison said on Facebook, "Yes, I called "Attention on Deck!" on the Alabama Senate Floor – as any good Marine would. The Senate rolled past midnight today…err, yesterday, and had to follow procedure for a new legislative day with our prayer and pledge. The prayer is normally given by a pastor and the pledge by a student, serving as a page. It is a rare event that we roll into the next day but we must hold on to the traditions! I was honored to have lead the Senate in the pledge tonight…err, this morning."  "Senate pulls an all nighter – going strong at midnight…tomorrow is here!"
Senator Tom Whatley (R) from Lee County said on Twitter, "Senate goes back into session at 12:01 am – working all night!"  "The Senate is debating the "Tim Tebow" at 1230 am, things get chippy around here this time of day."
Sen. Cam Ward (R) from Alabaster said on Twitter, "AL Senate STILL in session. Now debating the Tim Tebow bill. This is time of session when nerves get raw."
A motion to table the legislation was defeated after 1:00 am 12 to 12.
After 2:00 am Sen. Slade Blackwell (R) from Mountain Brook said on Twitter, "Wow. We are still in session?"
Despite the late hour, Senator Rodger Smitherman (D) from Birmingham continued to lead a filibuster of the Tim Tebow Bill.  At 2:51 am the Republicans successfully passed a cloture vote to cut off debate.
The Tim Tebow Bill however was defeated after 3:00 am on a 10-21 vote.
If passed the legislation would have allowed students who are homeschooled to participate in extracurricular activities at the school that they are zoned too, but do not otherwise attend.  Proponents point out that homeschool families are forced to pay taxes for public schools they do not use and feel that homeschool kids should be allowed to play for their local football, baseball, softball, wrestling, volleyball, cheerleading teams, etc. as well as activities like choir, art, and band.
Opponents worry that allowing such participation would only encourage more people to home school and claim that homeschoolers should enroll their children in the public school if they want to participate in any sport or activities there.
Florida has had similar legislation for over a decade.  The most famous participant was Heisman Trophy winner Tim Tebow.  His mom taught him at home and he still played High School football.  That arrangement is forbidden currently under Alabama law.
The Senate then recessed until 2:00 pm.
Three mental health crisis centers coming to Mobile, Montgomery and Huntsville
"Today marks a culture change in Alabama for treatment of individuals with mental illness and substance use disorders," Mental Health Commissioner Lynn Beshear said.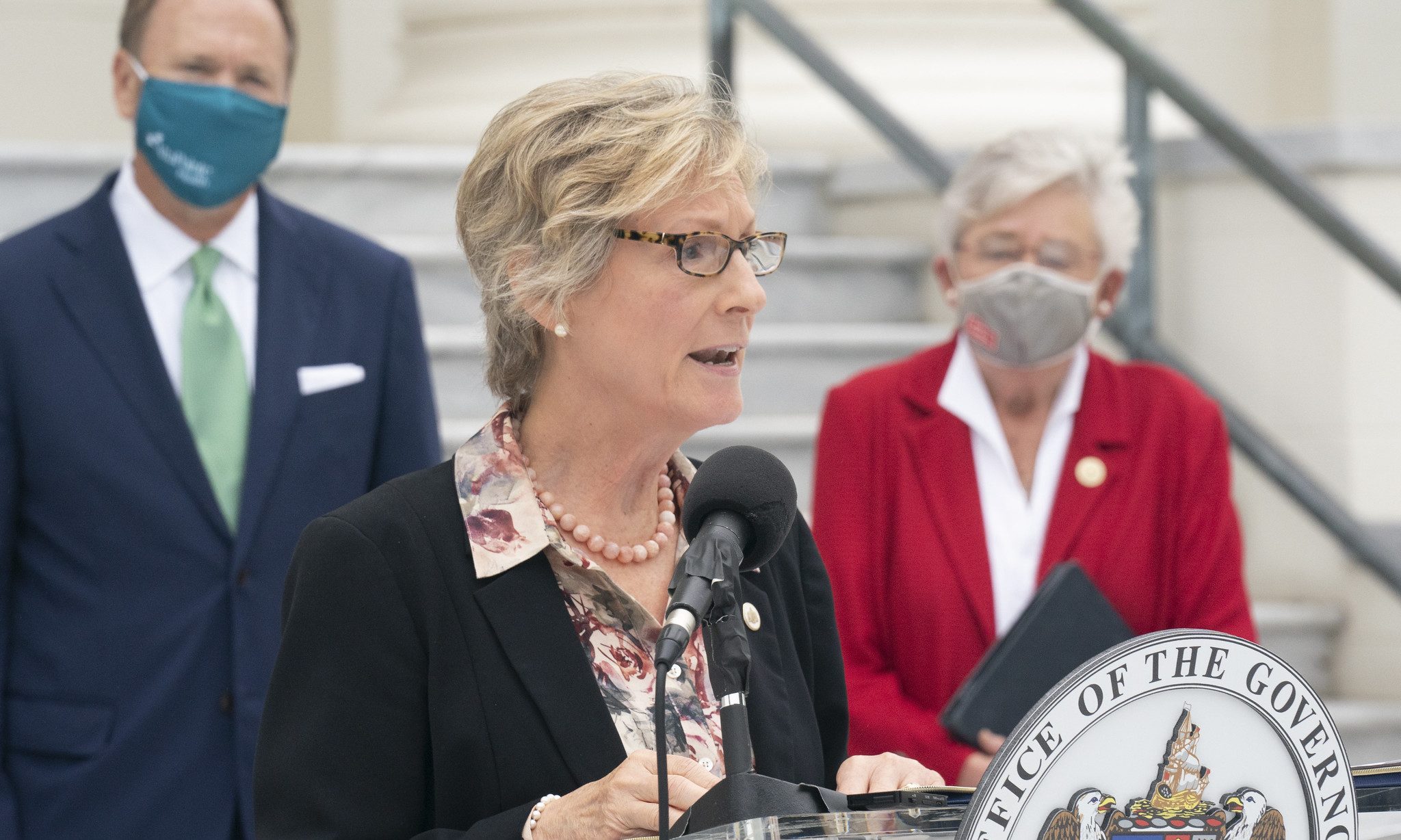 Gov. Kay Ivey on Wednesday announced an $18 million project to create three new mental health crisis centers to be located in Mobile, Montgomery and Huntsville. 
These centers, once in operation, will reduce the number of people suffering from mental health crises who are hospitalized or jailed, Ivey said during a press briefing in front of the Capitol Building in Montgomery. 
"When these facilities are open and fully staffed, these centers will become a safe haven for people facing mental health challenges," Ivey said. 
Lynn Beshear, commissioner of the Alabama Department of Mental Health, said during the briefing that the centers will provide "recovery based" care with "short term stays of a few hours, or up to a few days, to provide treatment, support, and connection to care in the community." 
"Today marks a culture change in Alabama for treatment of individuals with mental illness and substance use disorders," Beshear said. 
Beshear said AltaPointe Health in Mobile will operate one of the three facilities, and once built it is to serve Mobile, Baldwin, Clarke, Conecuh, Escambia, Monroe and Washington counties with 21 new beds, including 15 temporary observation beds. Altapointe will begin with a temporary space while constructing the new facilities, she said. 
Beshear said the Montgomery Area Mental Health Authority is partnering with the East Alabama Mental Health Authority and the Central Alabama Mental Health Authority to serve the 11 counties in Region 3 with 21 new beds, including 10 temporary observation and respite beds. 
"The regional crisis center will be located in Montgomery, and will be open to walk-ins and for drop off by law enforcement, first responders and referrals from emergency rooms," Beshear said. 
Wellstone Behavioral Health in Huntsville was selected to open the third center, and will do so at a temporary site while a new facility is being built, with the help of an additional $2.1 million from local governments, Beshear said. That facility will eventually have 39 beds, including 15 for temporary observation and 24 for extended observation.
"There's not a day that goes by that after-hours care is not an issue in our state," said Jeremy Blair, CEO of Wellstone Behavioral Health, speaking at the press conference. "And so I applaud the Department of Mental Health and the leaders for their efforts in recognizing that and taking it a step further and funding our efforts here." 
Asked by a reporter why a center wasn't located in Jefferson County, one of the most populous counties with a great need for such a center, Ivey said those residents will be served in one of the other regions. 
"Plans are underway to continue this effort. Today's beginning, with these three crisis centers, is just the beginning," Ivey said. 
Ivey added that request for proposals were sent out for these three centers and "it was a strong competition for the location of these three crisis centers." 
Alabama House Majority Leader Nathaniel Ledbetter, R-Rainsville, said during the briefing that more than a year ago, Ivey asked him what the state should be looking at, and that he replied "we're failing miserably in mental health."
Ledbetter said Ivey asked him to take on the challenge of correcting the state's response to mental health, and a team was created to do just that. 
"Working together, today's announcement will not only change Alabamians lives, but will help to save lives," Ledbetter said.