Gun Bill Substitute on Fast Track Through House
By Susan Britt
Alabama Political Reporter
MONTGOMERY–On Thursday, a substitute was offered to what is being called the "gun bill," SB286. Originally proposed by Senator Scott Beason (R-Gardendale), the bill has been a hot bed of controversy as both the Alabama Sheriffs and the Business Council of Alabama (BCA) were strongly opposed to it.
Representative Ed Henry (R-Decatur) further worked with law enforcement, the NRA and others to try to come to an agreeable solution.
Henry presented the substitute in a press conference on Thursday and the bill immediately went to committee for passage. Speaker of the House Mike Hubbard (R-Auburn) told the press that the bill would be put on the "fast track" in the House. The second reading of the bill was expected on Thursday as they are trying to have the bill on Tuesday's Special Order Calendar.
Although there have been many changes to the bill, the BCA said that they can still not get behind it. In a statement from BCA President and CEO William J. Canary, he said, "Over the course of this legislative session, the BCA has continued t work with all parties involved in this issue: the NRA, law enforcement, non-profits, the plaintiff's bar, and other representatives from business and industry.
"As we have stated before, three conniptions were presented in order for the BCA to support this legislation: absolute immunity from civil liability; equal application to everyone in Alabama; and an opt-out provision–two of these three have been accomplished.
"While we appreciate the efforts made here in the Alabama House of Representatives and the Houe sponsor to protect businesses from this government mandate a best as possible, we are not in a position to join those now in support of SB286."
House Minority Leader Craig Ford (D-Gadsden) said, "I hate that Ed Henry had to negotiate with the big powerful lobbying firm, Business Council, and gave in to their needs instead of trying to protect our 2nd Amendment rights."
The bill seeks to stiffen requirements for a concealed-carry permit, grant immunity to any business that allows weapons so that they can not be sued if the weapon is used on their property. It also would allow for a weapon to be carried in a vehicle without a permit on the conditions that it is unloaded and out of reach of the driver and passenger.
Beason said, "I have always said that I think you should be able to carry your pistol in your car without having to pay for a permit because it is an extension of your home. It is your personal property. That is one of the changes the House made that I did not like."
While granting immunity to business owners who permit guns on their property, employees who work for a business who doesn not permit weapons will not be able to keep the gun in the trunk of their car while on the job site.
Henry said, "We have strengthened the screening criteria so if someone has a gun in their parking lot they have been through a screening at some point."
In Beason's bill, citizens would be allowed to carry open or concealed at a demonstration was taken out of the substitute to help alleviate concerns by law enforcement. Beason said, "We just went back to current law."
Kevin Williams, sheriff of Marion County, President of the Alabama Sheriffs' Association, said, "We feel like law enforcement as a whole, not just sheriffs, public safety was a key issue in this bill for us. We are going to stand behind this bill. We are going to support this bill." He said that while they originally opposed the bill "We have ironed all of those issues out."
Michael Sullivan, representing the NRA said, "The NRA has some issues where, yes, we would like the structure or the language to be a little bit stronger. Our three main goals here were to clear up the permitting process, insure preemption and get some parking lot language to protect our members and the citizens of Alabama who carry firearms to and from work. Those issues were addressed here in the House."
Beason said that he had taken a cursory look at the substitute and said, "Most of the things are okay. They did away with a couple of the sections like the demonstration language but overall the bill is still a good bill. It is not necessarily what I wanted. It is not as strong."
Beason said they he felt that Alabama is still one of the weakest states in the South, "Which I think is a shame but it is part of the process."
Ford said that he thought the bill was weakened, "I like the Beason Bill." He said he felt like Henry weakened the bill and Alabamian's 2nd Amendment rights.
Beason said when it comes back to the Senate they will "look at it with a fine toothed comb."
"I wouldn't say that business is 100 percent happy. I don't think anybody is 100 percent happy with this bill and that probably means we have a pretty good bill," said Speaker Hubbard.
The bill is expected as early as Tuesday on the House floor and Beason said he thought that there was plenty of time to get it back and through the Senate.
Three mental health crisis centers coming to Mobile, Montgomery and Huntsville
"Today marks a culture change in Alabama for treatment of individuals with mental illness and substance use disorders," Mental Health Commissioner Lynn Beshear said.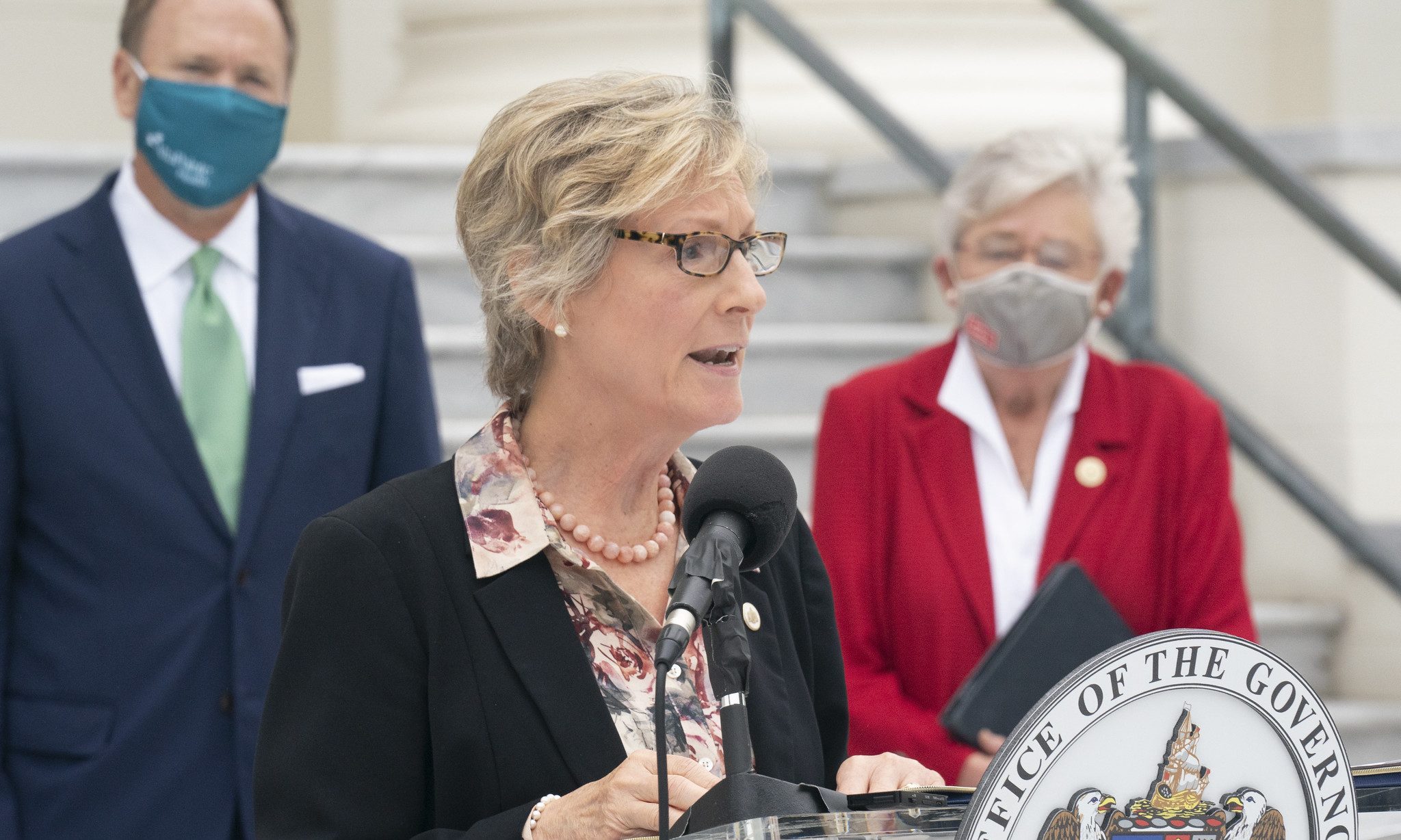 Gov. Kay Ivey on Wednesday announced an $18 million project to create three new mental health crisis centers to be located in Mobile, Montgomery and Huntsville. 
These centers, once in operation, will reduce the number of people suffering from mental health crises who are hospitalized or jailed, Ivey said during a press briefing in front of the Capitol Building in Montgomery. 
"When these facilities are open and fully staffed, these centers will become a safe haven for people facing mental health challenges," Ivey said. 
Lynn Beshear, commissioner of the Alabama Department of Mental Health, said during the briefing that the centers will provide "recovery based" care with "short term stays of a few hours, or up to a few days, to provide treatment, support, and connection to care in the community." 
"Today marks a culture change in Alabama for treatment of individuals with mental illness and substance use disorders," Beshear said. 
Beshear said AltaPointe Health in Mobile will operate one of the three facilities, and once built it is to serve Mobile, Baldwin, Clarke, Conecuh, Escambia, Monroe and Washington counties with 21 new beds, including 15 temporary observation beds. Altapointe will begin with a temporary space while constructing the new facilities, she said. 
Beshear said the Montgomery Area Mental Health Authority is partnering with the East Alabama Mental Health Authority and the Central Alabama Mental Health Authority to serve the 11 counties in Region 3 with 21 new beds, including 10 temporary observation and respite beds. 
"The regional crisis center will be located in Montgomery, and will be open to walk-ins and for drop off by law enforcement, first responders and referrals from emergency rooms," Beshear said. 
Wellstone Behavioral Health in Huntsville was selected to open the third center, and will do so at a temporary site while a new facility is being built, with the help of an additional $2.1 million from local governments, Beshear said. That facility will eventually have 39 beds, including 15 for temporary observation and 24 for extended observation.
"There's not a day that goes by that after-hours care is not an issue in our state," said Jeremy Blair, CEO of Wellstone Behavioral Health, speaking at the press conference. "And so I applaud the Department of Mental Health and the leaders for their efforts in recognizing that and taking it a step further and funding our efforts here." 
Asked by a reporter why a center wasn't located in Jefferson County, one of the most populous counties with a great need for such a center, Ivey said those residents will be served in one of the other regions. 
"Plans are underway to continue this effort. Today's beginning, with these three crisis centers, is just the beginning," Ivey said. 
Ivey added that request for proposals were sent out for these three centers and "it was a strong competition for the location of these three crisis centers." 
Alabama House Majority Leader Nathaniel Ledbetter, R-Rainsville, said during the briefing that more than a year ago, Ivey asked him what the state should be looking at, and that he replied "we're failing miserably in mental health."
Ledbetter said Ivey asked him to take on the challenge of correcting the state's response to mental health, and a team was created to do just that. 
"Working together, today's announcement will not only change Alabamians lives, but will help to save lives," Ledbetter said.