Sessions Critical of Gang of Eight Immigration Proposal
By Brandon Moseley
Alabama Political Reporter
U.S. Senator Jeff Sessions has studied the Gang of Eight's controversial immigration proposal and has found several areas that he has identified as potential weaknesses with the plan which would give amnesty to millions of illegal aliens already living here and would open the border to more legal immigrants.
Sen. Sessions said in a written statement, "Today, Senator Flake's office put out a statement which said in part: 'After at least 10 years, if the six security triggers are met and the backlog of legal immigrant applicants has been cleared, then, and only then, will those currently here illegally have the ability to apply for a green card – and even then, they still will not be eligible to receive any federal benefits. The earliest any person who meets these requirements could naturalize and become an American citizen is after having spent three years in the U.S. with a green card. The result is that for at least the next 13 years, millions of people already living in the U.S. will begin paying taxes without receiving any benefits…' This simply isn't so. The bill provides a five-year pathway to citizenship for 2–3 million illegal immigrants—of any age, including those previously deported—who claim DREAM eligibility. These illegal immigrants will be eligible for all federal assistance—and will be able to bring in an unlimited number of parents, spouses, and children in just five years. Illegal ag workers will get green cards in five years and will be able to apply for citizenship in 10. The families of illegal immigrants (including elderly parents) now living outside the country will be eligible for federal benefits as soon as 10 years from the passage of the bill."
Sen. Sessions continued, "Additionally, the 'triggers' aren't triggers at all. The mass legalization occurs immediately in exchange for even weaker promises of future enforcement than those rejected in 2007. The Secretary decides to build as much or as little fencing as she wants. She decides whether undefined border effectiveness has been achieved. And she decides whether a commission—which has no enforcement authority—is created. And if any of these are tied up in court after 10 years the Secretary is required to allow illegal immigrants to apply for green cards regardless."
Sen. Sessions said, " No language in the bill requires the Secretary to construct any fence at all. Given that Sec. Napolitano has said multiple times that no further fencing is necessary, Americans can be certain that very little fencing will ever be built. (In effect, this legislation further weakens a 2006 law which required 700 miles of double-layer fencing, only 36 miles of which were constructed.)"
Senator Sessions continued, "The second so-called trigger, the "Southern Border Security Commission," is not even formed unless the Secretary determines, five years after legalization has already been granted, that she failed to meet the bill's weak targets. It is entirely up to the Secretary whether her plans are "substantially completed" and "substantially implemented"—both undefined. Thus, the existence of the Commission is entirely up to her, and the Commission itself only issues recommendations (if it chooses) with no enforcement power."
Sen. Sessions said, "The bill also repeals the proven E-Verify workplace enforcement system. That system is then replaced with a new, untested system from which day laborers appear to be exempt—and which does not even have to be fully in place for five years, leaving a huge gap for new illegal workers to enter the workforce."
Sen. Sessions concluded, "Eligibility for state and local benefits could be immediate in the many states where public aid and assistance programs are provided to 'lawfully present' aliens. Meanwhile, the long-term costs, particularly for Social Security and Medicare, would be enormous, with millions of lower-income illegal immigrants receiving more in net benefits then they contribute. These are only some of the many flaws in the legislation—and why the rush to pass it before people know what's in it is so dangerous."
Senator Sessions has been a vocal critic of the Obama administration's poor track record on enforcing current immigration law and the complicated Gang of Eight immigration proposal that supporters are trying to rush through the Senate.
Senator Jefferson Beauregard Sessions III has represented Alabama in the Senate since his election in 1996. Prior to that Sessions was Alabama Attorney General and the U.S. Attorney for South Alabama.
Alabama reports record-breaking 2,164 new COVID-19 cases
Thursday's number of new cases hit 2,164 and blew past the previous daily record set on July 3 by 406 cases.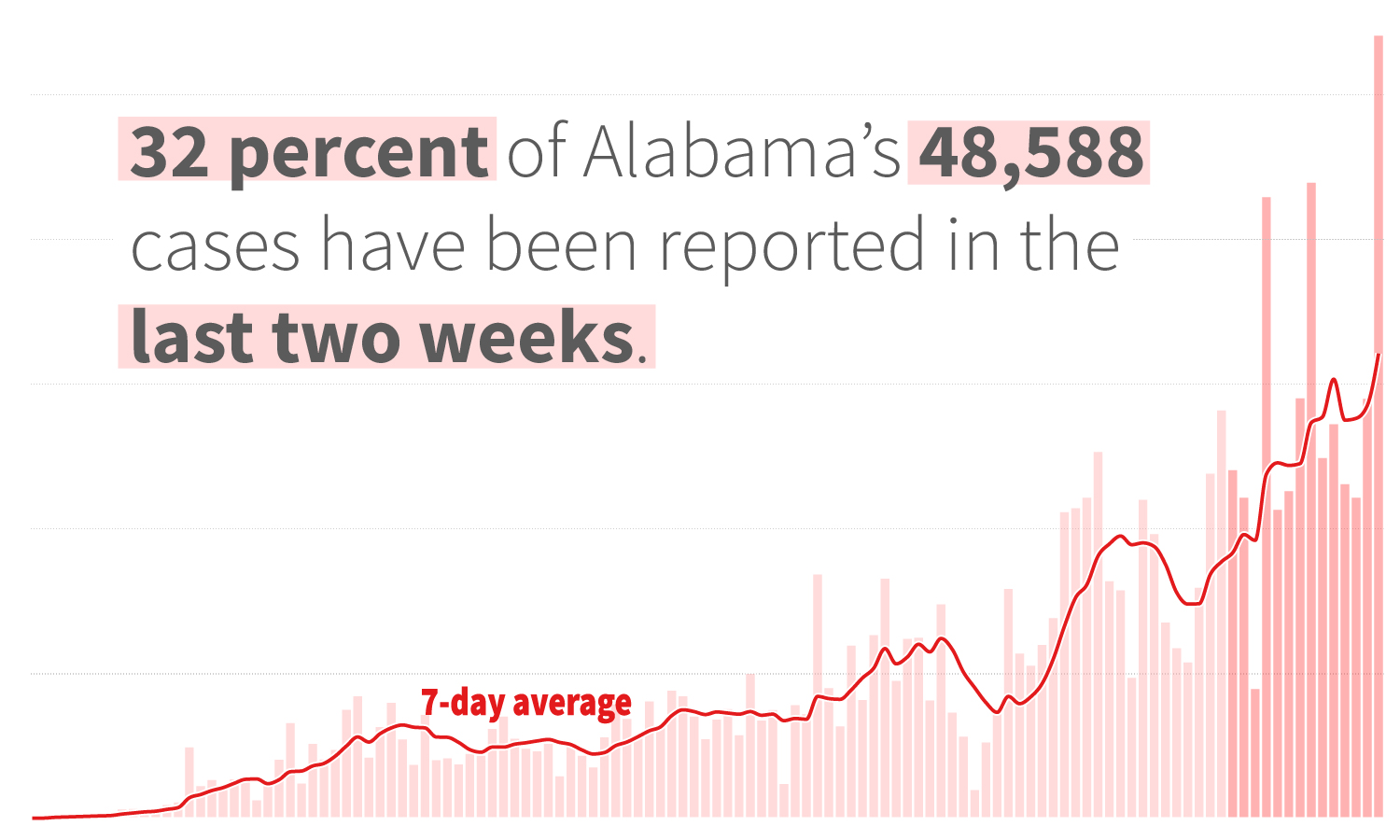 New COVID-19 cases in Alabama on Thursday jumped by nearly double from the day before, and for the first time broke 2,000 in a single day, according to the latest data from the Alabama Department of Public Health.

Thursday's number of new cases hit 2,164 and blew past the previous daily record set on July 3 by 406 cases. Both the seven-day and 14-day rolling average of new daily cases in Alabama were also at record highs Thursday. 
Thirty-two percent of the state's 48,588 cumulative confirmed cases have been added within the last two weeks. 
The Alabama Department of Public Health did not publish Wednesday an update to the total number of tests performed, which throws off the day's figures for the percentage of tests that are positive, but on average, over the last week, the state's seven-day rolling average of percent positivity has roughly 15 percent. 
Public health experts say the percent positivity should be at or below 5 percent — otherwise there isn't enough testing being done and cases are going undetected. 
Along with surging new cases, the number of COVID-19 patients hospitalized on Wednesday was higher than it's been since the beginning of the pandemic. On Wednesday 1,110 coronavirus patients were being treated in state hospitals, which was the fourth straight day of record current hospitalizations. 
UAB Hospital's COVID-19 Intensive care units were nearing their existing capacity Tuesday. The hospital has both a COVID ICU and a COVID acute care unit designated to keep patients separated from those who don't have the virus, but it has more space in other non-COVID units should it need to add additional bed space.

Hospitals in Madison County this week are also seeing a surge of COVID-19 patients. Paul Finley, the mayor of the city of Madison, told reporters Wednesday that local hospitals were reporting record numbers.

Hospitals there were at 80 to 90 percent capacity.
"Our ambulances yesterday had their greatest number of runs since this started," said Crestwood Hospital CEO Dr. Pam Hudson on Wednesday, adding that in about 20 percent of calls staff is having to wear full personal protective equipment. "That indicates that they are working with patients who have symptoms that could be compatible with COVID."
Meanwhile, Madison County set a new daily record, adding 286 cases Thursday, the first time the county has surpassed 200 cases a day. The county was largely spared early on in the pandemic, with low case counts and low death rates, but roughly 42 percent of Madison County's total case count since March has been reported in the last week as 803 new cases have been added.
Jefferson County and Madison County, over the last week, have accounted for 26 percent of the state's new cases.
Jefferson County led the state in the most new cases Thursday with 343 and has added 1,498 cases in the last week. The county's total cases increased by 33 percent from last week, and stood at 6,030 confirmed COVID-19 cases Thursday.
While Jefferson County and Madison County are seeing the state's most intense increases, other large counties including Shelby County, Baldwin County and Tuscaloosa County have also seen record increases and rising percent positive rates.
At least 81 people have died from COVID-19 in the last week, and 162 people have died in the last two weeks.
At least 1,042 people have died from COVID-19 since March, and at least 26 other deaths are listed as "probable" COVID-19 deaths.