Who will develop Gulf State Park?
By Bill Britt
Alabama Political Reporter
MONTGOMERY—On Wednesday Governor Robert Bentley announced that Alabama will receive nearly $100 million in funding as part of the ongoing coastal restoration projects following the BP Deepwater Horizon explosion and oil spill. And today, the state House of Representatives is expected to pass a bill allowing construction of a hotel and conference center in the Gulf State Park, one of the most beautiful stretches of Alabama coastline.
The Administration said that approximately $85.5 million is designated for Gulf State Park enhancements, which include the "lodge and meeting facilities to attract more visitors to the Alabama Gulf Coast."
With the final pieces in place, one of the remaining big questions is: Who will be chosen to handle the lucrative job of building the hotel and conference center in South Alabama's most sought-after real estate?
Section 4(a) of the SB231, the Gulf State Park bill, states that "the Governor may issue requests for proposals, in part or in whole, for the construction, development, improvement, lease and beneficial use of a project to persons whom the Governor shall have determined are qualified."
There is growing controversy over the language because it needlessly opens the door for no-bid contracts that favor politically connected developers, construction companies and others already lined up for piece of the $85.5 million project.
Not long ago, ex-Gov. Bob Riley pushed hard for a plan to build a luxury hotel and convention center on park property. The plan Riley hatched included a partnership between Auburn University and the Atlanta-based West Paces Hotel Group, today known as the Capella Hotel Group:
"…world-class design, individualized service and attention to detail of a small luxury hotel with the amenities and activities of larger five-star hotels and resorts. … Our customer no longer has a psychological need to associate with aspirational brands that helped define their earlier economic lifestyle ascendancy. When traveling for business, they have few budgetary restrictions to follow since they are usually the ultimate decision-makers within their organization or are traveling using their own discretionary income."
While Gov. Bentley considers a Gulf State Park hotel and conference center a priority, Riley was obsessed, pushing behind the scenes to bring a luxury complex to the state-owned property. Through his new day job as a well-connected, well-paid lobbyist, the former Governor remains a major player in big money projects like the Gulf State Park Resort.
So, who does Riley know that might develop Gulf State Park? Perhaps, more importantly, is who knows Riley?
Enter Brett/Robinson Real Estate Development Co., Inc. The company has been in business in Mobile and Baldwin Counties for 30 years and is one of the Gulf's biggest condo and hotel developers and managers.
Brett/Robinson knows Bob Riley and Riley knows them. Not only were the partners in the Brett/Robinson firm one of Riley's biggest donors, Riley and his daughter Minda are the developers' Montgomery lobbyists.
In the way of background, the Brett/Robinson firm (and a series of subsidiary companies) has three partners: Thomas E. "Gene" Brett, his brother Tillis Brett, and Thomas "Tommy" Robinson. The three gave a combined $150,000 to Bob Riley's 2006 re-election campaign.
Fast-forward to 2010. In one of his final acts as Governor, Bob Riley helped negotiate a $37.2 million payment from BP to his good friends. On December 1, 2010, the Riley administration along with BP and the Brett/Robinson Gulf Corp. announced a deal to settle claims that the Gulf oil spill damaged Brett/Robinson's massive Phoenix West luxury II condo project on Orange Beach. In exchange for the $37.2 million settlement, individuals who pre-paid hundreds of thousands of dollars for condo units had to sign waivers agreeing not to sue BP or any other entity involved in the spill.
So, it would appear that Brett/Robinson has a very good friend in the Rileys.
Who knows if the Riley connection will yield another big payday for the Brett/Robinson outfit. But, word around the Statehouse is that Bob Riley's favorite South Alabama developers are the front runners for the State's big land and money play.
Trump Truck and boat parades this weekend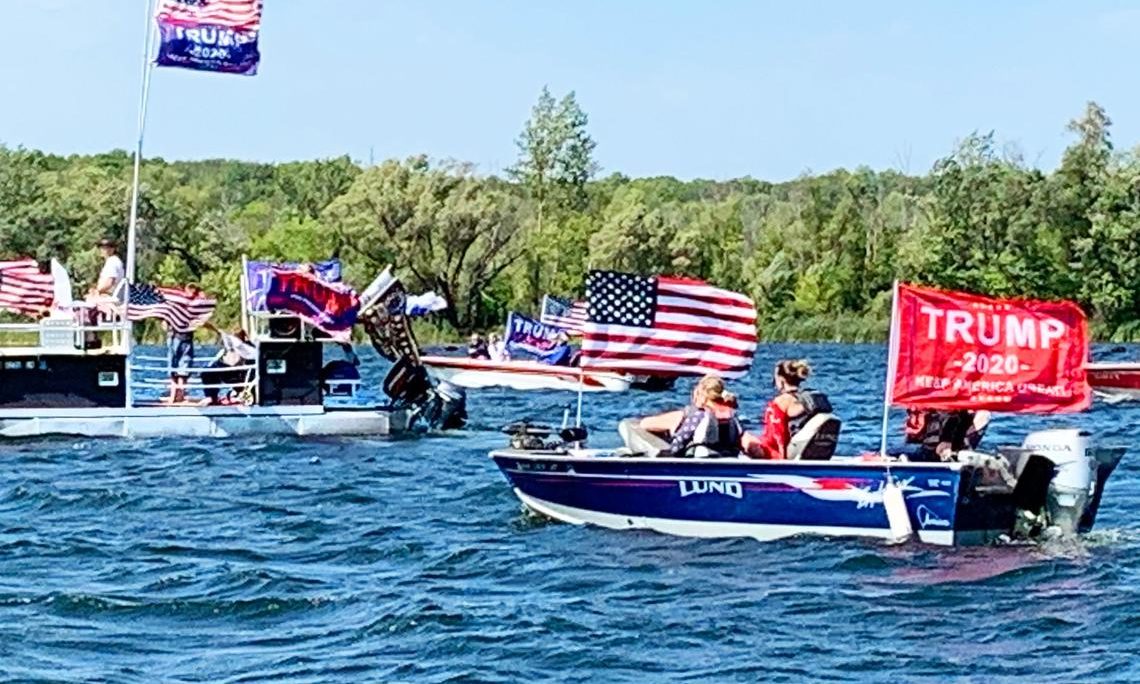 As Election Day draws near, Alabama Republicans are excited about promoting the re-election of Donald J. Trump as President and the election of Tommy Tuberville for U.S. Senate. This weekend two pro-President Trump events are happening in the state. There will be a truck parade from Ashland to Phenix City on Saturday sponsored by the Clay County Republican Party, while there will also be a boat parade on Wilson Lake in the Shoals sponsored by the Colbert County Republican Party on Sunday.
The pickup trucks will assemble at the Ashland Industrial Park in Clay County, 8240 Hwy 9, Ashland. There is a pre-departure rally at 10:00 a.m. central standard time. The trucks will depart at 11:00 a.m. and then proceed on a parade route that will take them into the bitterly contested swing state of Georgia. The Trump Pickup Parade will wind through east Alabama and West Georgia traveling through LaGrange and Columbus before concluding near the Alabama/Georgia line in Phenix City, 332 Woodland Drive, Phenix City at approximately 2:00 p.m. central time. Speakers will begin at 3:00. Trump flags will be on sale at the event.
The Phenix Motorsports Park will be hosting what sponsor hope could possibly the world's largest Pickup Tuck parade in U.S. history that is routing over 50 mile through Georgia in effort to "pickup" President Trump's numbers in GA.
A number dignitaries have been invited to address the Phenix City rally, including Coach Tuberville. Former State Sen. Shadrack McGill, Trump Victory Finance Committee member former State Rep. Perry O. Hooper Jr., and Paul Wellborn, the President and CEO of the largest Family owned Kitchen Cabinet manufacture in the USA are among the featured speakers who have committed to speak at the event.
Entertainment will be provided by: Charity Bowden, an up and coming country music singer who was the runner up on "The Voice". Charity will sing 'I am Proud to be an American' as well as songs from her Voice performances. The McGill Girls will also perform. The three beautiful and talented sisters will be singing patriotic songs in three part harmony. Geoff Carlisle, a professional DJ will be keeping the crowd pumped with music and entertainment.
Following the speakers and the entertainment there will Trump truck-vs- Joe Bidden truck races down the drag strip for the finale.
The Northwest Alabama boat parade will be on Sunday. The boats will gather at 2:00 p.m. near Turtle Point and then the flotilla will parade around the open waters of Wilson Lake til 3_00 p.m.. There will be a contest for best decorated Trump boats.
Trump supporters have held a number of large boat parades across the state to show their support for the re-election of Pres. Trump.
Boat parade sponsors say that this parade will be: pro-American, pro-law enforcement, pro-military.