Hubbard's House Conference Hauls in Cash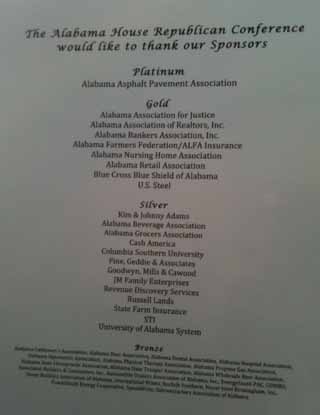 By Bill Britt
Alabama Political Reporter
MONTGOMERY—Last week (May 15th, 2013) with legislation still pending before the Alabama House of Representatives, all business stopped for a House Republican fundraiser.
The Alabama House Republican Conference—led by Speaker of the House Mike Hubbard—raised around $100,000 dollars at the 90 minute event. Thus putting an exclamation point on the new republican transparency.
The who's-who of Montgomery's well-heeled lobbyists and Big Business donors climbed the steps of the RSA Terrace building—across from the Statehouse— to fill the coffers of the politically partisan non-profit.
The Alabama Political Reporter had a reporter inside the building but was asked to leave by Rep. Micky Hammon (R-Decatur) who said that reporters were not welcome to cover the fundraiser.
As a non-profit foundation the Alabama House Republican Conference is under no legal obligation to disclose its donors and has not publicly done so. However, inside the event a large board touted the names of the gala's sponsors.
The soiree was attended by gold, silver and bronze sponsors, with marque names like Alabama Farmers Federation/ALFA Insurance, Blue Cross Blue Shield of Alabama and Cash America payday lenders.
So successful was the financial recruiting that a Platinum category had to be established to accommodate Alabama Asphalt Pavement Association, who has as their lobbyist SAHR led by Speaker Hubbard's closest associates Dax Swatek and David Azbell.
The Alabama House Republican Conference secretary of state filings show the non-profits mission is "education." With over 50 lobbying groups and big business organizations in attendance it begs the question, what type of education were these special interest groups receiving for their $5000 dollars checks?
The invitation claimed that special remarks would be given by Speaker Hubbard and the House leadership during dinner and drinks. Certainly, Alabama voters would like to have this type of exclusive information but most Alabamians don't have an extra few thousand to lavish on such political affairs.
While narrowly within the confines of Alabama's Fair Campaign Practice Act, the Alabama House Republican Conference strains to point-out that, it, "is not a Political Action Committee."
Hubbard, recently told the Associated Press that the Alabama House Republican Conference was used to "mostly educate ourselves."
According to the man who has acted as the GOP chief-fundraiser, and spokesperson for so-called "real-conservatives," Hubbard has remained quiet as to the real reason the people's business was halted in the House so that he could entertain lobbyist and corporations.
What private advice was handed out to these high-end donors during the 90 minute cash-call?
Tea Party activist—like the ones who have lobbied on behalf of conservatives values during the 2013 session—and concerned citizens seem to have not received an invitation to receive education from Hubbard and company.
This type of secret-fundraising has become a national trend especially among republicans.
During the 2010 elections many watch-dog groups worried about the impact of SuperPACs on campaign fairness. But in reality it was the 501 (c) (4) non-profits that played the biggest role in unreported campaign funding.
Such non-profits are according to the IRS are to be non-partisan, "social welfare" groups. In 2010, these so-called social welfare organizations outspent the SuperPACs by a 3-2 margin according to a report by the Center for Public Integrity and the Center for Responsive Politics.
The study found that more than 100 non-profit 501(c)(4)s spent roughly $95 million on political expenditures in the 2010 election compared with $65 million by super PACs.
The Alabama House Republican Conference, established in 2011 appears to be positioned to take advantage of this growing trend of skirting campaign finance laws through "social welfare," education.
A recent Senate Bill 445, sponsored by Bryan Taylor (R-Prattville) and Mike Ball (R-Huntsville) would give groups like Hubbard's Alabama House Republican Conference the ability to transfer funds in a manner mimicking PAC-to-PAC transfers, while allowing political contributions to remain unreported.
The GOP promised the voters of Alabama transparency and campaign finance reform. Last week's Alabama Republican House Conference cash-call seems to suggest promises made and promises broken.
The following is the list of named sponsors:
Platinum sponsor
Alabama Asphalt Pavement Association

Gold sponsors
Alabama Association for Justice
Alabama Association of Realtors, Inc.
Alabama Bankers Association
Alabama Farmers Federation/ALFA Insurance
Alabama Nursing Home Association
Alabama Retail Association
Blue Cross Blue Shield of Alabama
U.S. Steel
Silver sponsors
Kim & Johnny Adams
Alabama Beverage Association
Alabama Grocers Association
Cash America
Columbia Southern University
Fine, Geddie & Associates
Goodwyn, Mills & Cawood
JM Family Enterprises
Revenue Discovery Services
Russell Lands
State Farm Insurance
STI
University of Alabama System
Bronze sponsors $21,000
Alabama Cattlemen's Association, Alabama Deer Association, Alabama Dental Association, Alabama Hospital Association, Alabama Optometric Association, Alabama Physical Therapy Association, Alabama Propane Gas Association, Alabama State Chiropractic Association, Alabama State Trooper Association, Alabama Wholesale Beer Association, Associated Builders & Contractors, Inc., Automobile Dealers Association of Alabama, Inc., Energy South PAC, GUMBO, Home Builders Association of Alabama, International Wines, Norfolk Southern, Nucor Steel Birmingham, Inc., PowerSouth Energy Cooperative, SpeakWrite, Subcontractors Association of Alabama.
Alabama's COVID-19 cases continue to rise
Alabama's ongoing increase in new cases and COVID-19 hospitalizations is especially worrisome for public health experts as flu season arrives and several holidays are just around the corner.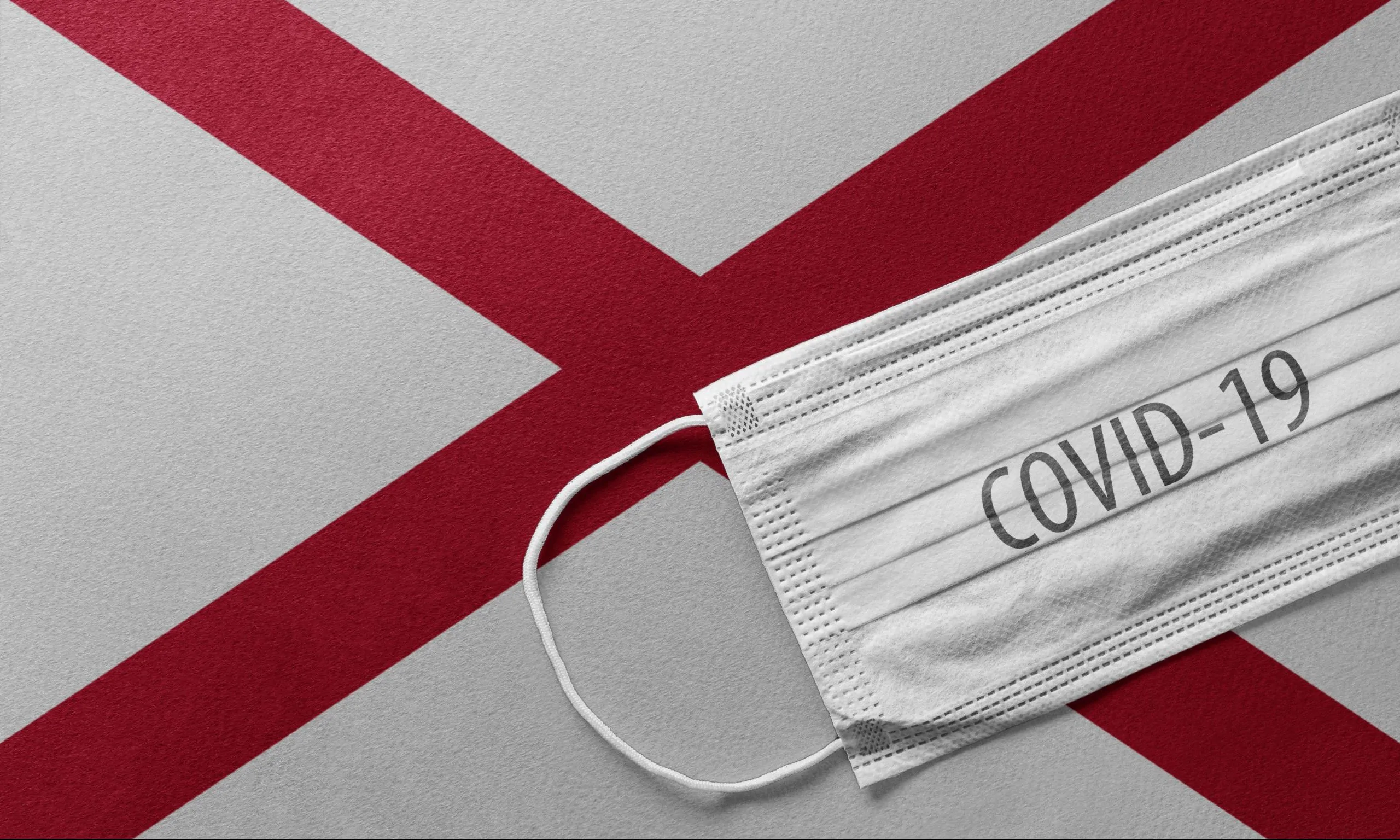 The number of new confirmed COVID-19 cases in Alabama continues to rise, with 1,789 new cases reported Saturday, despite fewer tests being conducted, and cases are up 55 percent from two weeks ago, based on a 14-day average of daily case increases.
Alabama's ongoing increase in new cases and COVID-19 hospitalizations is especially worrisome for public health experts as flu season arrives and several holidays are just around the corner.
Coronavirus cases in the U.S. surpassed 9 million on Thursday, and numerous states were seeing surges in cases and hospitalizations. Nearly 1,000 Americans died from COVID-19 on Wednesday, and the country has reported several days of record-high new cases.
"There's going to be a whole lot of pain in this country with regard to additional cases, hospitalizations and deaths," said Dr. Anthony Fauci, White House coronavirus task force adviser and director of the National Institute of Allergy and Infectious Diseases, in a CNBC interview Wednesday. "We are on a very difficult trajectory. We are going in the wrong direction."
There were 960 hospitalized COVID-19 patients in Alabama on Friday, and the seven-day average of daily hospitalizations hit 976 on Friday, the highest it's been since Sept. 2 and 29 percent higher than a month ago.
More than 1,000 hospitalizations were reported in Alabama on Tuesday for the first time since August. Huntsville Hospital was caring for 163 coronavirus patients Friday, the largest number since Aug. 19. UAB on Friday had 58 COVID-19 patients and has been hovering between 60 and 70 patients for the last several weeks.
While the number of new cases is rising, the number of tests being performed has been declining. Over the last two weeks, Alabama reported, on average, 6,961 cases per day, 9 percent fewer cases than a month ago.
The rising cases and declining tests are also reflected in the percentage of tests that are positive, which on Saturday was well above public health experts' target of 5 percent or below. 
The state's positivity rate on Saturday was 21 percent, according to APR's tracking of new cases and reported tests over the past two weeks. Many other COVID-19 tracking projects calculate the state's percent positivity by dividing the 7- and 14-day averages of daily case increases by the 7- and 14-day averages of daily test increases.
The Alabama Department of Public Health calculates the positivity rate differently, instead dividing the number of daily cases by the number of individuals who have been tested, rather than the total number of tests done, as some people may have more than one test performed.
There are no federal standards on how states are to report COVID-19 testing data, and a myriad of state health departments calculate positivity rates differently. 
Even so, ADPH's own calculations show Alabama's percent positivity is nearly double where public health experts say it needs to be, or else cases are going undetected. According to ADPH's calculations, the percent positivity on Oct. 24 was 9.6 percent, up 33 percent from the 7.2 percent positivity on Sept. 26. 
As of Saturday, there have been 2,967 confirmed and probable COVID-19 deaths reported in Alabama, with 427 reported this month, 19 percent more deaths than were reported in September.
On Saturday, ADPH reported 35 confirmed and probable deaths.