Legislature Passes Changes to Alabama Accountability Act
By Brandon Moseley
Alabama Political Reporter
House Bill 658 sponsored by Representative Jim Carns (R) from Vestavia began as a simple clarification by the House that school boards do not have to grant transfers from failing schools if they do not want them. That bill which was advocated by Representatives Carns and Paul DeMarco (R) came back to the Alabama House from the Senate with many new provisions added by Senate Pro Tem Del Marsh (R) from Anniston greatly changing the Alabama Accountability Act.
The Senate added over a dozen changes to the Alabama Accountability Act that were so lengthy they prepared a two page hand out to attempt to explain all of them.
First the failing school that loses a transferee gets 20% of the money that they would have gotten if that student had actually enrolled in the bad school.
Second a disabled transferee is entitled to all the accommodations that he entitled to under the Individuals with Disabilities Education Act (IDEA).
Families of students who transfer are responsible for their own costs of transportation except when that transfer is within a school system.  That avoids a situation where school buses have to drive to other school districts to pick up transfers from that other system.
The amount of tax credits that the state will give donors to scholarship granting organizations (SGOs) is capped at $25 million annually. The donor however will be able to take 100% of the amount that they donate to an SGO off of their taxes as long as that credit does not exceed 50% of their total state tax liability.  Donors may not designate which student(s) receive his or her donation.
If the SGOs have left over funds on September 15th of each year that money will be made available to low income students attending a qualifying school even if the student does not live in a home that is assigned to a failing school.
HB 658 also changes the definition of a failing school.  Instead of the Accountability Act applying to the worst 10% of Alabama public schools now it applies to only the bottom 6%.  The State Superintendent of Education can however designate any school as a failure at his or her discretion.
No school can be compelled to take transfers and the bill authorizes a school or a school system to develop non-discriminatory terms and conditions for handling transfer requests.  The school is still obligated to follow court ordered terms enforcing desegregation.
It also mandates that schools seeking flexibility contracts must be for academic rigor and that those plans must not violate the privacy rights of students or school employees.
The Alabama High School Athletic Association remains the ultimate authority on student athletic eligibility rules and HB 658 and the Alabama Accountability Act do nothing to change those rules or that authority.
The new provisions are retroactive to March 14, 2013
Rep. Patricia Todd (D) from Birmingham said on the House floor, "We have never done anything to help failing schools."
Rep. Jim Carns (R)f from Vestavia said that the Alabama Accountability Act will provide school boards with a powerful incentive to turn them around
Todd said, "The people that drafted this bill do not work with poor families."  Todd doubted that the Alabama Accountability Act would help many students unless they were good at basketball.
Rep. Oliver Robinson (D) from Birmingham said, "Somebody came up with an idea and that idea hasn't been proven in any state that it works yet. You have the votes so we are going to sit back and watch this experiment."
Rep. Carns said, "We are setting up a $25 million scholarship pool to help kids got out of failing schools.  That is not a fix all but if it helps ten kids it is worth it."
Rep. Robinson said, "Families in my district can't come up with the $4500 to go along with the $3500 to take the scholarship.  99% of the people in my district is not as fortunate as I am."
Carns said that the Department of Revenue's current interpretation of the Accountability Act is that a kid already in private school can not get the tax credit
Rep. Charles Newton (D) from Greenville said, "We are giving up on failing schools." Newton said that you don't fix failing public schools by taking away students from those schools.  Money is not the only answer, but that could be part of a plan to turn around failing schools.  Newton said, "It (the AL Accountability Act) will help some children which is good, but it is not enough to fix failing schools."
Rep. Carns said, "I hope this will help 100s of kids then thousands and then tens of thousands."
Rep. Elaine Beeche (D) from Chatom said, "I don't trust local school boards because I used to be on a local school board."  She accused Leroy high school of recruiting athletes and said that the Alabama Accountability Act only made it easier for schools to recruit athletes.  "It is wrong to allow these corporations to get a 100% tax credit."  "I still don't trust local school boards and I probably have the worst in the state."
Carns said that schools can choose to take or not to take a student on an individual basis.
Rep. Merika Coleman-Evans (D) from Midfield said to help failing schools you have to give them the resources, highly qualified teachers, and after school programs that include the parents.
Alabama House Minority Leader Craig Ford (D) from Gadsden said that the Alabama Accountability Act could cost the Alabama Education Trustfund $60 million to $300 million based on their estimates, though he acknowledged that the Republicans' estimates were less.
The motion to cloture debate passed 64 to 39.
The motion for final passage and concur with the Senate's version of HB658 passed by a 61 to 41 margin.  The bill now goes to Alabama Governor Robert Bentley (R) for his signature.
Print this piece
Sean Spicer addresses Alabama Republicans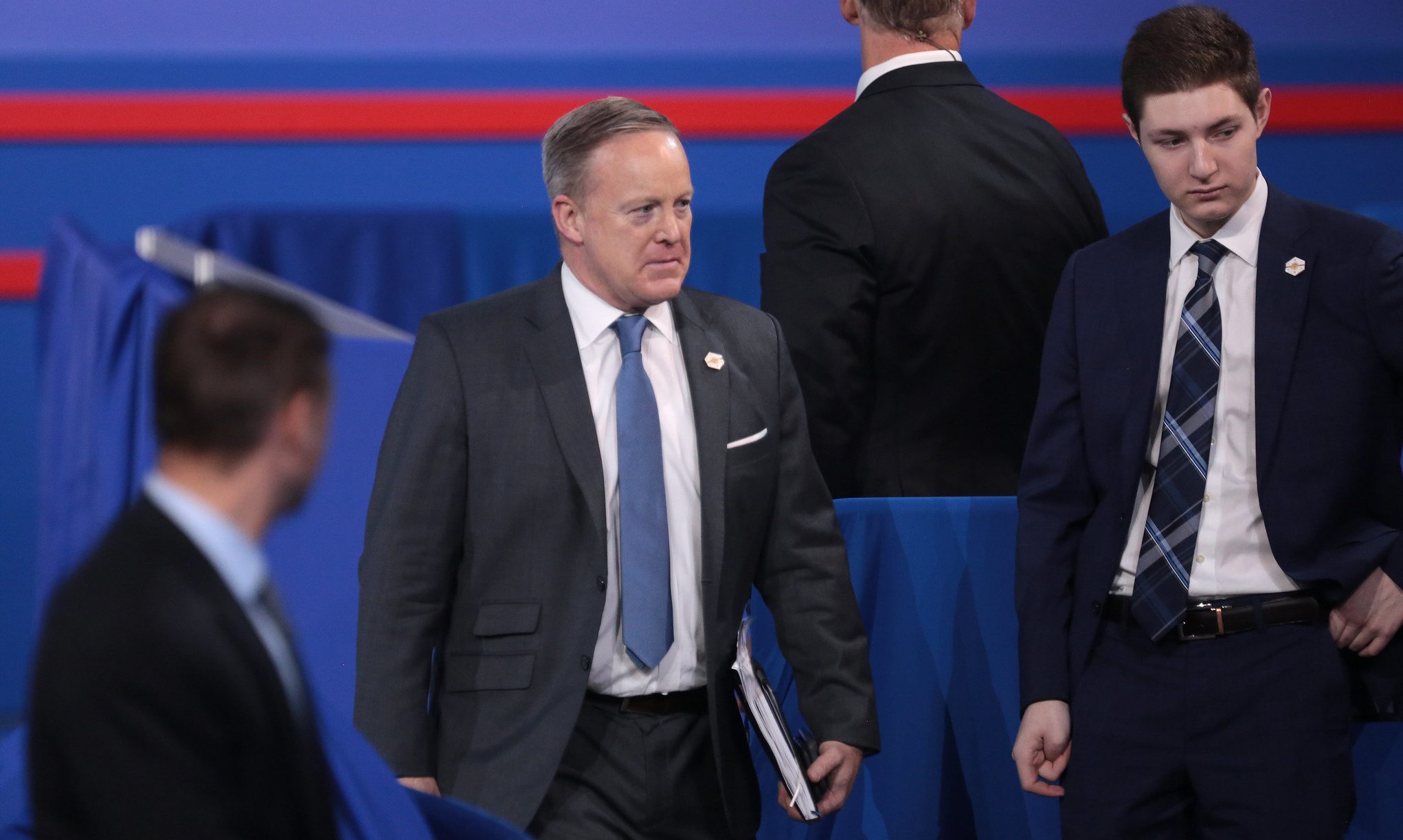 Former White House Press Secretary Sean Spicer was in Prattville on Friday as the keynote speaker at the Alabama Republican Party's annual Winter Dinner event. This year's event was held at the Montgomery Marriott, in Prattville.
Spicer talked about his life growing up in a non—political home in Rhode Island and his passion for political campaigning that he developed in college. Spicer worked for a number of campaigns before going to work for the National Republican Congressional Campaign (NRCC). Spicer also worked for the George W. Bush administration in trade.
Spicer was going to leave the political world and accept a regular job that would allow him to spend more time with his family when Reince Priebus asked him to join him at the Republican National Committee (RNC). Spicer's first two years at the RNC were productive but ultimately were unsuccessful when then GOP presidential nominee Governor Mitt Romney (R) lost to incumbent President Barack H. Obama (D) in 2012.
Despite the crushing loss, the RNC kept Priebus and Spicer on for another two years. Spicer said that the experience of losing a presidential campaign was instructive for the GOP team. They studied what they had done wrong and what Obama and his team had done right The Obama team emphasized a ground game, having political operatives on the ground working in the swing states year-round building support for their candidates. The Republican strategy, however, was to just spend more money on a new ad buy to reach swing voters or get out the GOP base. The throwing more money at it approach was not working so Priebus and the RNC team resolved to assemble data on voters and voter districts and do what the data told them to do rather than throwing money at a race. The GOP won control of the Senate in 2014. The RNC kept Priebus and Spicer for another two years.
Priebus and the RNC resolved to assemble the largest ground game ever in political strategy for 2016. Spicer said that Obama had built a strategy around promoting one candidate, Obama; but the RNC strategy was to build a ground game around Republican principles and ideas. GOP operatives were living among the communities organizing and spreading the GOP message in swing states and districts ahead of the 2016 election.
Spicer said that the GOP had an incredible slate of candidates with all kinds of great experience and then they had this Trump guy that tweets. The Trump message however resonated with Republican primary voters and he won the nomination. Once it was clear that Trump would be the nominee the RNC staff met with Donald J. Trump and his campaign staff. They really did not have a ground game at all. The Trump campaign did rallies and Tweets and that is what they did, but this lack of a large candidate infrastructure actually worked well because they adopted the RNC apparatus that was already in place without the conflicting infrastructures that past campaigns have had to meld in a general election run.
Trump defeated former Secretary of State Hillary R. Clinton and asked Spicer to join the administration as White House Press Secretary. Spicer admitted that the Tweets were annoying, but added that "you aren't going to make him (Pres. Trump) stop. That's who he is." Spicer said that Trump sleeps for about two hours and then he Tweets.
Spicer said that he had a really bad week on the job, and then Saturday Night Live did their skit lampooning him. Spicer did not see it live. On Sundays, he goes to church with his family and ignores the calls. All through the service, his phone was getting texts and calls that he ignored. Normally they go out for ice cream following the service but he told his son no and rushed to home to see what had happened. Spicer said that the piece was hilarious, but was devastating and that his tenure never recovered afterward.
Spicer said that President Trump has built the greatest economy in decades, has renegotiated trade deals which no one thought possible, and he has kept his promises to the American people. Spicer acknowledged that losing the election is always possible, but that is why you have to work hard.
Spicer urged Alabama Republicans to united behind whoever is the Senate nominee this time and defeat Doug Jones. Defeating Doug Jones is critical to the GOP maintaining control of the Senate.
Former State Representative Perry O. Hooper Jr. is a member of the Alabama Republican Executive Committee, serves on Trump's national finance committee, is running on March 3 in the Republican primary statewide to be a Trump delegate to the national convention.
"Sean delivered a great Alabama Republican Trump Speech," Hooper said. "Sean spoke out strong that the two most important races in Alabama and America are the re-election of President Donald J. Trump and beating Democrat US Senator Doug Jones. That was music to our ears!"
"Sean and I visited and I asked him what was the plan to take back the House," Hooper continued. "I told Sean that America cannot take Pelosi, Schiff, and Nadler any more. Sean told me that the plan was to target 50 House seats. We have to win 23 seats to take back control. Sean felt very positive that we will take control of the House. I told Sean that is a must so we can finish implementing to Trump agenda: border security and building the wall, infrastructure, and affordable healthcare."
Alabama Republican Party Chairman Terry Lathan presented Spicer with a handmade quilt of valor that a nonprofit group of volunteers makes for veterans. Spicer is an officer in the Navy reserves.
The ALGOP Winter Dinner, the party's largest fundraiser, was sold out. The Alabama Republican Party is the largest state Republican Party in the country.
Print this piece