Shelby County Republican Executive Committee Conducts Business Meeting
By Brandon Moseley
Alabama Political Reporter
On Tuesday, the Shelby County Republican Executive Committee met to conduct party business and discuss strategy in Pelham.
The committee voted to fill two vacancies on their committee. Steve Johnson from Greystone was added to the executive committee.
Johnson said, "Thank you very much for welcoming me to this community. I have been very involved in the Tea Party and the Alabama Legislative Watchdogs."
The executive committee also voted to add Michael Smith. Smith has been an active member of both the Greater Birmingham Young Republicans and the Shelby County Young Republicans as well as the Alabama minority GOP. Smith said, "Thank you very much and I look forward to becoming more involved."
Chairman Freddie Ard said that the Executive Committee had more vacancies to fill.
Shelby County Communications Director Laura Joseph presented proposed changes to their bylaws to the executive committee.
The Shelby County Young Republicans are getting organized. The Shelby County Teen Republicans have recently built a Habitat for Humanity house. The Shelby County Republican Women are meeting on Saturday. State Auditor candidate Adam Thompson will be their featured speaker.
Chairman Freddy Ard said that there were two resignations on the Shelby County Republican Steering Committee. The vacancies were for zone 4 and zone 5. The zones currently correspond to the 9 Shelby County Commission districts.
Alabama State Senator Jerry Fielding (R) from Sylacauga announced that he was seeking re-election to the Alabama Senate. Fielding said that he was a judge in Talladega County for 26 years before running for the Senate in 2010. The legislative reapportionment and redistricting process means that southern Shelby County will be in Fielding's district next year. Fielding also announced that Trip Skipper would be helping him with his campaign. Skipper was formerly a senior adviser to Congressman Mike Rogers (R) from Saks.
The executive committee heard from Adam Thompson who is running for state auditor in 2014. Thompson said that Auditor is not an exciting office but it is a very important office. He is currently the deputy chief of staff for Secretary of State Beth Chapman. Thompson also worked for Chapman when she was the state auditor.
Thompson explained that the auditors office has nothing to do with money. Instead the Auditor is responsible for keeping track of over $2 billion in state assets: cars, trucks, desks, anything else the state owns. Every state agency is audited every 2 years to make sure it still has its equipment. The Auditor's office has less than ten employees and a budget of less than $ one million.
Republican National Committee man Paul Reynolds said that the State Executive Committee had accepted Senior Vice Chairman George Williams recommendation for a new Alabama Republican Party Minority Outreach Director. Reynolds said, "These two guys can do more good to reaching out to the minority community than this ground could in 50 years."
Reynolds said that the Romney campaign had a hard hitting campaign ad on Benghazi and somebody at the top nixed it so it never aired, but the Republican National Committee (RNC) would like to get that ad and run it now after the recent revelations of just how badly the Benghazi situation was handled by the Obama administration.
Reynolds said that RNC Chairman Priebus said we had a pretty good six month campaign but Obama had a fantastic four year campaign. Reynolds said that Hugh Mcinissh has a case before the Alabama Supreme Court questioning Obama's American citizenship. Reynolds said that he voted against supporting that effort because Williams convinced him that it would do the party harm in the minority community.
Reynolds warned the committee not to let the media set your thinking and don't let the media divide one faction of the Republican Party with another.
Reynolds said that the Republican Party can not undo the damage that Obama has done to the country but in 2014 when we vote on the members of Congress and the Senator who are up for election we can put the administration adrift for the final two years. Reynolds expressed concern that the country we inherit from Obama in 2017 could be "just bones."
Reynolds said, "I do not think that Common Core is going to be the law of Alabama after 2014." Reynolds said that some positions on the state school board come up in 2014 and that could help overturn Common Core in Alabama.
Reynolds said that the RNC is still trying to undo some of the changes that Romney's people had spearheaded. "The candidate has a lot of authority. When he wins the last primary he begins to consolidate things."
Jones says Mitch McConnell failed country by adjourning without COVID-19 aid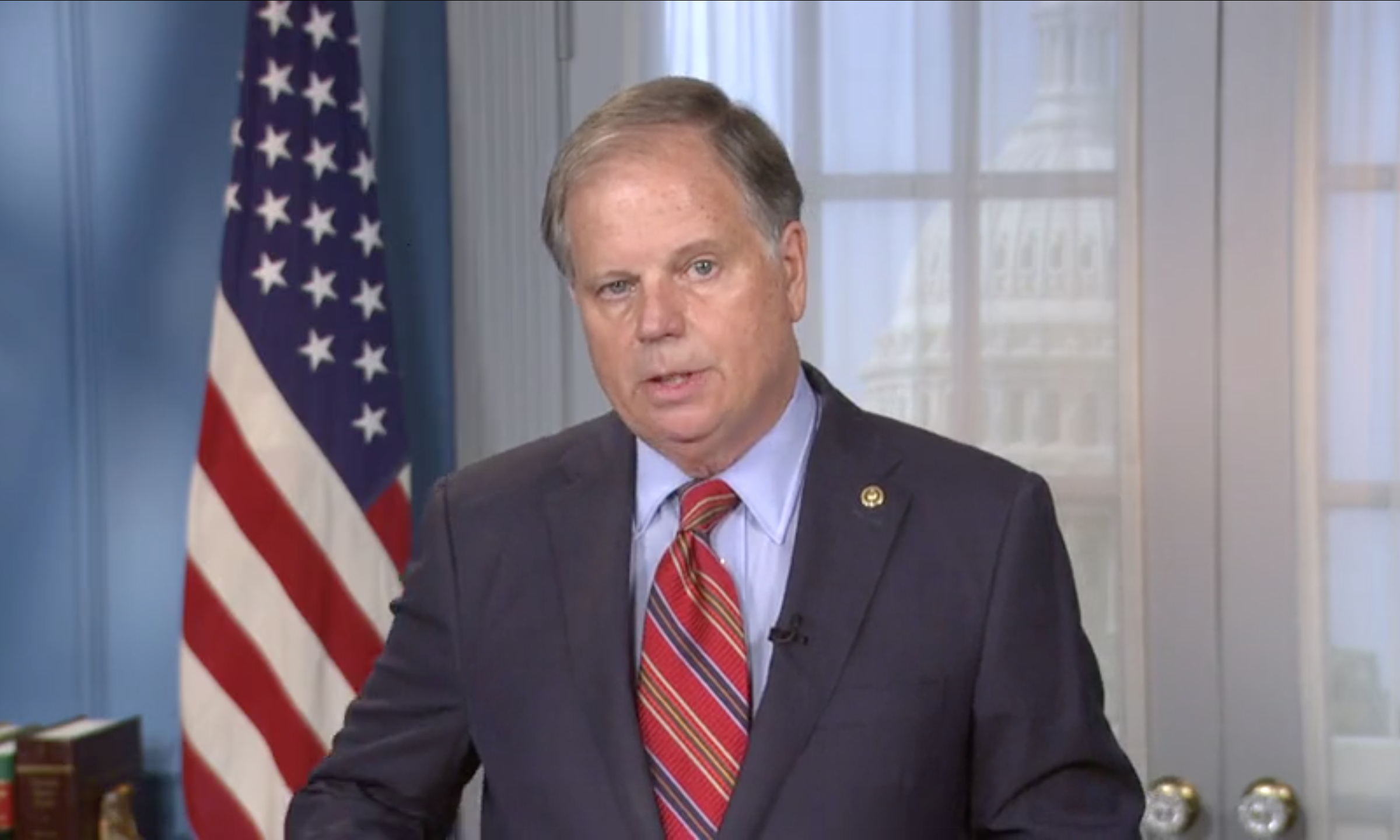 Sen. Doug Jones, D-Alabama, on Friday expressed his concern over the Senate majority leader adjourning the Senate without passing another round of COVID-19 relief aid.  
Senate Majority Leader Mitch McConnell, R-Kentucky, adjourned the Senate until Sept. 8 without passage of relief aid that Jones said is critical for struggling citizens and businesses. 
Jones's statement:
"Mitch McConnell's decision to adjourn the Senate without any further efforts to fulfill the Senate's obligation to the American public during a healthcare and economic crisis demonstrates an unconscionable failure of leadership. Congress acted swiftly in March as the pandemic took hold and every American who put their lives on hold and stayed home for weeks to prevent the spread of COVID-19 did so out of a patriotic duty and a belief that it would give our government leaders time to implement a plan to get this virus under control.
"Now, it's been five months and not only do we still have no national strategy, our nation is facing some of the highest rates of coronavirus spread in the world, over 167,000 Americans dead, unprecedented housing and eviction crises on the horizon, and we are slowly coming out of the worst economy since the Great Depression and the highest level of unemployment ever recorded.
"The House of Representatives passed a relief bill on May 15th – three months ago – because it was clear even then that this virus would be with us longer than we had hoped and that more support to American businesses and American citizens would be needed to save lives and save livelihoods. Sadly, however, instead of using this legislation as a framework for a bipartisan relief package, Mitch McConnell buried it in his office and sat on his hands, letting vital programs expire without even participating in efforts to reach agreement. 
"His decision to send the Senate home for the next three weeks is an insult to every sacrifice made, every job lost, every small business that has had to close its doors, every person who had to say their final goodbye to a loved one over Facetime, and every graduation or wedding or birth celebrated over Zoom instead of in person. The American people have done their duty, and today Mitch McConnell has thrown in the towel and given up on doing his."