Lawmakers Pass Bill Strengthening Animal Cruelty Laws
Staff Report
MONTGOMERY—The Alabama legislative session ended on a high note for animals as lawmakers sent HB 27, a bill to strengthen the state's animal cruelty laws, to Gov. Robert Bentley for his signature, receiving praise from The Humane Society of the United States.
"We applaud the Alabama Legislature and urge Governor Bentley to sign this important bill to extend felony level protections to all animals in the state," said Mindy Gilbert, Alabama state director for The HSUS. "Dogs and cats have had felony level protection under the law since 2000, hopefully now all other animals will have the same protection."
HB 27, sponsored by Rep. Joe Faust, R-Baldwin, strengthens the cruelty laws that protect all animals by raising the penalty for violators from a class B misdemeanor to a class A misdemeanor, and adds the definition of aggravated cruelty for certain acts at the class C felony level. The bill passed the Senate 31 to 1.
The ASPCA® (The American Society for the Prevention of Cruelty to Animals®) also praised Alabama lawmakers for passing House Bill 27.
"By increasing the penalties for animal cruelty, Alabama legislators have made it known that anyone who commits an act of cruelty to an animal will be held accountable," said Sherry Rout, state director of ASPCA Government Relations for the Southern region. "We thank Alabama lawmakers for passing HB 27, and we urge Governor Bentley to sign this bill to further protect animals throughout the state."
HB 27 amends the existing cruelty laws by increasing the penalty for an offense from a Class B misdemeanor to a Class A misdemeanor, which carries a penalty of up to one year in jail and a fine of up to $6,000. The bill also adds a definition for torture, making this offense a Class C felony, with a punishment of up to 10 years in jail and a fine up to $15,000.
Alabama ranks 45th in The Humane Society of the United States' 2012 "Humane State Rankings" which grades each state and the District of Columbia based on a wide range of animal protection laws dealing with pets, animal cruelty and fighting, wildlife, animals in research, horses and farm animals. Alabama has lacked many animal protection laws common in other states. Alabama also has a weak cockfighting law – it's one of only 10 states that deem the cruel practice a misdemeanor – hurting its ranking.
Trump Truck and boat parades this weekend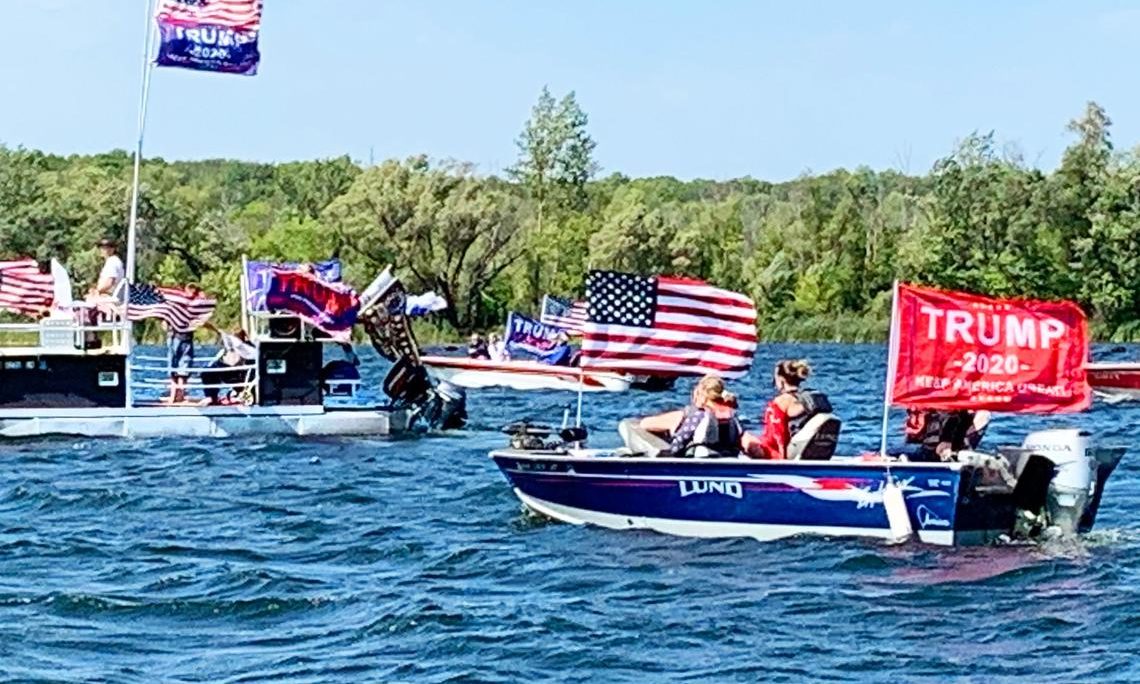 As Election Day draws near, Alabama Republicans are excited about promoting the re-election of Donald J. Trump as President and the election of Tommy Tuberville for U.S. Senate. This weekend two pro-President Trump events are happening in the state. There will be a truck parade from Ashland to Phenix City on Saturday sponsored by the Clay County Republican Party, while there will also be a boat parade on Wilson Lake in the Shoals sponsored by the Colbert County Republican Party on Sunday.
The pickup trucks will assemble at the Ashland Industrial Park in Clay County, 8240 Hwy 9, Ashland. There is a pre-departure rally at 10:00 a.m. central standard time. The trucks will depart at 11:00 a.m. and then proceed on a parade route that will take them into the bitterly contested swing state of Georgia. The Trump Pickup Parade will wind through east Alabama and West Georgia traveling through LaGrange and Columbus before concluding near the Alabama/Georgia line in Phenix City, 332 Woodland Drive, Phenix City at approximately 2:00 p.m. central time. Speakers will begin at 3:00. Trump flags will be on sale at the event.
The Phenix Motorsports Park will be hosting what sponsor hope could possibly the world's largest Pickup Tuck parade in U.S. history that is routing over 50 mile through Georgia in effort to "pickup" President Trump's numbers in GA.
A number dignitaries have been invited to address the Phenix City rally, including Coach Tuberville. Former State Sen. Shadrack McGill, Trump Victory Finance Committee member former State Rep. Perry O. Hooper Jr., and Paul Wellborn, the President and CEO of the largest Family owned Kitchen Cabinet manufacture in the USA are among the featured speakers who have committed to speak at the event.
Entertainment will be provided by: Charity Bowden, an up and coming country music singer who was the runner up on "The Voice". Charity will sing 'I am Proud to be an American' as well as songs from her Voice performances. The McGill Girls will also perform. The three beautiful and talented sisters will be singing patriotic songs in three part harmony. Geoff Carlisle, a professional DJ will be keeping the crowd pumped with music and entertainment.
Following the speakers and the entertainment there will Trump truck-vs- Joe Bidden truck races down the drag strip for the finale.
The Northwest Alabama boat parade will be on Sunday. The boats will gather at 2:00 p.m. near Turtle Point and then the flotilla will parade around the open waters of Wilson Lake til 3_00 p.m.. There will be a contest for best decorated Trump boats.
Trump supporters have held a number of large boat parades across the state to show their support for the re-election of Pres. Trump.
Boat parade sponsors say that this parade will be: pro-American, pro-law enforcement, pro-military.