State Leaders Support Roby's Defending State Authority Over Education Act
By Brandon Moseley
Alabama Political Reporter
U.S. Representative Martha Roby (R) from Montgomery has introduced legislation which would prevent federal agencies from incentivizing states to adopt federal education standards such as the controversial Common-Core standards.
Roby introduced the 'Defending State Authority Over Education Act' on May 13. Her legislation would neither overturn nor repeal any set of standards; but what it would do is prevent federal authorities from using grants and other incentives to leverage states into bending to federal demands to impose Common Core or any future federally backed education standards. Congresswoman Roby has traveled throughout the Second District building support for the legislation and released a written statement detailing numerous endorsements of her legislation on Monday.
Alabama Governor Robert Bentley (R) said, "I appreciate Congresswoman Martha Roby's leadership with this bill. I am strongly opposed to tying federal dollars to education decisions that should be made at the state level. Furthermore, I am opposed to any collection of non-academic student or teacher data. I support Congresswoman Roby's efforts to join me in continuing to work to ensure the educational needs of Alabama students are met without interference from the federal government."
The Speaker of the Alabama House of Representatives Mike Hubbard (R) from Auburn said, "I applaud Representative Roby for defending the rights of the state of Alabama against the overreach of President Obama and the federal government when it comes to determining what curriculum and standards are best for our students. In order to continue our state's success in job creation and economic development, we must have strict and aggressive academic standards, but those guidelines should be determined by Alabamians, not by President Obama. Roby's Defending State Authority Over Education Act ensures that decisions made in Alabama about Alabama students can be made without the fear of retribution from Washington."
State Senator Dick Brewbaker (R) from Montgomery said, "State legislatures have been struggling against federal intrusion in public education for decades. The U.S. Department of Education has made the problem worse by seeking to control public education through the funding process. Congresswoman Roby's bill is the light at the end of the tunnel. Only Congress can stop the USDE'S encroachment on areas of state authority. Congresswoman Roby's bill moves the debate from state legislatures to Congress where it belongs."
State Representative Jay Love (R) from Montgomery said, "Alabama's state motto is 'We Dare Defend Our Rights,' and that includes defending our right to educate our children without interference or high-handed decrees from so-called experts on the federal level. Instead of tying federal grant funding to public education mandates handed down from Washington, decisions on spending should be made by public officials on the state and local level, who know firsthand the needs of Alabama's teachers, students and classrooms."
State Senator Bryan Taylor (R) from Prattville said, "Rep. Roby's Defending State Authority Over Education Act is right on target. For the White House to tie funding and regulatory strings to certain education policies unfairly injects politics into the equation. There's no question the Obama Administration has overstepped its bounds in state education policy decisions. We need Rep. Roby's bill so that our parents, teachers and community leaders can be confident that decisions affecting students are made without the heavy-handed influence of the White House."
Business Council of Alabama President and CEO William J. Canary said, "Congresswoman Roby's bill is a common-sense proposal in support of high education standards that challenge students. It is not the federal government's job to dictate state standards or curriculum, especially through a carrot and stick approach. The role of determining Alabama's standards should remain with the State Board of Education and their collaboration with local school systems, parents and the business community. Alabama's ability to set high standards gives our students the greatest opportunity to compete in a 21st century global workforce that requires highly-skilled workers."
School Superintendents Association of Alabama Executive Director Eric Mackey said, "School Superintendents appreciate Congresswoman Roby's leadership, insisting that the states and local school systems should maintain primacy in setting education policy, selecting curricula, choosing instructional materials and methods. Congresswoman Roby has always shown exemplary insight and concern for local schools, and she certainly listens to the ideas and concerns of superintendents throughout her district."
The Alabama Association of School Boards Executive Director, Sally Howell, said, "The Alabama Association of School Boards applauds U.S. Representative Martha Roby for her leadership in recognizing states' authority to determine education standards and high expectations for students. The Defending State Authority Over Education Act would prevent the U.S. Department of Education and administration from forcing policy decisions by using federal funding and regulatory authority. Alabama school boards are proud of Alabama's College and Career Readiness Standards and fully support this effort to protect state autonomy and oppose federal overreach."
Rep. Roby's legislation has to pass the House of Representatives before it goes on to the Senate where many Republican bills fail to ever get to a vote. If it passes the Democratic controlled Senate, it will still need to be signed into law by President Barack H. Obama (R) to become law.
Congresswoman Martha Roby represents Alabama's Second Congressional District.
Three mental health crisis centers coming to Mobile, Montgomery and Huntsville
"Today marks a culture change in Alabama for treatment of individuals with mental illness and substance use disorders," Mental Health Commissioner Lynn Beshear said.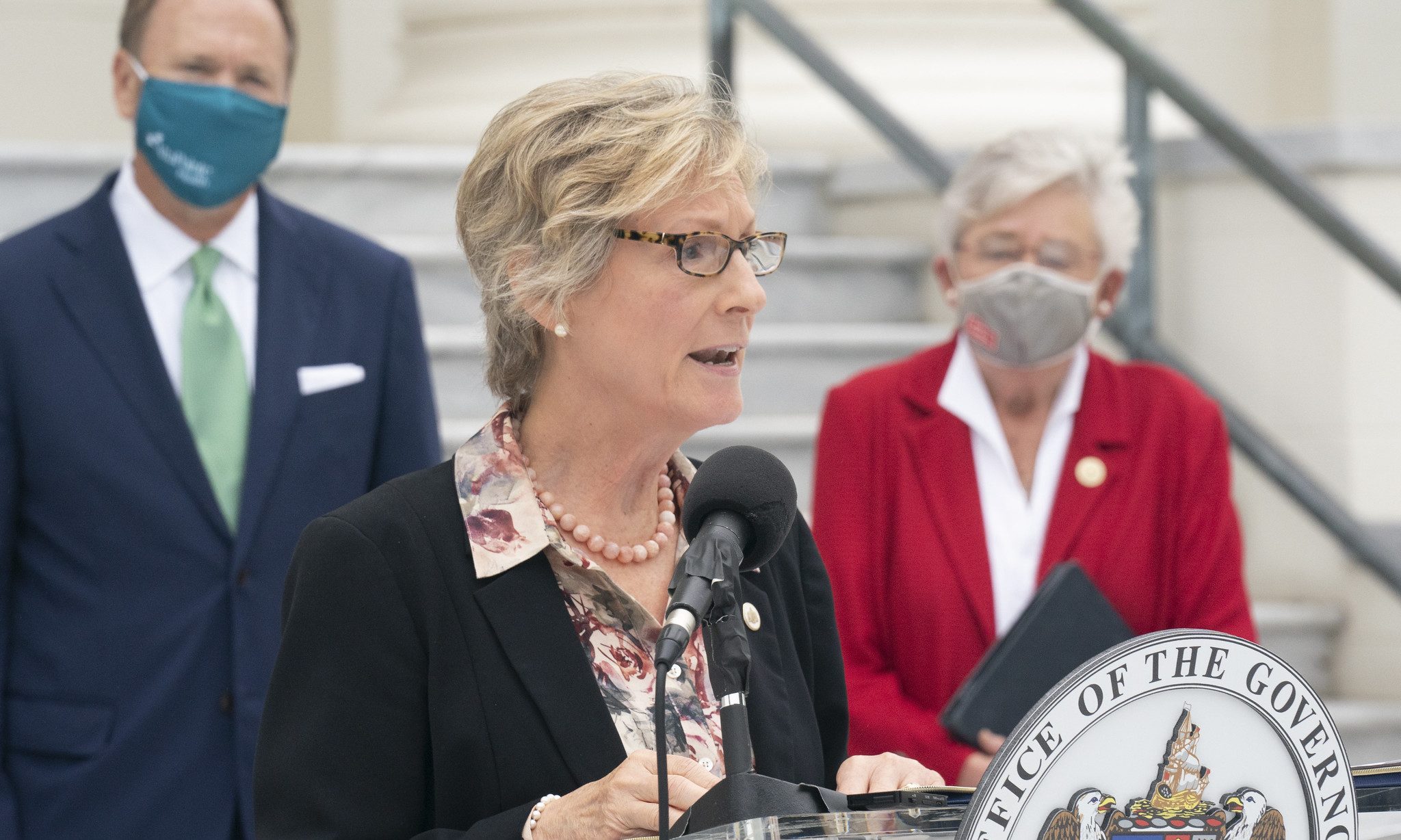 Gov. Kay Ivey on Wednesday announced an $18 million project to create three new mental health crisis centers to be located in Mobile, Montgomery and Huntsville. 
These centers, once in operation, will reduce the number of people suffering from mental health crises who are hospitalized or jailed, Ivey said during a press briefing in front of the Capitol Building in Montgomery. 
"When these facilities are open and fully staffed, these centers will become a safe haven for people facing mental health challenges," Ivey said. 
Lynn Beshear, commissioner of the Alabama Department of Mental Health, said during the briefing that the centers will provide "recovery based" care with "short term stays of a few hours, or up to a few days, to provide treatment, support, and connection to care in the community." 
"Today marks a culture change in Alabama for treatment of individuals with mental illness and substance use disorders," Beshear said. 
Beshear said AltaPointe Health in Mobile will operate one of the three facilities, and once built it is to serve Mobile, Baldwin, Clarke, Conecuh, Escambia, Monroe and Washington counties with 21 new beds, including 15 temporary observation beds. Altapointe will begin with a temporary space while constructing the new facilities, she said. 
Beshear said the Montgomery Area Mental Health Authority is partnering with the East Alabama Mental Health Authority and the Central Alabama Mental Health Authority to serve the 11 counties in Region 3 with 21 new beds, including 10 temporary observation and respite beds. 
"The regional crisis center will be located in Montgomery, and will be open to walk-ins and for drop off by law enforcement, first responders and referrals from emergency rooms," Beshear said. 
Wellstone Behavioral Health in Huntsville was selected to open the third center, and will do so at a temporary site while a new facility is being built, with the help of an additional $2.1 million from local governments, Beshear said. That facility will eventually have 39 beds, including 15 for temporary observation and 24 for extended observation.
"There's not a day that goes by that after-hours care is not an issue in our state," said Jeremy Blair, CEO of Wellstone Behavioral Health, speaking at the press conference. "And so I applaud the Department of Mental Health and the leaders for their efforts in recognizing that and taking it a step further and funding our efforts here." 
Asked by a reporter why a center wasn't located in Jefferson County, one of the most populous counties with a great need for such a center, Ivey said those residents will be served in one of the other regions. 
"Plans are underway to continue this effort. Today's beginning, with these three crisis centers, is just the beginning," Ivey said. 
Ivey added that request for proposals were sent out for these three centers and "it was a strong competition for the location of these three crisis centers." 
Alabama House Majority Leader Nathaniel Ledbetter, R-Rainsville, said during the briefing that more than a year ago, Ivey asked him what the state should be looking at, and that he replied "we're failing miserably in mental health."
Ledbetter said Ivey asked him to take on the challenge of correcting the state's response to mental health, and a team was created to do just that. 
"Working together, today's announcement will not only change Alabamians lives, but will help to save lives," Ledbetter said.