Governor signs Medicaid reform into law
By Beth Clayton
Alabama Political Reporter
MONTGOMERY–Governor Robert Bentley signed legislation into law yesterday that would reform Medicaid in Alabama. The Governor was joined by the SB340s sponsors, Senator Greg Reed (R-Jasper) and Representative Jim McClendon (R-Springville).
The law will establish regional care organizations (RCOs) to manage patient care, however it excludes pharmacies, dentists and nursing homes.
Governor Bentley explained that the law changes Alabama from a "fee for service" model to one based on outcomes and quality care.
"We were able to, with the governor's signature today, wrestle to the ground what was one of the biggest gorillas that we had to deal with in state government," Reed said.
Through the process of creating this legislation, Reed said that he was concerned about three groups: the patients who need care, the providers who give the care, and the tax payers who pay the bill. This legislation is "the best option we have" to address those three groups, he said.
Patients and doctors "are going to receive a better product for a lower dollar amount," Reed said. "The impact on the individuals in our state is significant."
Dr. Don Williamson, state health officer, explained the difference in the outcome-based system by using the example of a patient with diabetes. Under the current system, a Medicaid patient may end up in the emergency room several times in one year, due to a variety of factors that may include lack of transportation to visit a doctor, lack of ownership in one's own healthcare or lack of preventative care.
Under the new, outcome-based system, that patient would be responsible for checking in with a nurse daily to ensure that he or she is monitoring blood glucose levels and maintaining a healthy lifestyle, Williamson explained.
"They need to be educated on where they should go for the best quality care," Bentley said. "They need management, and that is what we're trying to do with this system."
"Medicaid has come a long way since it first began in Alabama," said Stephanie Azar, acting Medicaid commissioner. "Today, Medicaid is at the forefront of the health care industry."
In addition to signing SB340, Bentley also signed an executive order to create a Medicaid pharmacy study commission with Williamson as the chair.
Under the new law, the Medicaid agency is responsible for establishing district lines for the regions by October 1. The governor denied that the expedited implementation timeline is in any way related to federal deadlines associated with the Affordable Care Act, and that he has no plans to expand Medicaid coverage at this time.
Alabamians request more than 101,000 absentee ballots with 30 days left to apply
So far, 35,184 absentee ballots have been successfully returned for the general election.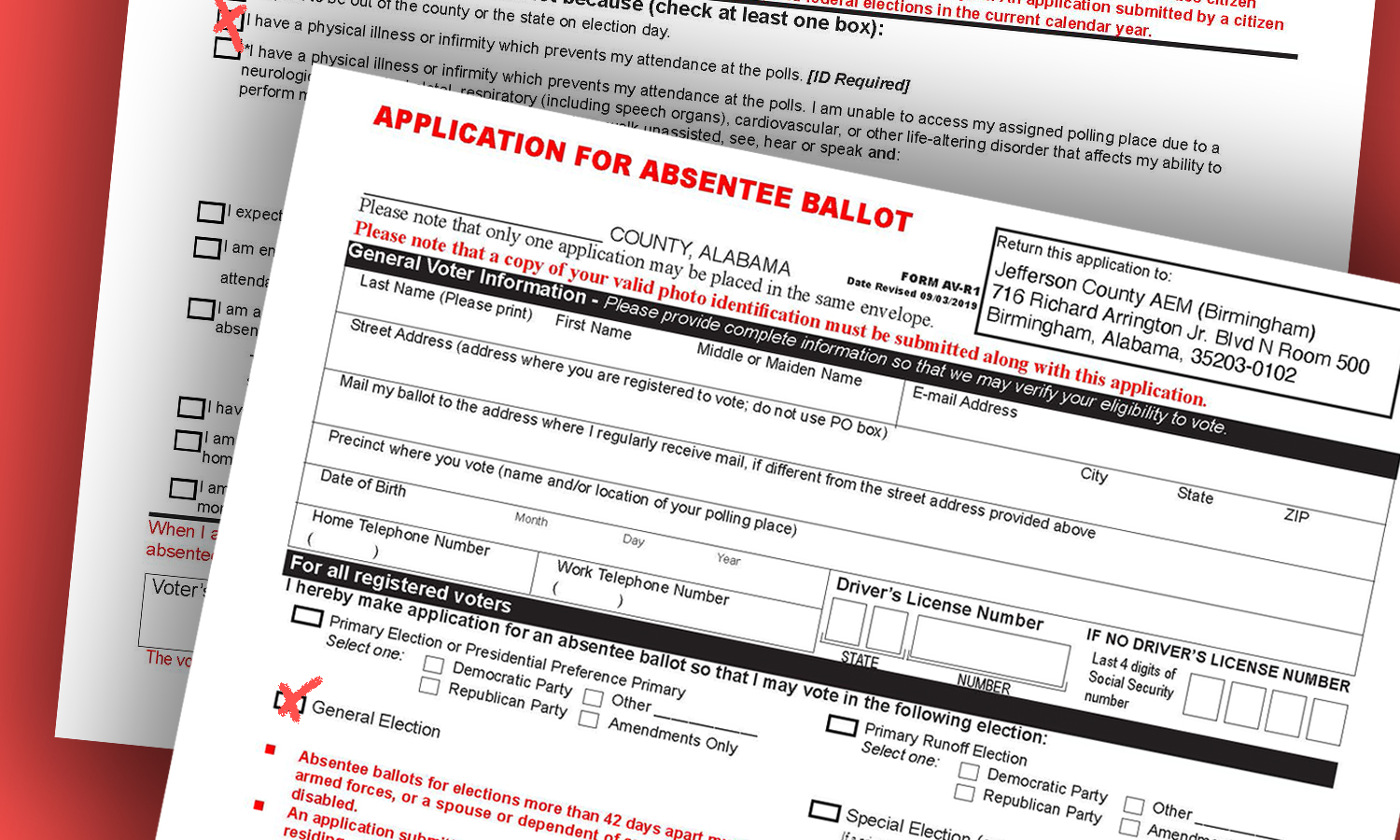 At least 101,092 absentee ballots have been requested so far in Alabama according to Secretary of State John Merrill, with just 30 days left to apply for an absentee ballot for the Nov. 3 General Election. So far, 35,184 absentee ballots have been successfully returned for the general election.
In order to protect the safety and well-being of voters, Merrill is encouraging those who are concerned about contracting or spreading the coronavirus to apply for and cast an absentee ballot.
Absentee ballot applications can be downloaded online or requested by visiting or calling your local absentee election manager's office.
Voters may also contact the Secretary of State's office at 334-242-7210 to request an absentee ballot application.
Due to the declared states of emergency, any qualified voter who determines it is impossible or unreasonable to vote at their polling place shall be eligible to check the box on the absentee ballot application that is most applicable to that individual. In the case none of the boxes are appropriate, voters can check the box which reads, "I have a physical illness or infirmity which prevents my attendance at the polls. [ID REQUIRED]"
For the Nov. 3 General Election, the deadline to register to vote is Monday, Oct. 19, the deadline to submit an absentee ballot application is Thursday, Oct. 29, the deadline to return an absentee ballot to the absentee election manager is the close of business Monday, Nov. 2, and the last day to postmark an absentee ballot is Monday, Nov. 2.
Voters who are eligible to vote pursuant to the Uniformed and Overseas Absentee Voting Act will have until Tuesday, Nov. 3 to postmark an absentee ballot.
Voters concerned about COVID-19 are encouraged to select the box on the affidavit, which accompanies the absentee ballot, which reads as follows: "I am physically incapacitated and will not be able to vote in person on election day."
Due to recently witnessed delays with the U.S. Postal Service, Merrill encourages voters interested in returning their ballot by mail to go ahead and make application for their absentee ballot. As a reminder, Merrill worked with the Legislature last year to pass Act 2019-507, allowing voters the opportunity to return their absentee ballot by commercial carrier in addition to U.S. mail.