Sessions Opposes Senate Farm Bill
By Brandon Moseley
Alabama Political Reporter
On Tuesday, U.S. Senator Jeff Sessions (R) from Alabama issued a written statement following his vote on Monday against the final passage of the Senate version of the Farm Bill.
Sen. Sessions said, "I greatly appreciate the hard work that Senators Cochran and Stabenow put into the Senate farm bill. Through Sen. Cochran's leadership, this year's bill is better for many farmers in Alabama than last year's bill, especially considering improvements to programs used by peanut and cotton farmers. In addition, unlike last year's bill, this year's Senate bill retains the USDA inspection program for catfish, which is a major priority for Alabama's catfish industry. However, I find it deeply concerning that the Senate farm bill lacks reforms to the food stamp program—food stamps now make up 80 percent of the spending in the farm bill—while instead making substantial cuts to the provisions for our farmers, which make up less than 20 percent of the bill."
Sen. Sessions continued, "Many of us in the Senate wanted to find ways to improve the bill. Yet, once again, Majority Leader Reid preempted real legislative debate by filing cloture after just 10 roll call votes on amendments. More than 200 amendments were left unheard. This is not acceptable in the Senate—the world's greatest deliberative body. Important bills like this simply must be subject to the traditional amendment process."
Sen. Sessions concluded, "While I was pleased that one of my amendments was accepted by the Senate—Amendment No. 945, which will help Alabama farmers access federal irrigation programs—several others I filed or supported, including amendments to eliminate waste, fraud, and abuse in the food stamp program and to prevent regulatory overreach, were denied a vote. I am hopeful that, as a result of a conference with the House of Representatives, the final farm bill will be something I can eventually support. But much work remains left to do."
The bill would reauthorize the farm programs for another ten years and would cost an estimated $955 billion over the next decade. According to the Congressional Budget Office (CBO) that would save $17.9 billion (1.8%) over continuing the programs at their current rate. The costliest part of the Farm Bill is the Food stamp programs which are 80% of that spending under the Senate version of the farm bill.
According to Sessions's office programs important to Alabama farmers are cut significantly under the Senate bill, but the food stamp program receives only a cut of ~.5%. The House Agriculture Committee's farm bill would cut four times as much from the costly food stamp program.
The Senate did approve Senator Sessions Amendment No. 945, which states that "prior irrigation history" cannot be used as a criteria for limiting eligibility for providing irrigation assistance under the new Regional Conservation Partnership Program.
Sen. Sessions' other amendments including: Sessions Amendment No. 946, which would have ended a USDA program that partners with Mexican consulates to encourage foreign nationals, migrant workers, and other immigrants to enroll in food stamps and 14 other USDA-administered welfare programs; Sessions Amendment No. 947, which would have require that states take mandatory steps to verify the immigration status of applicants for food stamps; and Sessions Amendment No. 1051, which changed language in the bill to modify a study regarding the cost for small farmers to comply with federal regulations.
The Senate farm bill does eliminate direct and counter-cyclical payments for farmers and replaces them with additional crop insurance support programs.
Sen. Jeff Sessions is the Ranking Republican Member of the Senate Budget Committee.
Alabama reports record-breaking 2,164 new COVID-19 cases
Thursday's number of new cases hit 2,164 and blew past the previous daily record set on July 3 by 406 cases.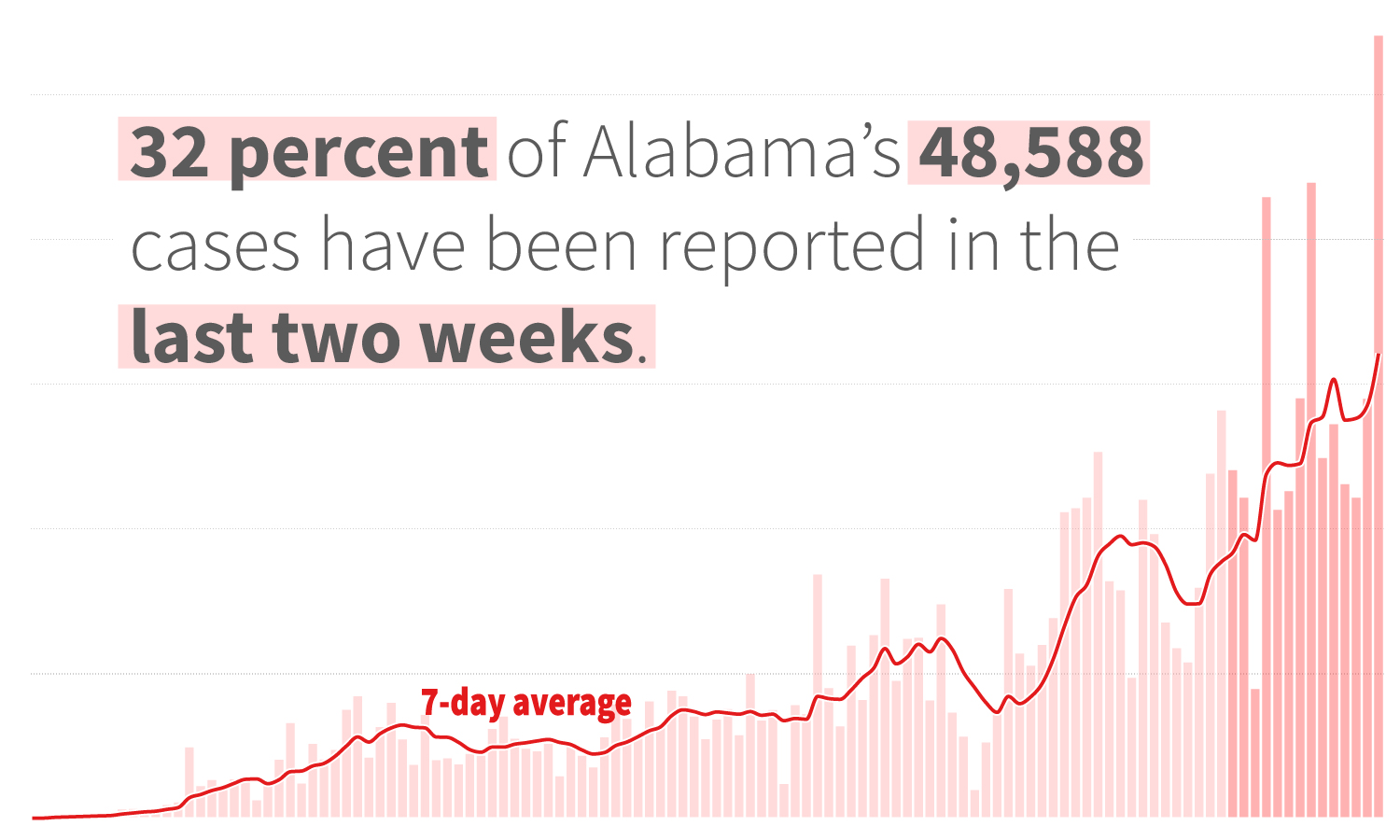 New COVID-19 cases in Alabama on Thursday jumped by nearly double from the day before, and for the first time broke 2,000 in a single day, according to the latest data from the Alabama Department of Public Health.

Thursday's number of new cases hit 2,164 and blew past the previous daily record set on July 3 by 406 cases. Both the seven-day and 14-day rolling average of new daily cases in Alabama were also at record highs Thursday. 
Thirty-two percent of the state's 48,588 cumulative confirmed cases have been added within the last two weeks. 
The Alabama Department of Public Health did not publish Wednesday an update to the total number of tests performed, which throws off the day's figures for the percentage of tests that are positive, but on average, over the last week, the state's seven-day rolling average of percent positivity has roughly 15 percent. 
Public health experts say the percent positivity should be at or below 5 percent — otherwise there isn't enough testing being done and cases are going undetected. 
Along with surging new cases, the number of COVID-19 patients hospitalized on Wednesday was higher than it's been since the beginning of the pandemic. On Wednesday 1,110 coronavirus patients were being treated in state hospitals, which was the fourth straight day of record current hospitalizations. 
UAB Hospital's COVID-19 Intensive care units were nearing their existing capacity Tuesday. The hospital has both a COVID ICU and a COVID acute care unit designated to keep patients separated from those who don't have the virus, but it has more space in other non-COVID units should it need to add additional bed space.

Hospitals in Madison County this week are also seeing a surge of COVID-19 patients. Paul Finley, the mayor of the city of Madison, told reporters Wednesday that local hospitals were reporting record numbers.

Hospitals there were at 80 to 90 percent capacity.
"Our ambulances yesterday had their greatest number of runs since this started," said Crestwood Hospital CEO Dr. Pam Hudson on Wednesday, adding that in about 20 percent of calls staff is having to wear full personal protective equipment. "That indicates that they are working with patients who have symptoms that could be compatible with COVID."
Meanwhile, Madison County set a new daily record, adding 286 cases Thursday, the first time the county has surpassed 200 cases a day. The county was largely spared early on in the pandemic, with low case counts and low death rates, but roughly 42 percent of Madison County's total case count since March has been reported in the last week as 803 new cases have been added.
Jefferson County and Madison County, over the last week, have accounted for 26 percent of the state's new cases.
Jefferson County led the state in the most new cases Thursday with 343 and has added 1,498 cases in the last week. The county's total cases increased by 33 percent from last week, and stood at 6,030 confirmed COVID-19 cases Thursday.
While Jefferson County and Madison County are seeing the state's most intense increases, other large counties including Shelby County, Baldwin County and Tuscaloosa County have also seen record increases and rising percent positive rates.
At least 81 people have died from COVID-19 in the last week, and 162 people have died in the last two weeks.
At least 1,042 people have died from COVID-19 since March, and at least 26 other deaths are listed as "probable" COVID-19 deaths.