Shelby Versus Holder Ruling Likely this Week
By Brandon Moseley
Alabama Political Reporter
The state of Alabama has a long history of losing cases in the U.S. Supreme Court. The recent rulings upholding the Constitutionality of Obamacare and striking down state immigration laws like many of the provisions in Alabama's HB56 are just the more recent examples of the Supremes siding with the growing expansion of federal power at the expense of both states rights and individual liberties.
This time Shelby County is challenging U.S. Attorney General Eric Holder and section five of the Voting Rights Act that requires that states like Alabama must obtain pre-approval of all changes in election procedure especially redistricting and reapportionment from the U.S. Department of Justice's Civil Rights Division.
Shelby County is arguing that the time for the harsh terms of section five has passed and that the South is not the same as it was nearly 50 years ago when federal forces intervened in Alabama and other Southern states to end segregation and the Voting Rights Act was passed by Congress making the U.S. Department of Justice the ultimate authority in how states, counties, and even cities must draw their district lines. Only 20 states are required to go through the costly and time consuming pre-clearance process. Sec. Holder and the DOJ argue that the Voting Rights Act is constitutional and pre-clearance is still necessary. Most of the civil rights community supports Holder in this cause. The U.S. Supreme Court has heard the case and many throughout the state and nation await the verdict.
Alabama state Representative Paul DeMarco (R) from Homewood said on Twitter Monday, "United States Supreme Court did not release Shelby County opinion this morning, could be tomorrow, but should be this week."
Shelby County Attorney Butch Ellis sued the federal government arguing that section five of the Voting Rights Act is an excessive burden on state government. Section five requires that every redistricting plan in states that the federal government singles out for a history of discrimination has to seek pre-approval from the U.S. Department of Justice. Calera redistricted their town eliminating the only majority minority city council district because they said that it was impossible to create a majority minority districts because Blacks increasingly live in the same neighborhoods as Whites, particularly in new subdivisions annexed into the town. DOJ said that Calera should have asked for approval before annexing any new subdivisions into the city and overturned the results of a Calera election where the town's lone Black city councilman was defeated.
Many in the civil rights movement are fearful of what a favorable verdict for Shelby County might mean. Alabama's only Black member of Congress, Terri Sewell (D) from Selma said recently, "We must not forget that attempts to disenfranchise voters across this country will continue. I anxiously await the Supreme Court's ruling on the Shelby County, AL v. Holder case and it is my hope that the court will rule in favor of the preclearance provision of the Voting Rights Act. I remain committed to working with my colleagues and supporting legislation that will help ensure free and fair elections, so that everyone, including students, seniors, minorities and veterans can exercise their constitutional right to vote." Congresswoman Sewell's District is composed of vast swaths of rural west Alabama, part of Tuscaloosa, the City of Birmingham, Selma, Bessemer, and even some of Montgomery to create Alabama's only majority minority Congressional District.
The case has drawn national attention to Shelby County. Nation of Islam leader, Louis Farakhan visited Columbiana to rally in support of the Voting Rights Act.
A group of Shelby County residents are even trying to organize a NAACP chapter in the suburban county. Pastor Kenneth Dukes was quoted by the Shelby County Reporter,
"The NAACP started about colored people, but today it's about human rights, people who have been discriminated against because of race. You don't have to be a certain color to join and don't have to live in Shelby County to be a member."
The group vowed to continue to organize and fight for human rights whatever the verdict.
Trump Truck and boat parades this weekend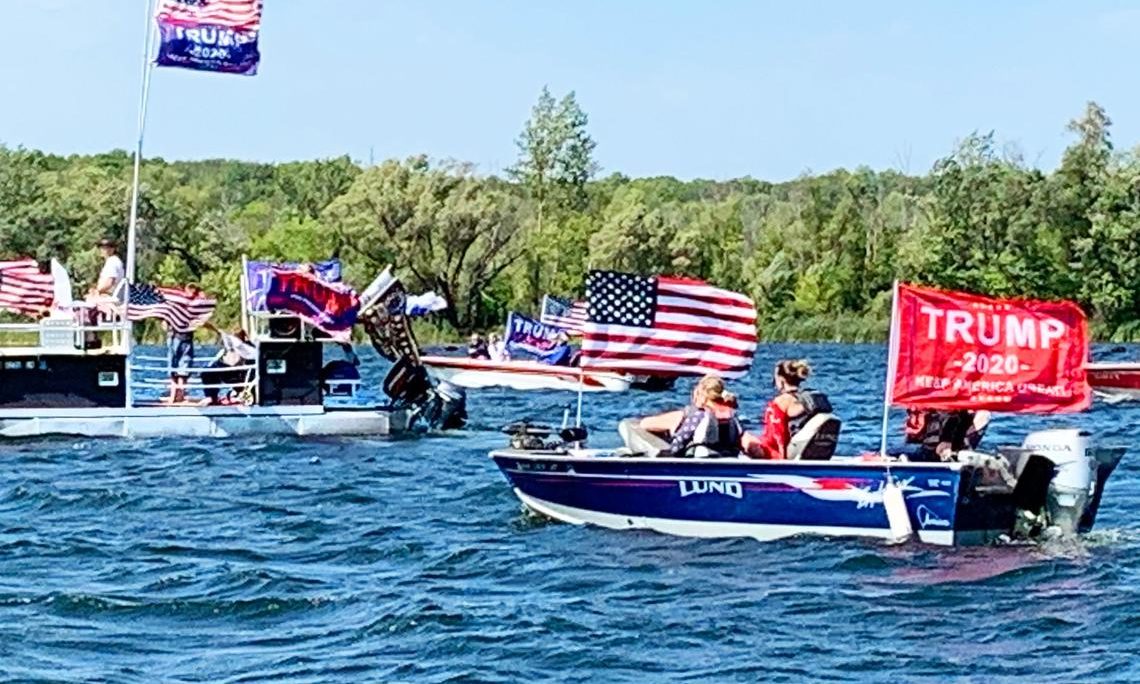 As Election Day draws near, Alabama Republicans are excited about promoting the re-election of Donald J. Trump as President and the election of Tommy Tuberville for U.S. Senate. This weekend two pro-President Trump events are happening in the state. There will be a truck parade from Ashland to Phenix City on Saturday sponsored by the Clay County Republican Party, while there will also be a boat parade on Wilson Lake in the Shoals sponsored by the Colbert County Republican Party on Sunday.
The pickup trucks will assemble at the Ashland Industrial Park in Clay County, 8240 Hwy 9, Ashland. There is a pre-departure rally at 10:00 a.m. central standard time. The trucks will depart at 11:00 a.m. and then proceed on a parade route that will take them into the bitterly contested swing state of Georgia. The Trump Pickup Parade will wind through east Alabama and West Georgia traveling through LaGrange and Columbus before concluding near the Alabama/Georgia line in Phenix City, 332 Woodland Drive, Phenix City at approximately 2:00 p.m. central time. Speakers will begin at 3:00. Trump flags will be on sale at the event.
The Phenix Motorsports Park will be hosting what sponsor hope could possibly the world's largest Pickup Tuck parade in U.S. history that is routing over 50 mile through Georgia in effort to "pickup" President Trump's numbers in GA.
A number dignitaries have been invited to address the Phenix City rally, including Coach Tuberville. Former State Sen. Shadrack McGill, Trump Victory Finance Committee member former State Rep. Perry O. Hooper Jr., and Paul Wellborn, the President and CEO of the largest Family owned Kitchen Cabinet manufacture in the USA are among the featured speakers who have committed to speak at the event.
Entertainment will be provided by: Charity Bowden, an up and coming country music singer who was the runner up on "The Voice". Charity will sing 'I am Proud to be an American' as well as songs from her Voice performances. The McGill Girls will also perform. The three beautiful and talented sisters will be singing patriotic songs in three part harmony. Geoff Carlisle, a professional DJ will be keeping the crowd pumped with music and entertainment.
Following the speakers and the entertainment there will Trump truck-vs- Joe Bidden truck races down the drag strip for the finale.
The Northwest Alabama boat parade will be on Sunday. The boats will gather at 2:00 p.m. near Turtle Point and then the flotilla will parade around the open waters of Wilson Lake til 3_00 p.m.. There will be a contest for best decorated Trump boats.
Trump supporters have held a number of large boat parades across the state to show their support for the re-election of Pres. Trump.
Boat parade sponsors say that this parade will be: pro-American, pro-law enforcement, pro-military.