Hunter Announces that Feds Approve Plan 2020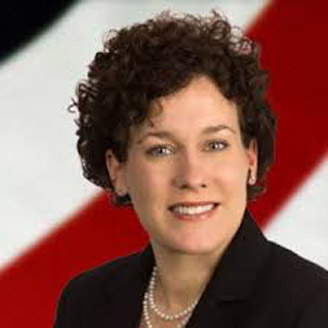 By Brandon Moseley
Alabama Political Reporter
North Alabama School Board Member Mary Scott Hunter announced in a written email to constituents that Alabama has received a waiver from the federal government from the onerous demands of the "No Child Left Behind" Act.
State school board member Hunter said, "Last week, the US Department of Education approved the Alabama Board of Education's "Plan 2020" as our waiver to the requirements of 'No Child Left Behind.' This has been a lengthy process, but we have held to our commitment that this would be our strategic plan for K-12 Education Reform in Alabama. Those efforts have paid off, and we are now better postured toward fulfilling our goals without encumbrances. Dr. Tommy Bice, State Superintendent of Education, has added this latest development to tomorrow's K-12 work session as a discussion topic. We are on a trajectory that will allow us to move even more aggressively toward our goals."
Hunter said that she had heard a presentation by Dr. Benjamin Carson in which Carson points out that the American education system is simply not getting the job done. The American educational system is producing far too few engineers and far too few of our graduates have an acceptable grasp of math and science. Carson pointed out that the United States is 21 out of 22 industrialized countries in math and science.
Many critics of the "No Child Left Behind" Act claim that the federal mandate, whose focus is on getting the underachieving minority of public school students to what education bureaucrats define as "grade level" has put pressure on schools to accept mediocrity as the schools are measured on how high a percentage of students meet the minimum acceptable standards. There is no incentive in the federally mandated testing regimen to getting students who already meet the acceptable yearly performance (AYP to achieve higher levels of performance. The result has been vast numbers of high school graduates who are entirely unsuited for jobs or college programs that demand math and science competence, meanwhile its record at eliminating the skills disparity between differing socio economic groups has been limited.
The U.S. Chamber of Commerce has identified poor performance by the American education system as one problem that is holding back the U.S. Economy. U.S. Chamber President Thomas Donahue said in a recent statement:
"According to statistics, 3.8 million jobs are vacant in part because businesses simply can't find qualified workers to fill them. Fewer American students are emerging from our public education system with the right skills or knowledge. Too many lack proficiency in math, science, reading, communications, and critical thinking. Meanwhile, baby boomers are retiring at an accelerating rate without a steady inflow of new talent into the labor force. This widening skills gap hampers companies' productivity and slows economic growth. It poses a threat to our prosperity at home and our standing in the world. And it must be remedied now. Many of the solutions to our education challenge are modeled in the business world every day. If tried-and-true business practices are applied to the public education system, we can help restore excellence to America's troubled schools."
Hunter said that Alabama state school Superintendent Tommie Bice and the state school board has passed a plan to attempt to raise the performance of Alabama's school. Their Alabama education reform plan is titled Plan 2020 and Hunter encourages her constituents to study the plan.
Hunter announced in her newsletter that she is hosting a forum on July 10 to discuss the Alabama College and Career Ready Standards. Dr. Tommy Bice will be one of the featured speakers.
Hunter has been criticized by many conservative groups in the state for hindering their efforts in the school board and the legislature to get the state to reject participation in the controversial Common Core Curriculum, advocated by President Obama.
Alabama reports record-breaking 2,164 new COVID-19 cases
Thursday's number of new cases hit 2,164 and blew past the previous daily record set on July 3 by 406 cases.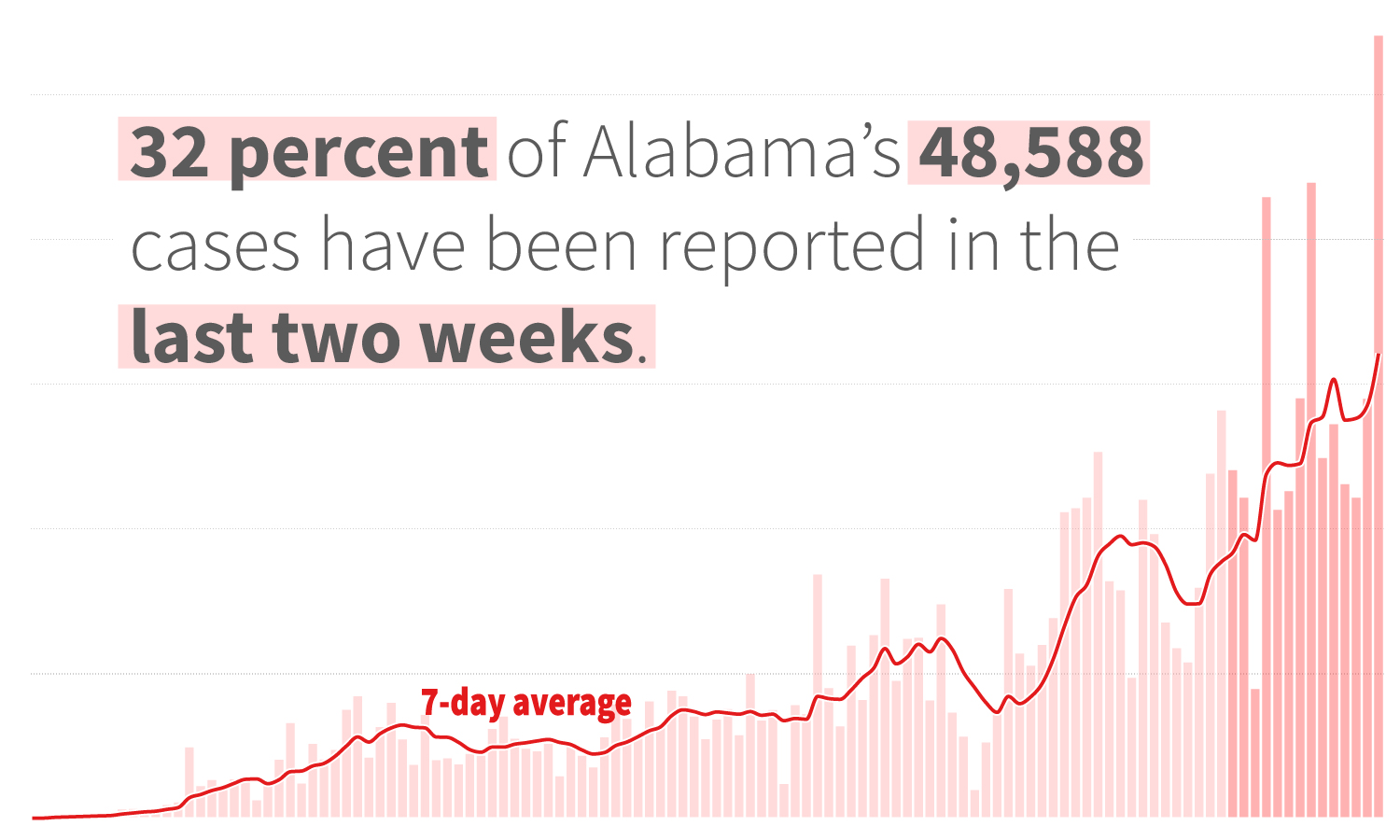 New COVID-19 cases in Alabama on Thursday jumped by nearly double from the day before, and for the first time broke 2,000 in a single day, according to the latest data from the Alabama Department of Public Health.

Thursday's number of new cases hit 2,164 and blew past the previous daily record set on July 3 by 406 cases. Both the seven-day and 14-day rolling average of new daily cases in Alabama were also at record highs Thursday. 
Thirty-two percent of the state's 48,588 cumulative confirmed cases have been added within the last two weeks. 
The Alabama Department of Public Health did not publish Wednesday an update to the total number of tests performed, which throws off the day's figures for the percentage of tests that are positive, but on average, over the last week, the state's seven-day rolling average of percent positivity has roughly 15 percent. 
Public health experts say the percent positivity should be at or below 5 percent — otherwise there isn't enough testing being done and cases are going undetected. 
Along with surging new cases, the number of COVID-19 patients hospitalized on Wednesday was higher than it's been since the beginning of the pandemic. On Wednesday 1,110 coronavirus patients were being treated in state hospitals, which was the fourth straight day of record current hospitalizations. 
UAB Hospital's COVID-19 Intensive care units were nearing their existing capacity Tuesday. The hospital has both a COVID ICU and a COVID acute care unit designated to keep patients separated from those who don't have the virus, but it has more space in other non-COVID units should it need to add additional bed space.

Hospitals in Madison County this week are also seeing a surge of COVID-19 patients. Paul Finley, the mayor of the city of Madison, told reporters Wednesday that local hospitals were reporting record numbers.

Hospitals there were at 80 to 90 percent capacity.
"Our ambulances yesterday had their greatest number of runs since this started," said Crestwood Hospital CEO Dr. Pam Hudson on Wednesday, adding that in about 20 percent of calls staff is having to wear full personal protective equipment. "That indicates that they are working with patients who have symptoms that could be compatible with COVID."
Meanwhile, Madison County set a new daily record, adding 286 cases Thursday, the first time the county has surpassed 200 cases a day. The county was largely spared early on in the pandemic, with low case counts and low death rates, but roughly 42 percent of Madison County's total case count since March has been reported in the last week as 803 new cases have been added.
Jefferson County and Madison County, over the last week, have accounted for 26 percent of the state's new cases.
Jefferson County led the state in the most new cases Thursday with 343 and has added 1,498 cases in the last week. The county's total cases increased by 33 percent from last week, and stood at 6,030 confirmed COVID-19 cases Thursday.
While Jefferson County and Madison County are seeing the state's most intense increases, other large counties including Shelby County, Baldwin County and Tuscaloosa County have also seen record increases and rising percent positive rates.
At least 81 people have died from COVID-19 in the last week, and 162 people have died in the last two weeks.
At least 1,042 people have died from COVID-19 since March, and at least 26 other deaths are listed as "probable" COVID-19 deaths.