Bentley's Campaign Benefits From Echols's PACs
By Beth Clayton
Alabama Political Reporter
MONTGOMERY–Governor Robert Bentley has filed his first monthly campaign finance report, showing a total of $422,500.00 in contributions, much of which came from large contributions from notable businesses, individuals and PACs.
Of the $422,500 in contributions, 86.39 percent–or $365.000–came from contributions larger than $10,000.
In his monthly report, Bentley claimed $200,000 in PAC contributions, which accounts for nearly half of all money raised. Large PAC contributions, those over $10,000, were responsible for $185,000 in campaign receipts.
Bentley's largest contribution was listed as $63,000 from "T Town PAC II," chaired by Michael Echols of Tuscaloosa.
Echols is a CPA from Tuscaloosa, who is also a member of the Franklin Resources Group, alongside Ryan deGraffenried, Susan Hansen and founder Johnny Crawford. Crawford, Hansen, Sullivan and deGraffenried are all registered lobbyists. The Franklin PAC, registered to the same address as the Franklin Resources Group, also donated $18,000 to Bentley's campaign.
The T Town PAC II reported $42,000 in contributions in the last monthly filing. That $42,000 in contributions came from various businesses, mostly $5,000 contributions from contractors and construction companies in the Tuscaloosa, Birmingham and Mobile areas.
The T Town PAC II contributed to several political campaigns in the last month, including Lee Garrison, Alan Harper, Sam Jones and two separate contributions to Bentley for Governor. The T Town PAC lists a $63,000 contribution on June 28 and a $5,000 contribution on June 25.
Bentley's monthly report only lists the $63,000 contribution. There is no mention of a separate $5,000 contribution from the T Town PAC in Bentley's monthly report.
One of Echols's other PACs, Pride PAC II, is aimed at promoting "fiscally conservative candidates." In their monthly report, Pride PAC showed $31,000 in receipts from many of the exact same $5,000 donors as T Town PAC II, including Drummond Company, East Alabama Paving Company, Echols, Coogler and Associates, John Plott Company and the Wiregrass Construction Company.
Pride PAC contributed $24,000 to Bentley for Governor, as well as several other campaigns, including Lee Garrison, Alan Harper, Gerald Allen and $10,000 to Sam Jones, who is running for Mayor of Mobile.
In addition to chairing the T Town PAC II, Echols has been listed as both the chair and treasurer of numerous other PACs: Capital PAC, CMG PAC, GOTV PAC, KAW PAC, Pride PAC, Pride PAC II, T Town PAC, T Town PAC II and Tusco PAC, many of which are dissolved.
The PO Box associated with the T Town PAC II and the Pride PAC II, PO Box 2663 in Tuscaloosa, was also listed as the mailing address for the Red Elephant Club, which is registered as a 501(c)3 organization. The same PO Box is also listed for Friends of Lee Garrison, PAC Chairman Michael Echols's accounting firm and several of Echols's prior PACs.
In total, Echols can be tied to $129,000 in campaign contributions–or $134,000, depending on whose records are used–to Bentley's campaign. Echols's PACs, fueled by contractors and construction companies, are heavily invested in the Bentley campaign.
Trump Truck and boat parades this weekend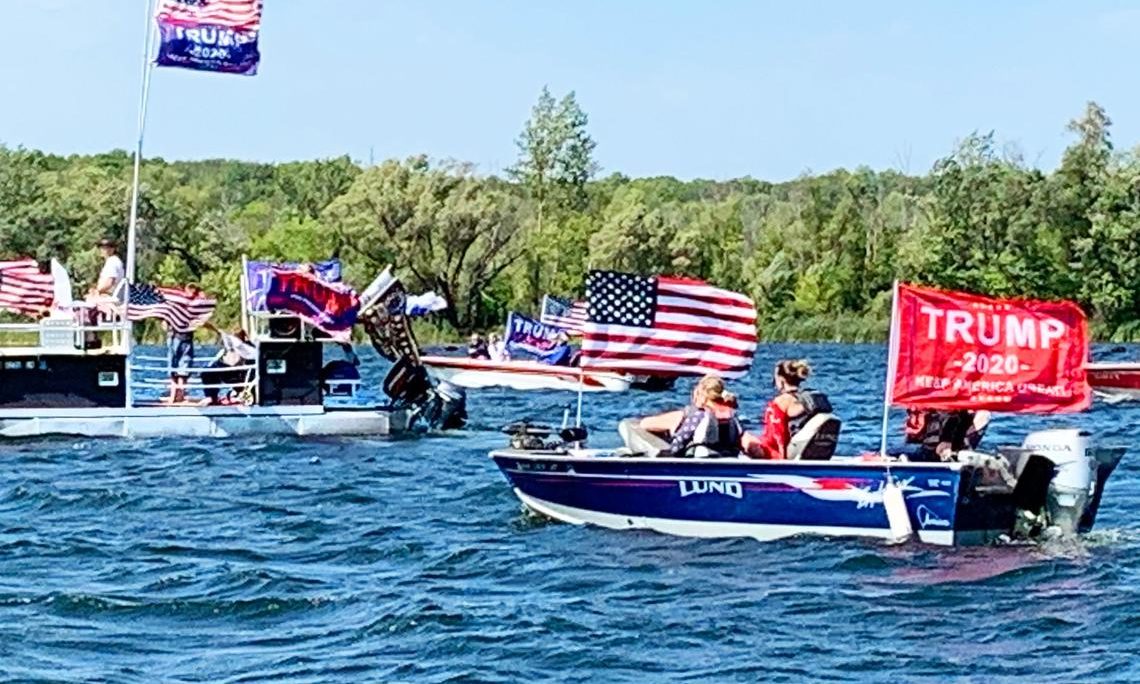 As Election Day draws near, Alabama Republicans are excited about promoting the re-election of Donald J. Trump as President and the election of Tommy Tuberville for U.S. Senate. This weekend two pro-President Trump events are happening in the state. There will be a truck parade from Ashland to Phenix City on Saturday sponsored by the Clay County Republican Party, while there will also be a boat parade on Wilson Lake in the Shoals sponsored by the Colbert County Republican Party on Sunday.
The pickup trucks will assemble at the Ashland Industrial Park in Clay County, 8240 Hwy 9, Ashland. There is a pre-departure rally at 10:00 a.m. central standard time. The trucks will depart at 11:00 a.m. and then proceed on a parade route that will take them into the bitterly contested swing state of Georgia. The Trump Pickup Parade will wind through east Alabama and West Georgia traveling through LaGrange and Columbus before concluding near the Alabama/Georgia line in Phenix City, 332 Woodland Drive, Phenix City at approximately 2:00 p.m. central time. Speakers will begin at 3:00. Trump flags will be on sale at the event.
The Phenix Motorsports Park will be hosting what sponsor hope could possibly the world's largest Pickup Tuck parade in U.S. history that is routing over 50 mile through Georgia in effort to "pickup" President Trump's numbers in GA.
A number dignitaries have been invited to address the Phenix City rally, including Coach Tuberville. Former State Sen. Shadrack McGill, Trump Victory Finance Committee member former State Rep. Perry O. Hooper Jr., and Paul Wellborn, the President and CEO of the largest Family owned Kitchen Cabinet manufacture in the USA are among the featured speakers who have committed to speak at the event.
Entertainment will be provided by: Charity Bowden, an up and coming country music singer who was the runner up on "The Voice". Charity will sing 'I am Proud to be an American' as well as songs from her Voice performances. The McGill Girls will also perform. The three beautiful and talented sisters will be singing patriotic songs in three part harmony. Geoff Carlisle, a professional DJ will be keeping the crowd pumped with music and entertainment.
Following the speakers and the entertainment there will Trump truck-vs- Joe Bidden truck races down the drag strip for the finale.
The Northwest Alabama boat parade will be on Sunday. The boats will gather at 2:00 p.m. near Turtle Point and then the flotilla will parade around the open waters of Wilson Lake til 3_00 p.m.. There will be a contest for best decorated Trump boats.
Trump supporters have held a number of large boat parades across the state to show their support for the re-election of Pres. Trump.
Boat parade sponsors say that this parade will be: pro-American, pro-law enforcement, pro-military.