Mike Hubbard Stands With Texas Pro-Life Movement
By Brandon Moseley
Alabama Political Reporter
On Tuesday, Speaker of the House Mike Hubbard (R) from Auburn announced on Facebook that he was standing with Texas and efforts there to place some limitations on the abortion industry in that state.
The Republican controlled Texas state legislature is attempting to pass legislation that would ban abortion after twenty weeks and would hold abortion clinics to a higher regulatory standard than what the abortion clinics are currently held too.
Speaker Hubbard said, "In Alabama, I'm proud to say the law of the land already bans abortions after 20 weeks, and, just this year we passed important legislation that goes even further to protect the health and safety of women and the life of the unborn."

The conservative Alabama Speaker said, "Today, all eyes are on Texas as they fight an important battle to protect the right to life." I'm proud of the pro-life legislation we've been able to pass in Alabama, and I hope and pray that Texas will be able to do the same."
Pro-abortion supporters mobbed the Texas legislature the last time that the legislature attempted to pass the pro-life legislation to support a filibuster by pro-abortion state senators. The filibuster was successful last time because they were able to keep talking until midnight, which is by law the end of the legislative day.
Pro-life Texas Governor Rick Perry (R) said in a written statement following the defeat, "We witnessed the extremes the pro-abortion forces will resort to in order to further their cause. They demonstrated that, even if they lose at the ballot box, even if they come up short in attempts to stall on the Senate floor, they will resort to mob tactics to force their minority agenda on the people of Texas. I'm all about honest, open debate, and parliamentary tactics are certainly nothing new, but what we witnessed Tuesday was nothing more than the hijacking of the democratic process. This is simply too important a cause to allow the unruly actions of a few to stand in its way. I have announced that I am bringing lawmakers back to Austin to finish the work and the will of the people of the state of Texas, and I've put pro-life measures at the top of the call list."
On Tuesday night the Texas House of Representatives tentatively approved the measure. There will be another vote on Wednesday, then the pro-life bill will go to the Senate where pro-abortion Democratic Senator Wendy Davis's 13 hour filibuster defeated the bill in June. Most observers expect that Texas Republicans will finally pass the landmark legislation.
Alabama reports record-breaking 2,164 new COVID-19 cases
Thursday's number of new cases hit 2,164 and blew past the previous daily record set on July 3 by 406 cases.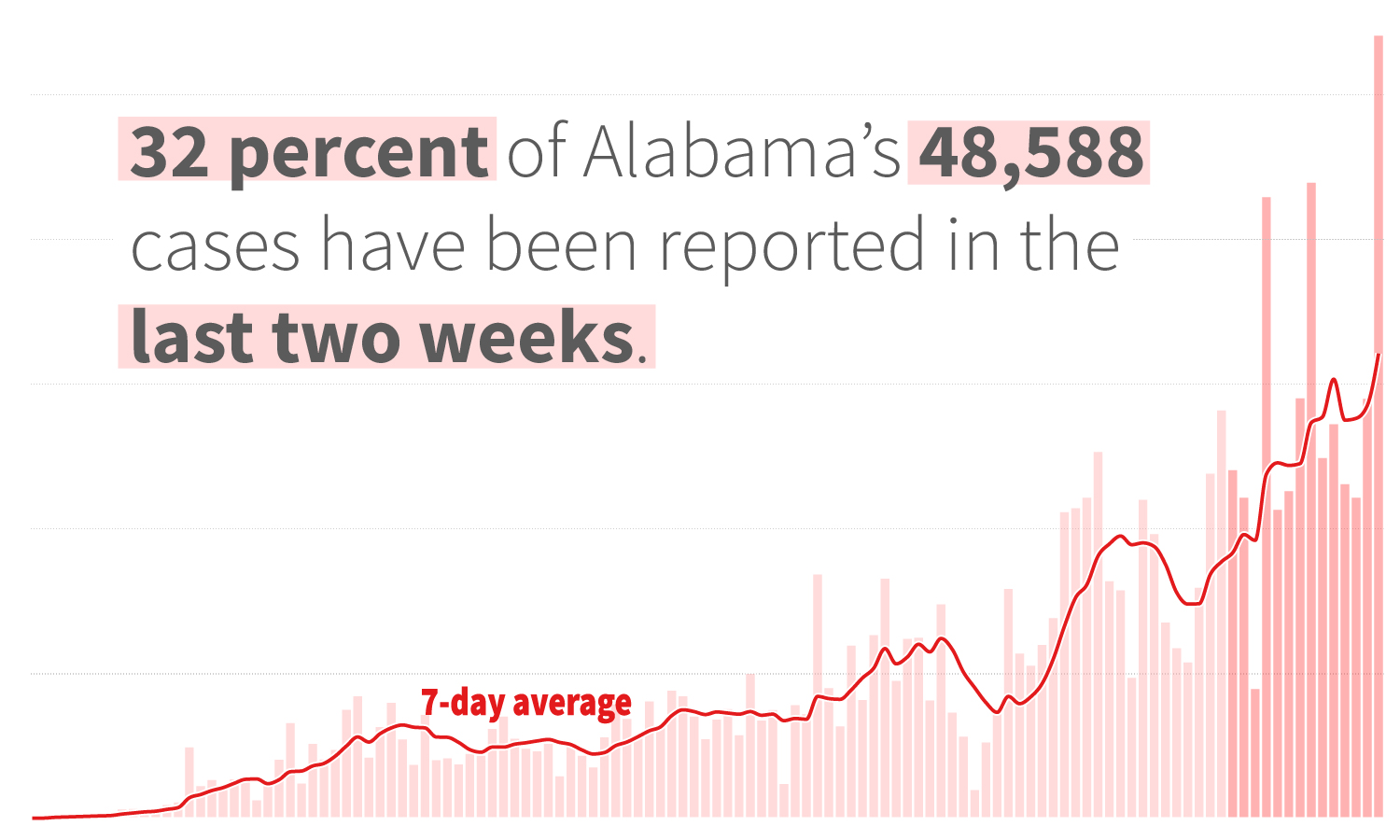 New COVID-19 cases in Alabama on Thursday jumped by nearly double from the day before, and for the first time broke 2,000 in a single day, according to the latest data from the Alabama Department of Public Health.

Thursday's number of new cases hit 2,164 and blew past the previous daily record set on July 3 by 406 cases. Both the seven-day and 14-day rolling average of new daily cases in Alabama were also at record highs Thursday. 
Thirty-two percent of the state's 48,588 cumulative confirmed cases have been added within the last two weeks. 
The Alabama Department of Public Health did not publish Wednesday an update to the total number of tests performed, which throws off the day's figures for the percentage of tests that are positive, but on average, over the last week, the state's seven-day rolling average of percent positivity has roughly 15 percent. 
Public health experts say the percent positivity should be at or below 5 percent — otherwise there isn't enough testing being done and cases are going undetected. 
Along with surging new cases, the number of COVID-19 patients hospitalized on Wednesday was higher than it's been since the beginning of the pandemic. On Wednesday 1,110 coronavirus patients were being treated in state hospitals, which was the fourth straight day of record current hospitalizations. 
UAB Hospital's COVID-19 Intensive care units were nearing their existing capacity Tuesday. The hospital has both a COVID ICU and a COVID acute care unit designated to keep patients separated from those who don't have the virus, but it has more space in other non-COVID units should it need to add additional bed space.

Hospitals in Madison County this week are also seeing a surge of COVID-19 patients. Paul Finley, the mayor of the city of Madison, told reporters Wednesday that local hospitals were reporting record numbers.

Hospitals there were at 80 to 90 percent capacity.
"Our ambulances yesterday had their greatest number of runs since this started," said Crestwood Hospital CEO Dr. Pam Hudson on Wednesday, adding that in about 20 percent of calls staff is having to wear full personal protective equipment. "That indicates that they are working with patients who have symptoms that could be compatible with COVID."
Meanwhile, Madison County set a new daily record, adding 286 cases Thursday, the first time the county has surpassed 200 cases a day. The county was largely spared early on in the pandemic, with low case counts and low death rates, but roughly 42 percent of Madison County's total case count since March has been reported in the last week as 803 new cases have been added.
Jefferson County and Madison County, over the last week, have accounted for 26 percent of the state's new cases.
Jefferson County led the state in the most new cases Thursday with 343 and has added 1,498 cases in the last week. The county's total cases increased by 33 percent from last week, and stood at 6,030 confirmed COVID-19 cases Thursday.
While Jefferson County and Madison County are seeing the state's most intense increases, other large counties including Shelby County, Baldwin County and Tuscaloosa County have also seen record increases and rising percent positive rates.
At least 81 people have died from COVID-19 in the last week, and 162 people have died in the last two weeks.
At least 1,042 people have died from COVID-19 since March, and at least 26 other deaths are listed as "probable" COVID-19 deaths.