Governor Bentley Signs Ward Sponsored Bill To Increase Efficiency In State Vehicle Fleet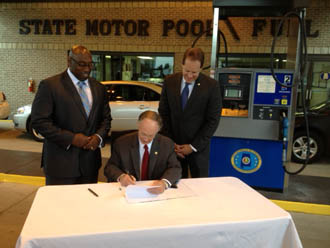 Staff Report
MONTGOMERY – A more efficient method of managing state-owned vehicles will soon be developed thanks to legislation signed by Governor Robert Bentley on Wednesday.
Governor Bentley held a ceremonial signing for Senate Bill 57, which authorizes the Alabama Department of Transportation to review state agency fleets and develop a statewide program to achieve cost savings and greater efficiencies in operating state vehicles.
"This is a continuation of our efforts to make government more efficient and save money for taxpayers," Governor Bentley said.  "The goal of this program is to find the lowest possible cost per mile driven on our state-owned vehicles.  A fleet management program is one of the recommendations made by the Commission on Improving State Government, which I established to help us reduce government costs and operate more efficiently.  I am proud to sign this legislation that helps us accomplish this goal."
Approximately 8,800 state-owned vehicles are operated by various agencies, departments, commissions and boards in Alabama.  However, there is not a uniform program for managing those vehicles throughout the various entities.  Senate Bill 57 addresses that issue and establishes ALDOT as the primary department responsible for assessing the state's fleet and developing a streamlined, uniform management program.
The legislation was sponsored by Senator Cam Ward (R-Alabaster).
"It's been a real pleasure working with Governor Bentley as well as the Legislative Joint Oversight Committee on Energy to develop this piece of legislation that, in short, saves taxpayers money.  And that's something we should all strive to achieve," Ward said.
Senate Bill 57 complements an executive order signed by Governor Bentley in March.  The executive order established an Office of Fleet Management and a Fleet Manager within ALDOT.  Willie Bradley Jr. has been hired to serve in this capacity.  Bradley is currently conducting a detailed assessment of the state's fleet.
"Our goal is to reduce costs to the state while also meeting the needs of agencies that rely on state-owned vehicles," Bradley said.  "We will explore several options for saving money, such as short-term and long-term leasing.  We also have potential for savings through buying in bulk across state agencies and establishing more efficient maintenance and replacement procedures.  By bringing state agencies and departments into a uniform program, there is tremendous potential for reducing costs to taxpayers."
The assessment of state-owned vehicles is expected to be complete by September 30 of this year.  ALDOT will then use the information developed from the assessment to finalize a detailed plan to meet the needs of entities utilizing state-owned vehicles.
Governor declares state of emergency ahead of Tropical Storm Zeta
Zeta is currently a tropical storm over the Gulf of Mexico, but it is predicted to make landfall as a category one hurricane.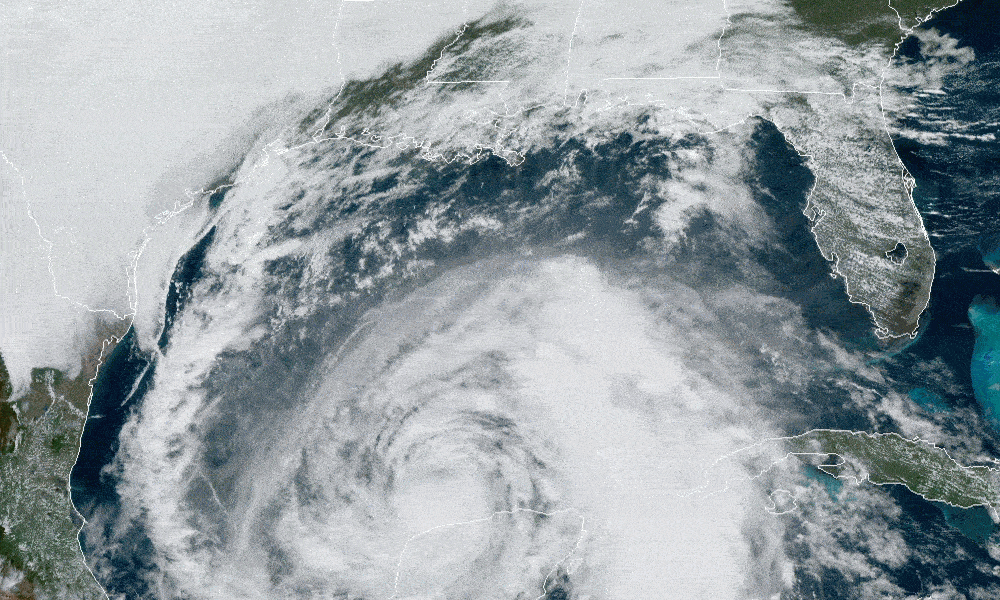 Alabama Gov. Kay Ivey on Tuesday issued a state of emergency as Tropical Storm Zeta approaches the Gulf Coast.
"Ahead of Tropical Storm Zeta's anticipated landfall Wednesday evening as a Category 1 hurricane, I am issuing a state of emergency effective today at 4:00 p.m.," Ivey said. "While this storm is not expected to have an impact as large as storms we've seen move through the Gulf earlier this year, we want to be in the best place possible to respond to anticipated rain, storm surge and mass power outage. I encourage everyone to remain weather aware and tuned in to their trusted news source as this storm could shift direction or change intensity. We continue to track the path of this storm and will stay in touch with the people of Alabama with any updates."
Zeta is currently a tropical storm over the Gulf of Mexico, but it is predicted to make landfall as a category one hurricane. The National Hurricane Center is predicting Zeta to make landfall in Mississippi on Wednesday and then proceed toward Alabama, but these storms can and do move.
A more easterly track could prove devastating to the Alabama Gulf Coast as was the case with Hurricane Sally, which shifted course in September, hitting Alabama, though Zeta is expected to be weaker than Sally at landfall.
The storm surge from the Mississippi-Alabama border to Dauphin Island is forecast to be 5 to 8 feet. Mobile Bay to the Alabama-Florida border is expected to have 3 to 5 feet of storm surge and from the border to Navarre, Florida, could experience 2 to 4 feet of storm surge.
Hurricane force winds are a possibility with this storm. Tropical force winds are expected to be an issue for Southern Mississippi and Alabama well inland. There is expected to be heavy rainfall across the state Wednesday night into Thursday morning.
The Baldwin County Emergency Management Agency announced that sandbags are available inside the county commission office at Robertsdale Central Annex (22251 Palmer Street) until 4:30 p.m. Tuesday and from 8 a.m. until 4:30 p.m. Wednesday or while they last.
Bring any help and shovels you will need. There is a limit of just 25 bags per person. Alabama's coastal counties are currently under a Tropical Storm Warning, a Storm Surge Warning for Mobile County and a High Rip Current and High Surf Warning.
Congressman Bradley Byrne said, "I just finished up briefings from Alabama EMA, FEMA, and the National Hurricane Center regarding #Zeta. We should not take this storm lightly and should start making preparations right away. After sundown Wednesday, I'd encourage everyone in Southwest Alabama to stay home and off the roads until sunrise Thursday. This storm will have impacts as far north as Montgomery, so those in Washington, Clarke, and Monroe counties will see tropical storm force winds and heavy rain. I'd encourage everyone to charge their phones and other necessary electronics. If you have an emergency during the storm, call 911 and do not try to drive."
Coastal Alabama is still in the process of recovering from Hurricane Sally which hit the state on Sept. 15.