Shelby Praises Senate Colleagues for Bipartisan Efforts on Funding Bill
By Brandon Moseley
Alabama Political Reporter
Alabama Senator Richard Shelby (R) from Alabama while concerned about the overall costs of a Senate Appropriations Committee bill is pleased with the bipartisan effort shown by both sides to produce the subcommittee markup of a Commerce Justice Science and Related Agencies funding bill.
This Congress has been one of the most partisan and divided Congresses in memory; but veteran Alabama Senator Richard Shelby did reach across the aisle on Tuesday to praise his Democratic colleagues on the bipartisan way that the Commerce Justice Science and Related Agencies bill was handled by the Senate Appropriations Committee.
The legendary Alabama Senator who served in both Houses during the last seven Presidents told his Democratic colleague, Sen. Barbara Mikluski (D) from Maryland, "Thank you, Madam Chairwoman. I would like to thank you for your leadership on this bill. We have worked together on many issues throughout our years and I believe that this mark reflects our strong bi-partisan relationship."
Sen. Shelby said that he is pleased with how the money is allocated in a bipartisan and balanced way but that he will vote against the markup solely because of the total cost. Sen. Shelby said, "While I believe that the subcommittee mark strikes a balance between the competing priorities of law enforcement, terrorism prevention, research, scientific advancement and U.S. competitiveness, I have concerns about the overall allocation. For that reason, and that reason alone, I will vote against the CJS bill at full committee."
Sen. Shelby went on to emphasize a few points including: "The bill includes, as you mentioned, robust funding for the Department of Justice and law enforcement grant programs that are essential to state and local law enforcement efforts. Additionally, the bill continues to prioritize the protection of our children and communities through robust funding for the Adam Walsh Act, the National Center for Missing and Exploited Children. The mark includes essential funding to track down, arrest and prosecute predators who prey on our nation's children. With respect to the Department of Commerce, the bill provides important resources to support NOAA's next generation of weather satellites, and ensures the National Weather Service can continue to provide timely warnings for dangerous weather outbreaks."
Sen. Shelby said that the bill supports long-standing economic development programs as well as manufacturing and innovation through partnerships and support for the private sector. Shelby said that he was pleased that the bill includes the continued need for baseline data following the Deepwater Horizon oil spill, supports improved management practices for red snapper, and includes $18 billion for NASA.
On NASA Sen. Shelby said, "These funds will give NASA the ability to maintain key schedules for ongoing missions and activities, including development of a heavy lift launch vehicle, while funding ongoing activities of the International Space Station and other important research activities. I also want to commend the Chair for working with me to include language that provides greater accountability and budgetary transparency to the commercial crew program to ensure that taxpayers are getting the best value for their dollar."
In closing Senator Shelby said, "Again, Madam Chair, I want to thank you for working with me in drafting this bill."I believe that you have produced a bill that reflects the Senate's priorities and the needs of our nation."
The Chairwoman of the Senate Appropriations Committee is Senator Barbara Mikulski (D) from Maryland.
Sen. Shelby is the Vice-Chairman of the Senate Appropriations Committee.
COVID-19 hospitalizations in Alabama continue surge
On Monday, 1,335 patients with COVID-19 were being cared for in hospitals statewide, the most to date.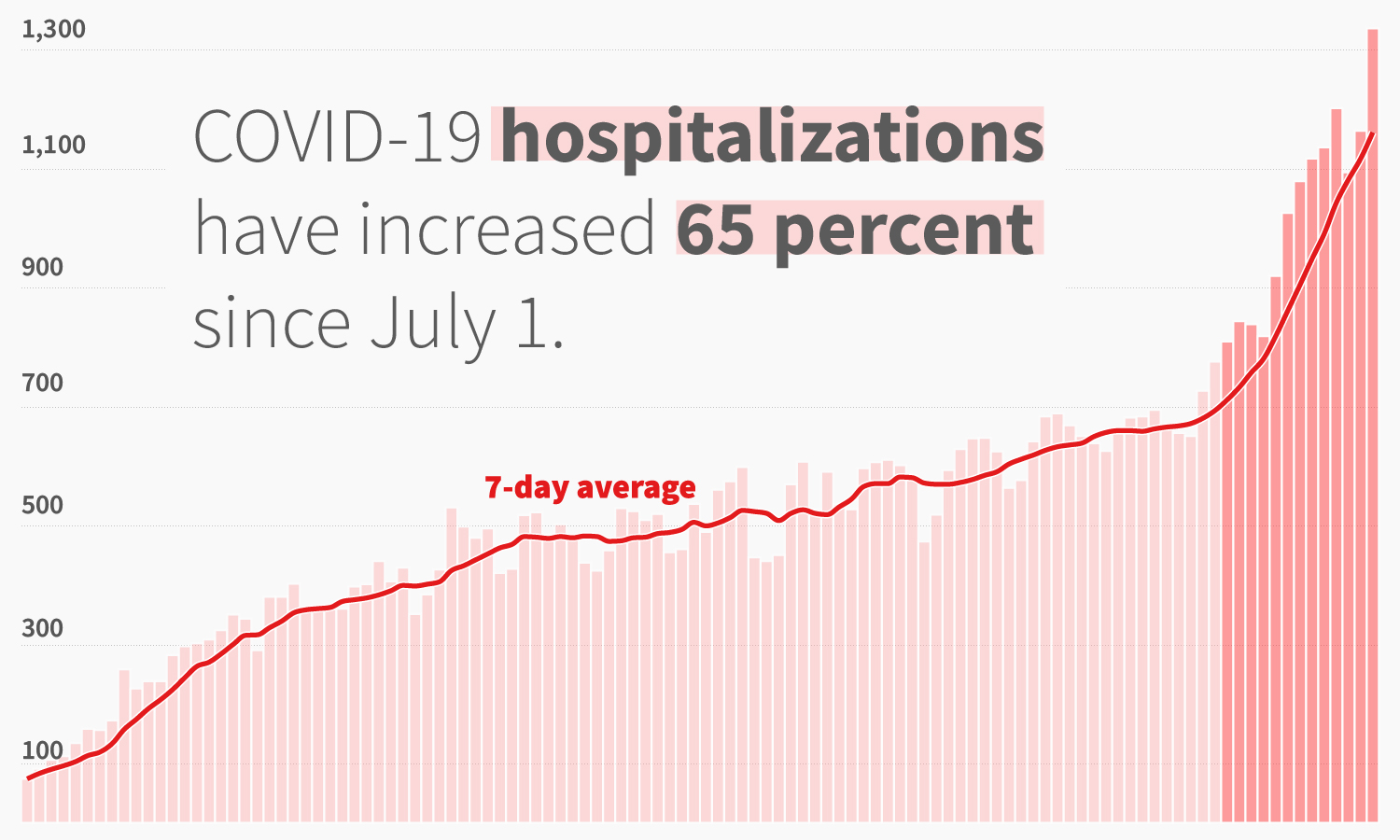 Alabama on Monday saw the highest number yet of COVID-19 patients in hospitals since the start of the pandemic, and the second-highest single-day increase in coronavirus cases on record. 
On Monday, 1,335 patients with COVID-19 were being cared for in hospitals statewide. That was 172 more COVID-19 patients than were hospitalized the previous day — and the largest single-day increase in hospitalization numbers reported by the Alabama Department of Public Health.

The last record number of hospitalized COVID-19 patients in Alabama was on Friday, when 1,201 people were being treated statewide. The increase Monday is also 134 more patients than were being care for on Friday.
Friday was the sixth straight day of record-breaking COVID-19 hospitalizations in Alabama. Friday also saw the second-highest number of deaths in a single day in the state, when ADPH confirmed 35 new deaths as a result of COVID-19, nearly breaking the previous record of 37 set on May 12.
On Monday, the state also added 1,860 to Alabama's total case count, bringing the cumulative total now to 54,768 confirmed cases. That's the second-highest single-day increase in cases since the start of the pandemic. With 25,783 people presumed to have recovered from the virus, and at least 1,096 dead, more than half of the state's cases, or 27,889, are presumed to be active.

Testing has ticked up slightly in the last few weeks — Alabama's seven-day average of tests conducted was 9,176 on Monday, 93 more than the previous high set on July 5 — but the percentage of tests that are positive continues to increase as well, a sign that new cases aren't just due to more testing. 
The seven-day average positivity rate Monday was 16.18 percent, which was almost 30 percent higher than it was a week ago. Taking into account the Alabama Department of Public Health's incomplete testing data on July 9 and in early April, which threw off the positivity rate, Monday's seven-day average was the highest on record for Alabama. 
Public health officials say that the percent of tests that are positive should be at or below 5 percent or there's not enough testing being done and cases are going undetected. 
Madison County continues to see a surge in new cases. The county added 267 new coronavirus cases on Monday, and over the last week added 1,044 new cases, which was 70 percent more than were added the week before. Madison County's positivity rate this week has been roughly 16 percent. 
Jefferson County followed closely behind Madison County, adding 266 new cases Monday and 1,602 cases within the last week, which was a 30 percent increase from the week before. 
In Mobile County, there were 157 new cases Monday.
Mobile County's weekly total of new cases for the last week was 23 percent higher than the previous week.