Bentley Reports That State Agencies Cut Their Energy Costs by $3.9 Million in 2012
By Brandon Moseley
Alabama Political Reporter
On Thursday Alabama Governor Robert Bentley (R) on Thursday announced that the State of Alabama was able to cut energy costs by nearly four million dollars in 2012 at state government agencies.
The savings were found after Bentley issued a December 2011 Executive Order demanding that state facilities reduce energy consumption by 30 percent from 2005 levels.
Governor Bentley said in a written statement, "State employees are taking many steps to reduce costs and make better use of taxpayer dollars. State agencies are operating more efficiently, and our energy-saving program is making a significant difference. The savings reported today prove that we will meet and exceed our original financial target as more agencies are able to participate and additional conservation measures are implemented."
The report was prepared by the Alabama Department of Economic and Community Affairs (ADECA). ADECA Director Jim Byard Jr. said, "ADECA is working with agencies to make state government a model for cost cutting through energy efficiency. With three years left in the project, 72 percent of our original $5.4 million in estimated energy savings has been achieved, and we expect to significantly exceed the estimated target before 2015."
ADECA prepared the report by analyzing energy data submitted by 29 different state agencies. The state has cut their energy usage by 10 percent in 2012 alone for a total savings of $3.9 million. Gov. Bentley has ordered the state's agencies to achieve the full savings goal by 2015.
The Alabama Department of Corrections was able to contribute the largest, cutting their energy used by 16% saving taxpayers $1.5 million. The agency identified 480 energy conservation areas at 34 facilities statewide. The prison system upgraded its lighting, installed programmable thermostats, installed occupancy sensors that cut off the lights when no one is in the room, and added centrally-controlled energy systems. Much of these upgrades were paid for with a 2009 grant from ADECA.
The Alabama Emergency Management Agency cut their energy costs by an impressive 39.5% saving taxpayers $79,848 in annual costs. The agency renovated the agency's Clanton headquarters, installing energy-efficient heating, air conditioning and ventilation equipment and lighting upgrades. A new 12,000-square-foot annex building built in 2008 was constructed using modern energy efficiency standards.
The Alabama Department of Environmental Management, Alabama Forestry Commission, the Military Department, the University of Montevallo and Athens State University all reported that they had cut their energy consumption by 10% or more.
Some state agencies and institutions lease office space and do not receive utility bills so are not included in the energy-saving program.
Trump Truck and boat parades this weekend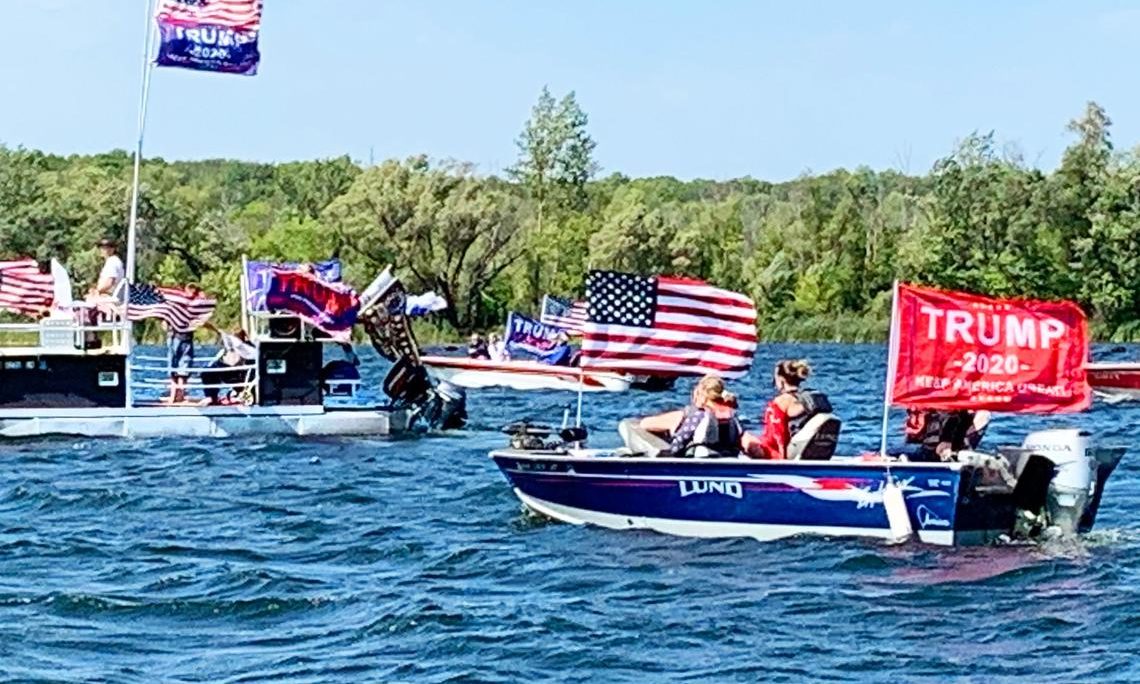 As Election Day draws near, Alabama Republicans are excited about promoting the re-election of Donald J. Trump as President and the election of Tommy Tuberville for U.S. Senate. This weekend two pro-President Trump events are happening in the state. There will be a truck parade from Ashland to Phenix City on Saturday sponsored by the Clay County Republican Party, while there will also be a boat parade on Wilson Lake in the Shoals sponsored by the Colbert County Republican Party on Sunday.
The pickup trucks will assemble at the Ashland Industrial Park in Clay County, 8240 Hwy 9, Ashland. There is a pre-departure rally at 10:00 a.m. central standard time. The trucks will depart at 11:00 a.m. and then proceed on a parade route that will take them into the bitterly contested swing state of Georgia. The Trump Pickup Parade will wind through east Alabama and West Georgia traveling through LaGrange and Columbus before concluding near the Alabama/Georgia line in Phenix City, 332 Woodland Drive, Phenix City at approximately 2:00 p.m. central time. Speakers will begin at 3:00. Trump flags will be on sale at the event.
The Phenix Motorsports Park will be hosting what sponsor hope could possibly the world's largest Pickup Tuck parade in U.S. history that is routing over 50 mile through Georgia in effort to "pickup" President Trump's numbers in GA.
A number dignitaries have been invited to address the Phenix City rally, including Coach Tuberville. Former State Sen. Shadrack McGill, Trump Victory Finance Committee member former State Rep. Perry O. Hooper Jr., and Paul Wellborn, the President and CEO of the largest Family owned Kitchen Cabinet manufacture in the USA are among the featured speakers who have committed to speak at the event.
Entertainment will be provided by: Charity Bowden, an up and coming country music singer who was the runner up on "The Voice". Charity will sing 'I am Proud to be an American' as well as songs from her Voice performances. The McGill Girls will also perform. The three beautiful and talented sisters will be singing patriotic songs in three part harmony. Geoff Carlisle, a professional DJ will be keeping the crowd pumped with music and entertainment.
Following the speakers and the entertainment there will Trump truck-vs- Joe Bidden truck races down the drag strip for the finale.
The Northwest Alabama boat parade will be on Sunday. The boats will gather at 2:00 p.m. near Turtle Point and then the flotilla will parade around the open waters of Wilson Lake til 3_00 p.m.. There will be a contest for best decorated Trump boats.
Trump supporters have held a number of large boat parades across the state to show their support for the re-election of Pres. Trump.
Boat parade sponsors say that this parade will be: pro-American, pro-law enforcement, pro-military.