Melton Launches Campaign with Fellowship and Food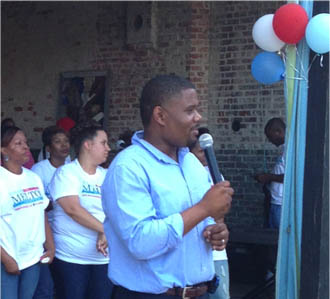 By Beth Clayton
Alabama Political Reporter
MONTGOMERY–Representative Darrio Melton, local elected officials, 150 supporters and 80 pounds of barbecue chicken came together at the Carneal Building in Selma to launch Melton's 2014 campaign.
The event was free and open to the public to come together for "good food, good music and wonderful people."
Melton criticized the Republican supermajority in Montgomery, especially calling out the Republicans who passed the Alabama Accountability Act. He said that many legislators "want us to go back" but he believes "we have a future, and we have a great imagination."
Putting that "great imagination" to use, Melton asked his supporters to,
"Imagine with me a 67th legislative district in which every child gets a world class education. Imagine a Dallas County where every child who comes through our school doors can come back home and build a business here in Dallas County. Imagine with me a Dallas County where our senior citizens don't have to choose between groceries and buying prescriptions. Imagine with me a leader who will stand up and fight the Republicans who are trying to take us back to 1901."
Melton was joined at the microphone by several prominent elected officials who offered Melton their endorsement, including District Judge Bob Armstrong and Probate Judge Kim Ballard.
"He's a man of integrity, he does what he says he will do and he's a great public servant," he said. "I think he's done a great job. I couldn't endorse or be behind anybody any stronger," Armstrong said.
Ballard told the crowd that Representative Melton "has called me many times from the floor while they were in session to ask me what effect a bill might have on Dallas County. For anything that affects Dallas County, Representative Melton has always supported it 100%," he said.
"I personally did not support Darrio when he ran the first time. He knows that. We've had discussions about that. I don't see anyone out there who I would support unless I decide to run for State Representative," Ballard said.
Orville Mayor Louvenia Lumpkin also spoke on behalf of Melton, saying he reminded her of "a modern-day Joshua." Lumkin also emceed the event.
Selma Mayor George Evans and several City Council members arrived to the event at the end. Evans had planned to speak on behalf of Melton but the City Council's regularly-scheduled work session ran late.
Several local musical groups performed at the event, including Pure Praise and Majestic Voices. Selma native and University of Alabama student Charlie Argo performed the opening act. The choir from Melton's church, where he serves as an associate pastor, joined him on stage for his remarks and performed both before and after he spoke.
So far, no other candidates have declared an intent to run for Melton's House seat.
Jones says Senate race a choice between "substance and leadership, and nothing"
"One of the great disappointments in this campaign is that Alabama is not really getting choices between substance and substance," Jones said.
Speaking outside the Calhoun County Democratic Party headquarters in Anniston on Friday, Sen. Doug Jones, D-Alabama, told a group of supporters that Alabamians haven't gotten a look at what his Republican opponent might do if he wins the Nov. 3 election. 
"One of the great disappointments in this campaign is that Alabama is not really getting choices between substance and substance," Jones said. "They're getting a choice between substance and leadership, and nothing — nothing. We have not heard anything from Tommy Tuberville about what he really wants to do." 
While Jones has held numerous interviews with the media, and regular web briefings over the summer and in recent weeks, Tuberville's campaign seems to prefer the safety of keeping Tuberville from making possible gaffs or damaging statements in interviews. 
Tuberville hasn't agreed to interviews with traditional media outlets, or to debate Jones, and instead has focused on conservative talk radio spots, speaking to smaller Republican groups and at private parties.
Tuberville's campaign has ignored or denied our numerous attempts to interview Tuberville, including another request on Friday. He also declined to attend a student forum held at Auburn University on Wednesday, which Jones attended. The forum was sponsored by the Auburn College Republicans and College Democrats.
"If you ever hear something Tommy Tuberville says, it is just simply this: 'Build a wall. No amnesty. Drain the swamp.' That ain't him. That's Donald Trump," Jones said. "He cannot think for himself. He doesn't think for himself." 
Jones spoke of his record of working to help veterans through legislation. And he referred to Tuberville's nonprofit for veterans and reporting that indicates, through tax records, that less than a third of the money raised for Tuberville's charity went to help veterans. 
"I don't just create charities and send only pennies on the dollar. I do things for the veterans of this state and this country," Jones said. 
Jones also made a case for Alabamians to remember the contributions past Democrats made in the state. Jones said it was Democratic Sen. John Sparkman who helped build Alabama's Redstone Arsenal. 
"It was a Democrat, Lester Hill, who built the rural hospitals around here that Donald Trump and Mitch McConnell and Tommy Tuberville are trying to destroy," Jones said. "It was Howell Heflin who built up agriculture in this state. Those are the Democrats. It was Franklin Rosevelt that put electricity in this state. We're going to do the same thing for broadband. People forget those things. They forget those things because we've let other people define us with lies."
Jones plans to visit Jefferson County on Saturday, then on to the Black Belt and Mobile on Sunday with another stop in Birmingham on Monday afternoon. 
"The goal is to get everybody out. That's the thing if we want to continue to ensure Alabama moves forward — moves forward and not backwards, to continue to have somebody, if I do say so myself, somebody that's just not going to damn embarrass us," Jones said.
"We've had too much of that in Alabama," Jones said, "and I bet you it won't be a year that Tommy Tuberville would be an embarrassment to this state because he doesn't know the issues. He doesn't know what to do, and he's dang sure not going to know what to do when Donald Trump is not president of the United States." 
Jones encouraged supporters to be skeptical of recent polling. One such recent poll, by Auburn University at Montgomery, puts Tuberville ahead of Jones by 12 percentage points, 54 to 42.1. An internal poll by Tuberville's campaign puts Tuberville ahead by 15 percentage points, while an internal poll from the Jones camp put Jones ahead by one percentage point. 
"Don't listen to these polling folks that come in, and they don't know Alabama, and they don't know what they're doing. We're tracking this race, and I can tell you, everything has been moving in our direction the last two months," Jones said. 
People standing along roadsides holding his signs and showing support, Jones said, is "the energy we've got out there. That's what you can't poll."
Ellen Bass of Anniston, standing outside the Calhoun County Democratic Party headquarters just after Jones spoke, told APR that she has numerous Republican friends who are voting for Jones.
"My hat's off to them because they're coming out," Bass said. "They recognize that he is a better candidate."
Ciara Smith, 21, newly elected to the Anniston City Council, told APR outside the headquarters building that Jones is the better candidate.
"I think that he's educated. I think that he speaks with passion and heart," Smith said. "And he knows what he's talking about, which is important, and which is more than we can say about the other candidate."
Speaking to APR after his speech to supporters, Jones said that he feels very good about the state of his campaign.
"Everything we're seeing is moving in our direction," Jones said. "And the more he stays hidden, the better it is for us."