Hubbard Appoints Clouse General Fund Chair

Staff Report
MONTGOMERY – Alabama Speaker of the House Mike Hubbard (R-Auburn) announced Wednesday that Representative Steve Clouse (R-Ozark) will serve as chairman of the Ways and Means General Fund Committee following the recently announced resignation of Rep. Jim Barton (R-Mobile).
Hubbard said the choice was obvious because of Clouse's performance as co-chairman of the committee during the 2013 regular legislative session and his leadership position as Chairman of the House Banking and Finance Committee.
"At a time when revenues are shrinking and expenses are growing, chairing the Ways and Means General Fund Committee demands a great deal of time, effort and wisdom, and Rep. Clouse has proven that he is willing and able to meet the challenge," Hubbard said. "Unlike the out-of-control spending from the federal government, Alabama is required to live within its means. I am absolutely confident that Chairman Clouse will continue to practice fiscal responsibility and do what's best for our taxpayers."
The Ways and Means General Fund Committee is one of the most influential panels in the Alabama Legislature, overseeing appropriations of $1.7 billion and providing funding for the vast majority of state agencies including crucial programs like Medicaid, the Department of Corrections, the Court System, and Public Health and Safety.
"I deeply appreciate Speaker Hubbard's confidence in handing me the responsibility that comes with being chairman of the General Fund Committee," said Clouse. "As chairman, I will continue to make common-sense decisions that ensure taxpayer dollars are being used as efficiently and effectively as possible. Under Speaker Hubbard's leadership, we are reforming state government and changing the way Montgomery operates. I am committed to continuing those reforms."
Clouse has served House District 93 since 1994, which encompasses Dale and Houston Counties.  A graduate of the University of Alabama, he is Vice-President of Clouse Marketing Company in Ozark.
COVID-19 hospitalizations in Alabama continue surge
On Monday, 1,335 patients with COVID-19 were being cared for in hospitals statewide, the most to date.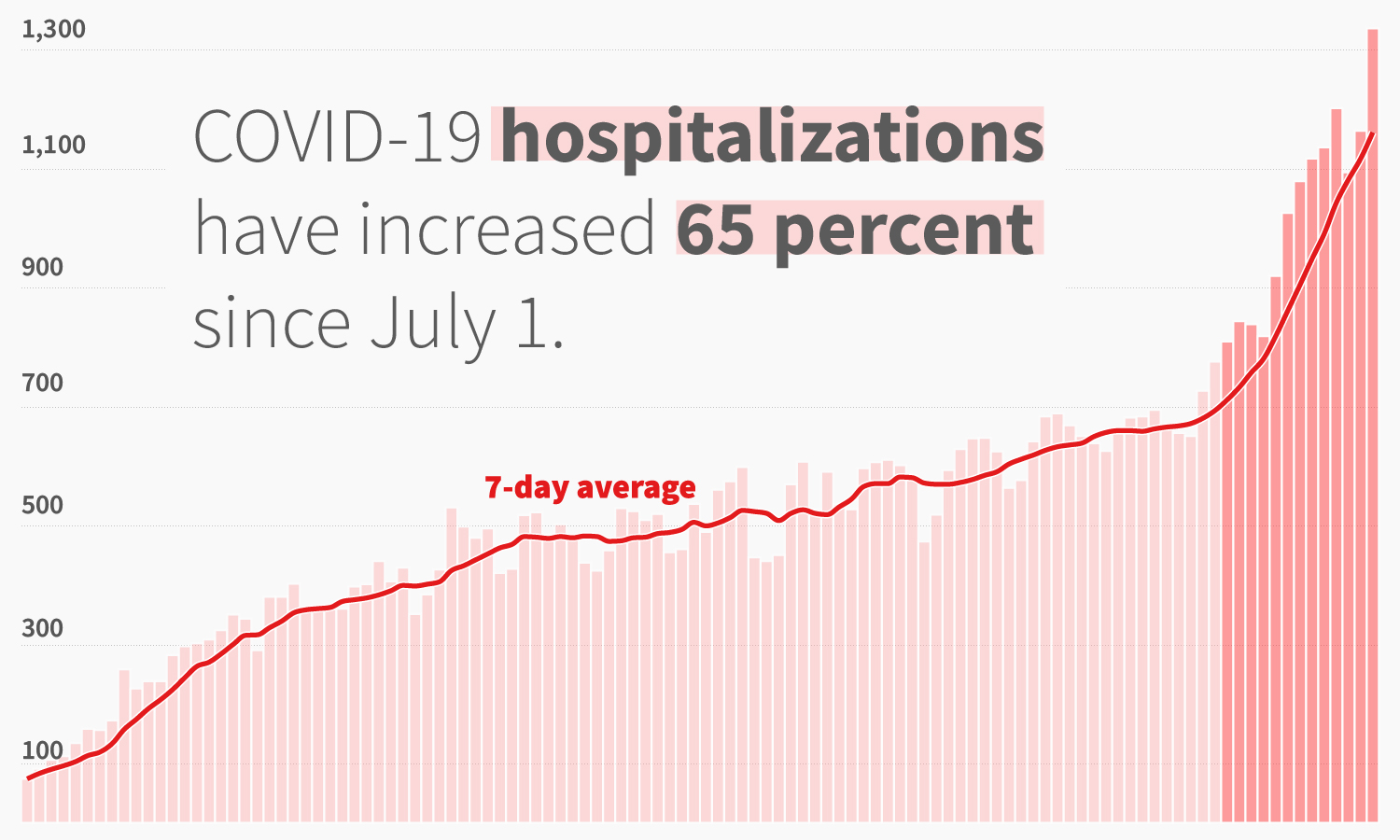 Alabama on Monday saw the highest number yet of COVID-19 patients in hospitals since the start of the pandemic, and the second-highest single-day increase in coronavirus cases on record. 
On Monday, 1,335 patients with COVID-19 were being cared for in hospitals statewide. That was 172 more COVID-19 patients than were hospitalized the previous day — and the largest single-day increase in hospitalization numbers reported by the Alabama Department of Public Health.

The last record number of hospitalized COVID-19 patients in Alabama was on Friday, when 1,201 people were being treated statewide. The increase Monday is also 134 more patients than were being care for on Friday.
Friday was the sixth straight day of record-breaking COVID-19 hospitalizations in Alabama. Friday also saw the second-highest number of deaths in a single day in the state, when ADPH confirmed 35 new deaths as a result of COVID-19, nearly breaking the previous record of 37 set on May 12.
On Monday, the state also added 1,860 to Alabama's total case count, bringing the cumulative total now to 54,768 confirmed cases. That's the second-highest single-day increase in cases since the start of the pandemic. With 25,783 people presumed to have recovered from the virus, and at least 1,096 dead, more than half of the state's cases, or 27,889, are presumed to be active.

Testing has ticked up slightly in the last few weeks — Alabama's seven-day average of tests conducted was 9,176 on Monday, 93 more than the previous high set on July 5 — but the percentage of tests that are positive continues to increase as well, a sign that new cases aren't just due to more testing. 
The seven-day average positivity rate Monday was 16.18 percent, which was almost 30 percent higher than it was a week ago. Taking into account the Alabama Department of Public Health's incomplete testing data on July 9 and in early April, which threw off the positivity rate, Monday's seven-day average was the highest on record for Alabama. 
Public health officials say that the percent of tests that are positive should be at or below 5 percent or there's not enough testing being done and cases are going undetected. 
Madison County continues to see a surge in new cases. The county added 267 new coronavirus cases on Monday, and over the last week added 1,044 new cases, which was 70 percent more than were added the week before. Madison County's positivity rate this week has been roughly 16 percent. 
Jefferson County followed closely behind Madison County, adding 266 new cases Monday and 1,602 cases within the last week, which was a 30 percent increase from the week before. 
In Mobile County, there were 157 new cases Monday.
Mobile County's weekly total of new cases for the last week was 23 percent higher than the previous week.