Cavanaugh Votes for First Reduction for Alabama Power Customers in Almost 25 Years
Staff Report
Montgomery – Alabama Public Service Commission President Twinkle Andress Cavanaugh voted today to implement the largest reduction in allowed rate of return for Alabama Power Company in almost 25 years.
Cavanaugh said at the point of adjustment, customers could expect to see a savings of between $30 and $110 on their power bills each year based upon a number of factors, including amount of electricity used, weather trends, rate classification and others.  She estimated that most consumers who continue using the same amount of electricity would realize an average savings closer to the mid-point.
"While Alabama Power Company felt their current rate structure was justifiable, our job as commissioners is to do what's fair for all, and our hearings showed that consumers deserve some relief in the bills they pay," Cavanaugh said.
The Commission adjusted the RSE formula to reflect a weighted rate of return on equity with a range of 5.75% to 6.21% with a reset point of 5.98%.  The weighted numbers represent a range of 10.27% to 11.09% with an adjusting point of 10.68% when compared to the newly allowed capital structure of Mobile Gas Company.
The reduction occurred following a series of public rate review hearings conducted across the state, during which commissioners heard almost 24 hours of testimony from dozens of consumers, various interest groups, business owners, utility stakeholders, the Alabama Attorney General's Consumer Division and others.  The changes voted on today will go into effect in January.
Cavanaugh noted that convening formal hearings would have required participants to hire legal counsel in order to participate in the process, and many of those who took part in the open, public process would have had their voices silenced.
"In addition to testimony from Alabama Power officials, the commission heard from groups as diverse as the Tea Party, labor unions, public policy think tanks, and even environmental groups supporting Obama's War on Coal with whom I vehemently disagree," Cavanaugh said.  "Anyone who looks with an unbiased eye will agree that this has been the most open and transparent process in the history of the Alabama Public Service Commission."
Breaking down the six amendments on Alabama's November ballot
What do the six proposed amendments on Alabama's November ballot do? We answer your questions here.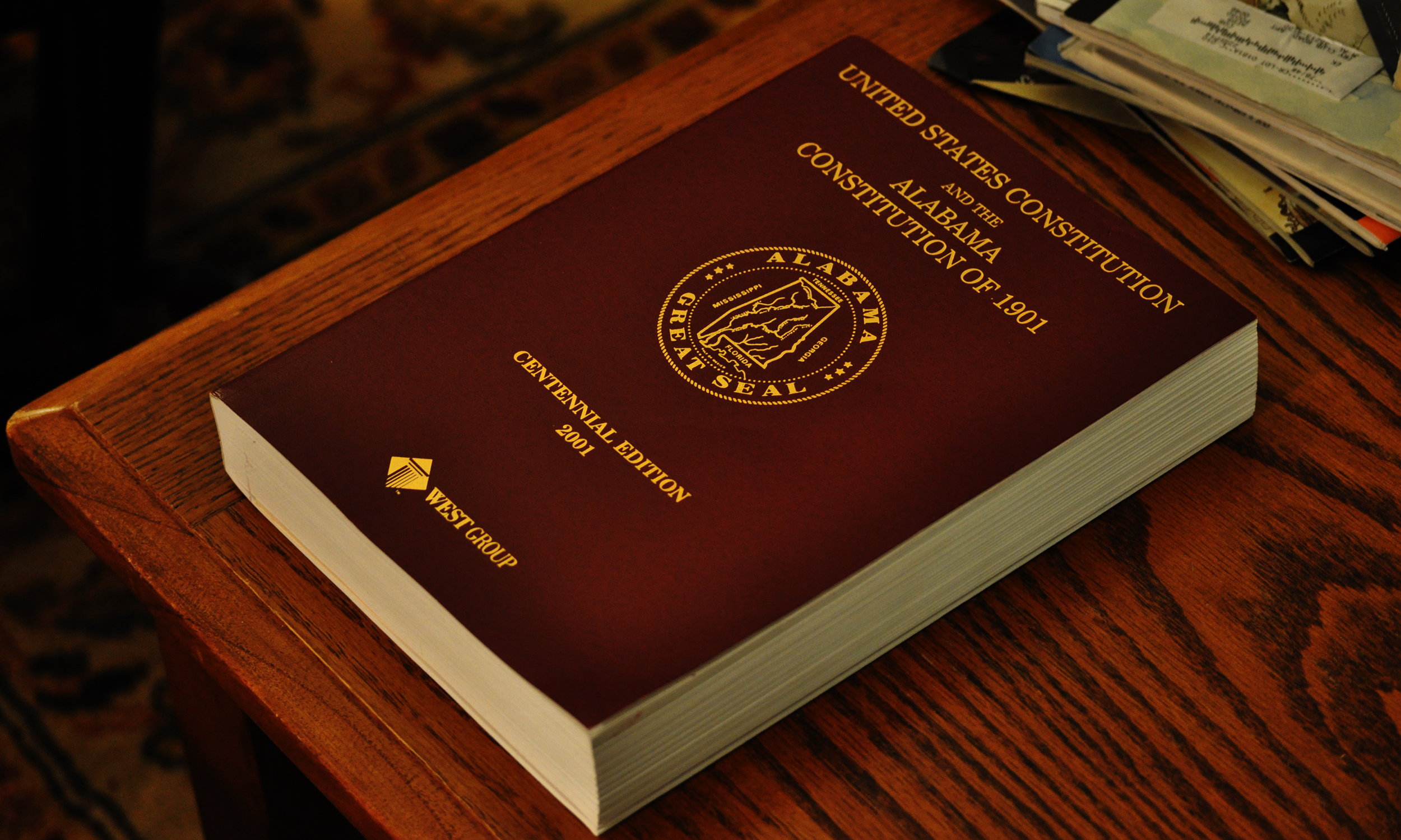 Alabama voters in the Nov. 3 election will have to decide on whether to add six constitutional amendments to what is already believed to be the longest constitution in the world. 
If approved, three of the amendments won't actually make substantive changes to state law, however.
To be added to the constitution, the amendments must receive support from a majority of voters.

Amendment 1
Amendment 1 — sponsored by State Sen. Del Marsh, R-Anniston — would "grant the right to vote to 'only' those U.S. citizens who meet the requirements." 
If approved, the change in the state's constitution would be to replace wording that the constitution grants the right to vote for "every" U.S. citizen who meets the requirements, to it grants the right to vote for "only" those U.S. citizens who meet the requirements. 
The amendment makes no changes to state voting requirements, and it's already a federal requirement to be a U.S. citizen to vote. Marsh told WBRC that the amendment "sends a message to Washington." Opponents to Amendment 1 say it could make it easier for the GOP-controlled Legislature to restrict voting rights.

Amendment 2
Amendment 2 processes numerous changes to the state's judicial system, including a change that would allow Alabama Supreme Court, rather than the Chief Justice, to appoint the Administrative Director of Courts. 
The amendment would also increase the Judicial Inquiry Commission from nine members to 11 and would  allow Governor, rather than the Lieutenant Governor, to appoint a member of the Court of the Judiciary. 
If approved, it would also prevent automatic disqualification from holding public offices for a judge solely because a complaint was filed with the Judiciary Inquiry Commission. Additionally, it would provide that a judge can be removed from office only by the Court of the Judiciary.
Amendment 3
Amendment 3 would extend the time appointed district and circuit court judges serve. State law now mandates appointed judges serve one year, or until the end of the term of the judge whom they were appointed to replace, whichever is longer.  
The amendment would allow the appointed judge to serve two years before running to keep their judgeship in an election. 
Amendment 4
Amendment 4 would allow "a rearranged version of the state constitution" to be drafted to "remove racist language," "remove language that is repeated or no longer applies,"  "combine language related to economic development"  and "combine language that relates to the same county."
 The rearranged version of the state constitution would have to be drafted by the state Legislature in 2022, according to the amendment, and the new draft wouldn't become law until approved by a majority of voters.
Amendments 5 and 6
Amendments 5 and 6 relate to Franklin and Lauderdale counties only, and if approved, would add to the state constitution that "a person is not liable for using deadly physical force in self-defense or in the defense of another person on the premises of a church under certain conditions" in both of those counties. 
Alabama already has a "stand your ground" that applies to the use of deadly force in churches, however. 
Alabama Attorney General Steve Marshall in a Jan. 2 statement, following the West Freeway Church of Christ shooting in White Settlement, Texas, wrote that Alabama law "does not impose a duty to retreat from an attacker in any place in which one is lawfully present."