Alleged Corruption in Alabama Department of Education Exposed
By Brandon Moseley
Alabama Political Reporter
On Wednesday, Alabama Attorney General Luther Strange (R) announced that Dr. Deann K. Stone and her husband were both indicted on five counts of public corruption for her alleged mishandling of federal grant money while working as the Director of Federal Programs for the Alabama State Department of Education.
Attorney General Luther Strange said in a written statement, "Today, my office and the U.S. Department of Education's Office of Inspector General announced the arrest today of Dr. Deann K. Stone, the former Director of Federal Programs for the State Department of Education, and her husband on felony state ethics charges. I want to thank the Office of Inspector General for performing a thorough audit of the federal stimulus money intended to help struggling Alabama schools and for partnering with my office to investigate this matter. We will continue to work with local, state and federal law enforcement agencies to maximize our resources to more effectively combat crimes of public corruption."
Special Agent in Charge of the U.S. Department of Education Office of Inspector General (OIG) Southeastern Regional Office Yessyka Santana said,
"Today's action alleges that Dr. Stone and her husband abused their positions of trust for personal gain, and that is unacceptable. OIG will continue to aggressively pursue those who misappropriate education funds for their own purposes. America's students and taxpayers deserve nothing less."
An OIG audit of Alabama's use of 2010 federal stimulus grant money discovered a conflict of interest in how four of those grants which were intended to help failing schools were awarded. Authorities are alleging that Dr. Stone, age 50, used her position to award those dollars to school systems using Information Transport Solutions Inc. where her husband: Dave Stone, age 54 was employed.
Attorney General Strange's Special Prosecutions Division and federal agents and auditors with the U.S. States Department of Education's Office of Inspector General conducted the investigation into the allocation of $49,000,000 in federal grant money under the American Recovery and Reinvestment Act of 2009 for failing Alabama schools. A February 2012 OIG Audit Report discovered a conflict of interest.
A Montgomery County Special grand jury on Tuesday, August 20 delivered indictments on five counts against the Stones.
In count one Dr. Stone and her husband are charged with violating Alabama's state ethics law by using Dr. Stone's position to financially gain for themselves or Information Transport Solutions, Inc. grants for the Lowndes County School System.
Similarly, count 2 charges that the Wetumpka couple did that same in the award of a grant to the Marengo County School System.
Count 3 charges that Dr. Stone and Dave Stone again violating the state ethics law by intentionally using Dr. Stone's official position as Director of Federal Programs to obtain personal gain for themselves or Information Transport Solutions, Inc. through allocating grant money to the Coosa County School System.
In count number four, Dr. Deann Stone and Mr. Stone are charged with violating the state ethics law by using a state computer, a state email account, and Dr. Stone's time on her job and another state employee, as well as documents and/or materials created by state employees to benefit the Stones and/or Information Transport Solutions, Inc.
Count 5 charges the Stones with violating State Ethics law, "By intentionally soliciting or receiving meals, transportation, and hotel expenses in Boston, Massachusetts from Cambium Learning, Inc., for themselves for the purpose of influencing official action."
If convicted, both of the Stones could spend up to 20 years in prison and be fined up to $30,000 for each of the five counts in the indictment.
Strange thanked Special Prosecutions Chief Miles M. Hart, Deputy Attorney General Mike Duffy, Investigators in the Attorney General's Special Prosecutions Division, and Special Agents and Auditors of the United States Department of Education, Office of Inspector General for their work on this case.
The Stones have only been indicted and have not yet had a chance to defend themselves. An indictment does not necessarily mean that the accused are guilty. The state will still have to prove its charges to a jury.
Trump Truck and boat parades this weekend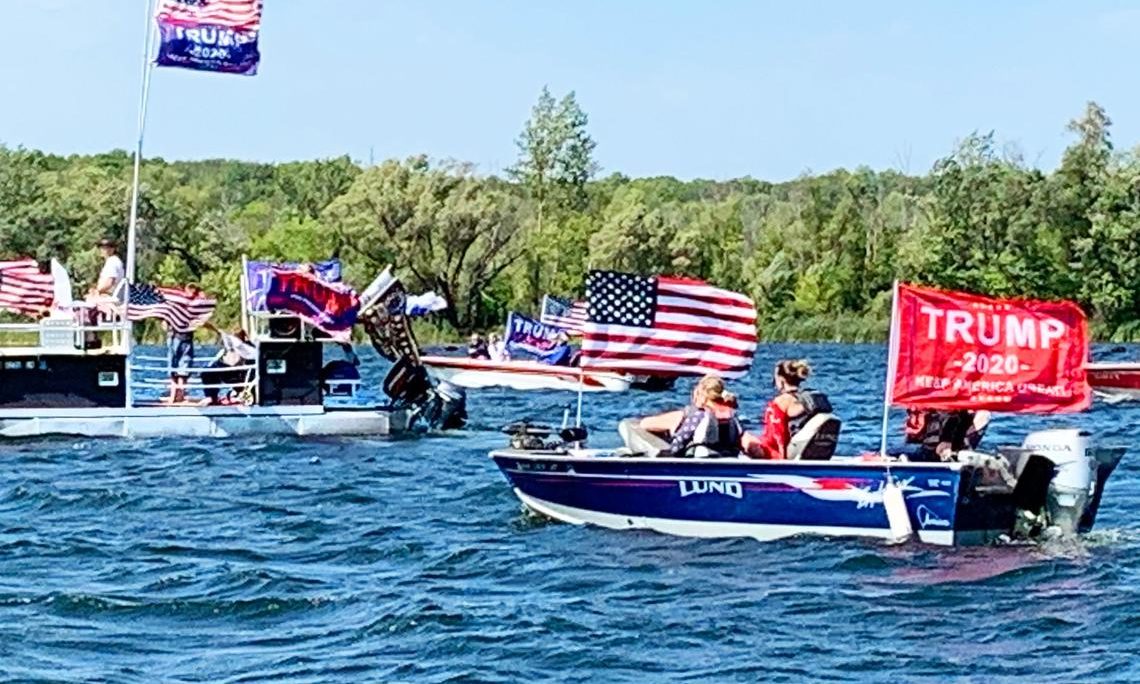 As Election Day draws near, Alabama Republicans are excited about promoting the re-election of Donald J. Trump as President and the election of Tommy Tuberville for U.S. Senate. This weekend two pro-President Trump events are happening in the state. There will be a truck parade from Ashland to Phenix City on Saturday sponsored by the Clay County Republican Party, while there will also be a boat parade on Wilson Lake in the Shoals sponsored by the Colbert County Republican Party on Sunday.
The pickup trucks will assemble at the Ashland Industrial Park in Clay County, 8240 Hwy 9, Ashland. There is a pre-departure rally at 10:00 a.m. central standard time. The trucks will depart at 11:00 a.m. and then proceed on a parade route that will take them into the bitterly contested swing state of Georgia. The Trump Pickup Parade will wind through east Alabama and West Georgia traveling through LaGrange and Columbus before concluding near the Alabama/Georgia line in Phenix City, 332 Woodland Drive, Phenix City at approximately 2:00 p.m. central time. Speakers will begin at 3:00. Trump flags will be on sale at the event.
The Phenix Motorsports Park will be hosting what sponsor hope could possibly the world's largest Pickup Tuck parade in U.S. history that is routing over 50 mile through Georgia in effort to "pickup" President Trump's numbers in GA.
A number dignitaries have been invited to address the Phenix City rally, including Coach Tuberville. Former State Sen. Shadrack McGill, Trump Victory Finance Committee member former State Rep. Perry O. Hooper Jr., and Paul Wellborn, the President and CEO of the largest Family owned Kitchen Cabinet manufacture in the USA are among the featured speakers who have committed to speak at the event.
Entertainment will be provided by: Charity Bowden, an up and coming country music singer who was the runner up on "The Voice". Charity will sing 'I am Proud to be an American' as well as songs from her Voice performances. The McGill Girls will also perform. The three beautiful and talented sisters will be singing patriotic songs in three part harmony. Geoff Carlisle, a professional DJ will be keeping the crowd pumped with music and entertainment.
Following the speakers and the entertainment there will Trump truck-vs- Joe Bidden truck races down the drag strip for the finale.
The Northwest Alabama boat parade will be on Sunday. The boats will gather at 2:00 p.m. near Turtle Point and then the flotilla will parade around the open waters of Wilson Lake til 3_00 p.m.. There will be a contest for best decorated Trump boats.
Trump supporters have held a number of large boat parades across the state to show their support for the re-election of Pres. Trump.
Boat parade sponsors say that this parade will be: pro-American, pro-law enforcement, pro-military.