Calhoun County Sheriff Amerson Switches to the Republican Party
By Brandon Moseley
Alabama Political Reporter
On Monday, Calhoun County Sheriff Larry Amerson became the newest elected Republican official in Alabama last night. The Calhoun County Republican Executive Committee voted unanimously to approve Amerson's switch and welcomed him to the Republican Party.
Alabama Republican Party Chairman Bill Armistead said in a written statement, "Sheriff Amerson is among an ever growing trend of conservative Democrats abandoning the left-leaning Alabama Democrat Party and joining the only conservative party in Alabama. On behalf of the Alabama Republican Party I want to welcome Sheriff Amerson into our party and wish him well in re-election campaign for Sheriff of Calhoun County. I know that Chairman Gene Howard has been working diligently with the sheriff on this switch and I commend Gene on the fine work he has done in Calhoun County in building the Republican Party. Sheriff Amerson is the ninth Democrat to switch parties in Calhoun County since the 2010 election cycle."
Calhoun County Republican Party Chairman Gene Howard said, "The Calhoun County Republican Party continues its growth trend. We welcome Larry and Lisa Amerson to the party as we prepare for the 2014 elections."
Chairman Armistead said, "Conservative Democrats from across the state have been switching their party affiliation to Republican and almost all of them are saying the same thing – the liberal Democrats do not represent their values. The party of traditional values and fiscal responsibility is the Republican Party and the voters in Calhoun County stand with us on the issues, not with President Obama or the Alabama Democrat Party which has not had a chairman in almost five months."
Chairman Armistead has focused on Sheriff and Probate Judge races since he has come to office to turn many counties which vote GOP at the national level into Republican controlled counties at the county courthouse level. This will help Republicans hold onto their super-majority in the state legislature when many of those first term Republican legislators seek re-election in 2014. Chairman Armistead however recently has warned about Democratic operatives running candidates in Republican Primaries.
"With Sheriff Amerson's announcement, the Alabama Republican Party has seen over 60 elected Democrats switch parties since the 2010 election. We invite all conservatives, whether they are Democrats or Independents, to join ranks with us at the Alabama Republican Party to work together for a better future for the next generation. However, as I have said in the past, if a Democrat office holder does not subscribe to our core conservative philosophy, and only wants to join the Republican Party just to enhance their election, they need not apply.
Sheriff Amerson has served as the Sheriff in Calhoun County for nearly 20 years. Amerson told the 'Anniston Star': "I'm certainly appreciative and pleased with the Calhoun County Republicans' decision…I'm looking forward to working with them."
Three mental health crisis centers coming to Mobile, Montgomery and Huntsville
"Today marks a culture change in Alabama for treatment of individuals with mental illness and substance use disorders," Mental Health Commissioner Lynn Beshear said.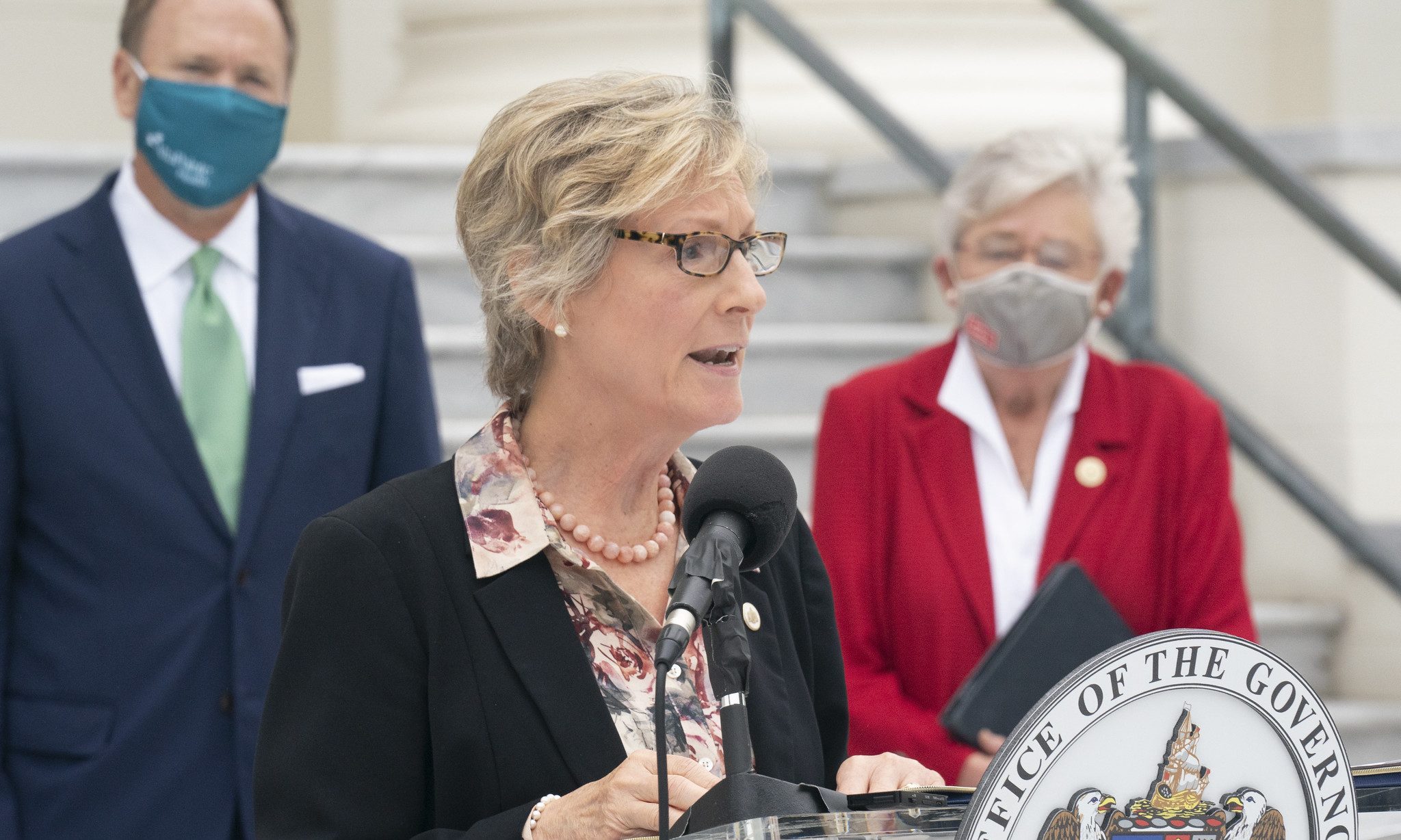 Gov. Kay Ivey on Wednesday announced an $18 million project to create three new mental health crisis centers to be located in Mobile, Montgomery and Huntsville. 
These centers, once in operation, will reduce the number of people suffering from mental health crises who are hospitalized or jailed, Ivey said during a press briefing in front of the Capitol Building in Montgomery. 
"When these facilities are open and fully staffed, these centers will become a safe haven for people facing mental health challenges," Ivey said. 
Lynn Beshear, commissioner of the Alabama Department of Mental Health, said during the briefing that the centers will provide "recovery based" care with "short term stays of a few hours, or up to a few days, to provide treatment, support, and connection to care in the community." 
"Today marks a culture change in Alabama for treatment of individuals with mental illness and substance use disorders," Beshear said. 
Beshear said AltaPointe Health in Mobile will operate one of the three facilities, and once built it is to serve Mobile, Baldwin, Clarke, Conecuh, Escambia, Monroe and Washington counties with 21 new beds, including 15 temporary observation beds. Altapointe will begin with a temporary space while constructing the new facilities, she said. 
Beshear said the Montgomery Area Mental Health Authority is partnering with the East Alabama Mental Health Authority and the Central Alabama Mental Health Authority to serve the 11 counties in Region 3 with 21 new beds, including 10 temporary observation and respite beds. 
"The regional crisis center will be located in Montgomery, and will be open to walk-ins and for drop off by law enforcement, first responders and referrals from emergency rooms," Beshear said. 
Wellstone Behavioral Health in Huntsville was selected to open the third center, and will do so at a temporary site while a new facility is being built, with the help of an additional $2.1 million from local governments, Beshear said. That facility will eventually have 39 beds, including 15 for temporary observation and 24 for extended observation.
"There's not a day that goes by that after-hours care is not an issue in our state," said Jeremy Blair, CEO of Wellstone Behavioral Health, speaking at the press conference. "And so I applaud the Department of Mental Health and the leaders for their efforts in recognizing that and taking it a step further and funding our efforts here." 
Asked by a reporter why a center wasn't located in Jefferson County, one of the most populous counties with a great need for such a center, Ivey said those residents will be served in one of the other regions. 
"Plans are underway to continue this effort. Today's beginning, with these three crisis centers, is just the beginning," Ivey said. 
Ivey added that request for proposals were sent out for these three centers and "it was a strong competition for the location of these three crisis centers." 
Alabama House Majority Leader Nathaniel Ledbetter, R-Rainsville, said during the briefing that more than a year ago, Ivey asked him what the state should be looking at, and that he replied "we're failing miserably in mental health."
Ledbetter said Ivey asked him to take on the challenge of correcting the state's response to mental health, and a team was created to do just that. 
"Working together, today's announcement will not only change Alabamians lives, but will help to save lives," Ledbetter said.