Aderholt Announces His Support for A Continuing Resolution Defunding Obamacare
By Brandon Moseley
Alabama Political Reporter
On Thursday Congressman Robert Aderholt (R) from Haleyville announced that he was supporting a controversial new plan to defund implementation of the unpopular Patient Protection and Affordable Care Act by passing a continuing resolution which would keep the government running; but would prohibit funding of the increasingly expensive and unpopular legislation, almost universally known as Obamacare.
Congressman Aderholt said,
"I stand in strong support of a continuing resolution that defunds Obamacare and offers the Senate and the Administration one more chance to finish our Appropriations bills in regular order. Aderholt said, "Obamacare is a train wreck. It's bad for American families, it's bad for small businesses, it's bad for doctors and hospitals and it's bad for our nation's economy."

The conservative congressman continued,
"Further, according to the Administration that wanted it, it's also not ready. Congress has a real opportunity to stop this train wreck and H.J.Res. 59 is the right way to do it. The House has voted nearly 40 times to repeal, replace, dismantle or defund all or portions of Obamacare. The House has done our job, it is time for the Senate to do theirs. Including language in the base text of short-term continuing resolution will force the Senate to finally address the issue and show American's where they stand."

Critics of the plan, being promoted by Senator Ted Cruz (R) from Texas argue that the Republicans are walking into a political trap set by the President. Senate Majority Harry Reid is unlikely to pass the continuing resolution (or even let it come to a vote in the Senate) with the language defunding Obamacare in it which would lead to a fall government shutdown.
The President and his legion of mainstream media allies would then blame Republican intransigence for the government shutdown, even though the House passed a continuing resolution which if passed by the Senate would keep the government funded.
Conservative supporters of the plan argue that Obamacare has already cost tens of thousands of Americans their healthcare coverage and has forced millions to pay higher premiums while also acting as a drag on the economic recovery so should be defunded regardless of the political ramifications.
Also this fall the Congress is going to have to raise the debt ceiling yet again since despite massive tax increases in January the country still has a massive deficit so there is also a pending showdown on the debt ceiling.
Congressman Robert Aderholt represents Alabama's Fourth Congressional District and is a member of the House Appropriations Committee.
Trump Truck and boat parades this weekend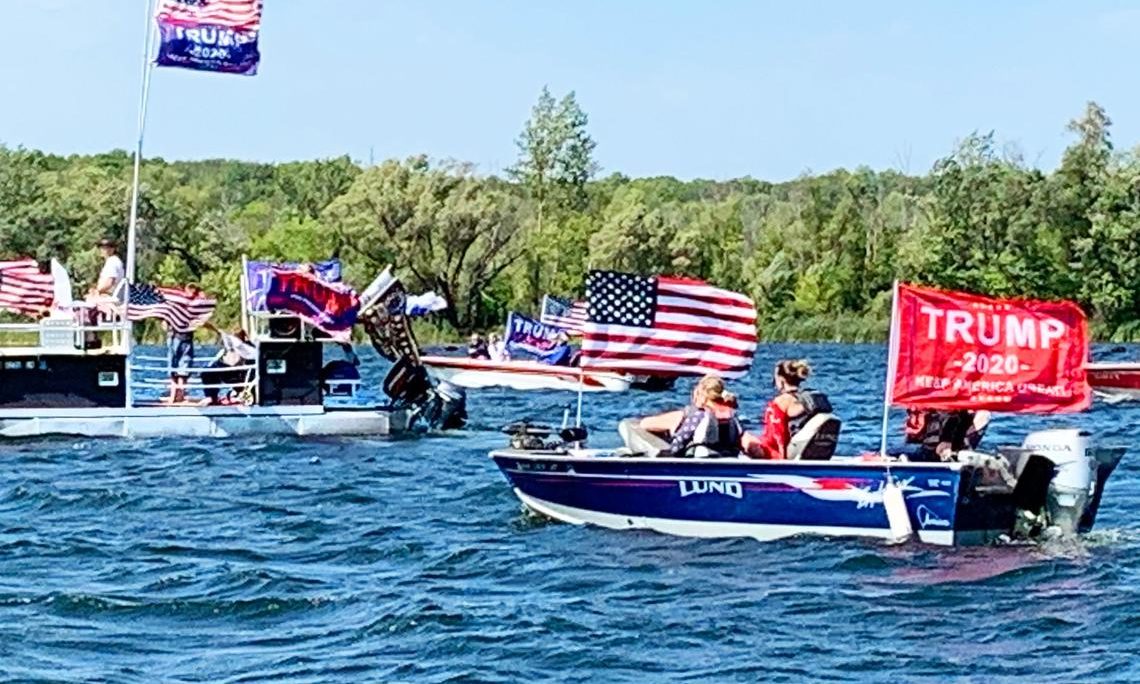 As Election Day draws near, Alabama Republicans are excited about promoting the re-election of Donald J. Trump as President and the election of Tommy Tuberville for U.S. Senate. This weekend two pro-President Trump events are happening in the state. There will be a truck parade from Ashland to Phenix City on Saturday sponsored by the Clay County Republican Party, while there will also be a boat parade on Wilson Lake in the Shoals sponsored by the Colbert County Republican Party on Sunday.
The pickup trucks will assemble at the Ashland Industrial Park in Clay County, 8240 Hwy 9, Ashland. There is a pre-departure rally at 10:00 a.m. central standard time. The trucks will depart at 11:00 a.m. and then proceed on a parade route that will take them into the bitterly contested swing state of Georgia. The Trump Pickup Parade will wind through east Alabama and West Georgia traveling through LaGrange and Columbus before concluding near the Alabama/Georgia line in Phenix City, 332 Woodland Drive, Phenix City at approximately 2:00 p.m. central time. Speakers will begin at 3:00. Trump flags will be on sale at the event.
The Phenix Motorsports Park will be hosting what sponsor hope could possibly the world's largest Pickup Tuck parade in U.S. history that is routing over 50 mile through Georgia in effort to "pickup" President Trump's numbers in GA.
A number dignitaries have been invited to address the Phenix City rally, including Coach Tuberville. Former State Sen. Shadrack McGill, Trump Victory Finance Committee member former State Rep. Perry O. Hooper Jr., and Paul Wellborn, the President and CEO of the largest Family owned Kitchen Cabinet manufacture in the USA are among the featured speakers who have committed to speak at the event.
Entertainment will be provided by: Charity Bowden, an up and coming country music singer who was the runner up on "The Voice". Charity will sing 'I am Proud to be an American' as well as songs from her Voice performances. The McGill Girls will also perform. The three beautiful and talented sisters will be singing patriotic songs in three part harmony. Geoff Carlisle, a professional DJ will be keeping the crowd pumped with music and entertainment.
Following the speakers and the entertainment there will Trump truck-vs- Joe Bidden truck races down the drag strip for the finale.
The Northwest Alabama boat parade will be on Sunday. The boats will gather at 2:00 p.m. near Turtle Point and then the flotilla will parade around the open waters of Wilson Lake til 3_00 p.m.. There will be a contest for best decorated Trump boats.
Trump supporters have held a number of large boat parades across the state to show their support for the re-election of Pres. Trump.
Boat parade sponsors say that this parade will be: pro-American, pro-law enforcement, pro-military.