Shelby Says that Obamacare is a Monumental Waste of Tax Dollars
By Brandon Moseley
Alabama Political Reporter
U.S. Senator Richard Shelby (R) from Alabama said on Wednesday that Obamacare is a job killer and a monumental waste of tax dollars and announced that he will oppose each of the upcoming votes pertaining to the FY2014 continuing resolution (CR) when they come before the Senate.
Sen. Shelby said, "Congress should fund the government at a level consistent with current law. Unfortunately, this bill blatantly violates clear spending limits in the Budget Control Act. I will therefore oppose it at all points in the legislative process."


Sen. Shelby added, "I will also firmly oppose any attempt to fund Obamacare. This law is a job killer that will destroy the most advanced and innovative health care system on earth. It is a monumental waste of taxpayer dollars. Our nation is $17 trillion in debt and millions of Americans remain out of work. To get our economy back on track, we must control spending and stop Obamacare. I reject this legislation because it will ultimately do neither."
When Democrats passed the Patient Protection and Affordable Care Act (Obamacare) back in 2010 most economic and forecasters believed that we would be well into a robust recovery and unemployment would be minimal. In a growing economy, employers could simply absorb the costs of complying with Obamacare and pass on those costs to their consumers. Unfortunately we are in year four of what has been largely a jobless recovery. It has been good for stock market investors; but fewer Americans are working than in 2009 and household income has been flat.
The Budget Control Act of 2011 mandates across-the-board sequestration if Congress spends above annual caps specified in the law. Shelby opposed the Budget Control Act of 2011 because he felt that Congress should set clear priorities and make difficult decisions to control spending, not rely on an indiscriminate and disruptive mechanism like sequestration. Sen. Shelby said that Congress must adhere to the spending caps to avoid sequestration. Paying for implementing the unpopular Obamacare Act will make that goal even harder.
Shelby opposed the original enactment of Obamacare in 2010 and has supported every effort to repeal, de-fund, delay, and minimize the plan.
The Republican controlled House sent the Senate a Continuing Resolution that keeps the government funded and operating but it does not fund the implementation of Obamacare. The Democrats however control the U.S. Senate and they are in the process of trying to pass a CR that does fund the unpopular healthcare law. On Monday Senator Ted Cruz (R) from Texas delayed the process slightly by talking for over 20 hours.
Senator Richard Shelby was elected to the Senate in 1986.
Trump Truck and boat parades this weekend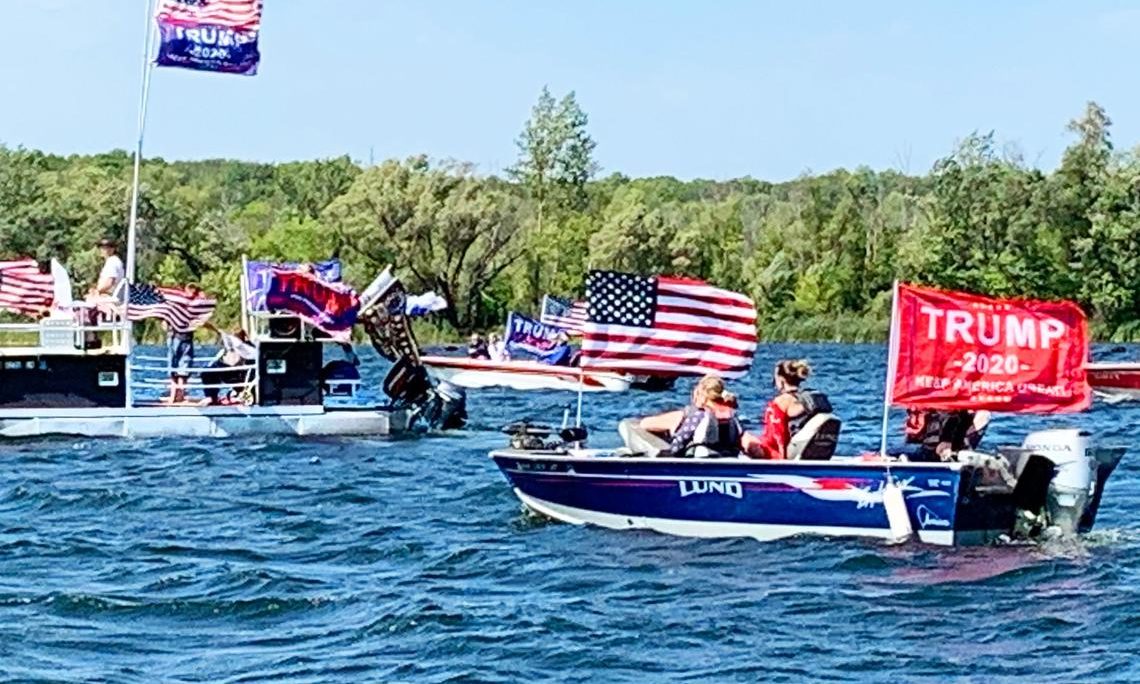 As Election Day draws near, Alabama Republicans are excited about promoting the re-election of Donald J. Trump as President and the election of Tommy Tuberville for U.S. Senate. This weekend two pro-President Trump events are happening in the state. There will be a truck parade from Ashland to Phenix City on Saturday sponsored by the Clay County Republican Party, while there will also be a boat parade on Wilson Lake in the Shoals sponsored by the Colbert County Republican Party on Sunday.
The pickup trucks will assemble at the Ashland Industrial Park in Clay County, 8240 Hwy 9, Ashland. There is a pre-departure rally at 10:00 a.m. central standard time. The trucks will depart at 11:00 a.m. and then proceed on a parade route that will take them into the bitterly contested swing state of Georgia. The Trump Pickup Parade will wind through east Alabama and West Georgia traveling through LaGrange and Columbus before concluding near the Alabama/Georgia line in Phenix City, 332 Woodland Drive, Phenix City at approximately 2:00 p.m. central time. Speakers will begin at 3:00. Trump flags will be on sale at the event.
The Phenix Motorsports Park will be hosting what sponsor hope could possibly the world's largest Pickup Tuck parade in U.S. history that is routing over 50 mile through Georgia in effort to "pickup" President Trump's numbers in GA.
A number dignitaries have been invited to address the Phenix City rally, including Coach Tuberville. Former State Sen. Shadrack McGill, Trump Victory Finance Committee member former State Rep. Perry O. Hooper Jr., and Paul Wellborn, the President and CEO of the largest Family owned Kitchen Cabinet manufacture in the USA are among the featured speakers who have committed to speak at the event.
Entertainment will be provided by: Charity Bowden, an up and coming country music singer who was the runner up on "The Voice". Charity will sing 'I am Proud to be an American' as well as songs from her Voice performances. The McGill Girls will also perform. The three beautiful and talented sisters will be singing patriotic songs in three part harmony. Geoff Carlisle, a professional DJ will be keeping the crowd pumped with music and entertainment.
Following the speakers and the entertainment there will Trump truck-vs- Joe Bidden truck races down the drag strip for the finale.
The Northwest Alabama boat parade will be on Sunday. The boats will gather at 2:00 p.m. near Turtle Point and then the flotilla will parade around the open waters of Wilson Lake til 3_00 p.m.. There will be a contest for best decorated Trump boats.
Trump supporters have held a number of large boat parades across the state to show their support for the re-election of Pres. Trump.
Boat parade sponsors say that this parade will be: pro-American, pro-law enforcement, pro-military.