Spencer Bachus Among Congressmen Who Force Open WWII Memorial
By Lee Hedgepeth
Alabama Political Reporter
After a ping-pong of legislative fights ended in a government shutdown Monday, all non-mandatory governmental spending was frozen. This includes sites managed by the National Parks system such as the Statue of Liberty, Yellowstone, and the Smithsonian complex.
Despite this, some of the sites that were slated to be "closed" on Monday, primarily the World War II Memorial, were forced to open by Republican members of the House of Representatives.
According to Representative Michele Bachmann of Iowa, she was on her morning run when she received word that several buses of veterans had arrived at the WWII Memorial to the sight of police tape and barricades, due to closure because of the shutdown.
Indeed, about a hundred and fifty veterans from both Iowa and Mississippi were attempting to visit the memorial as part of their scheduled Honor Flight.
Honor Flight is a program that allows veterans from around the country who might never otherwise get the chance, to fly to Washington D.C. to visit the memorial commemorating their brave actions in duty.
The veterans that arrived in the Capital Tuesday morning were in fact greeted by police tape and signs notifying the public of closing until continued government funding.
So, in full sweat suit, Michele Bachmann, along with "about eight to twelve" other members of Congress including Spencer Bachus of Vestavia Hills came "as quickly as they could" to use their "authority" to allow the veterans access to the memorial.
Representative Louie Gohmert of Texas, who notably sat in the Senate gallery during Ted Cruz's 'filibuster,' had the honor of using a pair of scissors to cut the police tape and allow the veterans entry.
In a statement confirming his presence at the event, Bachus said, "The America that I have known would have welcomed our WWII Veterans with open arms and spared no effort to make their tour of the monument as pleasant and honorable as possible. For them to be greeted by barricades is not the America that our forefathers left us."
Ironically, all GOP members of Congress confirmed to have attended the events at the memorial voted of late not to fund the government, which would have allowed the site to remain open, but to pass a continuing resolution that defunded a major portion of new, but mandatory government spending: that associated with the Patient Protection and Affordable Care Act.
In an interview given by Bachmann during the occurrence, she made clear that she was glad to do what she thought was right. She explained that while it was "Pure joy for them [the veterans]," there was "even greater joy for us [members of Congress]."
That may be even truer than she realizes. A volunteer for Honor Flight present Tuesday said that while the veterans were disappointed, they understood why the site was closed. He also said: "I don't think that the veterans would have opened the gates. They have more respect for the circumstances than normal tourists."
No matter what, though, according to the Representatives who attended, there will be members of Congress at the site every day until the government reopens to ensure veterans have the ability to see the memorial.
While a complete government funding resolution is not imminent, GOP House leadership has confirmed that they will begin voting for piecemeal funding bills starting later this week.
Three mental health crisis centers coming to Mobile, Montgomery and Huntsville
"Today marks a culture change in Alabama for treatment of individuals with mental illness and substance use disorders," Mental Health Commissioner Lynn Beshear said.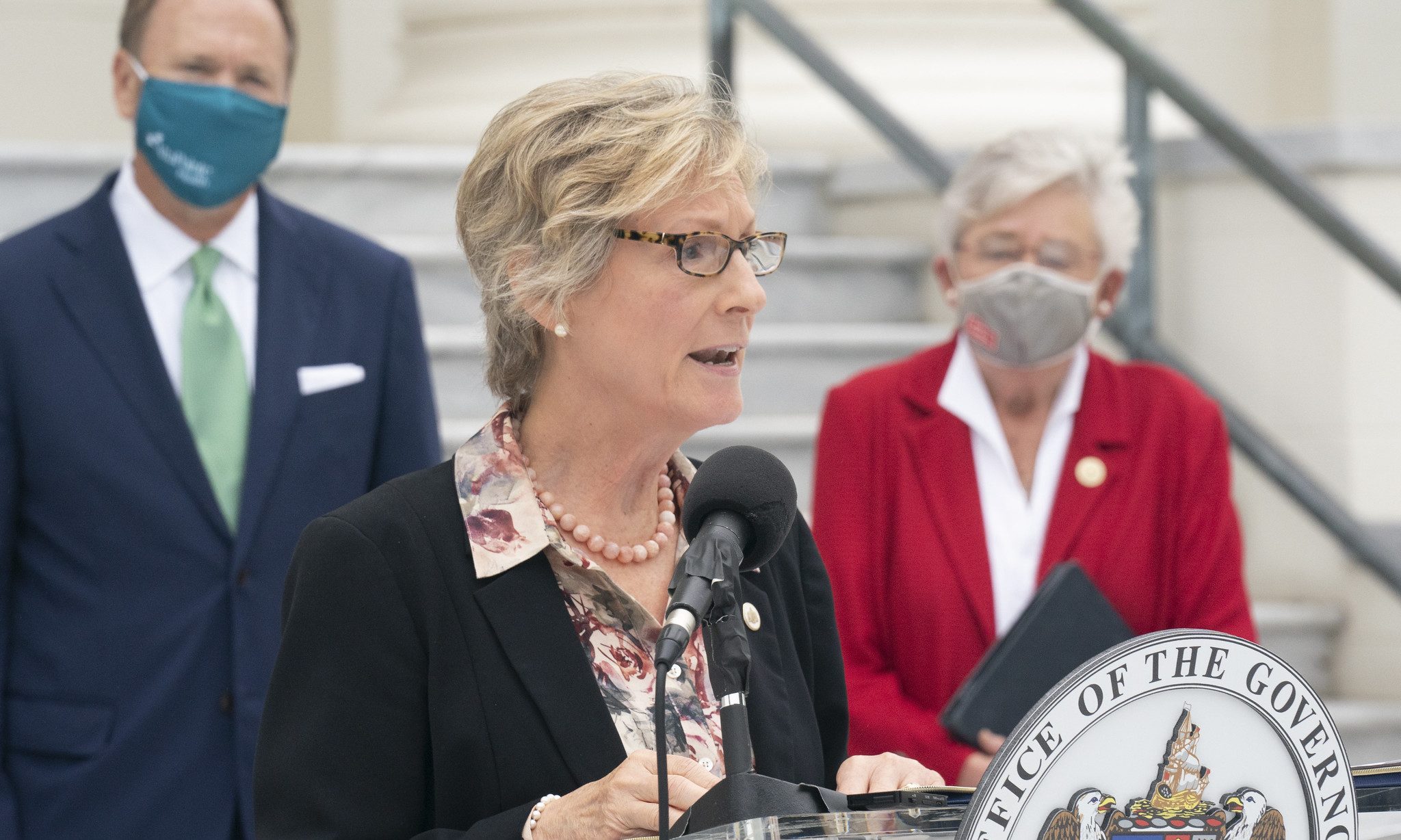 Gov. Kay Ivey on Wednesday announced an $18 million project to create three new mental health crisis centers to be located in Mobile, Montgomery and Huntsville. 
These centers, once in operation, will reduce the number of people suffering from mental health crises who are hospitalized or jailed, Ivey said during a press briefing in front of the Capitol Building in Montgomery. 
"When these facilities are open and fully staffed, these centers will become a safe haven for people facing mental health challenges," Ivey said. 
Lynn Beshear, commissioner of the Alabama Department of Mental Health, said during the briefing that the centers will provide "recovery based" care with "short term stays of a few hours, or up to a few days, to provide treatment, support, and connection to care in the community." 
"Today marks a culture change in Alabama for treatment of individuals with mental illness and substance use disorders," Beshear said. 
Beshear said AltaPointe Health in Mobile will operate one of the three facilities, and once built it is to serve Mobile, Baldwin, Clarke, Conecuh, Escambia, Monroe and Washington counties with 21 new beds, including 15 temporary observation beds. Altapointe will begin with a temporary space while constructing the new facilities, she said. 
Beshear said the Montgomery Area Mental Health Authority is partnering with the East Alabama Mental Health Authority and the Central Alabama Mental Health Authority to serve the 11 counties in Region 3 with 21 new beds, including 10 temporary observation and respite beds. 
"The regional crisis center will be located in Montgomery, and will be open to walk-ins and for drop off by law enforcement, first responders and referrals from emergency rooms," Beshear said. 
Wellstone Behavioral Health in Huntsville was selected to open the third center, and will do so at a temporary site while a new facility is being built, with the help of an additional $2.1 million from local governments, Beshear said. That facility will eventually have 39 beds, including 15 for temporary observation and 24 for extended observation.
"There's not a day that goes by that after-hours care is not an issue in our state," said Jeremy Blair, CEO of Wellstone Behavioral Health, speaking at the press conference. "And so I applaud the Department of Mental Health and the leaders for their efforts in recognizing that and taking it a step further and funding our efforts here." 
Asked by a reporter why a center wasn't located in Jefferson County, one of the most populous counties with a great need for such a center, Ivey said those residents will be served in one of the other regions. 
"Plans are underway to continue this effort. Today's beginning, with these three crisis centers, is just the beginning," Ivey said. 
Ivey added that request for proposals were sent out for these three centers and "it was a strong competition for the location of these three crisis centers." 
Alabama House Majority Leader Nathaniel Ledbetter, R-Rainsville, said during the briefing that more than a year ago, Ivey asked him what the state should be looking at, and that he replied "we're failing miserably in mental health."
Ledbetter said Ivey asked him to take on the challenge of correcting the state's response to mental health, and a team was created to do just that. 
"Working together, today's announcement will not only change Alabamians lives, but will help to save lives," Ledbetter said.