Sessions and Shelby Support Fair Trade Rules For Catfish
By Brandon Moseley
Alabama Political Reporter
U.S. Senators Jeff Sessions (R) and Richard Shelby (R) from Alabama were part of a bipartisan effort to encourage Senate negotiators on the House-Senate Farm Bill Conference Committee urging them to preserve the USDA's foreign catfish inspection program as they work on finalizing the Farm Bill.
After sending the letter, Sen. Sessions said, "I am going to fight for these jobs. Our catfish farmers should not be unfairly disadvantaged by foreign imports that skirt the rules. It is only right that foreign catfish producers comply with health and safety standards. All Americans benefit when we defend the legitimate interests of American workers on the world stage."
In the letter to the committee Sessions, Shelby and the other pro-catfish inspection Senators wrote, "As you continue working toward passage of the Farm Bill, we urge your continued support of the USDA Food Safety and Inspection Service (FSIS) Catfish Inspection Program authorized in the 2008 Farm Bill. This program is critical to the food safety of American consumers and we request that you oppose the provision included in the House farm bill which repeals the USDA catfish inspection program."
Senators Sessions, Shelby and their Senate allies wrote, "The reasons for implementing this program are just as real and present as they were when Congress rightly authorized the inspection program in 2008. FDA currently inspects U.S. catfish facilities. However, FDA inspects less than 2% of imported seafood, and government Import Refusal data, FDA Import Alerts, NOAA investigations and independent analysis continue to show banned drugs and chemicals in fish imported from Vietnam and China, placing American consumers at risk. Just recently, researchers in North Carolina discovered the use of Formaldehyde on fish imported from Vietnam, drawing more questions and concerns as to why FDA continues to fail in its inspection responsibilities. There is a clear concern with the lack of inspections of foreign catfish production facilities, as well as the lack of inspections of the foreign products when imported into the United States."
The letter continued, "Efforts to repeal the Catfish Inspection Program are premature and ill advised. Contrary to opposing views, USDA's catfish inspection program will not distort existing or future trade agreements. To say otherwise ignores the fact that USDA successfully conducts inspection programs for a number of commodities and livestock sectors. The program will require both domestic and international production to undergo the same rigorous health and safety standards. All catfish meeting those standards would reach the marketplace, whether domestic or imported. Scientific evidence and proper risk assessments, in line with international trade agreement requirements, clearly justify this needed program. Further, over 85% of the official comments in response to USDA's proposed rule on implementation support FSIS inspection of catfish using the broadest possible definition of both imported and domestic catfish and catfish-like products. This program will strengthen food safety standards for both domestic and imported catfish. If the 2008 law is implemented correctly, there will be no duplication whatsoever. Catfish inspection will occur solely at USDA."
The Senators letter concluded, "Our main priority should be the health and safety of American consumers. We ask you to oppose any efforts to repeal this program during conference negotiations."
Senators Shelby and Sessions were joined by Senator Mark Pryor, Senator Roger Wicker, Senator David Vitter, and Senator Mary Landrieu"
Over 5,800 people in Alabama are directly employed in jobs related to the catfish industry. This important Alabama industry generates more than $158 million for the Alabama economy, and more than 100 million pounds of catfish a year are produced by Alabama catfish farmers. Alabama fish farmers are forced to comply everyday with U.S. health, environmental, and consumer protection standards, while foreign catfish producers in China, Vietnam and other countries don't have to follow as stringent a regulatory burden, but they still export their fish to the United States. Most of the foreign fish fish and shrimp is imported to the U.S. frozen.
In 2008 Congress passed a farm bill that established a USDA inspection program for catfish requiring that all catfish sold in the U.S. whether raised in the U.S. or overseas be raised with the same safety and health standards.
In June the Senate passed a farm bill that kept in place the USDA inspection program for catfish. The version of the farm bill that was passed by the House would eliminate this inspection program before it even begins. Last week's letter encourages that lead Senate conferees insist on a final farm bill that includes the inspection program.
Sen. Sessions has accused the Vietnamese of dumping fish on the market which is unfair to domestic fish farmers. Other reports have accused foreign fish farmers of feeding the fish antibiotics that are banned in American fish. Other reports have accused the foreign fish farms of mislabeling other fish as catfish and have questioned the cleanliness of the river water used in foreign fish farming systems versus the pond water typically used in domestic fish farms.
Congress members Martha Roby (R) from Montgomery and Mike Rogers (R) from Saks are both conference committee appointees working on crafting the next farm bill.
Sen. Jeff Sessions was first elected in 1996. Sen. Richard Shelby was first elected to the Senate in 1986.
Opinion | Electing Tuberville could cost Alabama billions
If your conscience or decency isn't enough, vote your wallets.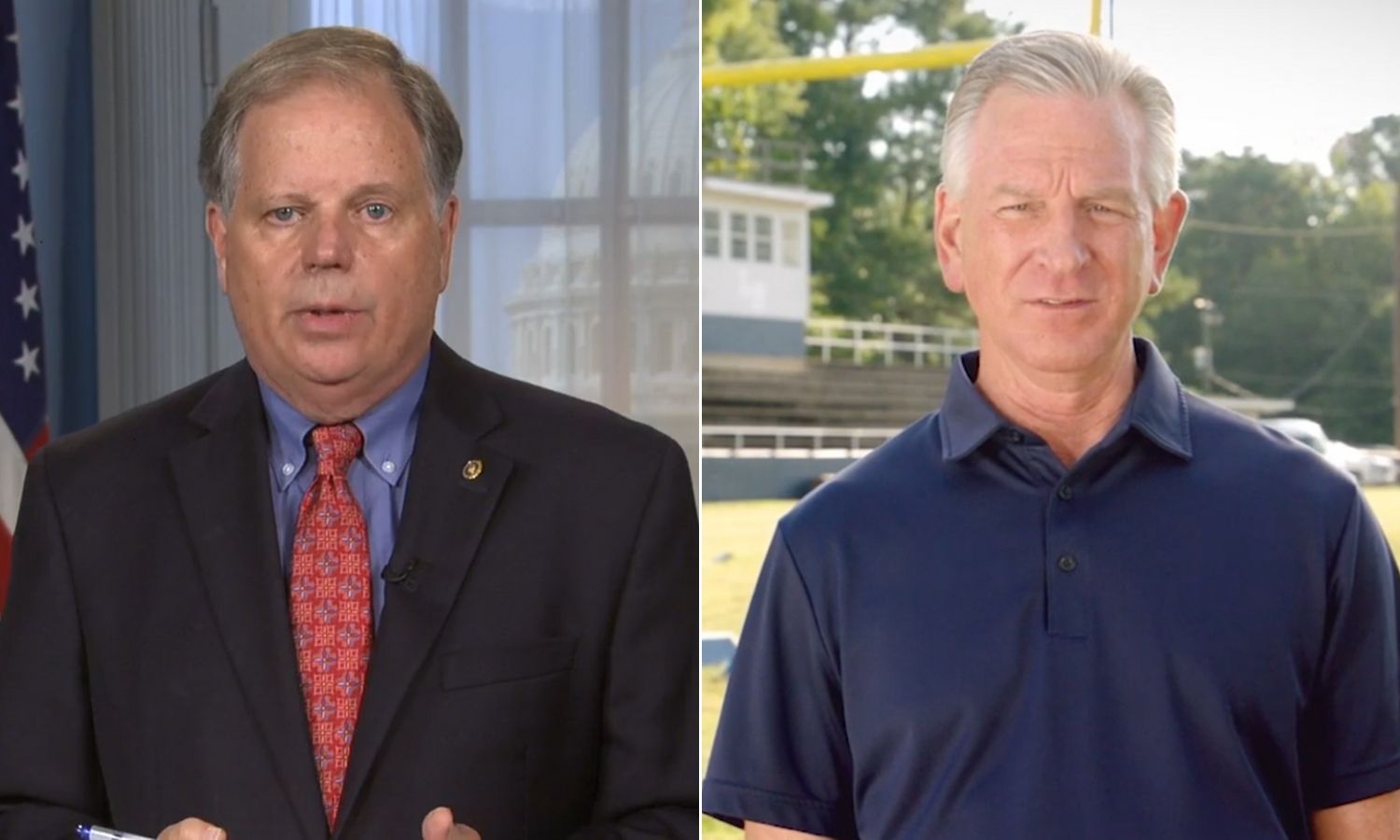 Money matters in Alabama. Oh, I know that we're not supposed to say that out loud. That we're supposed to promote our image of southern grace and hospitality, of churchiness and care, of rich people never getting into heaven. 
But the truth is greed is our biggest character flaw in this state. 
Every problem we have can be traced back to our unending thirst for dollars. Our ancestors didn't keep slaves because they hated black people. They did it because they loved money and the difference in skin color gave them an excuse — a really, really stupid excuse — to mistreat other humans to take advantage of the free labor. 
Our rivers and lakes and dirt aren't filled with poisons from factories because we're too dumb to understand how this works. They're that way because our politicians are paid off to turn a blind eye to the dumping of toxic waste. 
Our schools aren't terrible because we have dumb kids or bad teachers. It's because we're too cheap to pay for them. 
You see what I mean? It's our lust for the almighty dollar. Every time. 
We love money. 
Which makes me seriously wonder why so many people in this state are going to vote for a man who will cost us all — and especially our biggest businesses — so much of it. 
Tommy Tuberville will be like a money vacuum for Alabama. Billions of dollars will vanish for this welfare state that relies so much on federal contracts, federal programs and federal dollars. 
If you doubt this, don't simply take my word for it. Just Google up the press releases from Sen. Richard Shelby's office from the last, say, six years — the most recent span in which Republicans have controlled the Senate. 
Almost every single release is about Shelby securing millions or billions of dollars in federal funding for this project or that project, getting the state's share of dollars from a variety of different programs and initiatives implemented by Congress. 
Shelby and I obviously have different political viewpoints, but it's hard to argue that the man has been successful in securing money for Alabama. Lots and lots of money. 
Money for airports and roads. Money for defense contractors in Huntsville. Money for the port in Mobile. Money for car manufacturers. Money for farmers. 
Money. Money. Money. 
Shelby can do that because of three things: He's on the right committees, he's a member of the party in power and he's liked by the right people.
Tuberville will be none of those things. 
Most pundits are predicting that Democrats will take over the Senate, tipping the balance of power and giving the party control of both houses and the White House. 
That automatically means that a first-time senator in the opposition party will have little to no say in any decisions. 
But what's worse for Tuberville, and for Alabama, is that other Republicans don't like him either. 
Establishment Republicans essentially openly campaigned against Tuberville in the primary, tossing tens of millions of dollars behind his opponent, Jeff Sessions. They even favored third-place finisher Bradley Byrne over Tuberville. 
It's not hard to understand why — he's clueless. 
I know that's a Doug Jones talking point, but this one happens to be true. Let me give you an example: On Thursday, Tuberville tweeted out what was meant to be a shot at Jones, claiming that Alabama's current senator wouldn't meet with Trump's Supreme Court nominee because Jones knows "he won't have much time in the Senate to work with her."
If you're unaware, the Senate doesn't "work with" the Supreme Court. They're separate entities. 
Combine that with his other nonsensical answers on COVID relief, school reopenings, the Voting Rights Act, senate committee assignments, education, foreign affairs — really, the list is almost endless — and it shows how little work he's put in over the last two years to understand this job he's applying for. 
Now, that might be just fine with Alabama voters who care more about the party affiliation and owning the libs, but it's not OK with grownups who take the job of running the country seriously. 
And those people — both Rs and Ds — don't like Tuberville or his here-for-an-easy-check-like-always approach to one of the most serious jobs in the world. 
He will be frozen out of the most sought after committee assignments. His voice will carry zero weight. His presence will be all but forgotten. 
And in the process, so will Alabama. Especially in two years, when Shelby retires and his senior status is lost. 
In the meantime, Jones is highly respected by senators on both sides of the aisle. He already has a presence on top committees, and is so well liked within the Democratic Party that he's on the short list to be Joe Biden's AG, should he not be re-elected. 
The choice seems pretty simple. On the one hand is a competent, prepared and serious statesman who knows how to maneuver his colleagues to get the most for the state. On the other hand is an unprepared, uncaring, lazy carpetbagger who doesn't understand any process. 
If your conscience or decency isn't enough, vote your wallets.