Sewell Remains Committed to the Affordable Care Act
By Brandon Moseley
Alabama Political Reporter
Congresswoman Terri A. Sewell (D) from Selma announced in a statement last week that she remains committed to the Patient Protection and Affordable Care Act, popularly called Obamacare, and is supportive of President Obama's Plan to allow persons with non-compliant health care insurance policies keep their polices for another 12 months.
Rep. Sewell said,
"I remain committed to the Affordable Care Act which is designed to provide access to health care for all Americans. While no law is perfect, I believe it is imperative that we provide access to healthcare for the 42 million Americans that are uninsured. I am encouraged by the President's efforts to honor his promise to ensure that individuals keep their current plans while giving them one year to evaluate better coverage options under the Affordable Care Act. I hope that those individuals that have plans with insufficient coverage will take this year to evaluate alternative plans that may in fact be better. It is my hope that the Administration continues to make the regulatory changes necessary to improve the Affordable Care Act so that it works for all insured and uninsured Americans."
Rep. Sewell explained,
"I voted against H.R.3350 (the bill sponsored by Rep. Fred Upton) because it is yet another attempt to repeal the Affordable Care Act. Rather than working together to improve this law, this bill seeks to unravel the protections and securities provided to the American people through the ACA.  This bill puts insurance companies back in charge of our health care which could allow them to continue discriminating against people with pre-existing conditions and forcing women to pay more than men for the same coverage. We need to work together to improve the unintended consequences of the Affordable Care Act rather than dismantle it."
The rest of the Alabama Congressional delegation, all Republicans, voted for the Keep Your Health Plan Act.
On Wednesday, Blue Cross Blue Shield of Alabama announced that they would not be participating in the President's proposed one year extension of non-compliant policies.
Alabama Blue Cross Blue Shield's Koko Mackin said, "A one-year continuation of policies that violates the ACA's requirements could create significant legal and financial risks to our policyholders, the state and our company."
The controversial Patient Protection and Affordable Care Act of 2010 (often referred to as Obamacare), gave the U.S. Health and Humans Services Department (HHS) massive new powers over the American healthcare insurance industry.
The law forces all Americans to buy coverage or face higher taxes and eliminates: pre-existing conditions, high risk pools, preferred rates for Americans who watch their weight and have good health histories, and forces insurers to offer expensive benefit laden policies while punishing healthcare insurers and providers with new taxes and regulations.
The result has been, in much of the country, higher rates and millions of Americans losing their healthcare insurance when insurers shut down old policies that do not comply with the very restrictive HHS standards.  The government will subsidize much of the cost of the new insurance for low income Americans, but already strapped middle class Americans are finding that the new coverage costs more than the payment on a new car.  According to the Kaiser Family Foundation the cost of the average employer provided family coverage has risen from $13,770 in 2010 to $16,351 in 2013.
After one month of signups, only 664 people in Alabama were able to successfully sign up for PPACA compliant policies, while nearly 90,000 Alabamians have lost coverage under the controversial healthcare reform act.
Congresswoman Terri A. Sewell represents Alabama's Seventh Congressional District.  Sewell was not in the Congress when the PPACA was passed; but every Alabamian in the Congress, including her predecessor (Rep. Artur Davis (D) from Selma) voted against the controversial law.  Congressman Davis who was President Obama's Alabama campaign manager in 2008 has since left the Democratic Party, endorsed Mitt Romney in 2012, moved to Virginia, and became a Republican.
Trump Truck and boat parades this weekend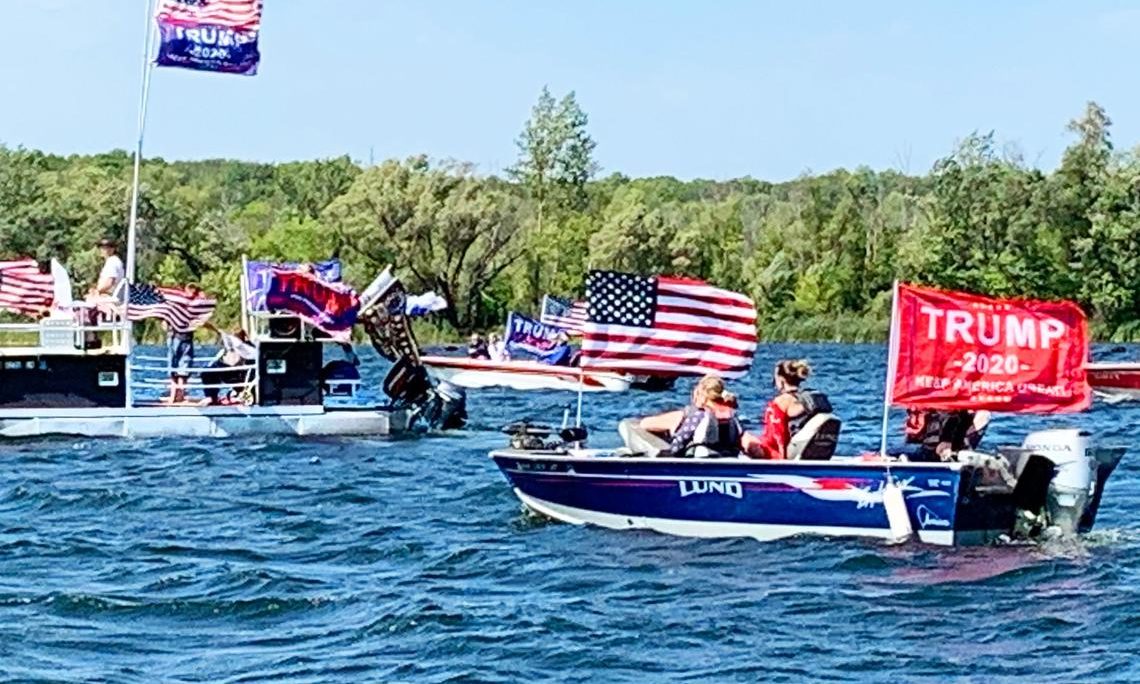 As Election Day draws near, Alabama Republicans are excited about promoting the re-election of Donald J. Trump as President and the election of Tommy Tuberville for U.S. Senate. This weekend two pro-President Trump events are happening in the state. There will be a truck parade from Ashland to Phenix City on Saturday sponsored by the Clay County Republican Party, while there will also be a boat parade on Wilson Lake in the Shoals sponsored by the Colbert County Republican Party on Sunday.
The pickup trucks will assemble at the Ashland Industrial Park in Clay County, 8240 Hwy 9, Ashland. There is a pre-departure rally at 10:00 a.m. central standard time. The trucks will depart at 11:00 a.m. and then proceed on a parade route that will take them into the bitterly contested swing state of Georgia. The Trump Pickup Parade will wind through east Alabama and West Georgia traveling through LaGrange and Columbus before concluding near the Alabama/Georgia line in Phenix City, 332 Woodland Drive, Phenix City at approximately 2:00 p.m. central time. Speakers will begin at 3:00. Trump flags will be on sale at the event.
The Phenix Motorsports Park will be hosting what sponsor hope could possibly the world's largest Pickup Tuck parade in U.S. history that is routing over 50 mile through Georgia in effort to "pickup" President Trump's numbers in GA.
A number dignitaries have been invited to address the Phenix City rally, including Coach Tuberville. Former State Sen. Shadrack McGill, Trump Victory Finance Committee member former State Rep. Perry O. Hooper Jr., and Paul Wellborn, the President and CEO of the largest Family owned Kitchen Cabinet manufacture in the USA are among the featured speakers who have committed to speak at the event.
Entertainment will be provided by: Charity Bowden, an up and coming country music singer who was the runner up on "The Voice". Charity will sing 'I am Proud to be an American' as well as songs from her Voice performances. The McGill Girls will also perform. The three beautiful and talented sisters will be singing patriotic songs in three part harmony. Geoff Carlisle, a professional DJ will be keeping the crowd pumped with music and entertainment.
Following the speakers and the entertainment there will Trump truck-vs- Joe Bidden truck races down the drag strip for the finale.
The Northwest Alabama boat parade will be on Sunday. The boats will gather at 2:00 p.m. near Turtle Point and then the flotilla will parade around the open waters of Wilson Lake til 3_00 p.m.. There will be a contest for best decorated Trump boats.
Trump supporters have held a number of large boat parades across the state to show their support for the re-election of Pres. Trump.
Boat parade sponsors say that this parade will be: pro-American, pro-law enforcement, pro-military.