Wheeler Challenges Williams in HD47
By Brandon Moseley
Alabama Political Reporter
The Alabama House District 47 Republican Primary is already starting to get heated. Former Jefferson County Republican Party Chairman David Wheeler of Vestavia has been actively campaigning in House District 47, challenging Republican incumbent, Jack Williams also from Vestavia.
Former Chairman Wheeler said in a written statement, "I am proud and humbled by the amount of support I have been receiving this year. It will take a strong grassroots campaign to beat an 9 year incumbent and our campaign has been receiving the support to do just that."
Wheeler said, "Unlike my opponent, I will never support tax increases on the hard working families of Jefferson County. I also support term limits for our elected officials and am not a career politician like my opponent. I will be accessible to the residents of House District 47 and will be an advocate they can count on."
Wheeler's insurgent campaign has raised more than $34,000 and is among the leading non-incumbent fund raisers in 2013. Wheeler held a Meet and Greet on November 12th attended by over 100 supporters.
David Wheeler said, "I am proud to have support from people in the district and friends and family from around the county. My opponent is banking on Montgomery special interests to come to his aid. .The people I talk to are tired of Montgomery special interests selecting their legislators."
On his website, Wheeler said, "We need to work toward tax reform. I will never support raising new taxes on the hardworking families of Alabama. I believe government should live within its means. We need one budget instead of a general fund and education fund. And I favor un-earmarking of funds so the legislators have greater flexibility in tough budget years."
Wheeler said, "I am a strong proponent of protecting Property Rights. I believe that government should never infringe on private property through eminent domain."
On Illegal Immigration, Wheeler said, "I believe the border needs to be protected and national laws need to be enforced. I do not favor blanket amnesty for illegal immigrants."
According to the bio on his website, David W. Wheeler is a University of Montevallo trustee, Wheeler is a retired Alabama Power Company executive with 29 years of experience with the company. Wheeler went to Alabama Power in 1972 after graduating with a bachelor's degree in accounting from Montevallo. Wheeler also has a master's degree in business administration from Samford in 1976 and is a certified management accountant.
Wheeler retired from Alabama Power in 2001, as director of accounting, finance and regulatory services. Wheeler was the primary liaison with the Alabama Public Service Commission. From 1988–1993 he was based in Washington, D.C., as manager of federal affairs for Alabama Power. Between 1972–1988, Wheeler held various management and staff positions in the Accounting, Finance, Planning and Budgeting Departments of Alabama Power. Wheeler also spent three years as president of Vulcan Termite and Pest Control Inc.
David Wheeler is a past president of the Birmingham Jaycees, the Birmingham Jaycee Foundation and the Alabama Jaycees Life Member Association. He is a former member of the board of directors of the Birmingham Regional Chamber of Commerce and the Jefferson County Citizens Supervisory Committee.
Additionally, Wheeler is a past chairman of the Jefferson County Republican Party and is currently a member of the Jefferson County Republican Executive Committee, the Alabama Republican Party Executive Committee, and the Jefferson County Republican Steering Committee. Wheeler is also active in the Mid-Alabama Republican Club.
Wheeler is a past member of the Institute of Management Accountants, the Leadership Development Association, and the Business Council of Alabama where he served as a member of BCA's Progress PAC Regional Advisory Committee. Wheeler has been a member of national, state and county pest-control organizations and is a past member of the Greater Birmingham Association of Home Builders, the Birmingham Area Realtors®, and the Associated Builders and Contractors.
Wheeler is a member of All Saints Episcopal Church in Homewood and is active in the Hoover and Vestavia Chambers of Commerce. Wheeler is married to the former Diane Reeves, a native of Troy.
House District 47 is in Jefferson County and includes portions of Vestavia Hills and Hoover.
Trump Truck and boat parades this weekend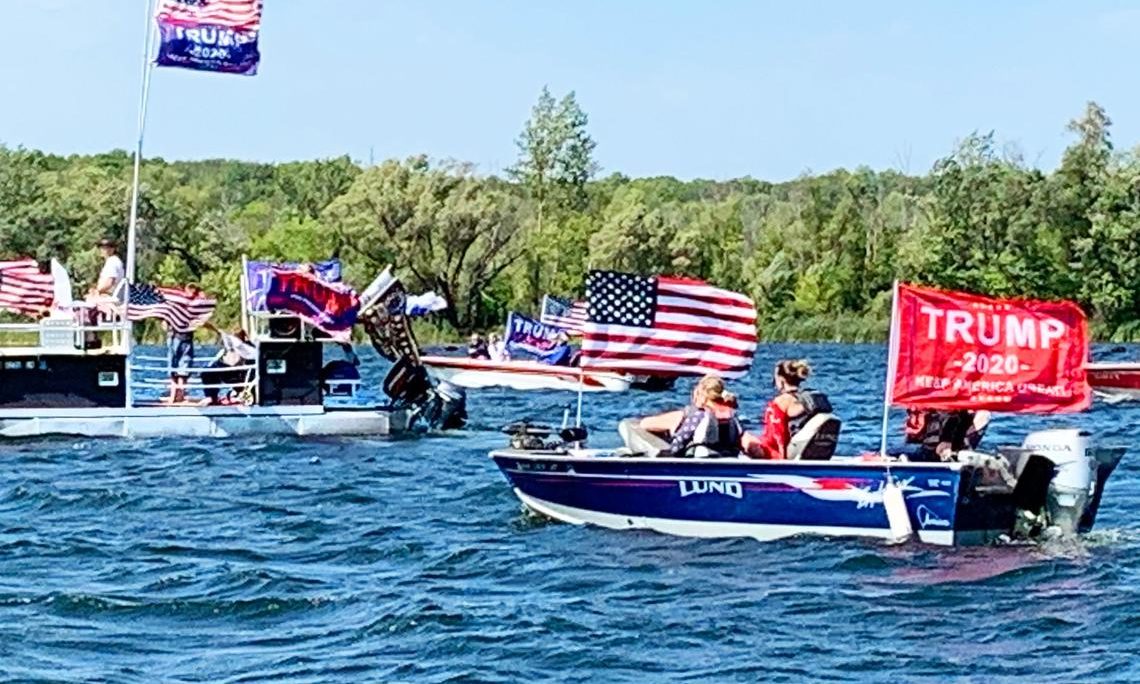 As Election Day draws near, Alabama Republicans are excited about promoting the re-election of Donald J. Trump as President and the election of Tommy Tuberville for U.S. Senate. This weekend two pro-President Trump events are happening in the state. There will be a truck parade from Ashland to Phenix City on Saturday sponsored by the Clay County Republican Party, while there will also be a boat parade on Wilson Lake in the Shoals sponsored by the Colbert County Republican Party on Sunday.
The pickup trucks will assemble at the Ashland Industrial Park in Clay County, 8240 Hwy 9, Ashland. There is a pre-departure rally at 10:00 a.m. central standard time. The trucks will depart at 11:00 a.m. and then proceed on a parade route that will take them into the bitterly contested swing state of Georgia. The Trump Pickup Parade will wind through east Alabama and West Georgia traveling through LaGrange and Columbus before concluding near the Alabama/Georgia line in Phenix City, 332 Woodland Drive, Phenix City at approximately 2:00 p.m. central time. Speakers will begin at 3:00. Trump flags will be on sale at the event.
The Phenix Motorsports Park will be hosting what sponsor hope could possibly the world's largest Pickup Tuck parade in U.S. history that is routing over 50 mile through Georgia in effort to "pickup" President Trump's numbers in GA.
A number dignitaries have been invited to address the Phenix City rally, including Coach Tuberville. Former State Sen. Shadrack McGill, Trump Victory Finance Committee member former State Rep. Perry O. Hooper Jr., and Paul Wellborn, the President and CEO of the largest Family owned Kitchen Cabinet manufacture in the USA are among the featured speakers who have committed to speak at the event.
Entertainment will be provided by: Charity Bowden, an up and coming country music singer who was the runner up on "The Voice". Charity will sing 'I am Proud to be an American' as well as songs from her Voice performances. The McGill Girls will also perform. The three beautiful and talented sisters will be singing patriotic songs in three part harmony. Geoff Carlisle, a professional DJ will be keeping the crowd pumped with music and entertainment.
Following the speakers and the entertainment there will Trump truck-vs- Joe Bidden truck races down the drag strip for the finale.
The Northwest Alabama boat parade will be on Sunday. The boats will gather at 2:00 p.m. near Turtle Point and then the flotilla will parade around the open waters of Wilson Lake til 3_00 p.m.. There will be a contest for best decorated Trump boats.
Trump supporters have held a number of large boat parades across the state to show their support for the re-election of Pres. Trump.
Boat parade sponsors say that this parade will be: pro-American, pro-law enforcement, pro-military.