Hunter Defends North Alabama Work Force
By Brandon Moseley
Alabama Political Reporter
The competition between states to land the Boeing 777x plant has become fierce. Part of competition is promoting the benefits of your state and sometimes competition sinks to tearing down the other states in the competition. Some of Alabama's competitors have reportedly attacked North Alabama workers, saying that the state's education system does not produce enough workers with the ability to learn the high skills needed to assemble jetlines for Boeing. State of Alabama School Board Mary Scott Hunter (R) defended North Alabama workers and schools in her latest column.
Mary Scott Hunter said, "Recent news about the proposed 777x suggests the North Alabama workforce is somehow unprepared to build airplanes. However, I can assuredly say that the focus of Education from PreK through the Community College level and beyond has been on preparing a skilled and technically competent workforce, and we are more than ready to meet any technical industry need."
Hunter said that, "Education stakeholders in North Alabama are the model of collaboration with our business and industry leaders. Example of this partnering are too numerous to name but include such career preparedness programs and initiatives as: BEST Robotics, Project Lead the Way, Dual Enrollment, AP coursework, Earn and Learn, Career Coaching, Work Keys, and the list goes on and on."
Hunter continued, "North Alabama has championed the Alabama College and Career Ready Standards which include the Common Core State Standards. Alabama is poised to maintain these high-bar standards, and companies like Boeing are understandably insistent on maintaining standards that raise the academic acumen of graduates."
Hunter has been heavily criticized by Republican leaders and conservative grassroots organizations for her stubborn support for the controversial common core standards. Many legislators have publicly announced their opposition to the state's schools adoption of the controversial nationwide school standards being promoted by the Obama administration. Supporters of the Alabama College and Career Ready Standards argue that they are necessary for the state to remain competitive with other states for projects like Boeing.
Hunter said that, "North Alabama has a workforce that is technically competent and available. Further, our background in other high tech areas such as automobile manufacturing, small electronics manufacturing, prototyping, engineering testing, and the like, gives our workforce the ready ability to make a vocational adjustment which easily fits with Boeing's need for workers who are skilled enough to build the 777x."
Hunter concluded, "I am privileged to govern twelve school systems, four community colleges, and Athens State University in my role as the District 8 Representative to the Alabama Board of Education. I know I speak for all the education leaders of District 8 when I assure that we will deliver on any workforce need that Boeing or other industry leaders have, and we have long been preparing for a time such as this."
Workforce development is an issue that is going to be heavily debated by Boeing officials as they review the proposals from the various states. Boeing will provide an estimated 8,500 highly paid jobs at the 777x plant, but most of those jobs require a high technical aptitude.
Opinion | Counting on good Neighbors
Even though Neighbors is likely a long shot, he's at least got a shot. The people of District 4 need to vote in their best interest this year, not to help Aderholt get richer off the taxpayers' hard-earned money.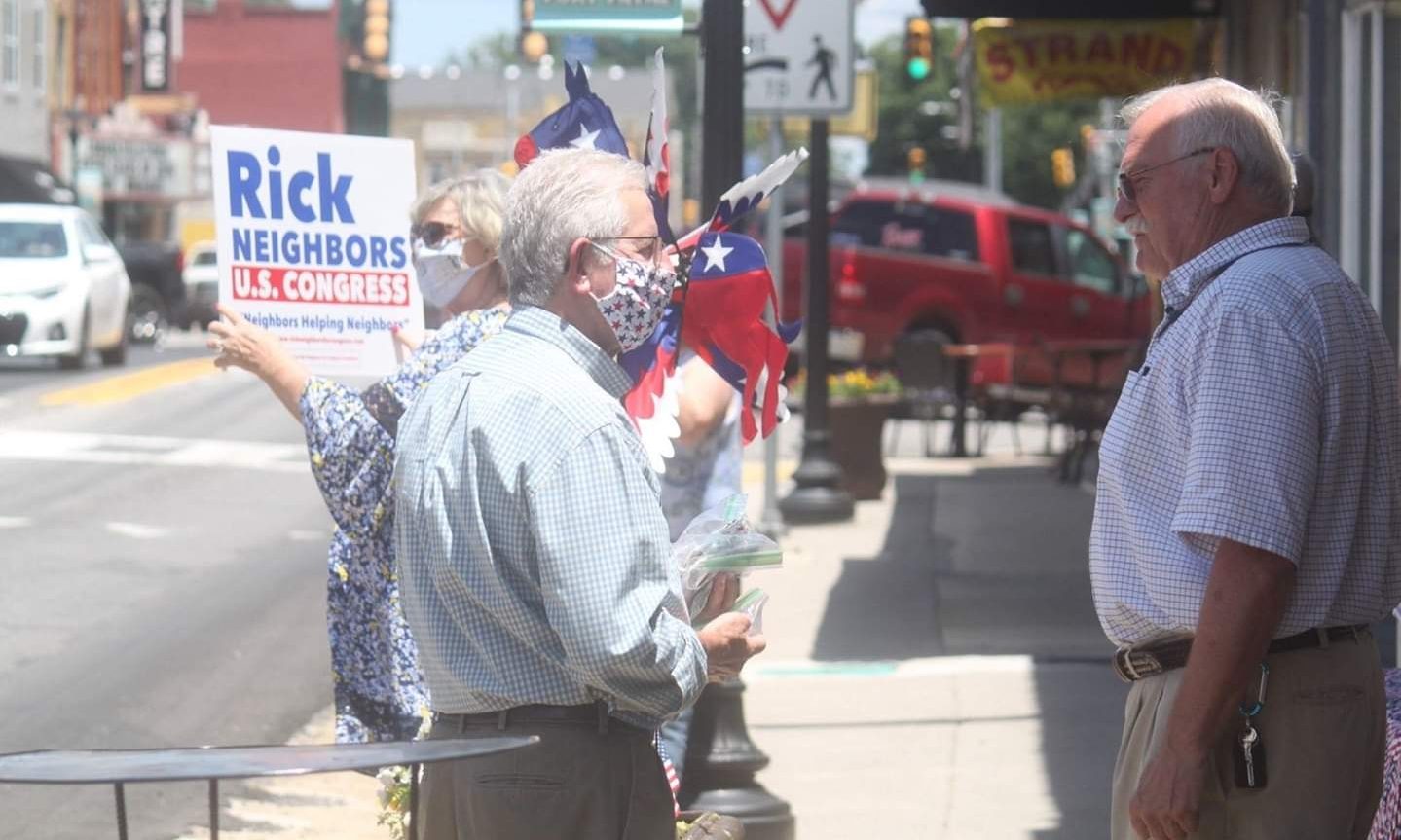 There's a lot of reasons we know it's an election year — political ads on television, presidential debates, Donald Trump super-spreader campaign rallies.
Editor's note
This is an opinion column and represents the opinion of its author. The Alabama Political Reporter does not endorse political candidates.
Oh, and Republican U.S. Rep. Robert Aderholt is back in his congressional district. Every couple years, Aderholt shows up. So he can "appear" connected to Alabama's 4th Congressional District.
The 4th Congressional District starts just north of Birmingham and stretches horizontally across the state. The district includes Colbert, Cullman, DeKalb, Etowah, Fayette, Franklin, Lamar, Lawrence, Marion, Marshall, Walker and Winston counties as well as parts of Blount, Cherokee, Jackson and Tuscaloosa counties.
Aderholt pops in for a few campaign events, and then pops out to his real residence in suburban Washington D.C. He's no more an Alabamian than Florida's Tommy Tuberville.
Aderholt does have opposition this year in Democratic nominee Rick Neighbors, a Vietnam veteran who truly helps his neighbors. Early in the pandemic, Neighbors was passing out masks door-to-door in the district. He's continued to help his neighbors throughout the pandemic with anything he can do.
"Being in Congress means being here and working with the people," Neighbors says on his website. "In 24 years, Rob Aderholt has left us behind to focus on his radical agenda and gotten rich in Congress."
That's from a campaign website, but it's absolutely true. Aderholt is still talking about expanding broadband access in his rural district. It's one of the few issues he talks about every two years, for 24 years, without ever getting anything done.
Seriously. Name something Aderholt has done for his district or Alabama in the more than two decades he's been in Congress. I won't hold my breath.
And if you don't think Neighbors's campaign isn't a little worrisome for Aderholt supporters, why are all the Neighbors signs disappearing from his district?
Adults, acting like sixth-graders, love to pull up political signs. Even in my comfortably Democratic neighborhood, some Doug Jones for Senate signs disappear. And, oddly in my neighborhood, I saw an actual Tommy Tuberville sign that had been pulled down in front of some misplaced person's yard. It happens on both sides.
But in the 4th Congressional District, and especially in the Cullman County area, it's hard for Neighbors and his staff to keep signs in place.
"Cullman has come down, and we have had to replace almost all our signs in Winston County," said Neighbors's campaign manager Lisa Ward. As for Winston County, Ward said, "we were told those are gone again."
Can anybody be more junior high?
"We've seen places where our sign was, and it's been replaced by Aderholt signs," Ward said. "When we put signs out, we leave his and put ours next to his. We joke and say everyone needs friendly neighbors around."
The Neighbors campaign does have the right spirit. They just work to replace the signs that disappear. But it is aggravating, to say the least.
"Someone told us that Aderholt is really worried if people find out he has an opponent or doesn't live here he could struggle," said Ward. "That's why he's not mentioning (Neighbors's) campaign. And why we think they're taking his signs down. So people don't know. It's really about people not getting a chance to know they have a choice. And there is no time to hear who he is."
Well, here's who he is: Neighbors served three tours in Vietnam during that war, enlisting when he was 17 years old. After the service, he got a college degree, then spent 35 years in the apparel business in North Alabama.
Neighbors and his wife, Judy, have three children, and Neighbors recently earned an MBA from the University of North Alabama.
Neighbors would be a breath of fresh air for Alabama in Washington. He won't live there. He'll be grounded in the 4th Congressional District.
If Aderholt wins, we won't see him again until 2022. Twenty-four years in Congress is plenty of time to get something done. But with Aderholt, there's not much to show for all that time.
And even though Neighbors is likely a long shot, he's at least got a shot. The people of the 4th District need to vote in their best interest this year, not to help Aderholt get richer off the taxpayers' hard-earned money.