With More Payday Lenders than McDonald's, Cities Take Action

By Lee Hedgepeth
Alabama Political Reporter
With recent statistics from both the Center for Responsible Lending and the Southern Poverty Law Center confirming that there are four times as many payday lending storefronts as there are McDonald's locations across our state, municipal legislators are taking notice, particularly in the wake of what many describe as all talk and no action on the part of the AL Legislature and Governor's Office.
Before and during the last state legislative session, lawmakers in Montgomery had been chattering about proposing legislation that would regulate what many see as predatory practices on the part of payday lenders in Alabama. Many lawmakers brought to light the behaviors they found questionable: yearly interest rates in extreme cases reached 456% and a $500 loan cost even the average borrow well over $1,000.
Despite this, the 2013 legislative session produced no regulation of the industry beyond what previously existed under a law passed in 2003, a bill which has had little to no enforcement.
As far as the Governor goes, Bentley announced earlier this year that he planned to work with the State Banking Department to more effectively enforce the 2003 payday lending regulations. The plan that the Governor rolled out, and which APR reported on extensively, involved implementing an industry-wide database of payday loans in hopes of curbing violations of the legal limit on the number of loans that can be issued to a consumer simultaneously. This move, however, prompted a law suit by several of the lenders, in which they claimed that Bentley's proposed database was not provided for by the 2003 law and was of his and the Banking Department's own invention.
The lenders in question, though, claim that they are not the issue, and that efforts to curb storefronts have already cost Alabama between 1200 and 2200 jobs. Max Wood of Borrow Smart, one of the several dozen companies involved in the suit, says that the problems come from online lenders, not from traditional locations. He also claims that proposals like the Governor's are "anti-consumer and anti-small business."
The loan database proffered by the State is scheduled to be implemented in January, if legal challenges do not prevent it. In light of this uncertainty, cities across Alabama have begun taking action in many ways.
APR has identified 15 municipalities which have passed some type of zoning or ordinance scheme to curb payday lending. While they range in scope and enforcability, most center around preventing what is described as "clustering," which occurs when various payday stores locate in one low income area. This type of ordinance usually works by barring new lenders from locating within a certain distance of an already established loan store.
The following is information on regulation in different cities across the state:
Midfield – One of the first municipalities with payday loan regulations, Midfield's ordinance prevents new lenders from locating within 2,000 feet of another lender; its law is the only one to have been challenged in court. Because it was upheld, it has become model for other cities.
Montgomery & Birmingham – Earlier this month, both cities extended a moratorium on all new payday loan business licenses until June 2014. While Montgomery has an ordinance based on Midfield's, Birmingham delayed a vote on a 2,000 feet rule until the moratorium expires.
Trussville – For the second time since 2011, the city extended its moratorium last July. It is sure to come up again on the city's agenda, as it is set to expire next month.
Irondale – A moratorium on business licenses expires later this month, but the city council has pledged to extend it
Helena – A six month license moratorium ends in February.
Eufaula – With the strictest rules by far, Eufaula requires adherence to the 2,000 feet rule as well as prohibiting loan stores from locating adjacent to schools or churches or within 250 feet of a residential area
Decatur – Perhaps voicing what the other cities may not want to directly say, while Decatur has no regulations, it passed a resolution asking for stricter oversight and regulation of payday lending stores from the Governor and the State Legislature.
Despite all of this seeming action against lenders, some say it is not enough. None of the ordinances mentioned above have any effect on current stores, and moratoriums on licenses are admittedly only a stopgap measure aimed at allowing more time for research and proposals.
There has also recently been some conflict of interest in legislating on the matter. Montgomery City Councilman Arch Lee recused himself from a vote on the issue earlier this month because of his position as a lobbyist for the payday loan industry. Many have also pointed to industry contributions to Senator Richard Shelby, who has called for the disbanning of the Consumer Financial Protection Bureau, a US government agency who held its first forum on payday lending in Birmingham because of its pertinence in the state.
Across the spectrum, though, proponents and opponents of payday loan store regulations have all eyes on the state government now, and as the new legislative session (and possible loan database use) begins in January, APR will have its eyes peeled, too.
Center Point, Athens, Tuscaloosa, Orange Beach, Gulf Shores, Northport, Gardendale, and Fairhope also have payday lending site regulations.
Alabama is one of twenty nine states in which there is no statewide regulation of payday lending storefronts.
Trump Truck and boat parades this weekend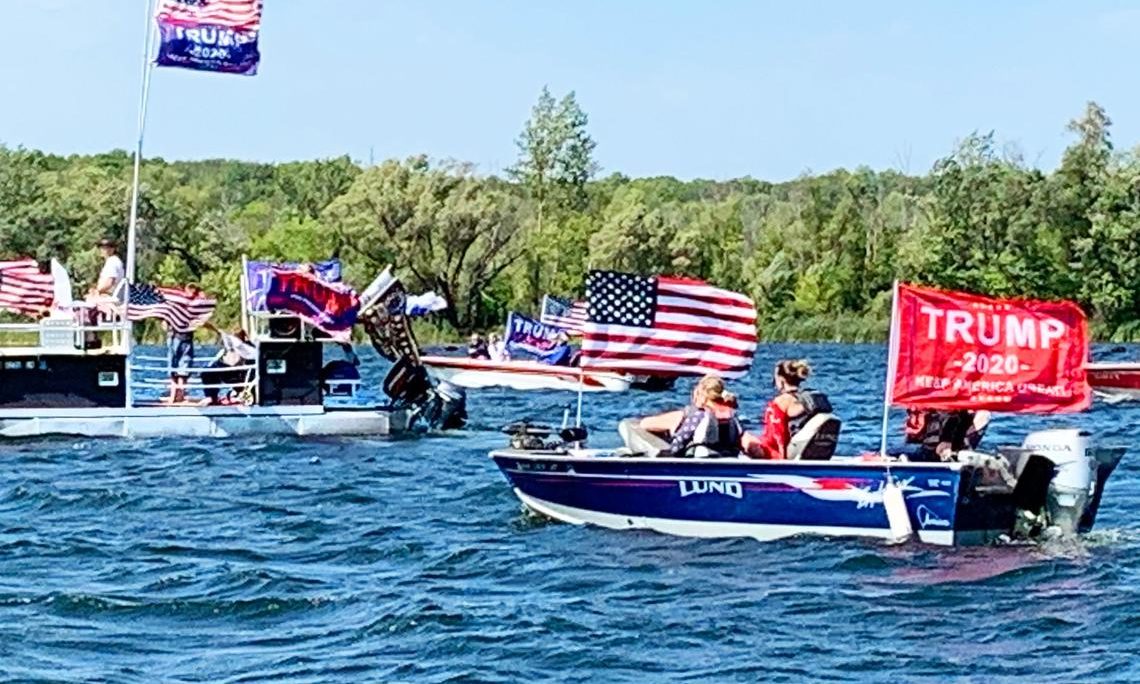 As Election Day draws near, Alabama Republicans are excited about promoting the re-election of Donald J. Trump as President and the election of Tommy Tuberville for U.S. Senate. This weekend two pro-President Trump events are happening in the state. There will be a truck parade from Ashland to Phenix City on Saturday sponsored by the Clay County Republican Party, while there will also be a boat parade on Wilson Lake in the Shoals sponsored by the Colbert County Republican Party on Sunday.
The pickup trucks will assemble at the Ashland Industrial Park in Clay County, 8240 Hwy 9, Ashland. There is a pre-departure rally at 10:00 a.m. central standard time. The trucks will depart at 11:00 a.m. and then proceed on a parade route that will take them into the bitterly contested swing state of Georgia. The Trump Pickup Parade will wind through east Alabama and West Georgia traveling through LaGrange and Columbus before concluding near the Alabama/Georgia line in Phenix City, 332 Woodland Drive, Phenix City at approximately 2:00 p.m. central time. Speakers will begin at 3:00. Trump flags will be on sale at the event.
The Phenix Motorsports Park will be hosting what sponsor hope could possibly the world's largest Pickup Tuck parade in U.S. history that is routing over 50 mile through Georgia in effort to "pickup" President Trump's numbers in GA.
A number dignitaries have been invited to address the Phenix City rally, including Coach Tuberville. Former State Sen. Shadrack McGill, Trump Victory Finance Committee member former State Rep. Perry O. Hooper Jr., and Paul Wellborn, the President and CEO of the largest Family owned Kitchen Cabinet manufacture in the USA are among the featured speakers who have committed to speak at the event.
Entertainment will be provided by: Charity Bowden, an up and coming country music singer who was the runner up on "The Voice". Charity will sing 'I am Proud to be an American' as well as songs from her Voice performances. The McGill Girls will also perform. The three beautiful and talented sisters will be singing patriotic songs in three part harmony. Geoff Carlisle, a professional DJ will be keeping the crowd pumped with music and entertainment.
Following the speakers and the entertainment there will Trump truck-vs- Joe Bidden truck races down the drag strip for the finale.
The Northwest Alabama boat parade will be on Sunday. The boats will gather at 2:00 p.m. near Turtle Point and then the flotilla will parade around the open waters of Wilson Lake til 3_00 p.m.. There will be a contest for best decorated Trump boats.
Trump supporters have held a number of large boat parades across the state to show their support for the re-election of Pres. Trump.
Boat parade sponsors say that this parade will be: pro-American, pro-law enforcement, pro-military.