Byrne Versus Leflore Election is Today
By Brandon Moseley
Alabama Political Reporter
Voters in Alabama's First Congressional District go to the polls today to decide who they want to represent them in the United States Congress.  Former State Senator Bradley Byrne (R) from Montrose is facing Burton Leflore for the office vacated by Representative Jo Bonner (R) from Mobile.  Tuesday's vote ends seven months of campaigning that has seen upwards of eleven candidates campaigning for the hearts and minds of the people of South Alabama.
Bradley Byrne said on Facebook that his campaign was receiving strong support and said, "We're working hard to turn out our voters for Election Day tomorrow."
Byrne said on his website, "There is little doubt our nation and our region face many challenges but we also enjoy abundant opportunities. I run for this office as a person who truly seeks real solutions to our problems and I am more than excited to have an opportunity. I intend to be a part of the effort to realize the promise of our nation and our area."
Burton Leflore said on Facebook, "I sincerely want to represent us here in Southern Alabama and not special interest groups in Washington… I promise I will work tirelessly for us and I will zealously represent us here in District 01."
Senator Byrne has been the favorite to win this race from the minute that he declared his candidacy, but the road to Congress has not been easy for the former head of the Alabama Two Year College System, state Senator, and State School Board member.  Byrne had to fight his way through an eight person Republican field to make the Special Republican Primary ballot and then his opponent: Roy Moore aide and Orange Beach builder and businessman, Dean Young, attacked Byrne relentlessly in a primary runoff battle that was reported on nationwide and beyond.
No Democrat has won a race in the First District of Alabama since John F. Kennedy was President; but Leflore has maintained that the district is ready for a change.  "I've been told everything from I am wasting my time to I am running a suicide mission but I think we have a chance," Leflore told the Alabama Press Register after announcing his campaign this past summer.  The Mobile realtor is the grandson of former state Representative and Civil Rights era leader, John Leflore.
Leflore previously ran unsuccessfully in state House District 97 as an independent.
Leflore needs a strong turnout by Democratic voters and he needs a strong showing from moderate swing voters who normally vote for Republicans to vote for him in the conservative south Alabama district.
Polls will open at 7:00 am and will close at 7:00 pm.
The rare congressional special election became necessary after incumbent Congressman Jo Bonner (R) from Mobile resigned in August to take a job with the University of Alabama System.  Rep. Bonner has endorsed Byrne.
The winner will have to face re-election next year.
Opinion | Counting on good Neighbors
Even though Neighbors is likely a long shot, he's at least got a shot. The people of District 4 need to vote in their best interest this year, not to help Aderholt get richer off the taxpayers' hard-earned money.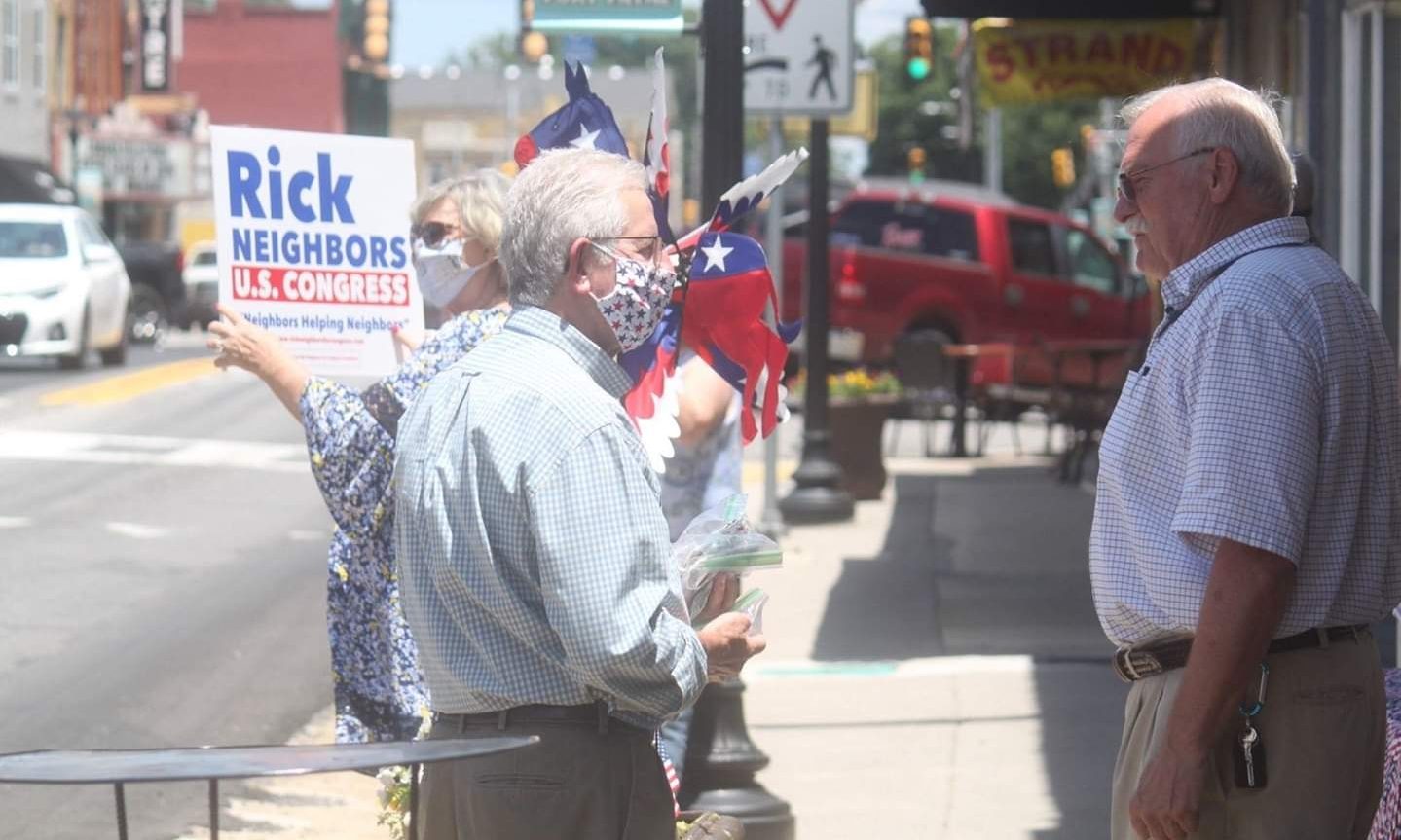 There's a lot of reasons we know it's an election year — political ads on television, presidential debates, Donald Trump super-spreader campaign rallies.
Editor's note
This is an opinion column and represents the opinion of its author. The Alabama Political Reporter does not endorse political candidates.
Oh, and Republican U.S. Rep. Robert Aderholt is back in his congressional district. Every couple years, Aderholt shows up. So he can "appear" connected to Alabama's 4th Congressional District.
The 4th Congressional District starts just north of Birmingham and stretches horizontally across the state. The district includes Colbert, Cullman, DeKalb, Etowah, Fayette, Franklin, Lamar, Lawrence, Marion, Marshall, Walker and Winston counties as well as parts of Blount, Cherokee, Jackson and Tuscaloosa counties.
Aderholt pops in for a few campaign events, and then pops out to his real residence in suburban Washington D.C. He's no more an Alabamian than Florida's Tommy Tuberville.
Aderholt does have opposition this year in Democratic nominee Rick Neighbors, a Vietnam veteran who truly helps his neighbors. Early in the pandemic, Neighbors was passing out masks door-to-door in the district. He's continued to help his neighbors throughout the pandemic with anything he can do.
"Being in Congress means being here and working with the people," Neighbors says on his website. "In 24 years, Rob Aderholt has left us behind to focus on his radical agenda and gotten rich in Congress."
That's from a campaign website, but it's absolutely true. Aderholt is still talking about expanding broadband access in his rural district. It's one of the few issues he talks about every two years, for 24 years, without ever getting anything done.
Seriously. Name something Aderholt has done for his district or Alabama in the more than two decades he's been in Congress. I won't hold my breath.
And if you don't think Neighbors's campaign isn't a little worrisome for Aderholt supporters, why are all the Neighbors signs disappearing from his district?
Adults, acting like sixth-graders, love to pull up political signs. Even in my comfortably Democratic neighborhood, some Doug Jones for Senate signs disappear. And, oddly in my neighborhood, I saw an actual Tommy Tuberville sign that had been pulled down in front of some misplaced person's yard. It happens on both sides.
But in the 4th Congressional District, and especially in the Cullman County area, it's hard for Neighbors and his staff to keep signs in place.
"Cullman has come down, and we have had to replace almost all our signs in Winston County," said Neighbors's campaign manager Lisa Ward. As for Winston County, Ward said, "we were told those are gone again."
Can anybody be more junior high?
"We've seen places where our sign was, and it's been replaced by Aderholt signs," Ward said. "When we put signs out, we leave his and put ours next to his. We joke and say everyone needs friendly neighbors around."
The Neighbors campaign does have the right spirit. They just work to replace the signs that disappear. But it is aggravating, to say the least.
"Someone told us that Aderholt is really worried if people find out he has an opponent or doesn't live here he could struggle," said Ward. "That's why he's not mentioning (Neighbors's) campaign. And why we think they're taking his signs down. So people don't know. It's really about people not getting a chance to know they have a choice. And there is no time to hear who he is."
Well, here's who he is: Neighbors served three tours in Vietnam during that war, enlisting when he was 17 years old. After the service, he got a college degree, then spent 35 years in the apparel business in North Alabama.
Neighbors and his wife, Judy, have three children, and Neighbors recently earned an MBA from the University of North Alabama.
Neighbors would be a breath of fresh air for Alabama in Washington. He won't live there. He'll be grounded in the 4th Congressional District.
If Aderholt wins, we won't see him again until 2022. Twenty-four years in Congress is plenty of time to get something done. But with Aderholt, there's not much to show for all that time.
And even though Neighbors is likely a long shot, he's at least got a shot. The people of the 4th District need to vote in their best interest this year, not to help Aderholt get richer off the taxpayers' hard-earned money.