Fielding in Nat'l News with Proposed Duck Dynasty Bill; Todd Reacts
By Lee Hedgepeth
Alabama Political Reporter
Duck Dynasty actor Phil Robertson has come under serious scrutiny for his recent comments involving African-Americans and the LGBT community, and the fight has made its way to the Alabama legislature, before the 2014 session even begins.
Robertson, in an article for GQ, said that a gay lifestyle is not only immoral, but also leads to bestiality. He also commented that African-Americans were "singing and happy" during slavery and before the modern day civil rights movement.
Jerry Fielding, a Republican State Senator from Sylacauga, has now entered in the public fight and is coming into National view as well, with MSNBC, Fox News, Politico and others all reporting on his move to prefile a resolution supporting Robertson. Below is the resolution's text:
"Whereas, renown[ed] entrepreneur, Louisiana outdoorsman, and reality television star Phil Robertson has positively impacted countless lives through the powerful testimony of his steadfast faith in Jesus Christ and how it has transformed his life; and Whereas Phil Robertson, along with his family … have served as ambassadors of the love and grace of the Heavenly Father … Whereas recently, Phil has received backlash for expressing his personal views on homosexuality that were based on scripture in the Bible in an interview with GQ Magazine; ultimately, the Arts and Entertainment Network (A&E) punished him for his beliefs and suspended him indefinitely from the reality television show, Duck Dynasty … Whereas a portion of the politically correct populous [sic], which strongly encourages tolerance and open-mindedness, is now contradicting themselves with extreme intolerance and close-mindedness towards Phil and his personal beliefs, which stem from his rock-solid Christian faith … Phil should not be penalized in any way for practicing freedom of speech, but should be celebrated as a hero for courageously revealing his self-truth and Christian ideals in a world that can be unkind towards those with a conservative mind-set … now therefore, Be it resolved by the Legislature of Alabama, both houses thereof concurring, that this chamber of persons stand united in support of Phil Robertson and his family, and in opposition to the A&E Network's deplorable action of suspending Phil indefinitely from Duck Dynasty for relaying his Christian beliefs."
With his comments sparking extensive debate around the state, House Representative Patricia Todd, the first openly gay elected official in Alabama, commented on the "non-issue" via social media:
"Can we please stop talking about this non-issue? Am I the only one that feels that way? I am sorry he feels that way and those who know me would not doubt how strongly I disagree with his beliefs. Strangely, it seems that some Conservatives are coming unglued with this and even exploiting it as an opportunity to hoist Robertson's opinion as civil law, worthy of legislative support. While I hold that everyone (even those with whom I disagree) has the right to practice their faith in any way they want and express their private religious beliefs, the fact is that Robertson had a business contract with a TV station that made a business decision. Ironic that Conservatives who want to reduce corporate regulations and let the market drive the economy are now seeking to invoke governmental authority in support of the King of Ducks."
An identical bill has not yet been prefiled in the State House. The bill is unlikely to receive bipartisan support, but with Republican super majority in both legislatures, it may not be necessary.
Three mental health crisis centers coming to Mobile, Montgomery and Huntsville
"Today marks a culture change in Alabama for treatment of individuals with mental illness and substance use disorders," Mental Health Commissioner Lynn Beshear said.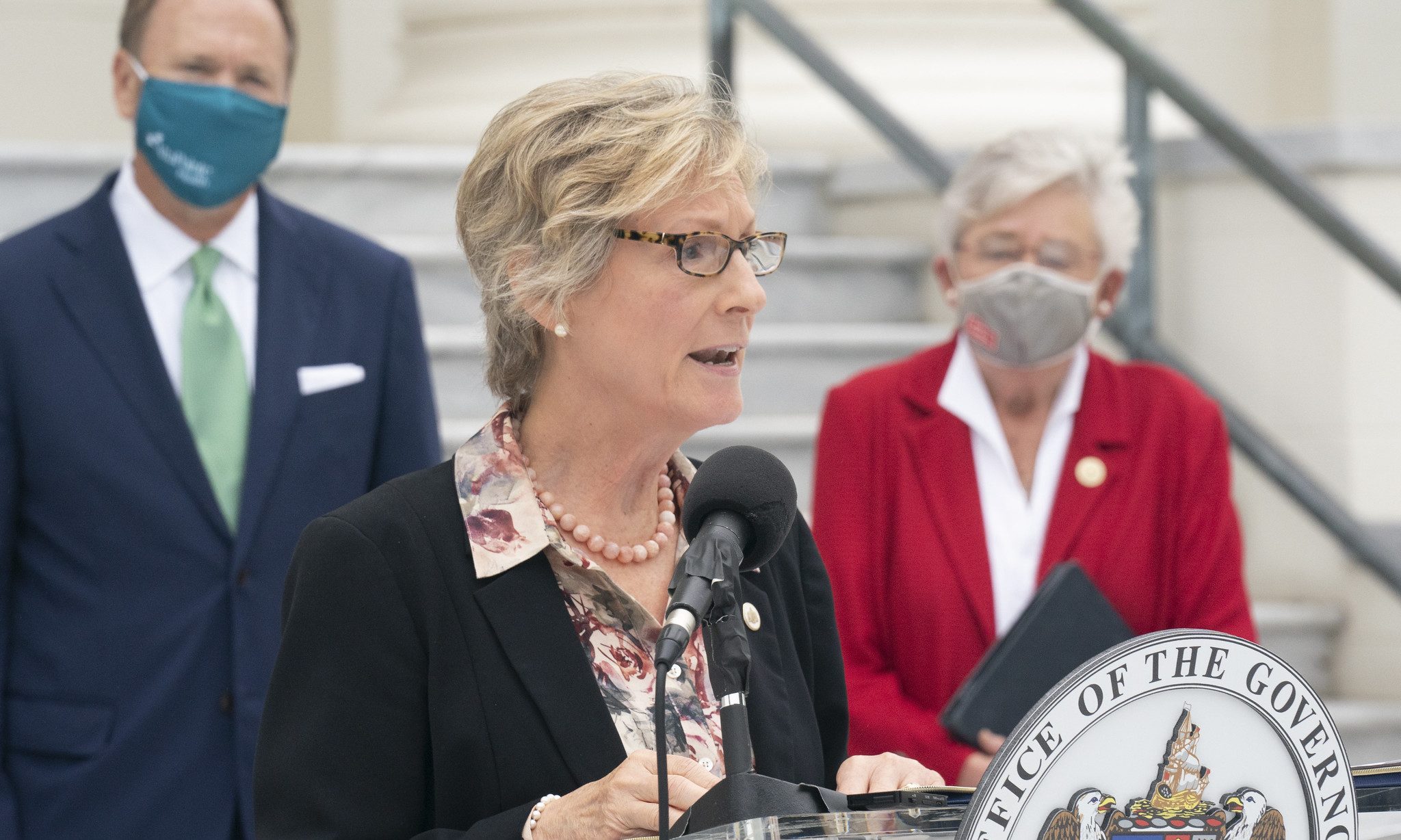 Gov. Kay Ivey on Wednesday announced an $18 million project to create three new mental health crisis centers to be located in Mobile, Montgomery and Huntsville. 
These centers, once in operation, will reduce the number of people suffering from mental health crises who are hospitalized or jailed, Ivey said during a press briefing in front of the Capitol Building in Montgomery. 
"When these facilities are open and fully staffed, these centers will become a safe haven for people facing mental health challenges," Ivey said. 
Lynn Beshear, commissioner of the Alabama Department of Mental Health, said during the briefing that the centers will provide "recovery based" care with "short term stays of a few hours, or up to a few days, to provide treatment, support, and connection to care in the community." 
"Today marks a culture change in Alabama for treatment of individuals with mental illness and substance use disorders," Beshear said. 
Beshear said AltaPointe Health in Mobile will operate one of the three facilities, and once built it is to serve Mobile, Baldwin, Clarke, Conecuh, Escambia, Monroe and Washington counties with 21 new beds, including 15 temporary observation beds. Altapointe will begin with a temporary space while constructing the new facilities, she said. 
Beshear said the Montgomery Area Mental Health Authority is partnering with the East Alabama Mental Health Authority and the Central Alabama Mental Health Authority to serve the 11 counties in Region 3 with 21 new beds, including 10 temporary observation and respite beds. 
"The regional crisis center will be located in Montgomery, and will be open to walk-ins and for drop off by law enforcement, first responders and referrals from emergency rooms," Beshear said. 
Wellstone Behavioral Health in Huntsville was selected to open the third center, and will do so at a temporary site while a new facility is being built, with the help of an additional $2.1 million from local governments, Beshear said. That facility will eventually have 39 beds, including 15 for temporary observation and 24 for extended observation.
"There's not a day that goes by that after-hours care is not an issue in our state," said Jeremy Blair, CEO of Wellstone Behavioral Health, speaking at the press conference. "And so I applaud the Department of Mental Health and the leaders for their efforts in recognizing that and taking it a step further and funding our efforts here." 
Asked by a reporter why a center wasn't located in Jefferson County, one of the most populous counties with a great need for such a center, Ivey said those residents will be served in one of the other regions. 
"Plans are underway to continue this effort. Today's beginning, with these three crisis centers, is just the beginning," Ivey said. 
Ivey added that request for proposals were sent out for these three centers and "it was a strong competition for the location of these three crisis centers." 
Alabama House Majority Leader Nathaniel Ledbetter, R-Rainsville, said during the briefing that more than a year ago, Ivey asked him what the state should be looking at, and that he replied "we're failing miserably in mental health."
Ledbetter said Ivey asked him to take on the challenge of correcting the state's response to mental health, and a team was created to do just that. 
"Working together, today's announcement will not only change Alabamians lives, but will help to save lives," Ledbetter said.