Dr. Marsden Runs as Democrat Against Clouse In House District 93
By Brandon Moseley
Alabama Political Reporter
Dr. Jennifer Marsden announced on Monday that she is running as a Democrat for Alabama House District 93.
The Newton Family doctor and Army Veteran said, "Too many of my patients- hardworking Alabamians and Veterans- are in a horrible situation when they get sick or injured: unable to afford proper medical care in the most advanced nation in the world. The problems with healthcare in Alabama are too big for me to solve in the doctor's office, so I decided to run for state office."
Dr. Marsden has a bachelor's degree from Harvard and a Medical degree from the University of Pittsburgh. Dr. Marsden is an internationally published board-certified Family Physician.
She served in the US Army for over 7 years, commanding two overseas detachments, and attained the rank of Major. Her military decorations include the Army Parachutist Badge and Meritorious Service Medal.
Dr. Marsden has worked providing medical care for military families in Texas, was the campus medical director at Pensacola Christian College, practiced in England for 3 years, cared for underprivileged Alabama residents and immigrant farm workers in Slocomb and most recently worked at the Wiregrass VA Clinic.
Dr. Marsden said, "We have to fix healthcare: the Affordable Care Act, with all its flaws, is at least some action after years of accepting the unacceptable. Our state's lack of support for the ACA and refusing the Medicaid Expansion are hurting us. Half our uninsured Veterans could get Medicaid coverage if we expand it."
Governor Robert Bentley (R) has steadfastly opposed the controversial Medicaid expansion that is part of the Patient Protection and Affordable Care Act of 2010, popularly known as "Obamacare".  The popular conservative governor, himself an accomplished physician, told a Cleburne County audience on Saturday that the country is doomed if the federal government does not get it's spending under control.  "Foreign powers can't touch us, but the debt will kill us."  This nation is $17.2 trillion in debt and that is growing by $2 billion a day.  "We are doomed." "I am not going to be part of that," speaking of the proposed Medicaid Expansion.  "I will not put another 300,000 able bodied adults on a government dependency program."
Dr. Marsden said, "I stand for selfless service in the spirit of those individuals who represented our citizens at the time of our founding fathers. These brave Americans were not professional politicians, they were farmers, authors, printers, merchants, physicians and brewers," she stated. "They followed through on their commitment to serve the public good, completed their term in office, despite hardships, and then returned to tend their own business again."
Dr. Jennifer Marsden will likely be running against Republican incumbent Representative Steve Clouse for the Alabama House District 93.  The Ozark Republican has qualified for re-election and as of press time has no officially qualified primary opponent.
District 93 encompasses rural Dale County and parts of northwestern Houston County.
Dr. Marsden said that her campaign would center on four major principles: superior health care for all Alabamians, high quality job creation, improving public education and selfless service.
Dr. Marsden said the key to quality job creation is to have a well-educated and healthy workforce that will attract companies without dispensing what she calls, "wasteful corporate welfare and tax breaks that strain our state budget."
Dr. Marsden said that expanding vocational training and small business "incubators" will help grow our economy in the long-term.
Dr. Jennifer Marsden has lived and worked in the Wiregrass for over 7 years. Her husband, U.S. Army Colonel (Ret) Ronald King is managing her campaign. They have two children: Cecilia, who is studying Aerospace Engineering at the University of Alabama and Veronica, who attends public middle school.
Democrats held the majorities in both Houses of the Alabama state legislature as recently as 2010.  Republican won commanding Super-majorities in the 2010 election.
Alabama Democrats are desperate to regain control of at least one of the two legislative bodies in this year's election.
Trump Truck and boat parades this weekend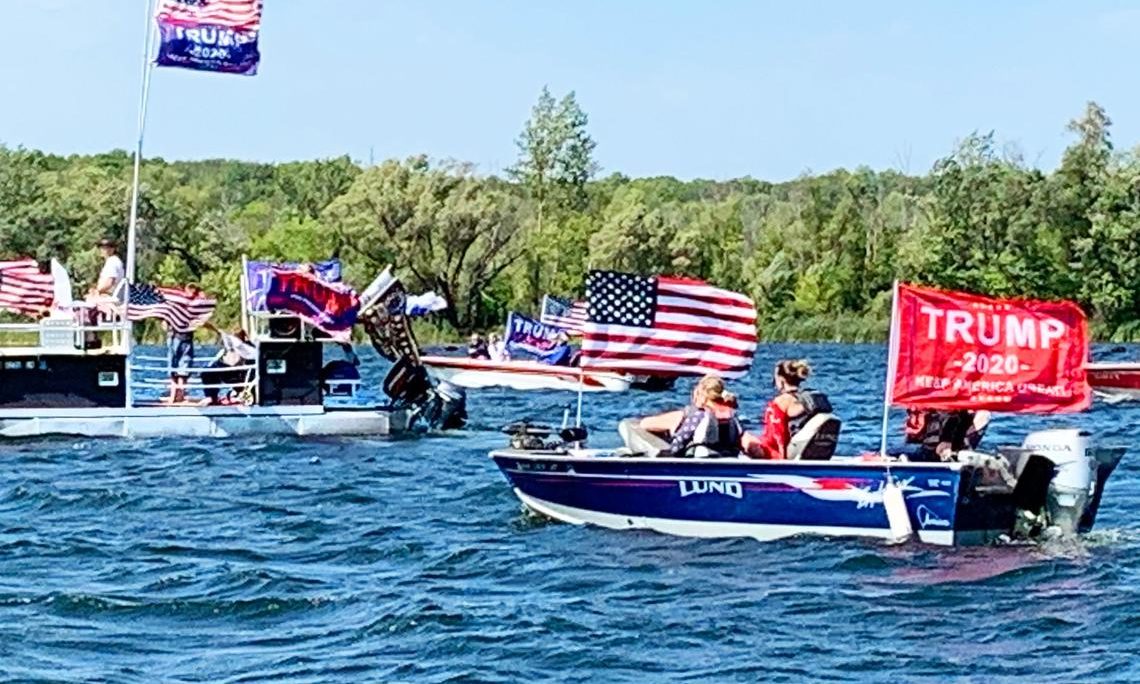 As Election Day draws near, Alabama Republicans are excited about promoting the re-election of Donald J. Trump as President and the election of Tommy Tuberville for U.S. Senate. This weekend two pro-President Trump events are happening in the state. There will be a truck parade from Ashland to Phenix City on Saturday sponsored by the Clay County Republican Party, while there will also be a boat parade on Wilson Lake in the Shoals sponsored by the Colbert County Republican Party on Sunday.
The pickup trucks will assemble at the Ashland Industrial Park in Clay County, 8240 Hwy 9, Ashland. There is a pre-departure rally at 10:00 a.m. central standard time. The trucks will depart at 11:00 a.m. and then proceed on a parade route that will take them into the bitterly contested swing state of Georgia. The Trump Pickup Parade will wind through east Alabama and West Georgia traveling through LaGrange and Columbus before concluding near the Alabama/Georgia line in Phenix City, 332 Woodland Drive, Phenix City at approximately 2:00 p.m. central time. Speakers will begin at 3:00. Trump flags will be on sale at the event.
The Phenix Motorsports Park will be hosting what sponsor hope could possibly the world's largest Pickup Tuck parade in U.S. history that is routing over 50 mile through Georgia in effort to "pickup" President Trump's numbers in GA.
A number dignitaries have been invited to address the Phenix City rally, including Coach Tuberville. Former State Sen. Shadrack McGill, Trump Victory Finance Committee member former State Rep. Perry O. Hooper Jr., and Paul Wellborn, the President and CEO of the largest Family owned Kitchen Cabinet manufacture in the USA are among the featured speakers who have committed to speak at the event.
Entertainment will be provided by: Charity Bowden, an up and coming country music singer who was the runner up on "The Voice". Charity will sing 'I am Proud to be an American' as well as songs from her Voice performances. The McGill Girls will also perform. The three beautiful and talented sisters will be singing patriotic songs in three part harmony. Geoff Carlisle, a professional DJ will be keeping the crowd pumped with music and entertainment.
Following the speakers and the entertainment there will Trump truck-vs- Joe Bidden truck races down the drag strip for the finale.
The Northwest Alabama boat parade will be on Sunday. The boats will gather at 2:00 p.m. near Turtle Point and then the flotilla will parade around the open waters of Wilson Lake til 3_00 p.m.. There will be a contest for best decorated Trump boats.
Trump supporters have held a number of large boat parades across the state to show their support for the re-election of Pres. Trump.
Boat parade sponsors say that this parade will be: pro-American, pro-law enforcement, pro-military.