Bill to Protect Healthcare Providers Licenses Passes Senate Health Committee
By Brandon Moseley
Alabama Political Reporter
There was a time in this country when doctors, dentists, optometrists, and chiropractors were independent businessmen who saw the patients that they wanted to see and they and their patients set the price for their services on the free market.  Then health insurance companies began to set the prices for the services that medical providers can get paid and doctors and the other medical professionals could choose whether or not they wanted to participate in those plans. Then in the 1980s the federal government established the DRG system.  Federal bureaucrats established what the Medicare agency set for services.  If doctors, optometrists, dentists, and chiropractors wanted to see patients who participate in that program they had to elect to receive that set dollar amount as payment.
Whether they are internationally recognized as the best in their field or are just starting out, what Medicare pays for the service is the same. State Medicaid agencies followed suit and soon Congress, the state legislatures, Medicaid, Health Maintenance Organizations (HMOs), Patient Provider Organizations (PPOs), and other managed care organizations had more control over pricing for medical services than the medical professionals themselves had. Medical care providers could still opt to choose what plans that they take and whether they participate in a plan or not.
Even that little bit of freedom is starting to slip away as government gets to be an even bigger player in the healthcare sector of the economy.  Senator Phil Williams (R) from Rainbow City is sponsoring a bill, SB 22 that protects the licenses of doctors, dentists, optometrists, and chiropractors who elect not to participate in plans with which they disagree.
SB 22 was given a favorable report by the Senate health Committee on Wednesday, January 22.
Senator Williams told the Committee that the bill passed out of their committee last year, but was tied up in the House due to time constraints.  It mirrors a law in Georgia and applies to physicians, optometrists, chiropractors, and dentists.  The bill says that medical providers can not have their license withheld because they elect not to participate in some plan.  "Who they choose to see as a patient is purely their business decision," Senator Williams said.
The Etowah County Senator said that Massachusetts has withheld licenses for providers who refuse to participate in their Romneycare program.  Minnesota has done the same thing to dentists and as Obamacare (the government takeover of the healthcare sector authorized in the Patient Protection and Affordable Care Act of 2010 spreads and gets more implemented this is becoming a bigger concern.
Senator Paul Bussman (R) from Cullman introduced an amendment which would add optometrists.
Sen. Williams said that they were accidentally left off.
The amendment passed and the Health Committee issued a favorable report in a 9 to 1 vote.
Senator Linda Coleman (D) from Birmingham was the lone "no" vote.
Three mental health crisis centers coming to Mobile, Montgomery and Huntsville
"Today marks a culture change in Alabama for treatment of individuals with mental illness and substance use disorders," Mental Health Commissioner Lynn Beshear said.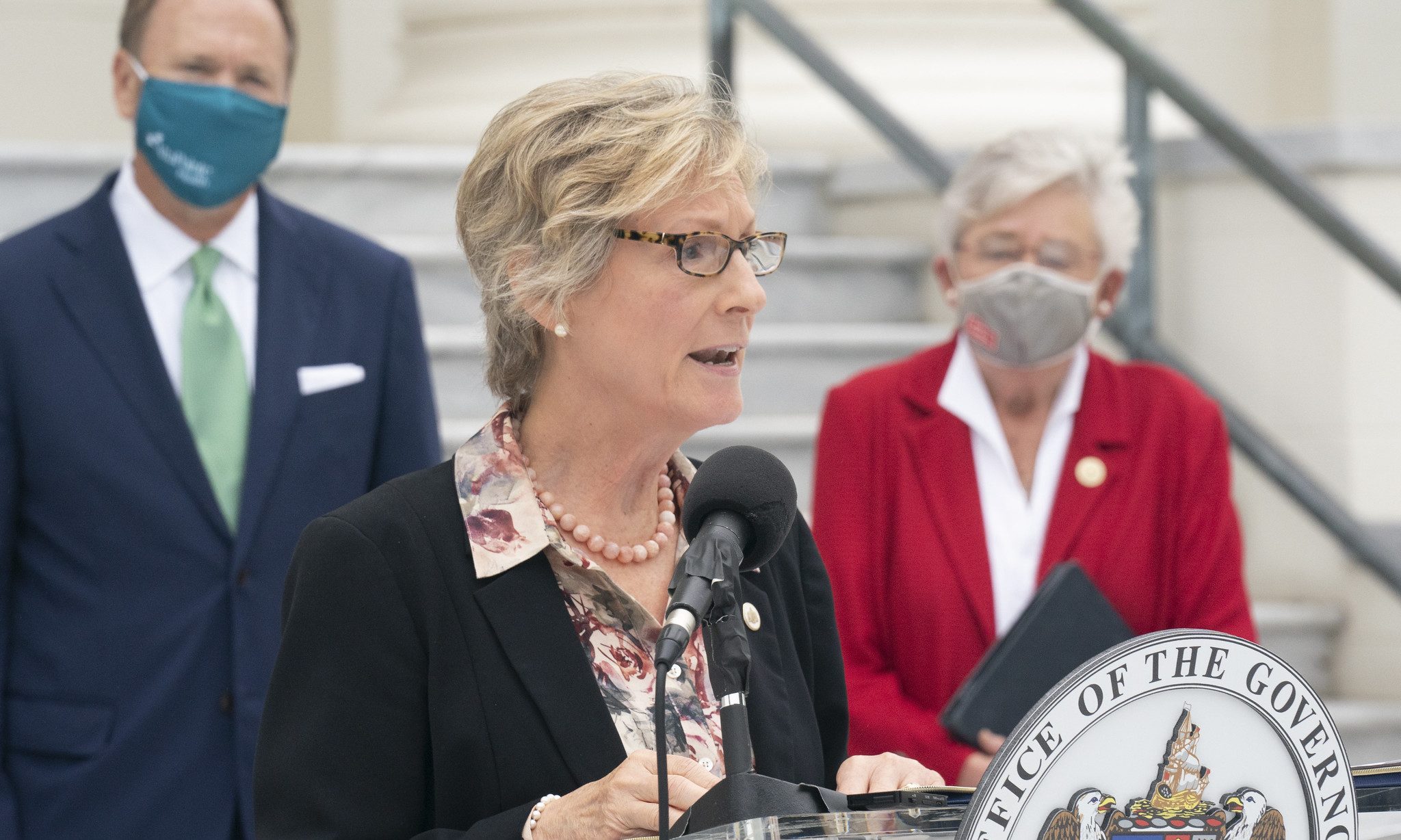 Gov. Kay Ivey on Wednesday announced an $18 million project to create three new mental health crisis centers to be located in Mobile, Montgomery and Huntsville. 
These centers, once in operation, will reduce the number of people suffering from mental health crises who are hospitalized or jailed, Ivey said during a press briefing in front of the Capitol Building in Montgomery. 
"When these facilities are open and fully staffed, these centers will become a safe haven for people facing mental health challenges," Ivey said. 
Lynn Beshear, commissioner of the Alabama Department of Mental Health, said during the briefing that the centers will provide "recovery based" care with "short term stays of a few hours, or up to a few days, to provide treatment, support, and connection to care in the community." 
"Today marks a culture change in Alabama for treatment of individuals with mental illness and substance use disorders," Beshear said. 
Beshear said AltaPointe Health in Mobile will operate one of the three facilities, and once built it is to serve Mobile, Baldwin, Clarke, Conecuh, Escambia, Monroe and Washington counties with 21 new beds, including 15 temporary observation beds. Altapointe will begin with a temporary space while constructing the new facilities, she said. 
Beshear said the Montgomery Area Mental Health Authority is partnering with the East Alabama Mental Health Authority and the Central Alabama Mental Health Authority to serve the 11 counties in Region 3 with 21 new beds, including 10 temporary observation and respite beds. 
"The regional crisis center will be located in Montgomery, and will be open to walk-ins and for drop off by law enforcement, first responders and referrals from emergency rooms," Beshear said. 
Wellstone Behavioral Health in Huntsville was selected to open the third center, and will do so at a temporary site while a new facility is being built, with the help of an additional $2.1 million from local governments, Beshear said. That facility will eventually have 39 beds, including 15 for temporary observation and 24 for extended observation.
"There's not a day that goes by that after-hours care is not an issue in our state," said Jeremy Blair, CEO of Wellstone Behavioral Health, speaking at the press conference. "And so I applaud the Department of Mental Health and the leaders for their efforts in recognizing that and taking it a step further and funding our efforts here." 
Asked by a reporter why a center wasn't located in Jefferson County, one of the most populous counties with a great need for such a center, Ivey said those residents will be served in one of the other regions. 
"Plans are underway to continue this effort. Today's beginning, with these three crisis centers, is just the beginning," Ivey said. 
Ivey added that request for proposals were sent out for these three centers and "it was a strong competition for the location of these three crisis centers." 
Alabama House Majority Leader Nathaniel Ledbetter, R-Rainsville, said during the briefing that more than a year ago, Ivey asked him what the state should be looking at, and that he replied "we're failing miserably in mental health."
Ledbetter said Ivey asked him to take on the challenge of correcting the state's response to mental health, and a team was created to do just that. 
"Working together, today's announcement will not only change Alabamians lives, but will help to save lives," Ledbetter said.