Roby Says President's Lofty Rhetoric Doesn't Match Reality
By Brandon Moseley

Alabama Political Report
U.S. Representative Martha Roby (R) from Montgomery responded to President Barack H. Obama's (D) State of the Union address, saying that the President's lofty, campaign-style rhetoric doesn't match reality.
Representative Roby said, "Everyone knows President Obama is a gifted speaker, but too often his rhetoric doesn't match reality. He brags about the unemployment rate, but fails to mention that participation in the labor force is at its lowest level since the 70s. He talks about income inequality, but won't acknowledge that his immigration and minimum wage proposals would undermine the middle class and working poor. He calls for 'action' on jobs, but ignores the more than 30 bi-partisan, House-passed jobs bills still stuck in the Senate."
Rep. Roby continued, "I was pleased to hear the President mention problems with our nation's surveillance activities. There is no question reforms are needed to ensure we can gather vital intelligence to stop terrorists while also protecting the privacy of law-abiding Americans. And those reforms need to be enacted into law, not ordered by presidential pen stroke."
The conservative Alabama Congresswoman said, "It should concern all Americans – Republicans and Democrats – that the president is promising more unilateral executive actions that circumvent the Legislative Branch. Our system of checks and balances may not be convenient for President Obama's political agenda, but they exist to protect Americans from an encroaching federal government. I will not stand by and watch President Obama erode this country's constitutional separation of powers, and that's why I'm supporting the STOP Resolution to rein in executive overreaches."
Congresswoman Roby last week co-sponsored Rep. Tom Rice (R) from South Carolina's H. Res. 442, the STOP Resolution (Stop This Overreaching Presidency.)  The legislation would seek the intervention of the Judicial Branch to rein in particularly egregious, unilateral Obama Administration actions that flout constitutional restraints on the Executive Branch.
Under the Constitution, the Congress writes law, the Judiciary interprets the laws, and the Executive Branch enforces the laws written by Congress.  Over the 20th Century Congress relegated more and more of its law making authority to federal agencies answerable to the President.
Presidential Executive Orders (under administrations of both parties) vastly expanded the scope of presidential authority.  President Obama has extended that far beyond his predecessors and has in some instances created whole new powers by the stroke of his pen.
Under the Constitution, the Congress has the power to impeach the President if he commits "high crimes and misdemeanors" but no President has actually ever been removed by the Senate after being impeached by the House.  Since President Obama's party controls the Senate, that makes his removal extremely unlikely even if constitutional scholars thought that the President's action rose to the level necessary to justify impeachment proceedings.
House Republicans are left with few options other than litigation or acceptance of President Obama's new executive orders.
Congresswoman Martha Roby represents Alabama's Second Congressional District and is seeking a third term in the U.S. Congress.
Three mental health crisis centers coming to Mobile, Montgomery and Huntsville
"Today marks a culture change in Alabama for treatment of individuals with mental illness and substance use disorders," Mental Health Commissioner Lynn Beshear said.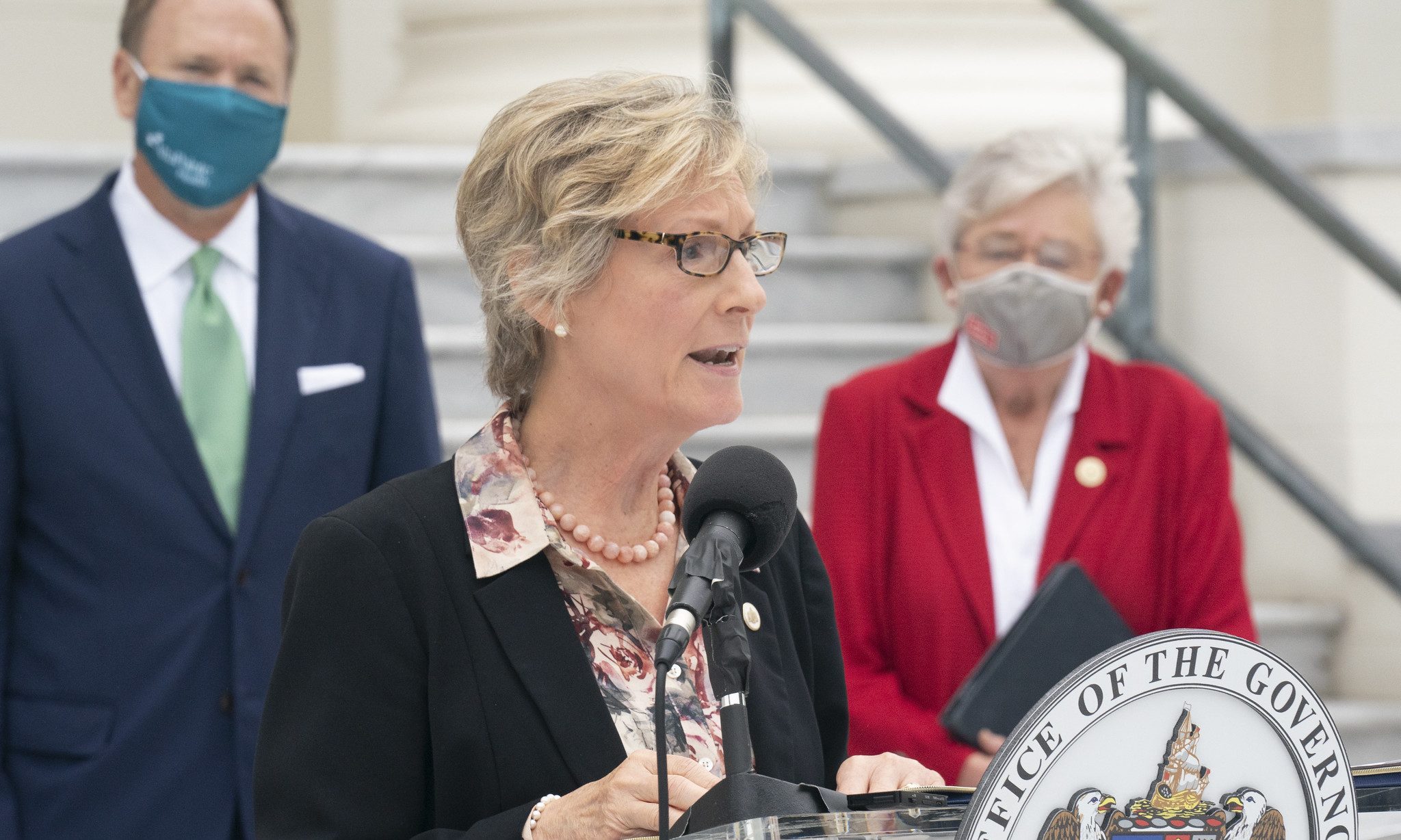 Gov. Kay Ivey on Wednesday announced an $18 million project to create three new mental health crisis centers to be located in Mobile, Montgomery and Huntsville. 
These centers, once in operation, will reduce the number of people suffering from mental health crises who are hospitalized or jailed, Ivey said during a press briefing in front of the Capitol Building in Montgomery. 
"When these facilities are open and fully staffed, these centers will become a safe haven for people facing mental health challenges," Ivey said. 
Lynn Beshear, commissioner of the Alabama Department of Mental Health, said during the briefing that the centers will provide "recovery based" care with "short term stays of a few hours, or up to a few days, to provide treatment, support, and connection to care in the community." 
"Today marks a culture change in Alabama for treatment of individuals with mental illness and substance use disorders," Beshear said. 
Beshear said AltaPointe Health in Mobile will operate one of the three facilities, and once built it is to serve Mobile, Baldwin, Clarke, Conecuh, Escambia, Monroe and Washington counties with 21 new beds, including 15 temporary observation beds. Altapointe will begin with a temporary space while constructing the new facilities, she said. 
Beshear said the Montgomery Area Mental Health Authority is partnering with the East Alabama Mental Health Authority and the Central Alabama Mental Health Authority to serve the 11 counties in Region 3 with 21 new beds, including 10 temporary observation and respite beds. 
"The regional crisis center will be located in Montgomery, and will be open to walk-ins and for drop off by law enforcement, first responders and referrals from emergency rooms," Beshear said. 
Wellstone Behavioral Health in Huntsville was selected to open the third center, and will do so at a temporary site while a new facility is being built, with the help of an additional $2.1 million from local governments, Beshear said. That facility will eventually have 39 beds, including 15 for temporary observation and 24 for extended observation.
"There's not a day that goes by that after-hours care is not an issue in our state," said Jeremy Blair, CEO of Wellstone Behavioral Health, speaking at the press conference. "And so I applaud the Department of Mental Health and the leaders for their efforts in recognizing that and taking it a step further and funding our efforts here." 
Asked by a reporter why a center wasn't located in Jefferson County, one of the most populous counties with a great need for such a center, Ivey said those residents will be served in one of the other regions. 
"Plans are underway to continue this effort. Today's beginning, with these three crisis centers, is just the beginning," Ivey said. 
Ivey added that request for proposals were sent out for these three centers and "it was a strong competition for the location of these three crisis centers." 
Alabama House Majority Leader Nathaniel Ledbetter, R-Rainsville, said during the briefing that more than a year ago, Ivey asked him what the state should be looking at, and that he replied "we're failing miserably in mental health."
Ledbetter said Ivey asked him to take on the challenge of correcting the state's response to mental health, and a team was created to do just that. 
"Working together, today's announcement will not only change Alabamians lives, but will help to save lives," Ledbetter said.